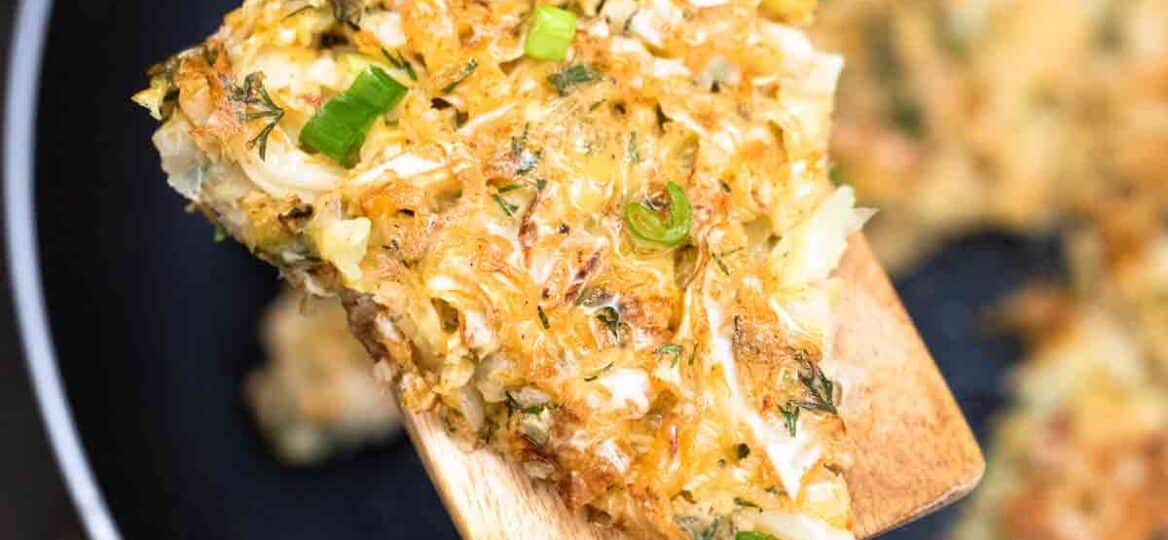 Cabbage Pancakes Recipe [Video]
Cabbage Pancakes are crispy and golden on the outside, filled with tender vegetables and fresh dill inside. A delicious low-carb snack or light meal any time of the day!
This dish is keto-friendly, just like my Brussels Sprouts with Bacon, Arugula Salmon Roll, and Bacon Wrapped Cream Cheese Stuffed Chicken. Enjoy tasty meals without going over your macros!
Homemade Cabbage Pancakes
This Cabbage Pancake recipe is inspired by the Japanese dish okonomiyaki, which is a savory vegetable pancake. This is one of those recipes which you can customize in literally countless ways!
I love how I can "sweep the kitchen" with it. Got half a carrot and leftover spinach? Throw that into the batter! Also, you can easily add all sorts of meat in there too, such as pork, canned tuna, shredded roasted chicken, or ham. Feel free to add cheese as well!
And don't even get me started on all the sauces you can jazz it up with! Try it with Sriracha mayo, Tzatziki sauce, Honey Mustard Sauce, Chipotle Sauce, or ketchup. These savory pancakes are versatile, absolutely delicious, and perfect as a meal or snack!
What is a cabbage pancake?
It's shredded cabbage and your choice of seasonings (for this recipe, I'm going with simple herbs, salt, and pepper). It's mixed with batter, then fried in a little oil until crisp and the veggies are tender.
What is okonomiyaki?
It's a Japanese street food dish typically made of shredded cabbage, seasonings, and other ingredients like meat. All of it is mixed in a flour-based batter, then fried on a griddle until cooked and crispy.
Then, it's drizzled with Japanese mayo and okonomiyaki sauce, plus other toppings like bonito flakes, dried seaweed, and green onions.
Aside from the classic version, there are endless okonomiyaki variations! Some put ramen in it, beef or chicken, and modern versions even include bacon and cheese.
What cabbage is best for cabbage pancakes?
Regular green or white will do since the neutral flavor won't overpower the rest of the ingredients. The bright green color looks beautiful in this dish, too!
How do you make a cabbage pancake from scratch?
Mix. Scramble your eggs, then mix in the seasonings, dill, and finely-shredded veggies. Stir in the flour.
Fry. Next, heat some oil, then pour all of the veggie mixtures into your pan. It will resemble a giant pancake. Flatten it evenly. Cover the pan, and cook one side for about 5 to 7 minutes. Then, flip, then cook for another 5 to 7 minutes.
Serve. Top with your preferred sauce, slice, and enjoy hot!
Recipe Variations:
Add cheese: Toss in some shredded mozzarella and cheddar into the mix.
Add meat: Mix in some diced bacon, ham, or sausage! You can also add thinly-sliced/ground pork, beef, turkey, or chicken. Also, seafood like shrimp or canned salmon and tuna will work as well. Use cooked meat, so you don't have to worry about them getting done at the same time as the vegetables.
Include more veggies: Throw in some chopped kale or spinach, julienned carrots, bean sprouts, shredded broccoli or cauliflower, zucchini, and radish.
Try other seasonings: Flavor it with your choice of herbs and seasoning blends.
Low-carb: Switch the flour with cornstarch.
Mini version: Instead of making a giant patty, make several small ones.
What is the trick to fluffy cabbage pancakes?
The most important thing here is not to overmix the batter! Try to mix in the flour just until incorporated.
Also, make sure your oil is hot as well, so the patty puffs up the moment it hits the oil. Your cabbage should be as dry as possible as well, so there's no excess moisture weighing down the mix.
How do you eat a cabbage pancake?
We love slicing it like a pizza! In fact, Japanese okonomiyaki is also fondly called Japanese pizza.
You can enjoy it on its own with your choice of toppings and sauce. If you want to try Japanese flavors, top it with Japanese mayo and okonomiyaki sauce, plus dried seaweeds and bonito.
Otherwise, go crazy with the toppings! We sometimes shred cheese on top, drizzle-flavored mayo, and whatever else we have on hand.
How to store leftovers?
First, cool the leftovers completely. Then, transfer them to an air-tight container and place in the fridge. Consume within 3 days.
Can I freeze a cabbage pancake?
Sure! For easier storage, freeze them individually first. Arrange them in a single layer on a baking sheet, then freeze. Once frozen, transfer to a freezer bag and store for up to a month.
To reheat, thaw them out overnight in the fridge, or defrost on the counter. Bake in a 400F oven for about 8 to 10 minutes, until hot and crispy.
More Cabbage Recipes to try:
Recipe Tips:
It's best to use a non-stick skillet for this one since the batter has a tendency to stick.
Also, I highly recommend using a large plate to help you flip the pancake.
Lessen your prep work by using pre-shredded veggies.