Bacon Wrapped Cream Cheese Stuffed Chicken [video]
Bacon Wrapped Cream Cheese Stuffed Chicken is meaty cheesy goodness that is crispy on the outside and juicy on the inside. Whether you are on a keto diet or not, this sure is one hearty and satisfying meal.
If you are looking for other keto meals, you will love our version of Blackened Chicken, Brussel Sprouts with Bacon, and Keto Chocolate Bread.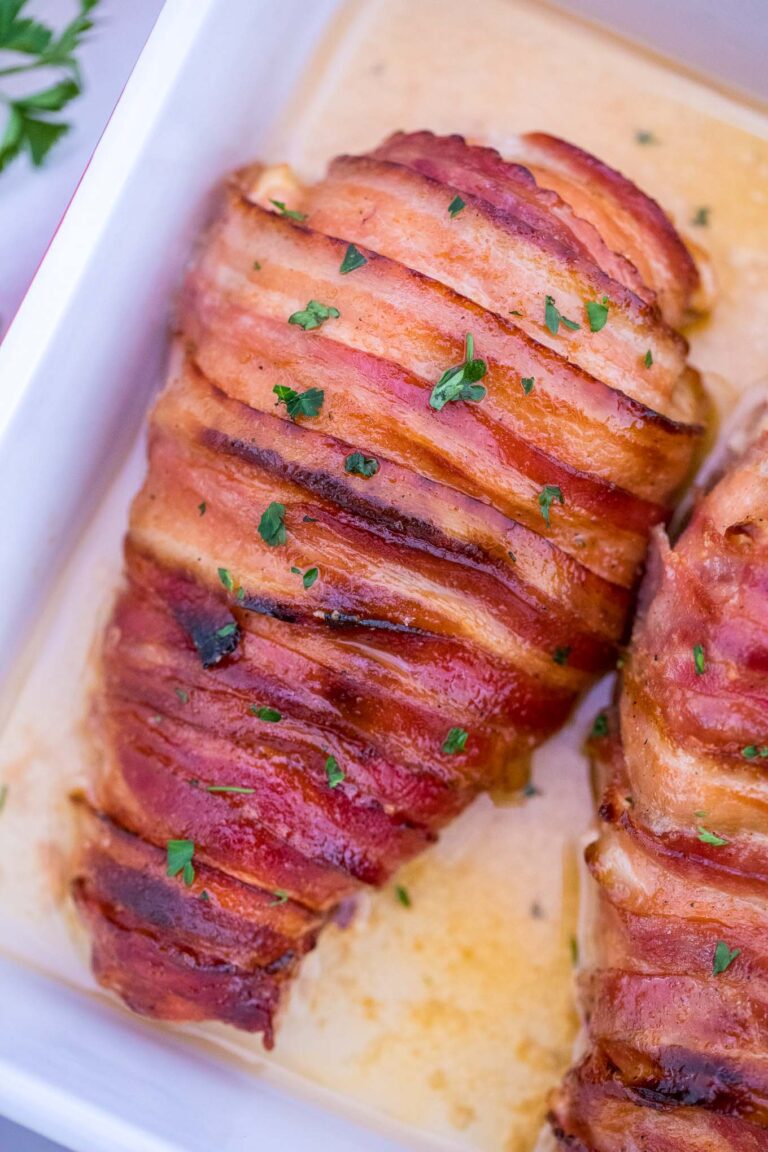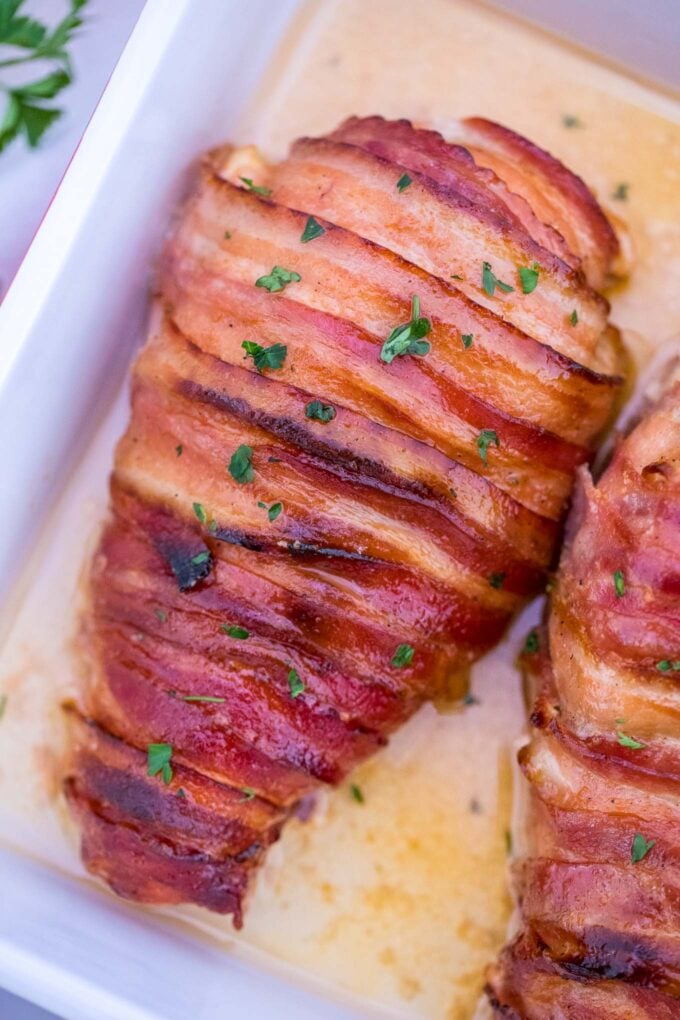 Keto Cream Cheese Stuffed Chicken Recipe
Keto Bacon Wrapped Cream Cheese Stuffed Chicken is so popular these days and for the right reasons. With just a few ingredients, the dish transforms easily and becomes super flavorful.
I learned to cook this only because I wanted to serve something new for our family dinner. Also, making chicken combined with bacon is guaranteed to be a huge hit with everyone. On top of that, this dish appeals to both kids and adults. Happily, it is also keto-friendly.
Chicken breasts tend to taste bland on its own. However, a combination of Philadelphia and mozzarella cheeses make for the perfect delicious stuffing. Bacon wraps make the dish even more enjoyable!
Is Bacon Wrapped Cream Cheese Stuffed Chicken Keto?
Definitely. Most of the ingredients for this dish are keto-friendly. Bacon is particularly high in fat while the breasts have high protein and low carbohydrate content. Both cream cheese and mozzarella cheese can be eaten during a keto diet.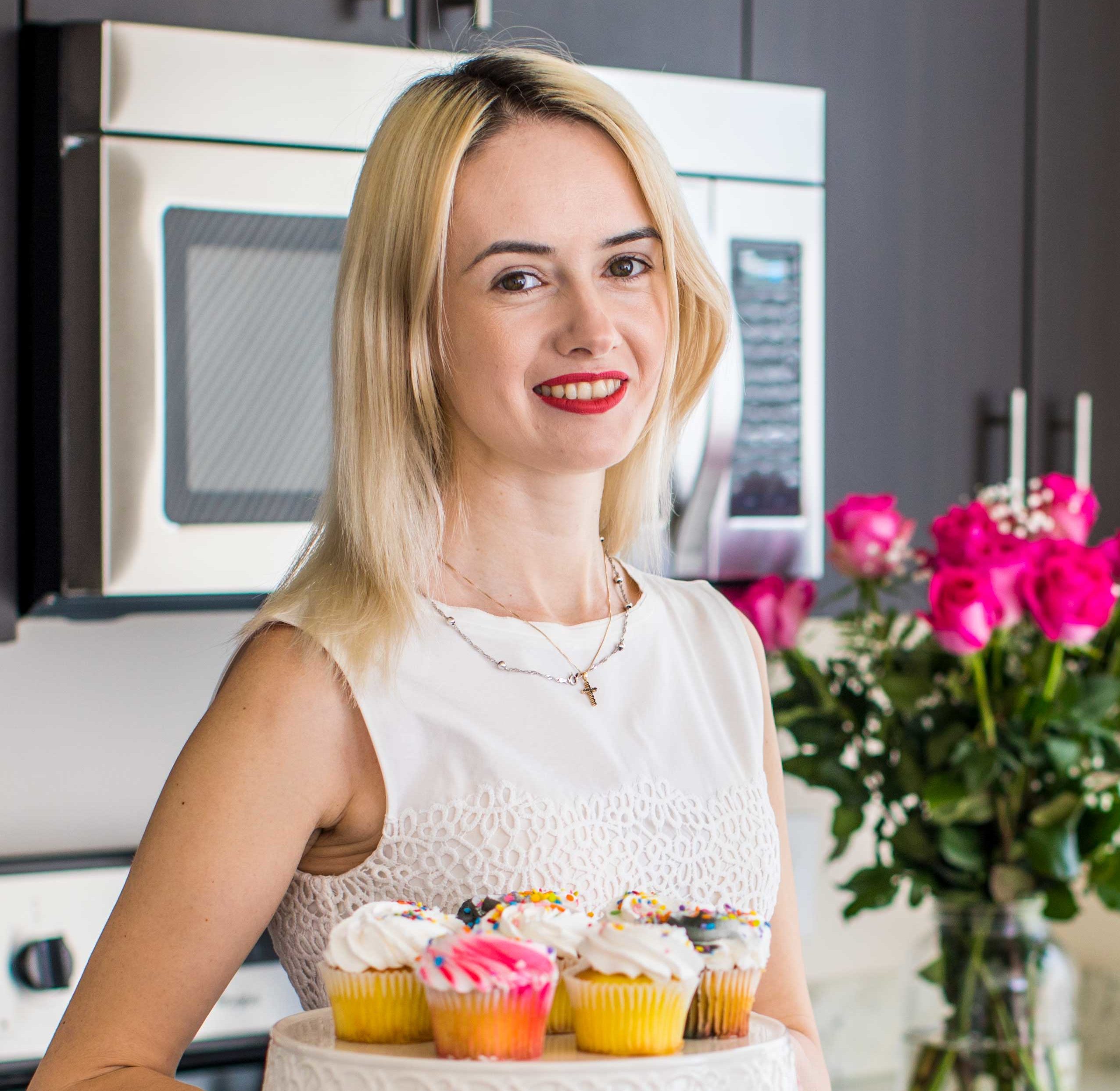 Follow us on Pinterest for more delicious recipes!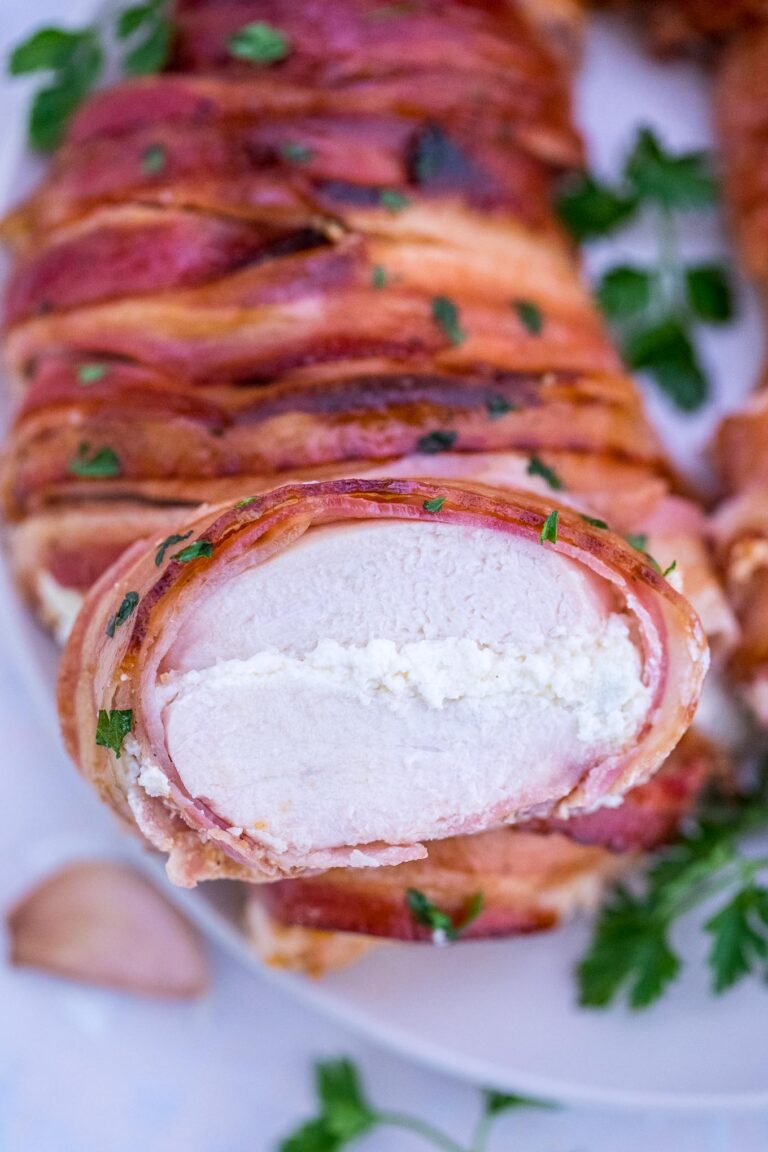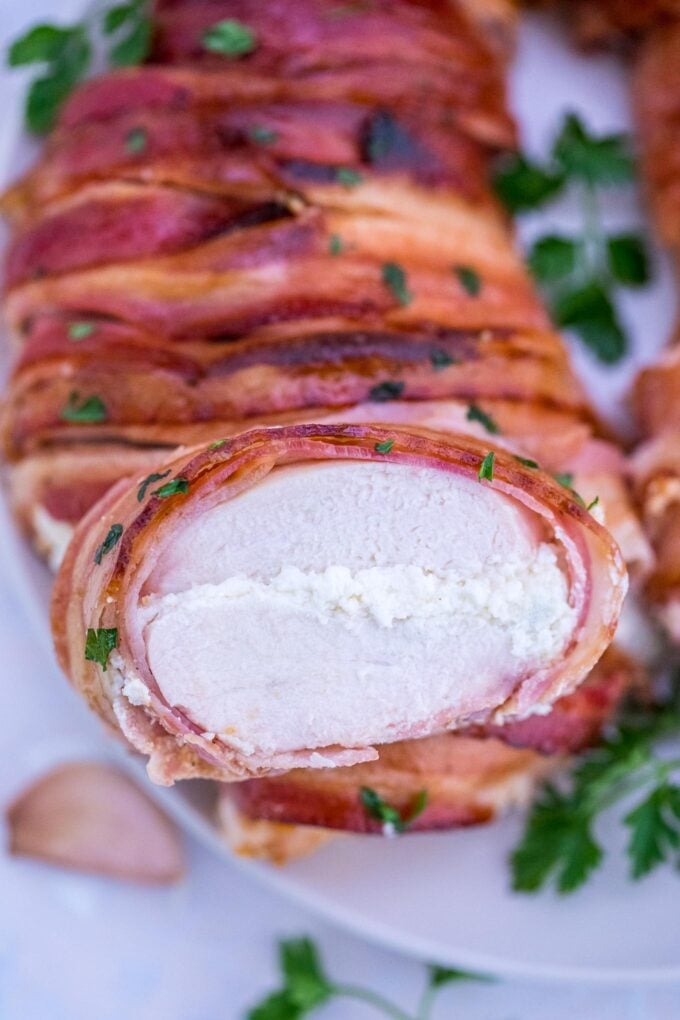 How do you make Bacon Wrapped Cream Cheese Stuffed Chicken?
For exact steps, follow the recipe card below. Also, watch the video tutorial attached. But the general steps are as follows:
Prepare the glaze – In a bowl, mix all the glaze ingredients.
Prepare the cheese stuffing – Then, in a separate bowl, combine all stuffing ingredients.
Fill the chicken and wrap – Cut the breasts lengthwise. Then, fill the center with the cheese stuffing mix. After, wrap each piece of the stuffed breast with 2-3 pieces of bacon slices.
Bake – Arrange them in a baking pan and top with the glaze mixture. Bake in a preheated oven at 375 degrees F for about 30 minutes, or until golden brown.
Serve – Garnish with parsley on top and enjoy!
How do you butterfly a chicken breast?
It is very important to give the chicken breasts uniform thickness when you butterfly or cut them open.
Using a sharp knife, slice the meat horizontally, but make sure to stop before cutting all the way to the other side. Open the sliced breast and lay it flat inside a plastic wrap. Flatten the meat to your desired thickness using a mallet.
What do you stuff chicken breast with?
In this recipe, we will be using a mixture of Philadelphia cheese, mozzarella cheese, and a bit of onion and garlic powder to make the filling. It is also common to add chopped broccoli or spinach in the mixture.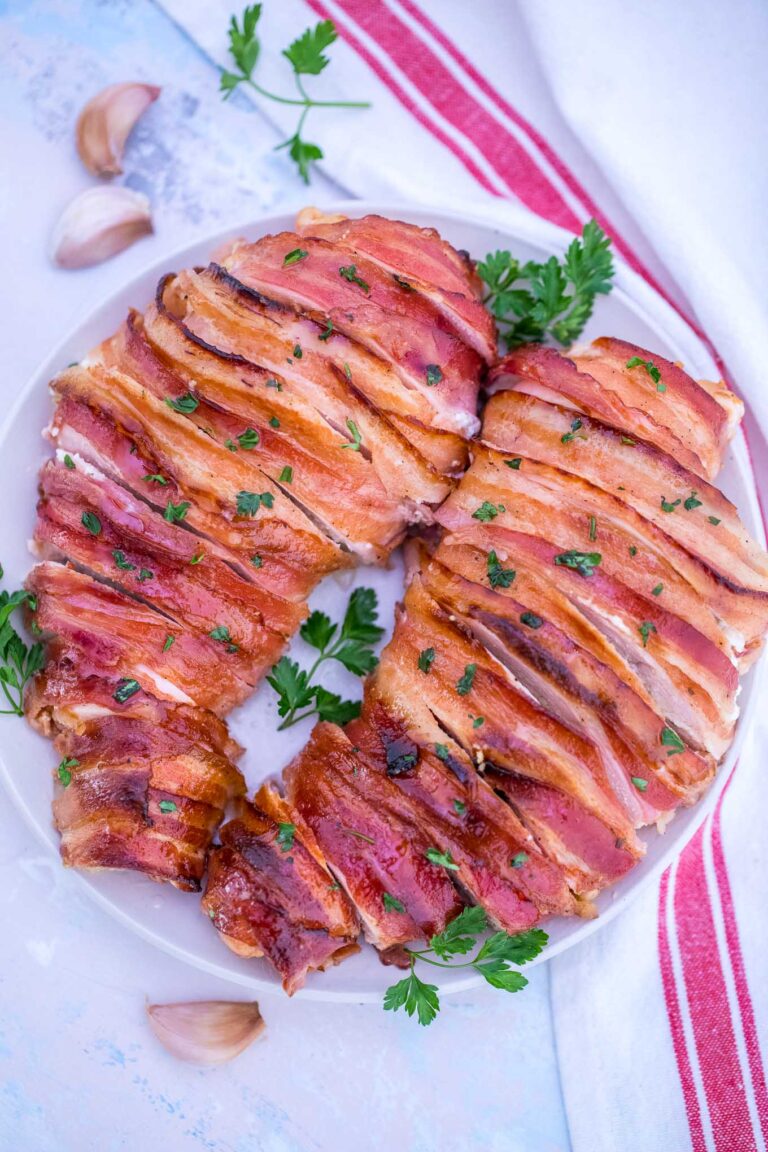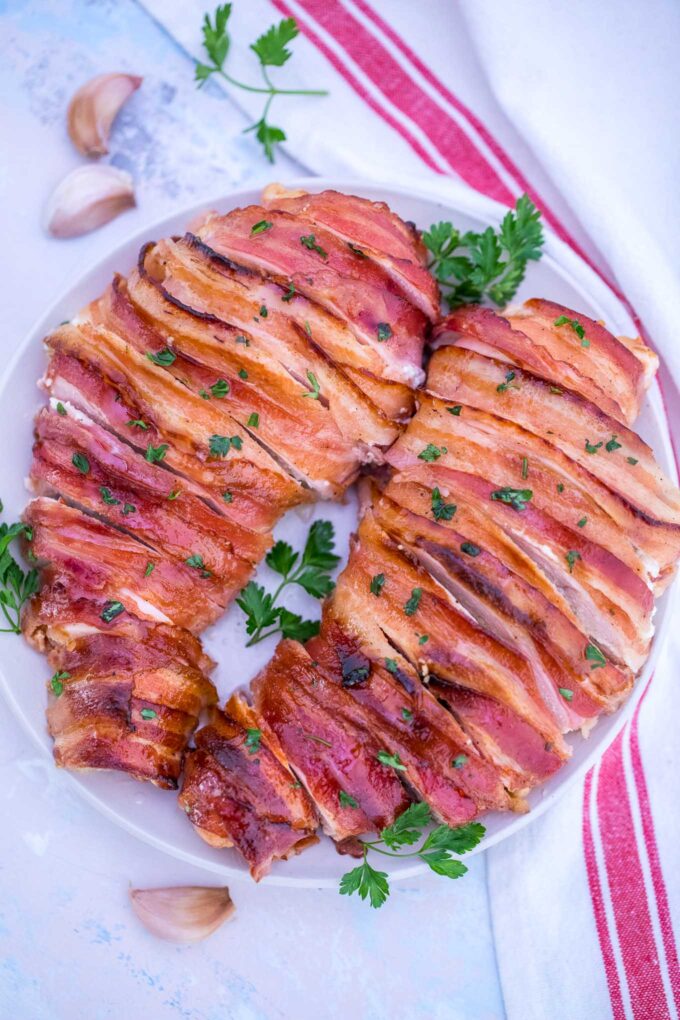 How do you stuff a chicken breast?
First, butterfly the meat. Next, prepare the cheesy filling. Then, spoon the filling or use your hands to spread it inside.
How do you wrap a chicken breast in bacon?
Fold the stuffed chicken breasts and wrap them in bacon. Use at least 2 bacon pieces per each breast so it is fully covered. To make sure that the filling won't come out, use a toothpick and secure the ends.
How many calories and proteins in Bacon Wrapped Cream Cheese Stuffed Chicken?
One serving contains about 400 calories and 40g of protein. Caloric content per serving of the main ingredients are as follows:
Mozzarella cheese – 45 calories (1/3 cup)
Cream cheese – 135 calories (3 tbsp)
Bacon – 90 calories (2 slices)
Chicken breast – 130 calories (1 pc)
What do you serve with Bacon Wrapped Cream Cheese Stuffed Chicken?
Serve it with vegetables like Grilled Eggplant or Steamed Broccoli. It is also perfect to pair with Oven Baked Potatoes if you don't mind the added carbohydrates. Also, feel free to serve it over Rice.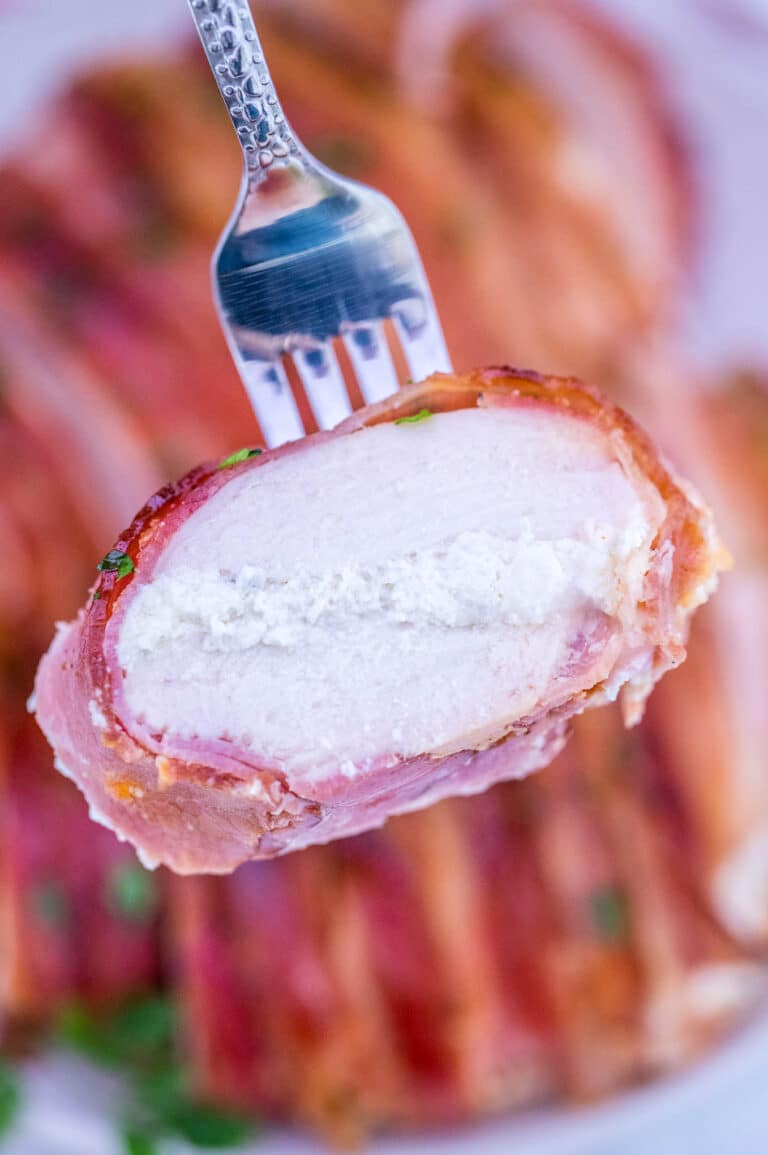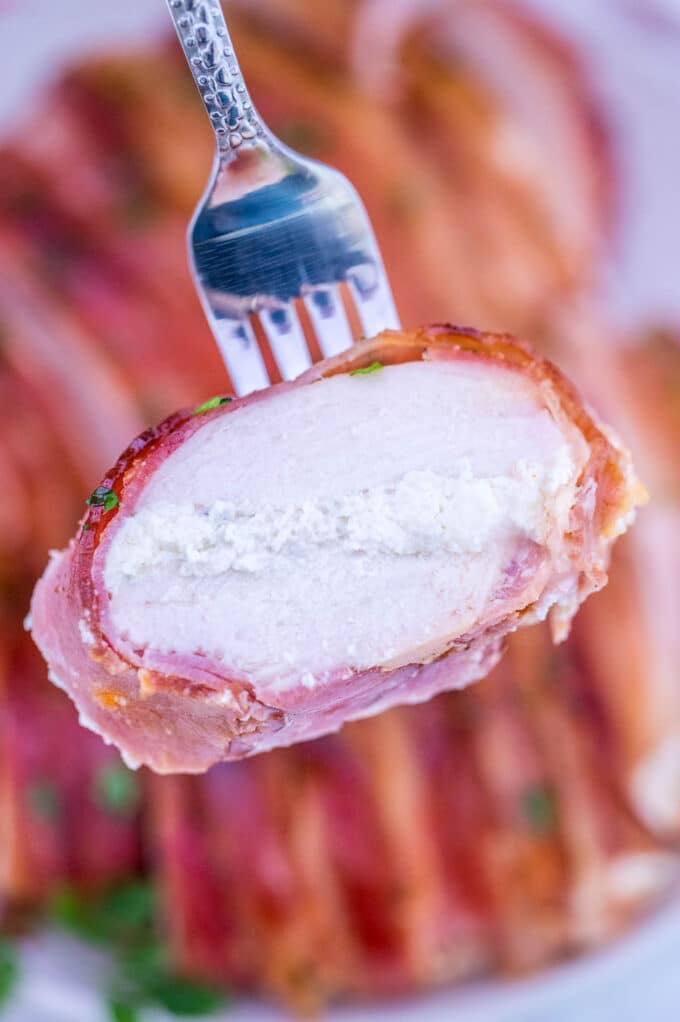 Can you make it in advance?
If you don't have time to make this meal in one go, it is okay to prepare the cheesy filling a day in advance. Make sure to store it properly in the fridge. However, once you stuffed it, then it is best to bake it within 2-3 hours.
You could also freeze it for a longer period of time, and enjoy it when needed. Prior to freezing, let the dish completely cool. Then, transfer to a freezer-proof dish or an airtight container and store in the freezer for up to 3 months. Reheat prior to serving.
Recipe Tips
You may use boneless thighs as an alternative. They are easy to stuff and taste even better. Also, the meat is usually tender and quite flavorful. Therefore, feel free to substitute if you feel like so.
Also, to get some kick, add sliced jalapeno in the stuffing.
If you prefer extra crispy bacon, broil it for an additional 2 minutes once it is done baking.
To flatten the meat, we use meat tenderizer. However, you could also use a rolling pin.
Save Recipe
Bacon Wrapped Cream Cheese Stuffed Chicken
Author: Catalina Castravet
Serves: 4 servings
Prep time:

15

minutes
Cook time:

30

minutes
Total time:

45

mins
Ingredients
Glaze:
Cream Cheese Stuffing:
Garnish:
Nutrition information
Calories: 836 Carbohydrates: 32 Protein: 73 Fat: 56 Saturated Fat: 18 Cholesterol: 238 Sodium: 1470 Potassium: 1224 Fiber: 0 Sugar: 27 Vitamin A: 930 Vitamin C: 4 Calcium: 371 Iron: 1.7
Save Recipe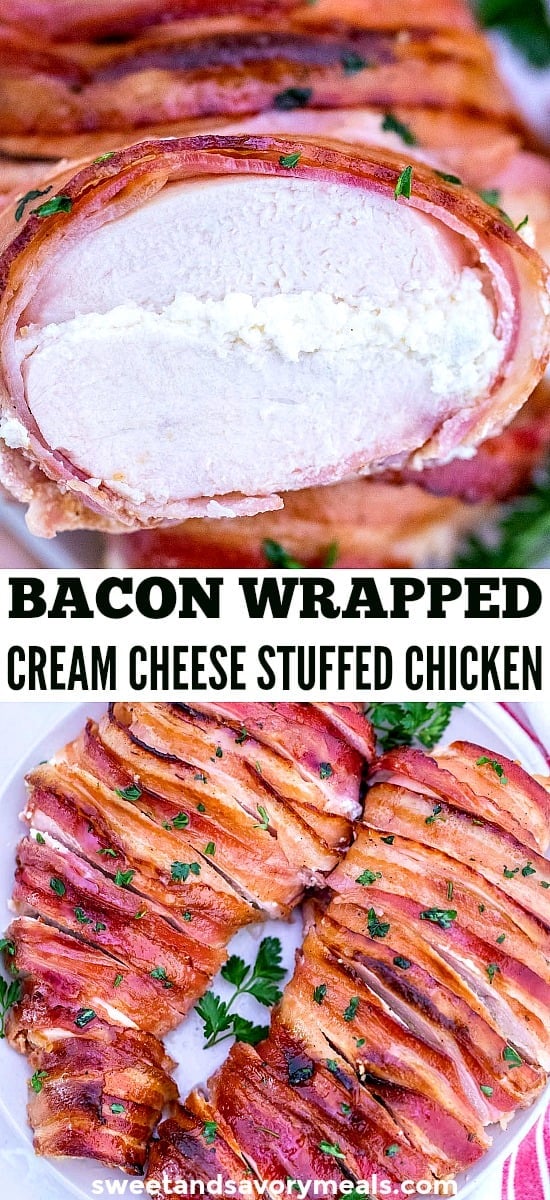 More recipes you might love
Categories: