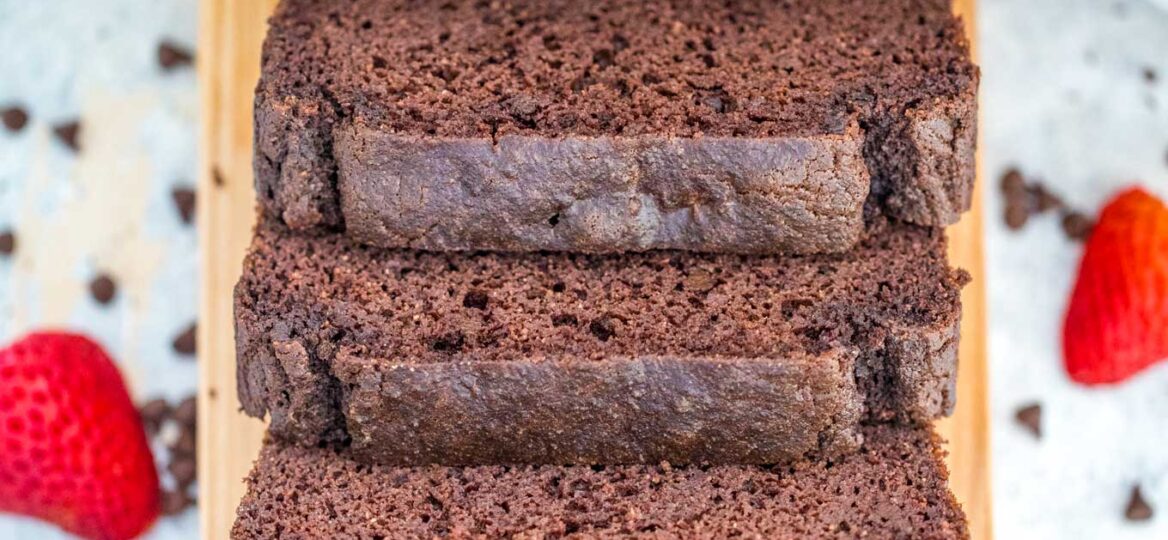 Keto Chocolate Bread Recipe [Video]
Keto Chocolate Bread Recipe is a low carb dessert made with coconut and almond flour, that is delicious and quite healthy! Enjoy it for breakfast, or as a snack with some butter on top!
If you love the low-car recipes, we have some delicious ones to choose from. Like our popular Cheesecake, Italian Chicken Skewers, or Chocolate Brownies.
Low Carb Chocolate Bread
Making this Keto Chocolate Bread Recipe is not only easy, but it results in one tasty and crazy good bread. Unlike other low carb desserts, this one does not use Xanthan gum. We try to keep it healthy and utilize only coconut and almond flour, with sugar-free chocolate chips, and some cacao.
This results in one wonderful, and moist treat! The texture is nice, and you can enjoy it as a snack in the morning with a cup of tea or coffee, or simply as a regular dessert whenever you crave something delicious and healthy!
Also, you can enjoy it if you are diabetic or trying to reduce some weight. It is a great alternative to many sweet, and perfect for a ketogenic diet. Give this recipe a try and you will love every bit of it!
What is a low carb dessert?
As the name suggests, it means the daily intake of carbohydrates in the dish is reduced. Usually, it includes eliminating grain-based flour, and many sweets. And as an alternative, coconut or almond-based flour is used, with sugar substitution, or sugar-free products in it.
The great part about this Keto Chocolate Bread is that it satisfies the sweet and bread craving, in one easy recipe. Not to mention, it is healthy, and quite filling!
How to make chocolate zucchini bread?
Zucchini is also great to incorporate into a ketogenic diet. It is low-carb and healthy and can be utilized in many main dishes. To make it, you will simply have to follow the same recipe instructions below and add about 1 cup of shredded zucchini to the mix. Then, pour the batter into the pan, and bake. Just follow the same instruction, just add some shredded zucchini.
Can I substitute coconut and almond flour with all-purpose flour?
To keep it keto-friendly, you really have to limit the use of all-purpose flour because of the carbs count. Therefore, we do not recommend substituting it if you are on a ketogenic diet. However, if you are not on one, then obviously you could replace it with grain-based flour.
Can I eat chocolate on keto?
Yes! Even though it is best to use drank chocolate that contains a minimum of 70% cocoa solids, or even more. The higher the content of the cocoa solids, the less sweet it is, which also has fewer carbs. One ounce (28 grams) of unsweetened chocolate, which is basically 100% cocoa, contains about 3 grams of net carbs.
What to serve with Keto Chocolate Bread?
This recipe is already great to serve as is since it is quite filling and satisfies the sweet tooth. However, you can add some topping on it to make it more flavorful. Some suggestions are:
Keto cream cheese frosting
Sugar-free caramel sauce
Pumpkin pie frosting
A dollop of low-carb ice-cream
Raspberries and Blackberries
How to store Keto Chocolate Bread?
Wrap it with plastic or cover it with foil, this way the bread will last longer and not dry out as fast. At room temperature, it will last for up to 3-4 days. Similarly, you could wrap it, and then refrigerate it for up to 7 days. If refrigerated, try heating it up in the microwave for about 10 seconds, it will make it moist and tender.
Recipe tips
We use a regular size 9″x6″ loaf pan to make this recipe. We recommend lining it with baking paper so it has two handles on the sides to lift the bread after baking.
Also, to make it a larger portion, use a larger loaf pan. For the double-sized portion, the ingredients will have to double, and also the cooking time will increase by 5-10 minutes.
To check the doneness of the bread, insert a toothpick and it should come back clean.
This recipe can be made to make cupcakes as well. Simply use the same ingredients and steps up to pouring the batter in the pan. Instead, of a loaf pan, use a cupcake pan.
Deliciousness to your inbox
Enjoy weekly hand picked recipes and recommendations