Last updated on June 18th, 2021 at 07:47 pm
Keto Brownies are moist, fudgy and perfect to enjoy if you are on Ketogenic diet, or simply crave for a delicious dessert. They are rich in chocolate and contain only 5 grams of carbs per brownie.
If you are on a hunt for a sweet treat with low carb intake than these brownies are the best option. You might also enjoy keto bread, low carb pancakes, or our keto cheesecake.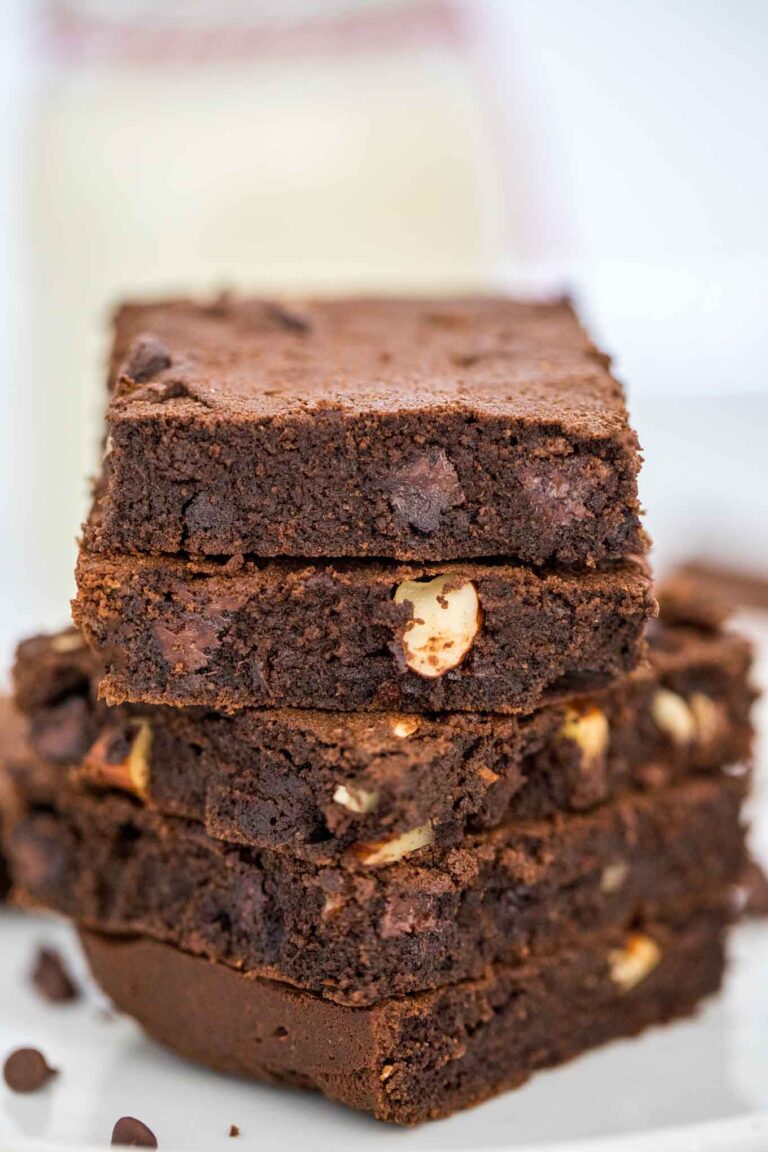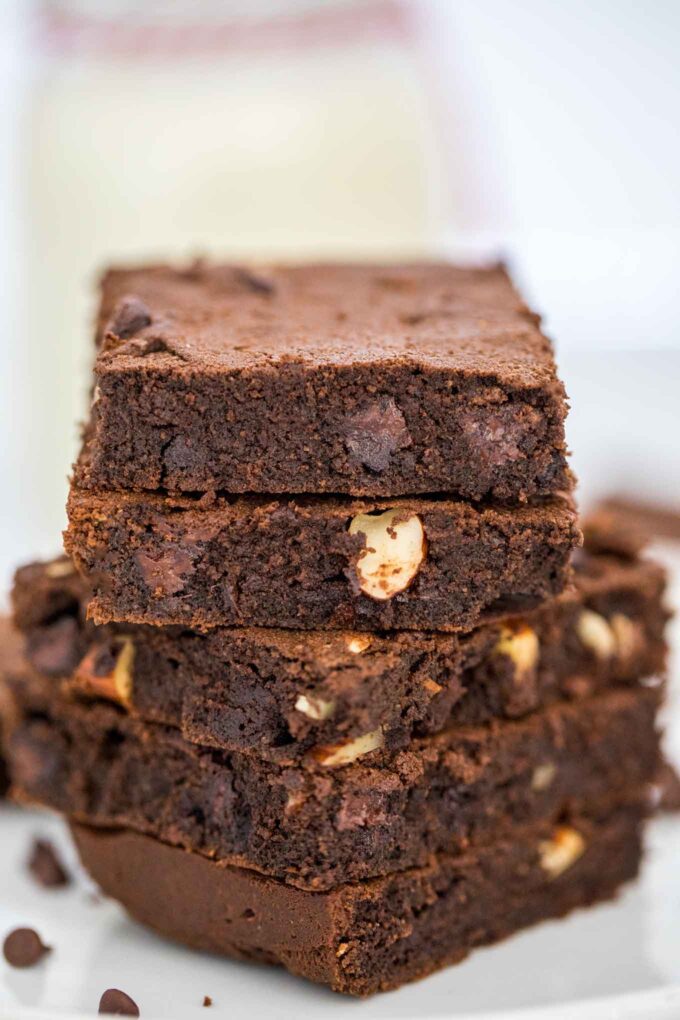 Sugar-Free Paleo Keto Brownies
These Keto Brownies are always a hit with our friends and family. They are chewy with a rich and distinctive chocolate flavor, and great to enjoy during any time of the day. In addition, they are quite healthy, with ZERO SUGAR added, no flour, low in carbs, and high in protein. So, you can enjoy a few of these and not feel guilty about it!
We have made many variations of this recipe over the years and finally came up with some of the BEST KETO BROWNIES. They are super fudgy with a nice crisp layer on the outside and moist on the inside. In addition, they are super easy to make and ready in about 30 minutes.
They are indulgent low carb chocolate treats, that can be enjoyed for breakfast, or even a midnight snack. Once you try them, you will be making them over and over again. They are just irresistibly delicious with just 5 grams of carbs, you can lower that number to 1 gram if you omit the nuts and the chocolate chips!
How to make Low-Carb Keto Brownies Recipe?
Preheat oven to 350 degrees F.
In a medium bowl, melt together the butter, and set aside.
Next, combine the melted butter with the sugar replacer.
Then, combine with eggs, and add all the dry ingredients to them. Using a mixer, combine them all together until mixed through. You could also use a whisk.
Next, transfer the batter to a pan, and bake for about 20 minutes. Make sure not to overcook it. A nice way to check if done is to insert a toothpick. If it comes out moist, it is ready.
Let it cool for 20-30 minutes prior to consumption.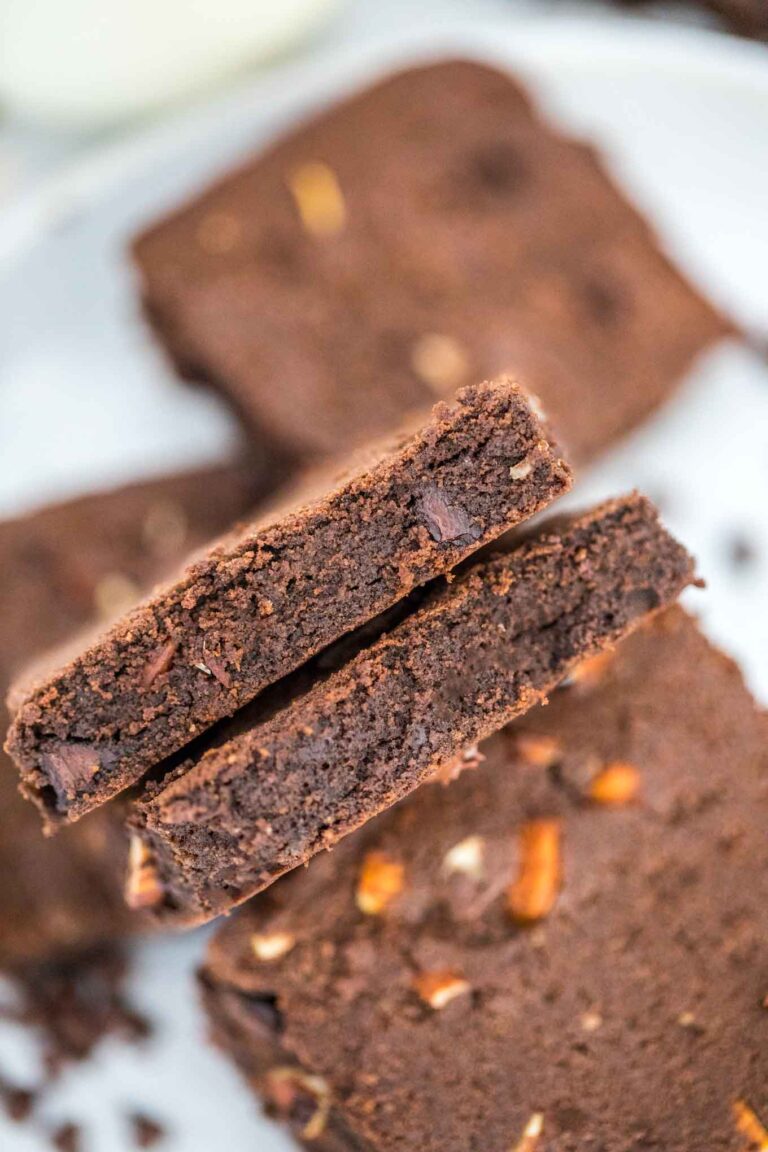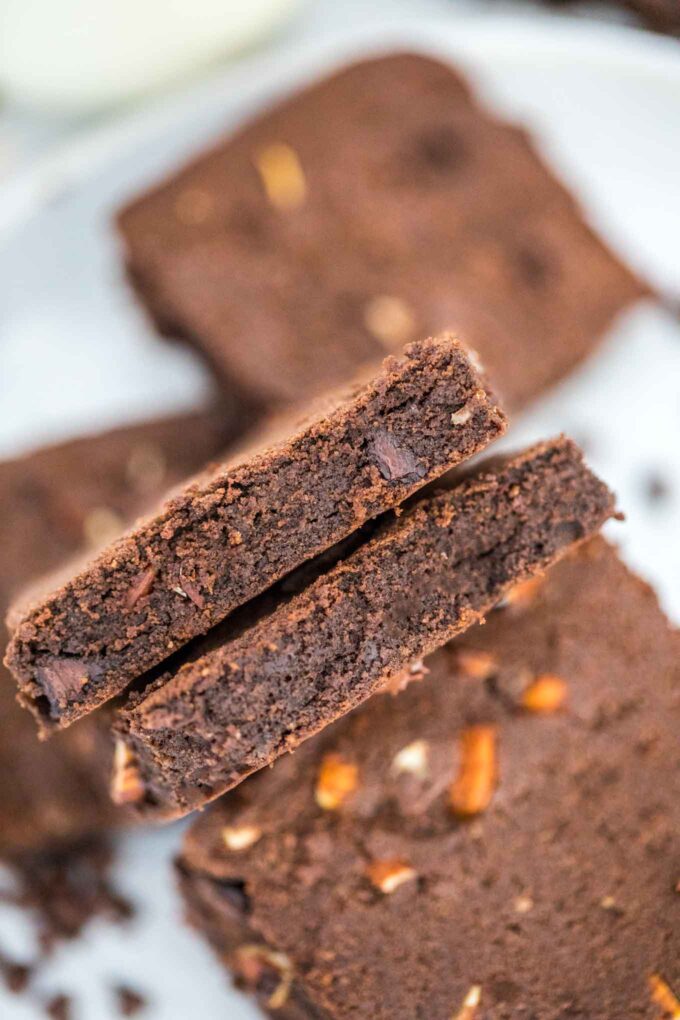 Can you replace almond flour with coconut flour?
Yes. We recommend using almond flour as it has a nicer texture, and works best for this recipe. However, if you are short on the almond flour, feel free to replace it with coconut flour.
Also, you can mix the two together. Just remember, that coconut flour absorbs liquid faster, and sometimes the brownies might end up a bit dry.
Best Keto Sweetener:
There are plenty of Keto sweeteners out there. Some work better than others in various recipes. Most of the time, we like using the following:
HOW TO CUT KETO FUDGE BROWNIES?
Ensure the brownies are cooled prior to cutting. Then, using a sharp knife cut them into about 3 by 3 inch wide. You can also grease the knife by spraying the blade with some cooking spray. This way, the blade glides through the bars easier.
Also, wipe down the knife between cuts as the brownies tend to stick to the knife.
HOW TO STORE KETO CHOCOLATE BROWNIES
The best way to store them is in an airtight container. Prior to storing them, ensure they are completely cooled. Then, transfer the pieces to an airtight container, and store in the fridge for up to 5 days.
We recommend reheating them for a few seconds in the microwave. This way, they will be warm and moist, just perfect to enjoy!
CAN I FREEZE KETO BROWNIES?
Absolutely! Layer them in a freezer-proof container and store them in the freezer for up to 3 months. Also, it is a good idea to layer them in foil and then wrap them in plastic. This way they will maintain the moisture and texture better.
To thaw them, remove them from the freezer and place them on the counter the night prior to eating.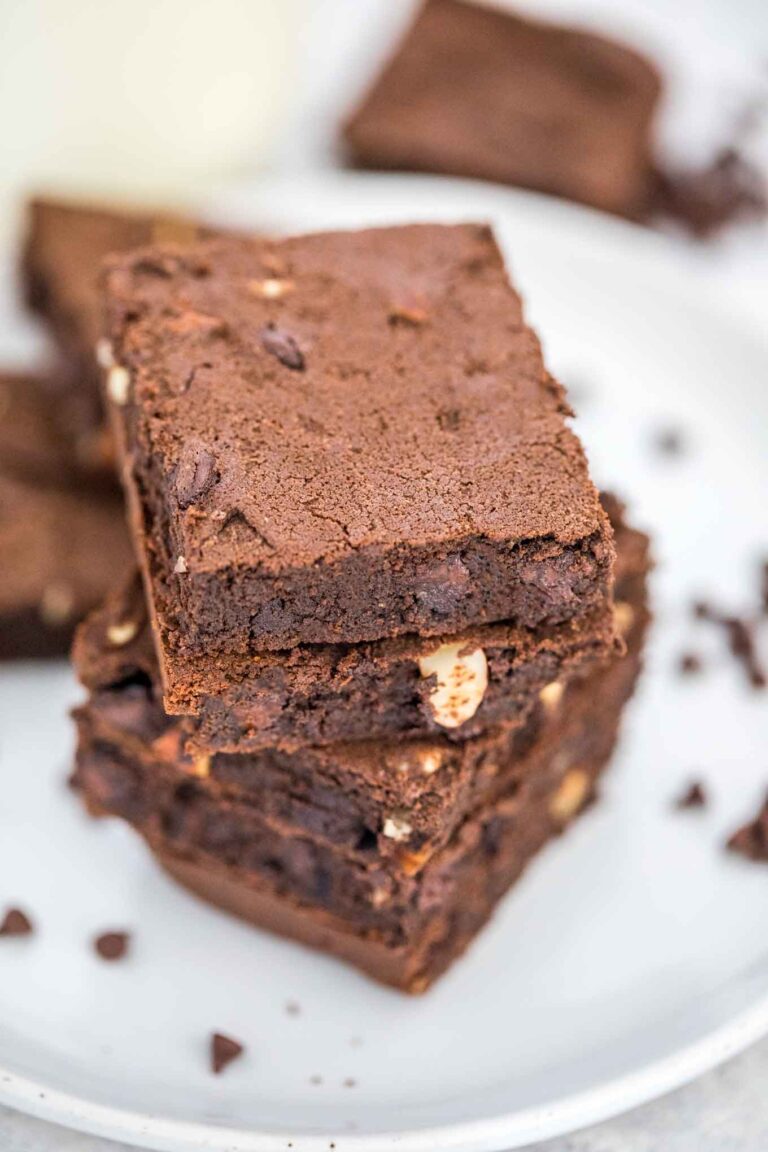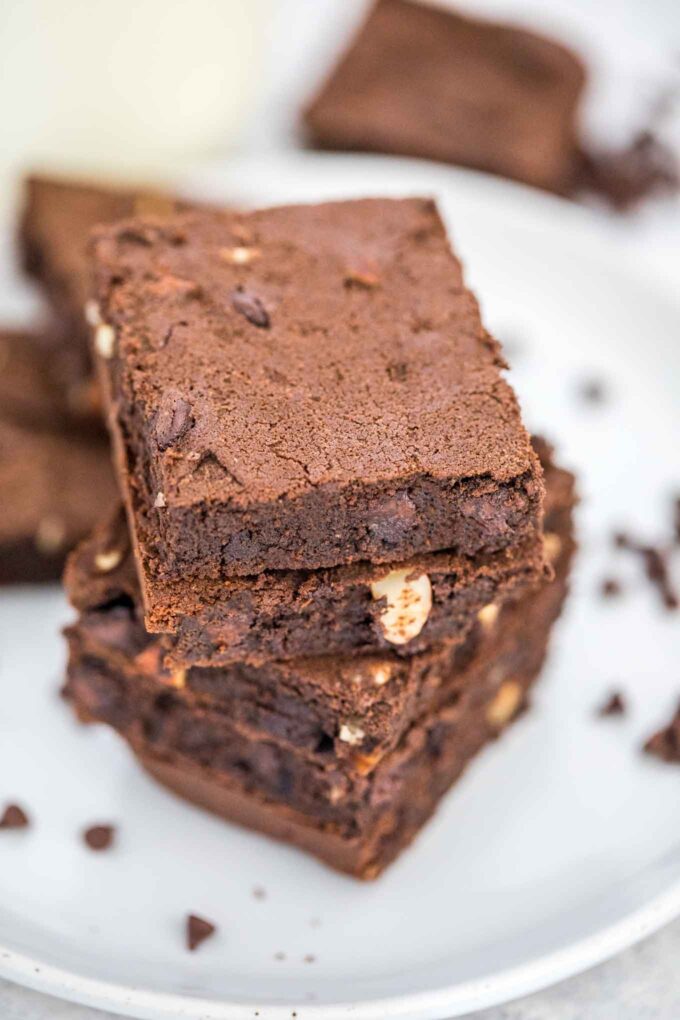 More low carb recipes:
Recipe Tips:
It is very important not to over-bake the brownies. So check on them after about an 18-minute mark. It is better to have them slightly undercooked than dried out.
Also, use room temperature eggs. This is also important when mixing the eggs with the butter mixture. If the eggs will be cold they might make the batter thicker, which will affect the end result.
Since these are chocolate brownies, use sugar-free chocolate chips for a more pronounced chocolate flavor, but keep in mind, they may add a few more grams of carbs.
If you stored them in the fridge, it is best to reheat them for a few seconds in the microwave. This step will make them moist and tender, just the way they should be!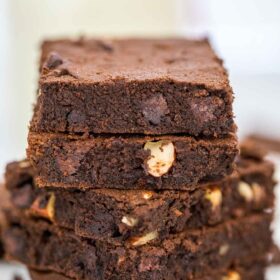 Fudgy Keto Brownies
Keto Brownies are moist, fudgy and perfect to enjoy if you are on Ketogenic diet, or simply crave for a delicious dessert. They are rich in chocolate and contain only 5 grams of carbs per brownie.
Save
Share
Print
Pin
Rate
Ingredients
1/2

cup

unsalted butter

(melted)

3/4

cup

Swerve brown sugar replacer

2

large eggs

(room temperature)

1/2

teaspoon

vanilla extract

1/4

cup

cocoa powder

1/2

cup

almond flour

1

scoop protein powder

(optional)

1/4

cup

sugar-free chocolate chips

(optional)

1/4

cup

pecans

(chopped - optional)
Instructions
Preheat oven to 325 degrees F.

Line an 8x8 inches square pan with parchment paper and spray with baking spray, set aside.

Add melted butter to a medium bowl, add sugar replacer and whisk until smooth and combined.

Add eggs one at a time and whisk, add vanilla extract.

Add the dry ingredients: cocoa powder, almond flour, and protein powder if using. Whisk until fully combined, stopping to scrape the sides and bottom of the bowl.

Stir in sugar-free chocolate chips and nuts.

Transfer to the prepared pan.

Bake for 18-20 minutes. The sides should look done and the center settled. Better to under-bake, instead of over-baking and drying them out.

Let them cool for 20-30 minutes before slicing and serving.
Nutrition
Calories:
187
kcal
|
Carbohydrates:
5
g
|
Protein:
3
g
|
Fat:
18
g
|
Saturated Fat:
8
g
|
Cholesterol:
63
mg
|
Sodium:
104
mg
|
Potassium:
61
mg
|
Fiber:
2
g
|
Sugar:
0
g
|
Vitamin A:
370
IU
|
Calcium:
27
mg
|
Iron:
1
mg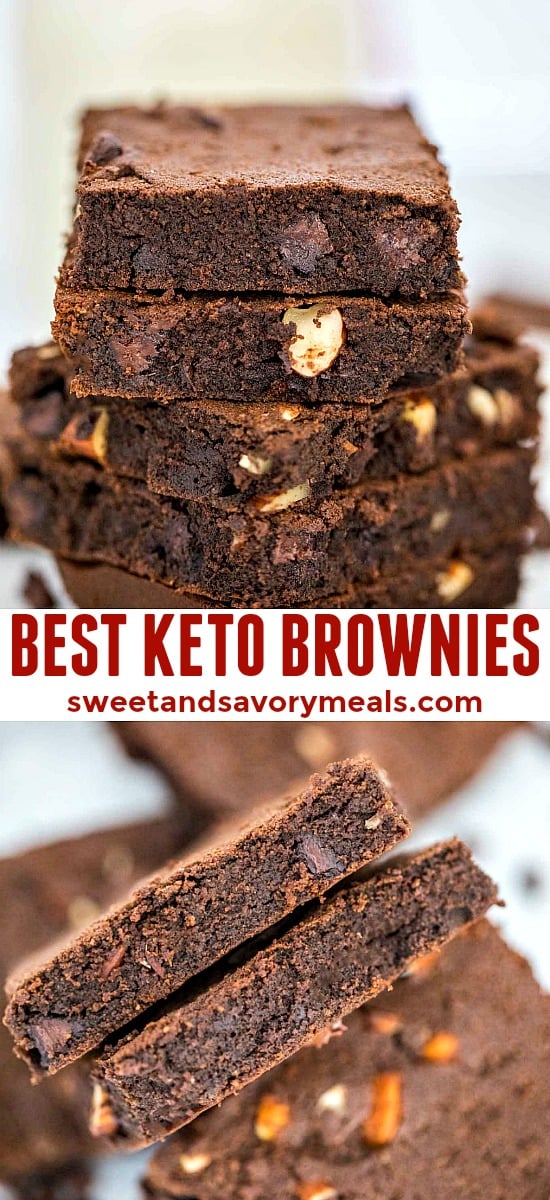 More recipes you might love