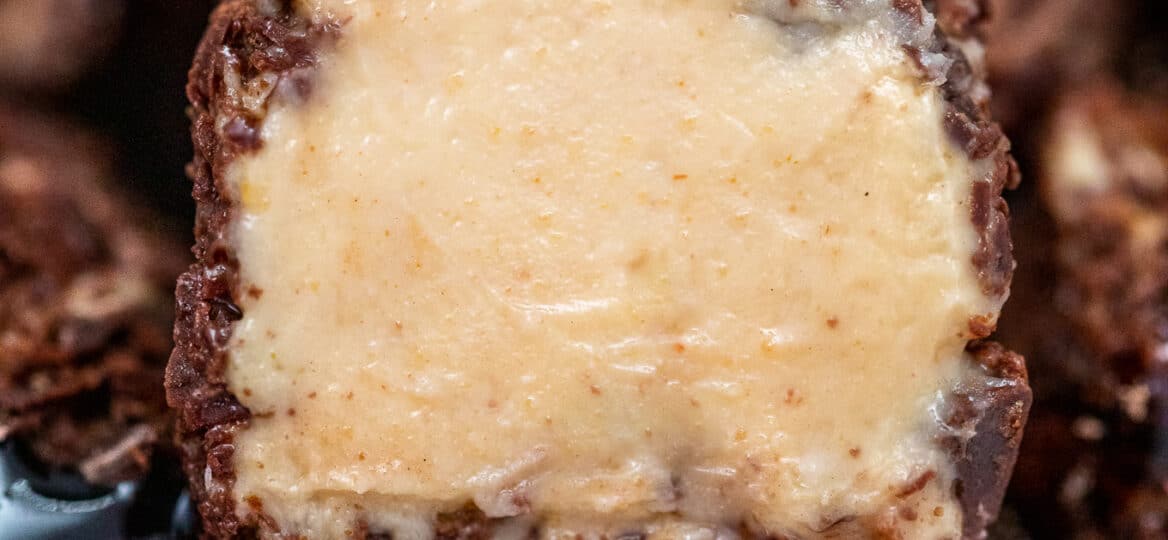 Keto Peanut Butter Cheesecake Fat Bombs (video)
Keto Peanut Butter Cheesecake Fat Bombs explode with flavors that are too good to resist! Disguised as sweet treats, forget you are on a low-carb diet with these!
Eat these bite-sized pieces in between meals that are also keto-friendly! Try this recipe along with Blackened Chicken, Bacon-Wrapped Pork Loin, and Brussel Sprouts with Bacon!
Keto Peanut Butter Cheesecake Fat Bombs
Keto Peanut Butter Cheesecake Fat Bombs are delightfully made with the nutty chocolate combination that we are all so familiar with. This combination is indeed the bomb!
The cream cheese adds a tartness that balances the sweetness of the sugar substitute. And as it is chilled, it is like eating ice cream that makes it all the more refreshing. It is a nice way to end any savory meal.
When you are into the ketogenic diet, you will need to lower your carbs intake. Instead, you will need to incorporate good fat more. At times, you will feel deprived of the sweet and sugary food that you were used to before jumping in into the new diet.
Share this recipe with friends who are not into keto and they will still like it for sure.
What are Fat Bombs:
Fat bombs are keto-friendly treats that are often frozen making them refreshing to eat. For this recipe, we are using sugar substitutes in order to make them sweeter.
They could either be savory or sweet, depending on your preference. In this diet, if not dessert, they are eaten either as a snack or as an actual meal replacement.
Is peanut butter okay on the Keto diet?
Yes! It is rich in protein, fat, and fiber carbs which make you feel fuller for longer. But remember to check the ingredients when buying. Look for the one without added sugar.
What do you need to make Keto Peanut Butter Cheesecake Fat Bombs?
You will only these few basic ingredients:
Cream Cheese: a common ingredient in many keto recipes for its versatility and high-fat content but without adding up more carbs.
Creamy Peanut Butter: make your own or look for one with the least or no sugar content when buying in stores.
Sugar-free Chocolate: use dark chocolate with a high percentage of cacao being and no added sugar.
Sugar substitute: could be any of your favorite keto-friendly sweeteners.
How to make Keto Peanut Butter Cheesecake Fat Bombs?
Combine: Mix the cream cheese, nut butter, and sweetener in a bowl. To ensure that the mixture is smooth, the ingredients must be at room temperature and completely softened.
Form: Add a layer of parchment paper on a baking sheet. This is where you will line up the balls that you will make. Scoop out a portion of the mixture, make a ball out of it, coat with a layer of chopped chocolate bits, then, put on the baking sheet.
Drizzle: Melt some of the chocolate and drizzle over the fat bombs.
Freeze: Put the whole thing in the freezer and then, freeze for at least 2 hours until solid. Keep them in the freezer to store.
Can I make them in advance?
Yes, you can make a huge batch of these and store them in the fridge or freezer for later. They last for an entire month or more in the freezer. Just thaw them in the fridge first to soften them a bit. In the fridge, they last for 2 weeks.
More low carb desserts:
Recipe Tips:
If you are allergic to peanut butter, you can still make fat bombs by leaving it out or using other keto-friendly ingredients like berries.
You can also use other kinds of nut butter like macadamia or almond.
Erythritol is a good choice as a sugar substitute. You can even leave this out as the fat bombs already taste flavorful with just the other ingredients.
For more delicious low-carb dishes, check out our top 10 keto recipe list.