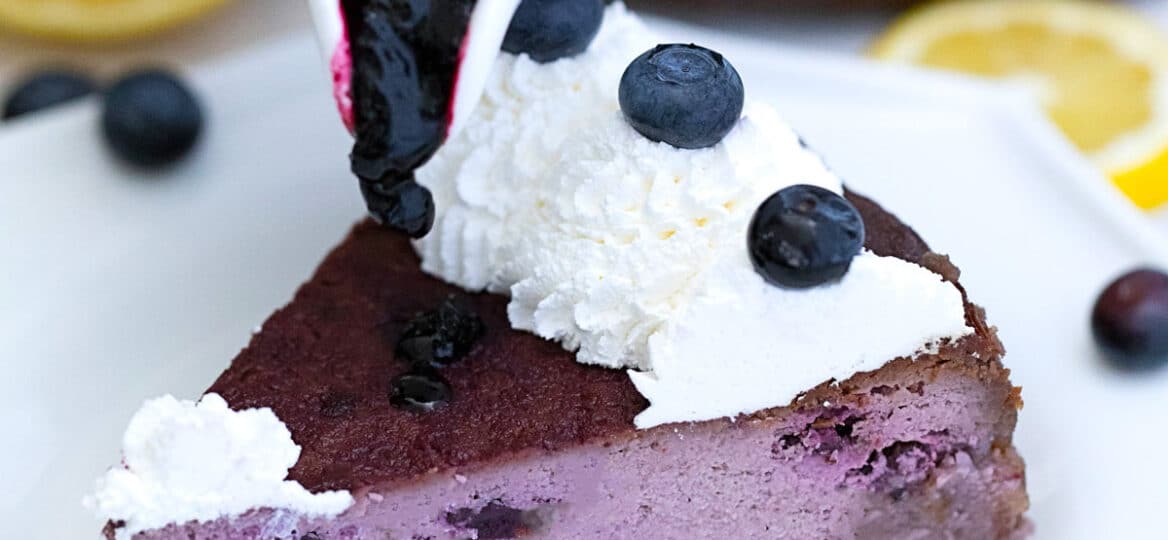 Keto Blueberry Cheesecake [Video]
Keto Blueberry Cheesecake is the ultimate dessert to satisfy your sweet tooth! This simple low-carb recipe will change the way you see keto desserts!
Do you seem to have an insatiable thing for blueberries? Lucky for you, I have variations that you will definitely like. Check out these recipes for Chocolate Blueberry Bread, Blueberry Lemon Muffins, and Blueberry Fudge.
Low Carb Blueberry Cheesecake
Keto Blueberry Cheesecake has always been a classic summer favorite. Any person, from kids to adults, enjoy the delightful blend of its buttery texture and tangy flavor.
More often than not, I find myself making this recipe as a gift. Its elegant design makes it a great present since it looks fancy and delicious.
If people ask for a dessert that could never go wrong, I mostly go with this recipe. Everybody loves a classic and learning how to bake it yourself makes a very great addition to your skillset.
I am delighted to be sharing this particular recipe with you. It has a well-known creamy texture but it is lower in carbs and keto-friendly.
How to make Low Carb Blueberry Cheesecake
Prep the filling. Beat the cheese for a minute, then add the creams with the same interval. Add sugar, vanilla, and eggs one at a time before putting in the blueberry puree for the final mixing.
Make the crust. Inside a large bowl mix the flour, coconut flakes, sugar, unsalted butter, cinnamon, and nutmeg, until well combined.
Lay the crust. Wrap a foil on the outside side area and the bottom of your selected springform pan. Use a baking spray inside to avoid the filling from sticking. Then lay the crust by pressing it on the pan for a height of about an inch. Refrigerate until solidified or for at least 20 minutes.
Bake the cake. Preheat the oven to 300F. When your crust is well refrigerated, pour the batter into it. Get another roasting pan and pour hot water enough for the pan with the batter to submerge halfway up. Place the filling pan inside the larger one and transfer it to the oven for an hour.

Cooking with sauce. To make a glaze, heat a saucepan over medium heat with crushed blueberries, water, lemon juice, zest, and sugar. Stir for 5 minutes before letting it cool.
Serve. After baking, let the cake cool down first. Afterward, drizzle it with the sauce or add whole blueberries with whipped cream on top. Serve.
Topping options and variations:
If you are looking for other ways to make this delicacy, make sure to take a look at some of these recipes:
How to store Keto Blueberry Cheesecake?
There are different methods to store it which depends if you want it for the short term or long term. If you plan to consume it within 5 days from baking, place the dessert in a pan and wrap it with plastic before putting it in the fridge.
For a longer period, what you need to do is wrap it directly with plastic wrap before double sealing it by placing it inside a freezer bag. By placing it inside a freezer, this method has ensured that I can enjoy the delicacy even in about 3 months' time.
More Keto desserts:
For healthier versions of desserts, make sure to go over these recipes that I highly recommend:
Recipe Tips
Before starting, ensure that ingredients are of room temperature so that the consistency is better by making the blending smoother. This is especially advisable for cheese, cream, and eggs.

Every time you stop beating an ingredient, scrape the sides and bottom so that the mixing is evenly distributed.
Looking for more delicious, low-carb dishes, then check out our top 10 recipes.