Keto Blueberry Cheesecake
Keto Blueberry Cheesecake is the ultimate dessert to satisfy your sweet tooth! This simple low-carb recipe will change the way you see keto desserts!
Do you seem to have an insatiable thing for blueberries? Lucky for you, I have variations that you will definitely like. Check out these recipes for Chocolate Blueberry Bread, Blueberry Lemon Muffins, and Blueberry Fudge.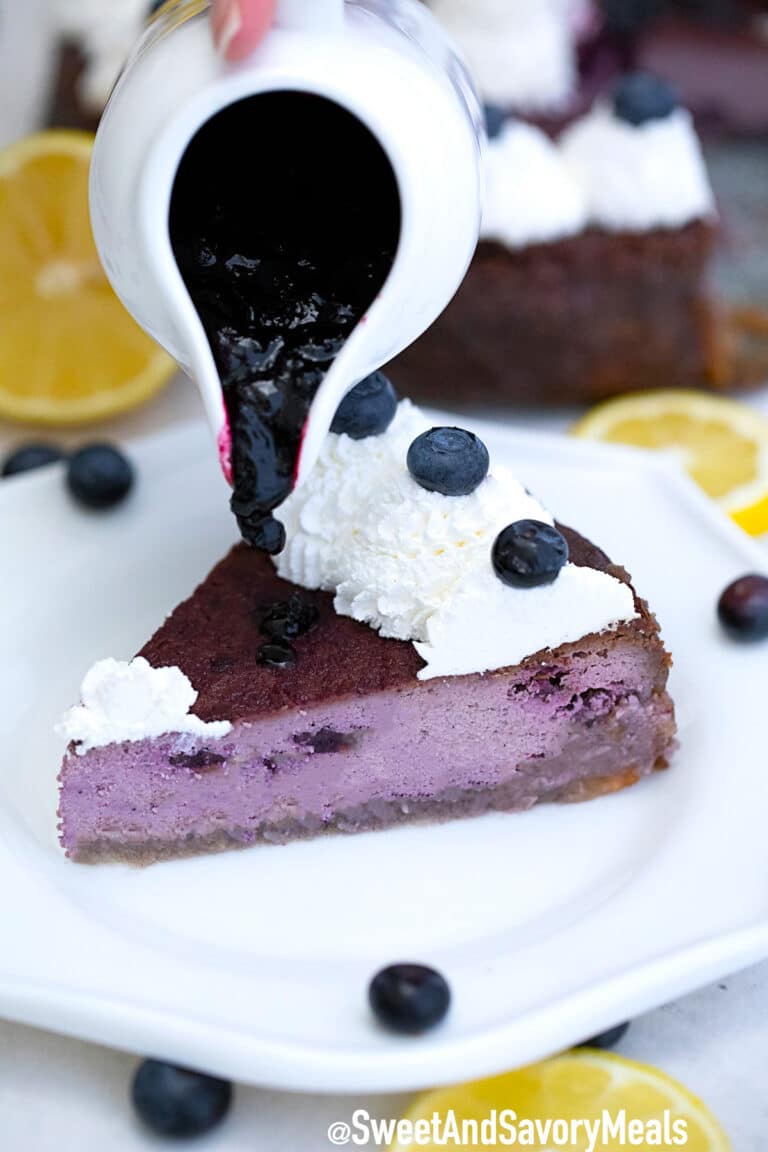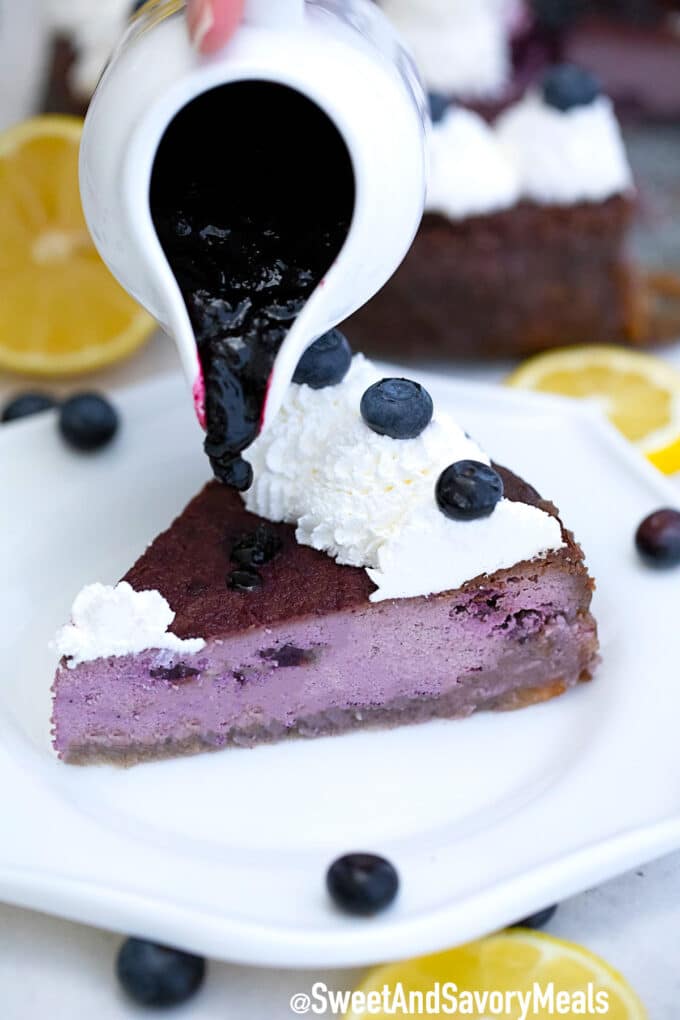 Low Carb Blueberry Cheesecake
Keto Blueberry Cheesecake has always been a classic summer favorite. Any person, from kids to adults, enjoy the delightful blend of its buttery texture and tangy flavor.
More often than not, I find myself making this recipe as a gift. Its elegant design makes it a great present since it looks fancy and delicious.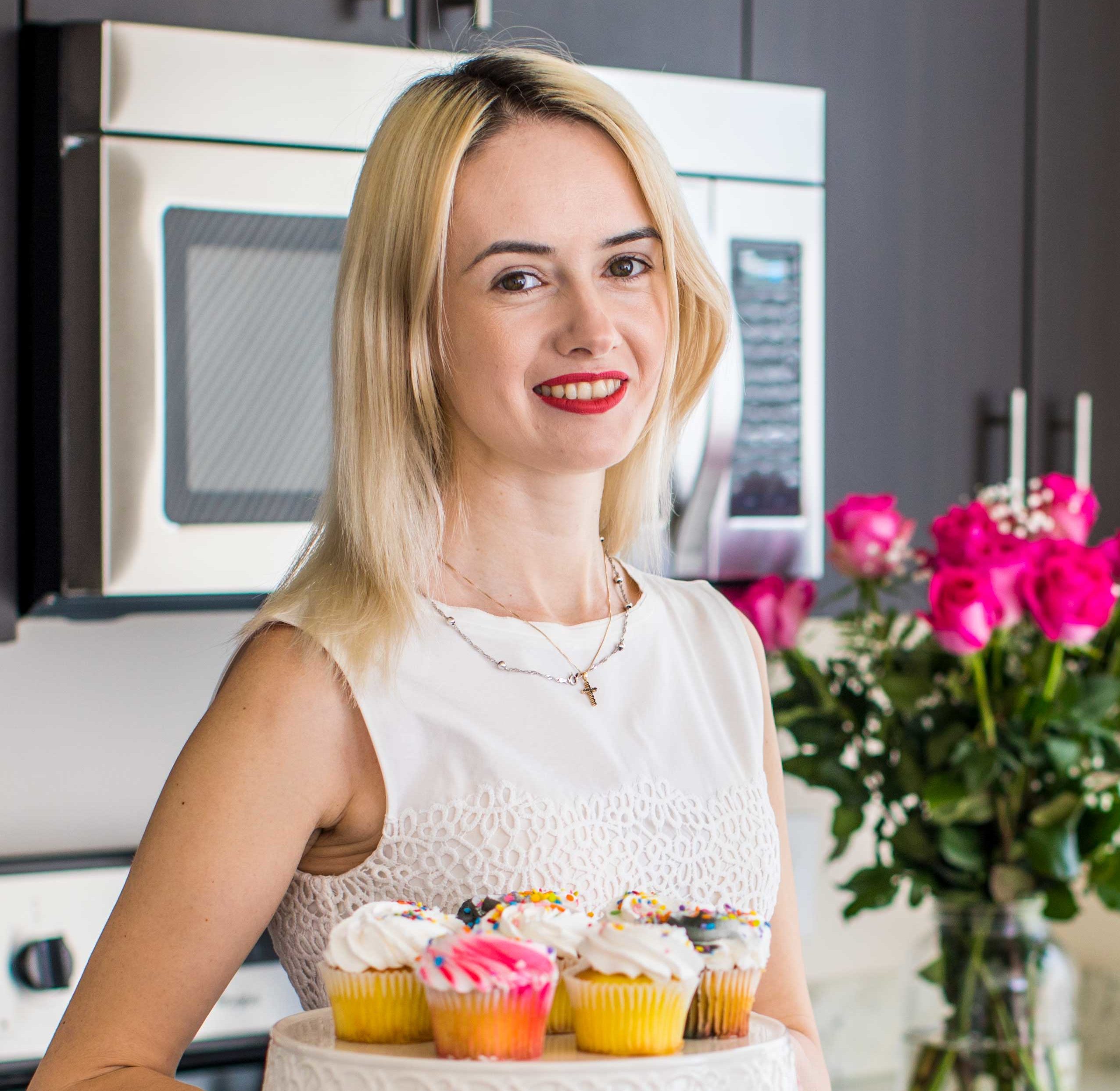 Follow us on Pinterest for more delicious recipes!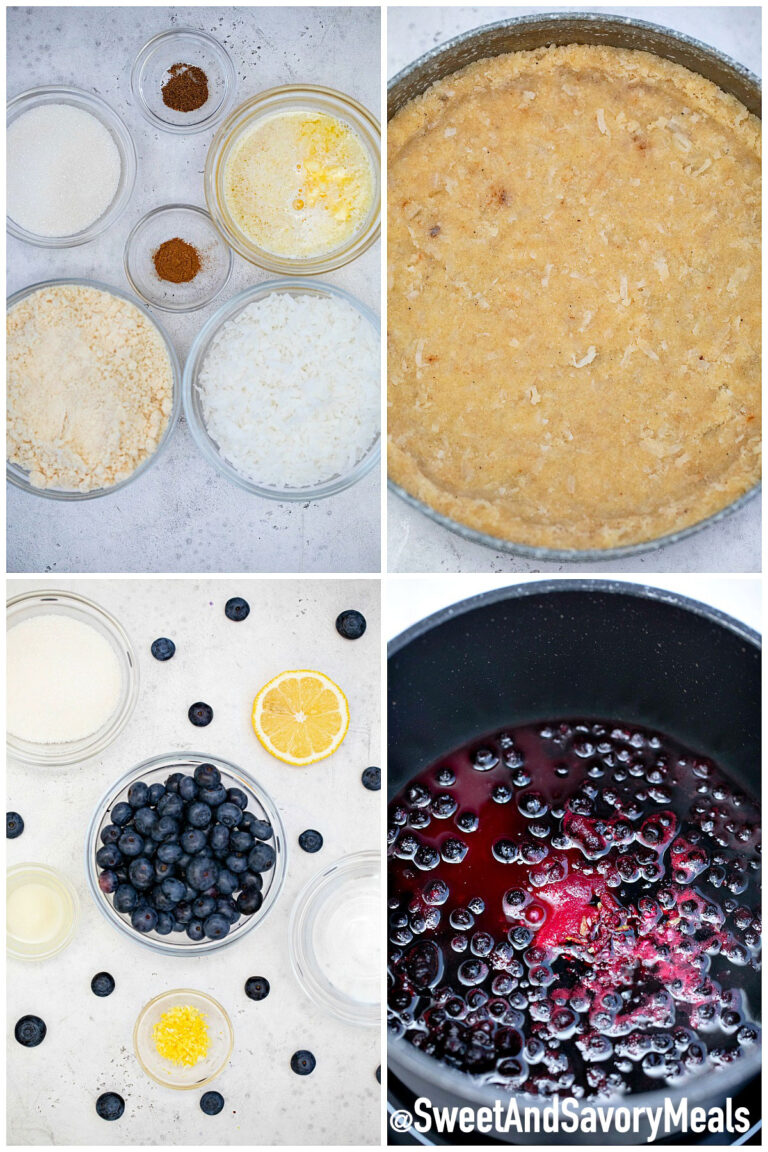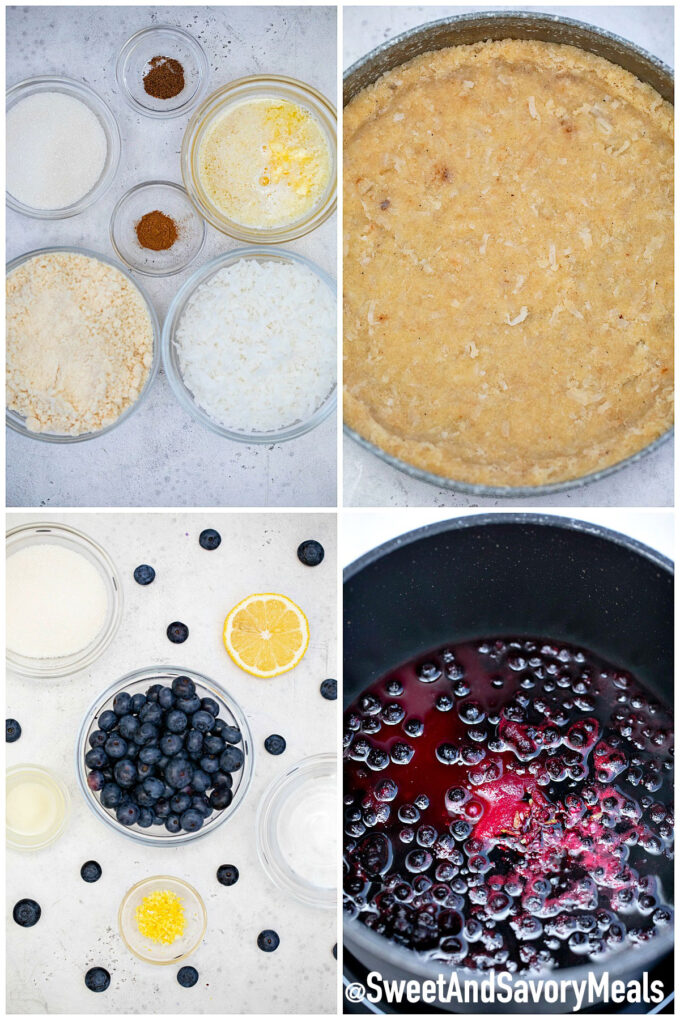 If people ask for a dessert that could never go wrong, I mostly go with this recipe. Everybody loves a classic and learning how to bake it yourself makes a very great addition to your skillset.
I am delighted to be sharing this particular recipe with you. It has a well-known creamy texture but it is lower in carbs and keto-friendly.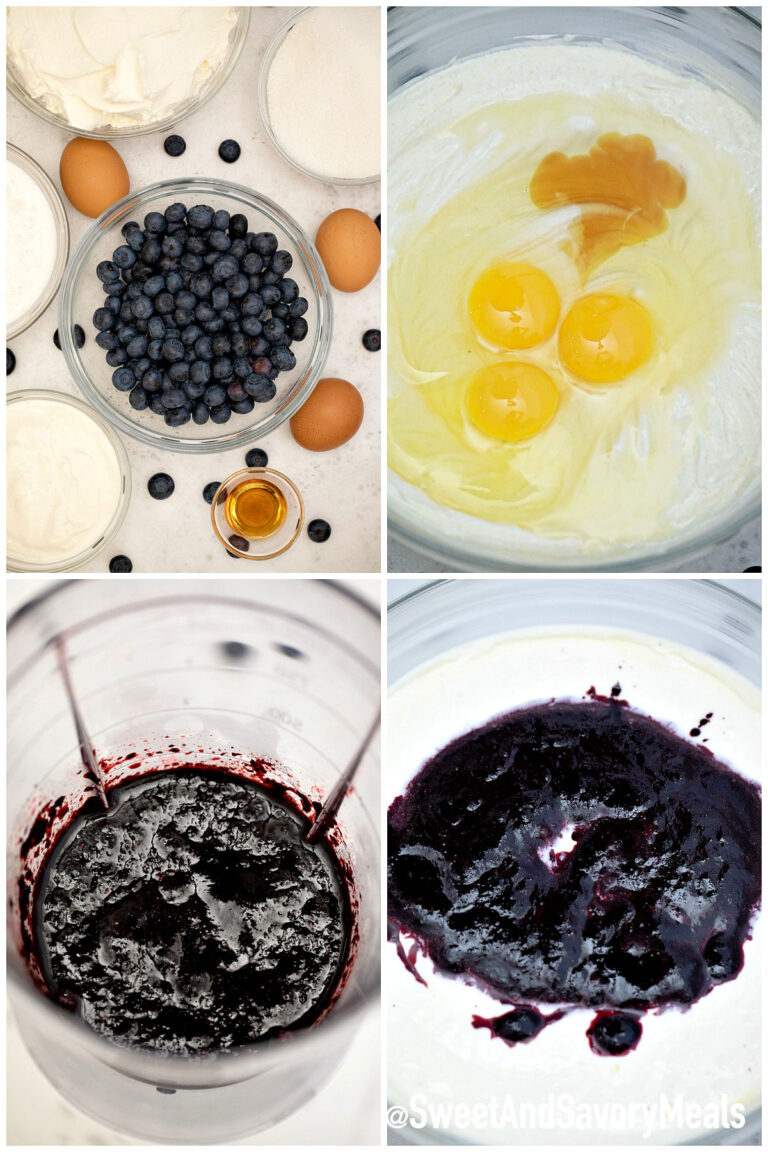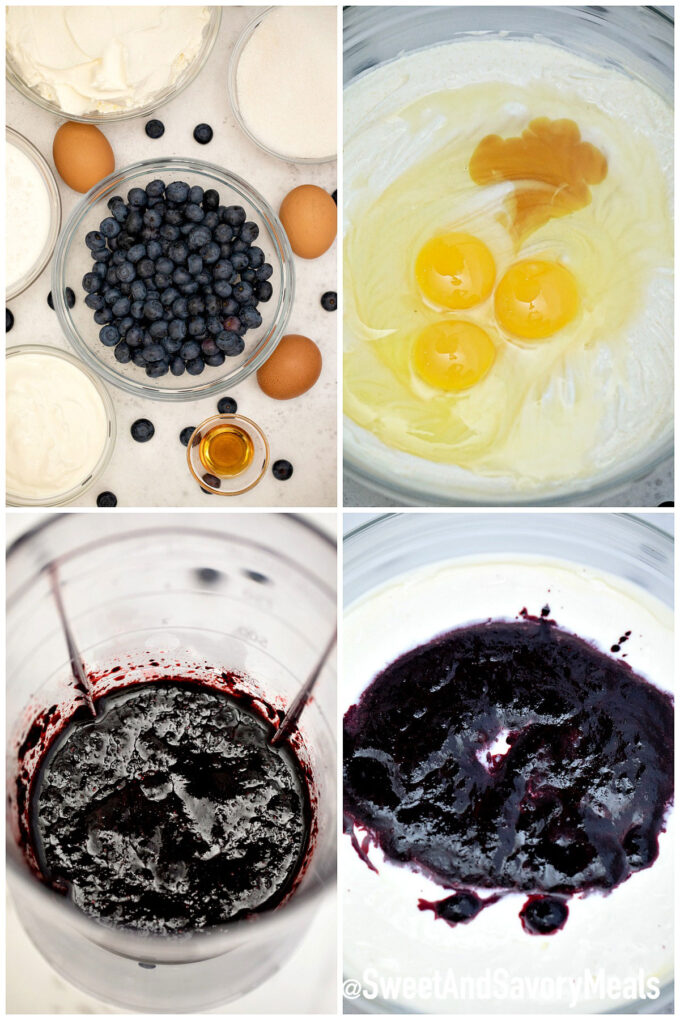 How to make Low Carb Blueberry Cheesecake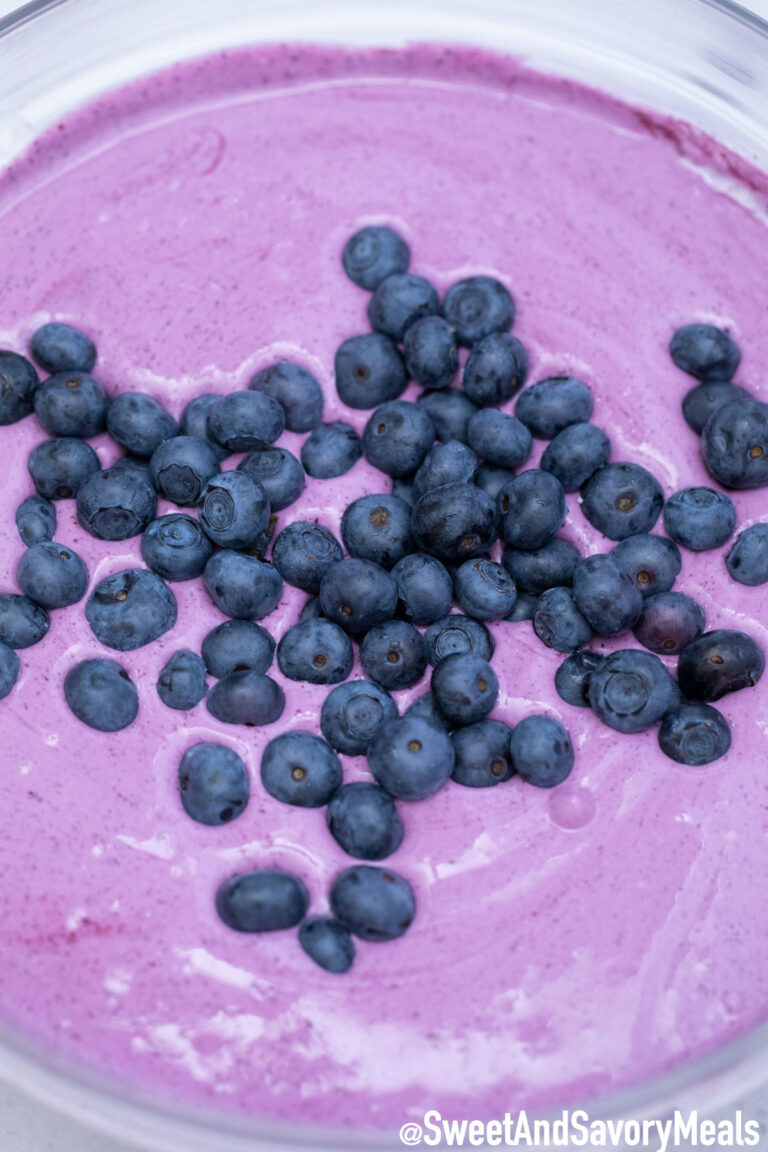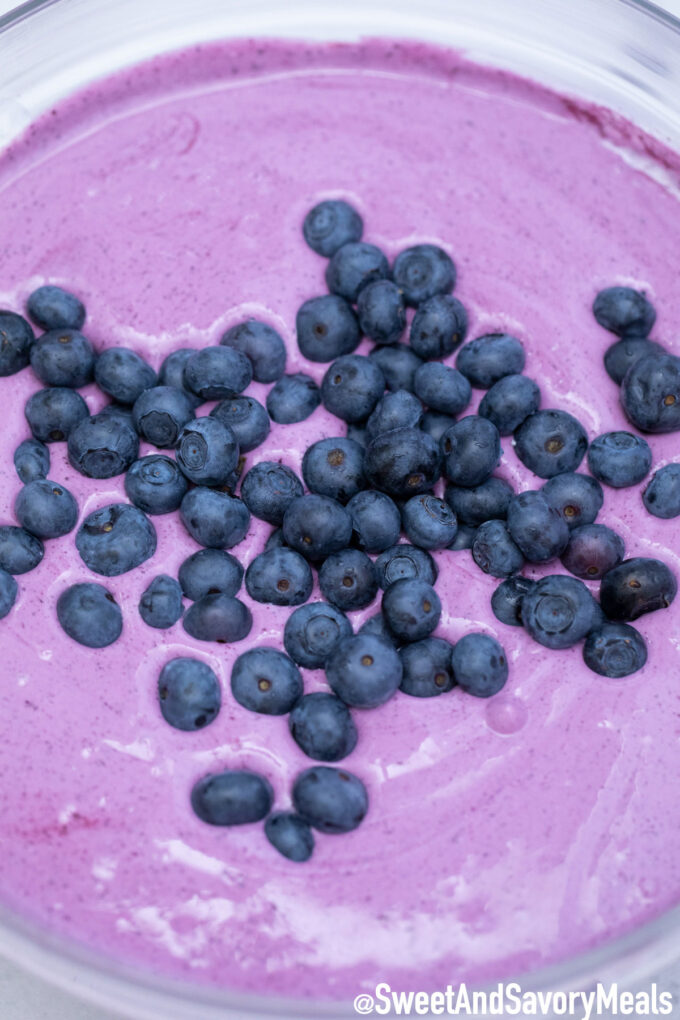 Topping options and variations:
If you are looking for other ways to make this delicacy, make sure to take a look at some of these recipes: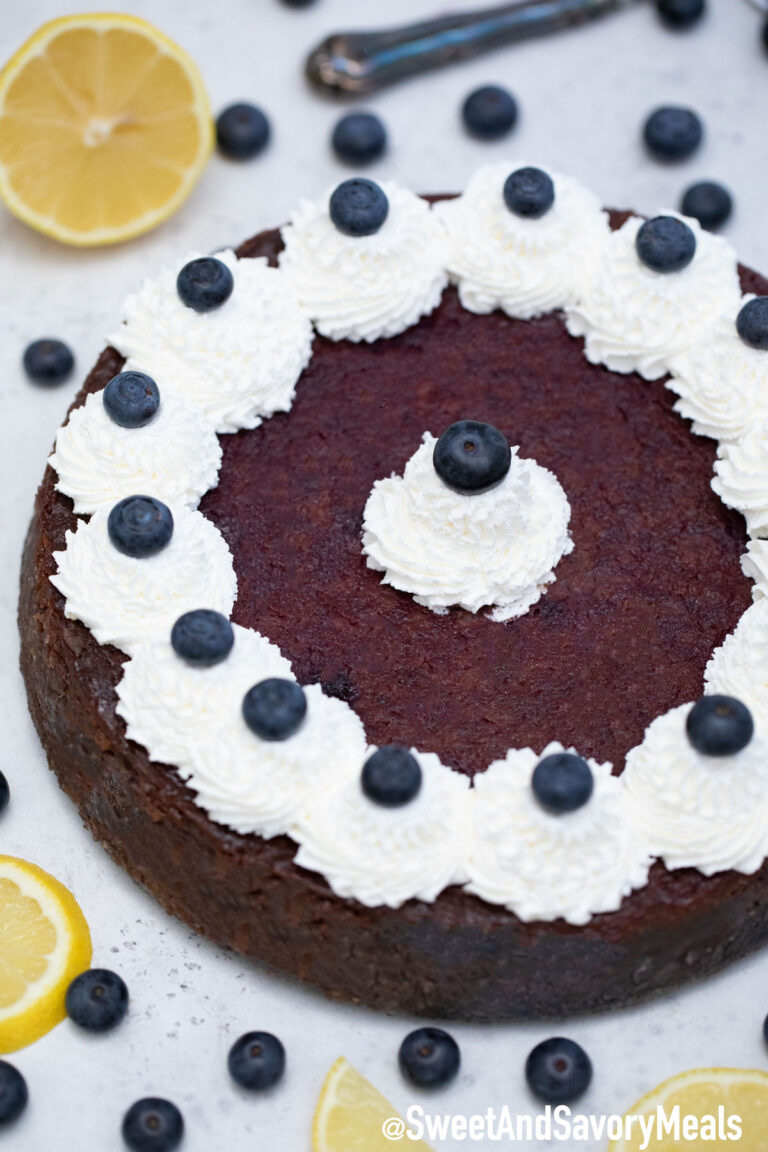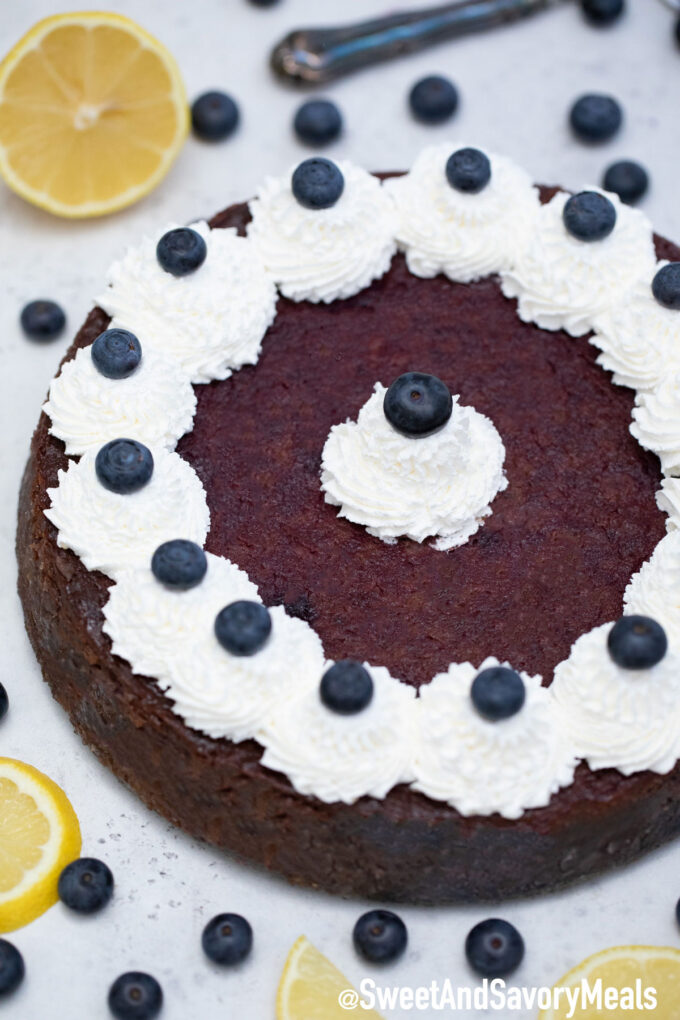 How to store Keto Blueberry Cheesecake?
There are different methods to store it which depends if you want it for the short term or long term. If you plan to consume it within 5 days from baking, place the dessert in a pan and wrap it with plastic before putting it in the fridge.
For a longer period, what you need to do is wrap it directly with plastic wrap before double sealing it by placing it inside a freezer bag. By placing it inside a freezer, this method has ensured that I can enjoy the delicacy even in about 3 months' time.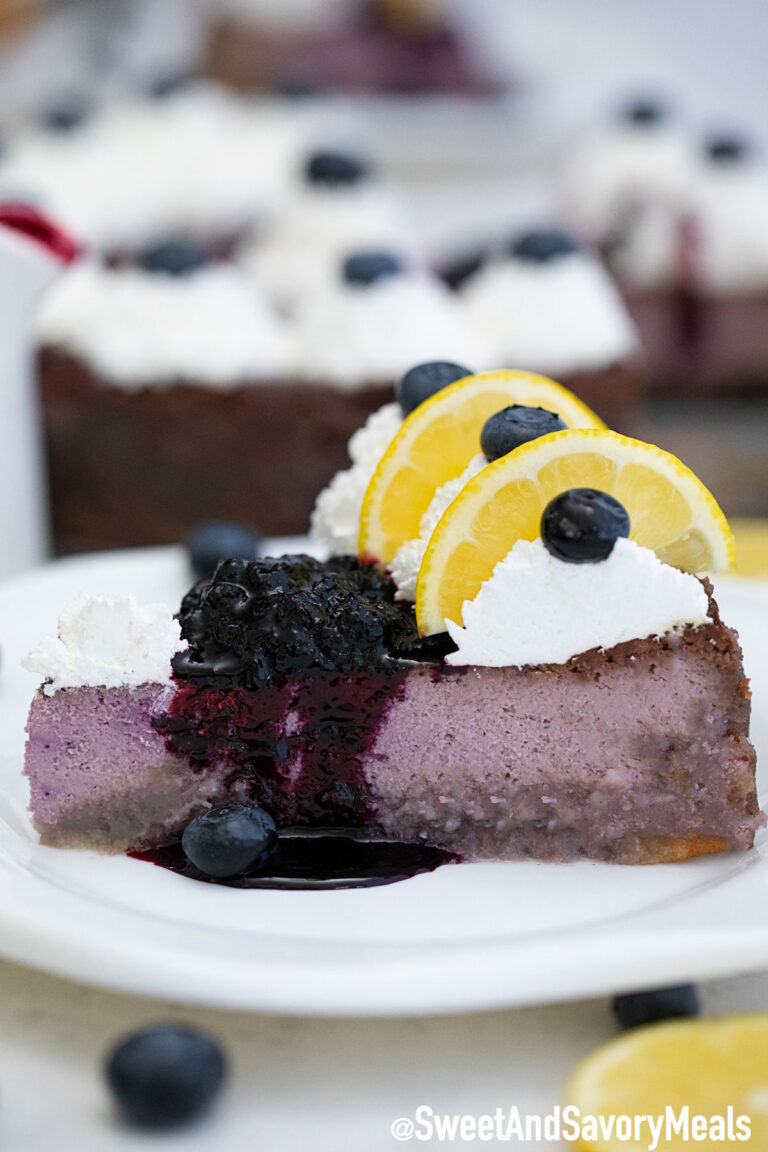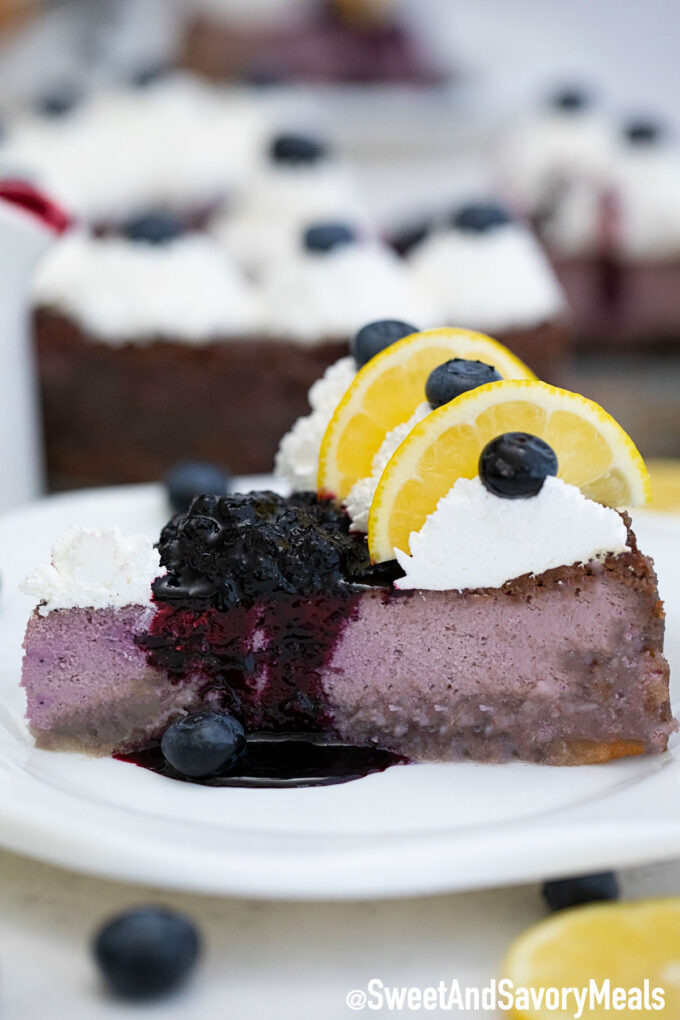 More Keto desserts:
For healthier versions of desserts, make sure to go over these recipes that I highly recommend: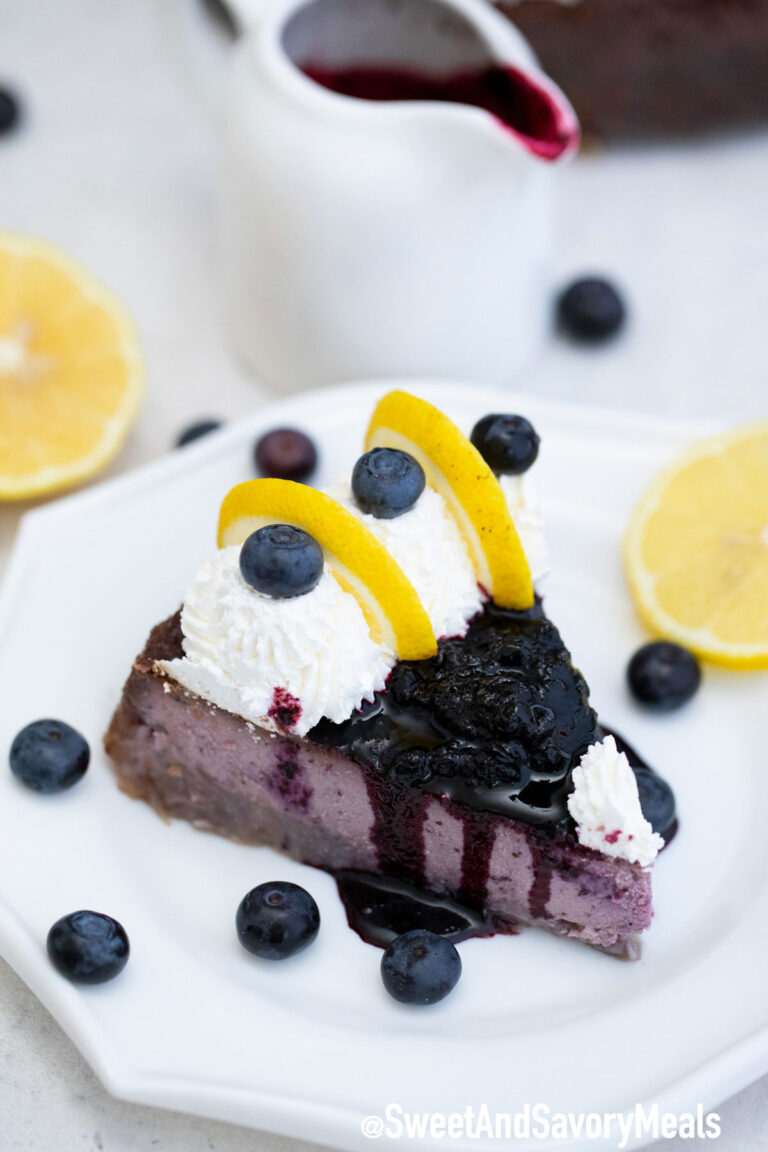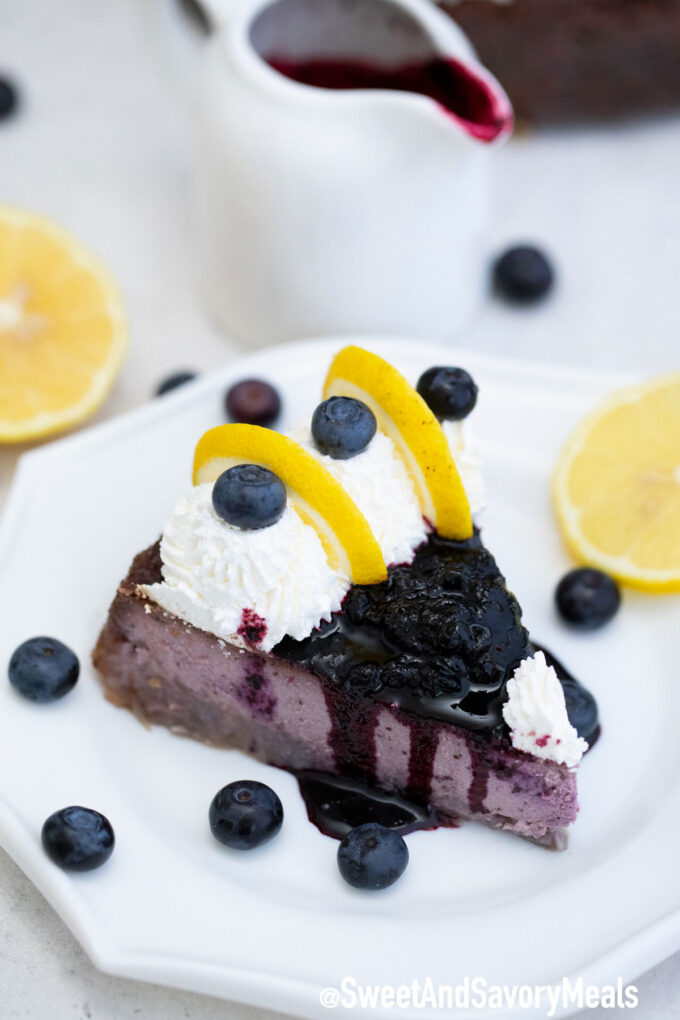 Recipe Tips
Save Recipe
Keto Blueberry Cheesecake
Author: Catalina Castravet
Serves: 10 slices
Prep time:

30

minutes
Cook time:

1

hour
Total time:

1

hr

30

mins
Ingredients
Keto Cheesecake Crust:
Baking spray for pan
1 1/2 cups almond flour
1 1/2 cups unsweetened shredded coconut
1/4 cup Swerve Granular Sugar
1/2 cup unsalted butter (melted)
1/4 teaspoon cinnamon
1/8 teaspoon ground nutmeg
Keto Cheesecake Filling:
1 cup fresh blueberries (pureed in the food processor)
1 cup fresh blueberries (whole)
32 oz cream cheese (softened to room temperature)
8 oz sour cream (room temperature)
8 oz heavy cream
1 ¼ cup Swerve Granular Sugar
3 large eggs
2 teaspoons Vanilla extract
Sugar-Free Blueberry Sauce:
1 1/2 cup blueberries
1/4 cup water
1/4 cup Swerve Granular Sugar
1 teaspoon lemon juice
1 teaspoon lemon zest
Instructions
Preheat oven to 300 degrees Fahrenheit.
Adjust the top rack to be positioned in the middle of the oven.
Keto Cheesecake Crust:
Wrap the outside of a 10-inch springform pan in a double layer of foil. Covering the bottom and sides of the pan, only from outside. This will prevent the cheesecake from water leaking in.
Spray the springform pan inside with baking spray and set aside.
Add all the ingredients to a large bowl and stir until fully combined.
Press the mixture into the prepared springform pan. Using a measuring cup or your fingers, press the crust and try to line the sides about 1 inch up.
Refrigerate for at least 20 minutes.
Keto Cheesecake Filling:
Make sure all the ingredients are of room temperature before you begin.
In the bowl of a stand mixer or in a large bowl using a hand mixer, beat the cream cheese until light and fluffy on medium-low speed, for about 1 minute. Add sour cream and cream and beat for another minute, stopping to scrape the sides and bottom of the bowl.
Add the sweetener and continue beating until well combined and creamy.
Add the vanilla, and eggs one at a time and beat after each addition until just combined. Careful not to over-mix. Stop to scrape the sides and bottom of the bowl when mixing.
Add the blueberry puree and beat just until combined.
Fold in the whole blueberries with a spatula.
Pour cheesecake batter into the prepared crust.
Bake:
Set the springform pan in a large roasting pan, that is deep enough to add water to it. Pour HOT water into the roasting pan, about halfway up the sides of the springform pan.
Transfer to the preheated oven.
Bake for 1 hour to 1 hour 20 minutes, until it only slightly jiggles in the center. I baked my cheesecake for exactly 1 hour and 20 minutes at 300 F.
Turn oven off, but leave the cake in the oven with the door slightly opened to cool slowly for an hour.
Transfer cake to a cooling rack and take off the foil. Run a butter knife around the edges to prevent the cheesecake from sticking to the sides. Cool for another 2 hours and transfer to the fridge to chill for 5-6 hours or better overnight.
Sugar-Free Blueberry Sauce:
Place a medium saucepan on the stove over medium heat. Add the blueberries.
Add water, lemon juice, lemon zest, and the sweetener.
Stir and simmer for 4-5 minutes, crushing a few berries.
Serve:
Slice cheesecake and serve with the Sugar-Free Berry Sauce and Sugar-Free Whipped Cream on the side.
Calories: 534 Carbohydrates: 22 Protein: 15 Fat: 45 Saturated Fat: 25 Cholesterol: 133 Sodium: 558 Potassium: 419 Fiber: 5 Sugar: 11 Vitamin A: 983 Vitamin C: 4 Calcium: 241 Iron: 2
Save Recipe
More recipes you might love