Marshmallow Chocolate Caramel Cheesecake
This post may contain affiliate links. Please read my disclosure policy.
Chocolate Caramel Cheesecake is topped with a pile of toasted marshmallows, easy homemade caramel sauce and sweet maraschino cherries.
Well, yesterday I have shared with you an Almond Cherry Ricotta Bundt Cake, but if you are looking for something chocolaty to make for Valentine's Day or just because you really crave chocolate, check this mind blowing Chocolate Caramel Cheesecake that is topped with a shiny layer of caramel and a pillow of toasted marshmallows.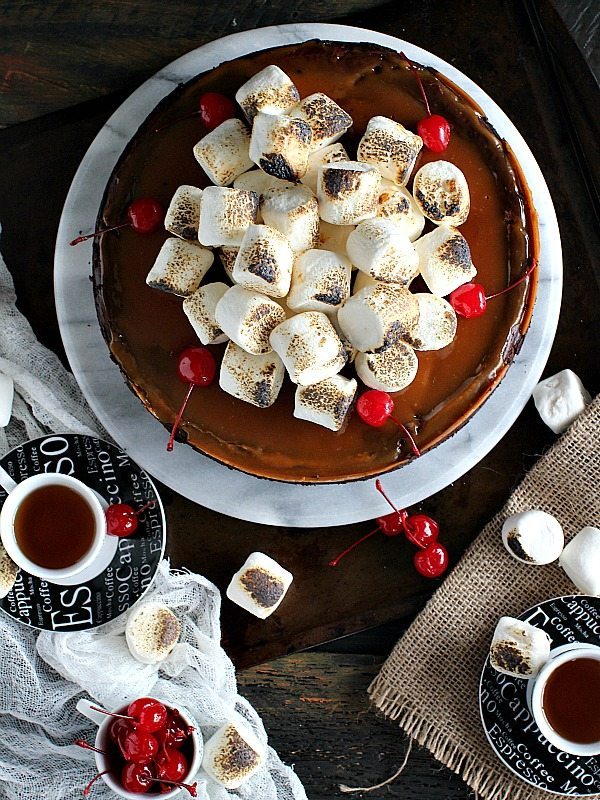 You know what is really cool about this Chocolate Caramel Cheesecake ? Well, the fact that its so easy to make! You make that really delicious and buttery Oreo crust, you mix all those two pounds of cream cheese (yeah, this is not a diet cake) and you bake it. You don't even have to worry if it cracks, mine actually cracked a little, since you will top it with caramel sauce, that will fill all the imperfections and make it perfect.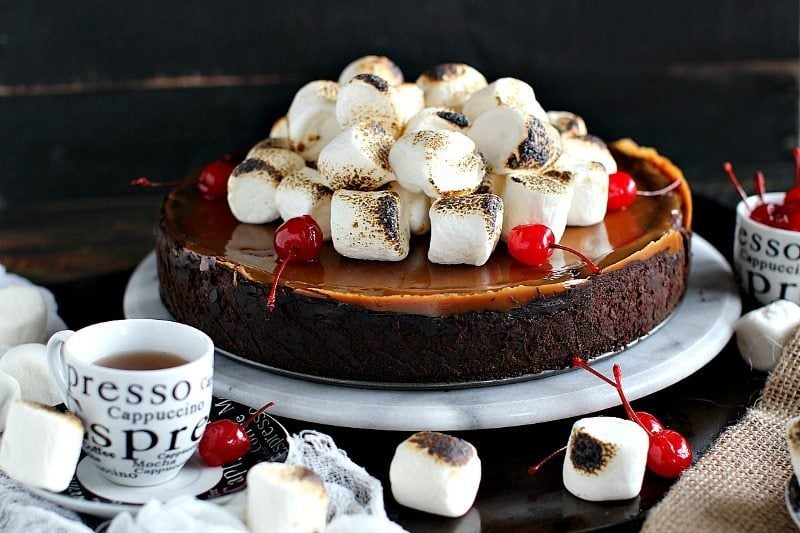 I usually give my cheesecakes a water bath, add some flour to avoid the cracks, but not to this one, since the homemade caramel sauce literally takes care of everything. And that pile of toasted marshmallows on top of the caramel? Thats whats making this dessert a show stopper!

Regardless if you celebrate Valentine's Day or not, regardless if you want to make this Chocolate Caramel Cheesecake for yourself, a loved one, a friend or other half, you need to find a reason to get it into your life!
Are you scared of making homemade caramel sauce? With this fool proof recipe, you will have a jar of caramel sauce ready in 10 minutes and you don't even need a candy thermometer. The only kitchen gadget you need to have on hand for this cake is a torch, and you better invest in one, cause that stuff makes magic happen in the kitchen.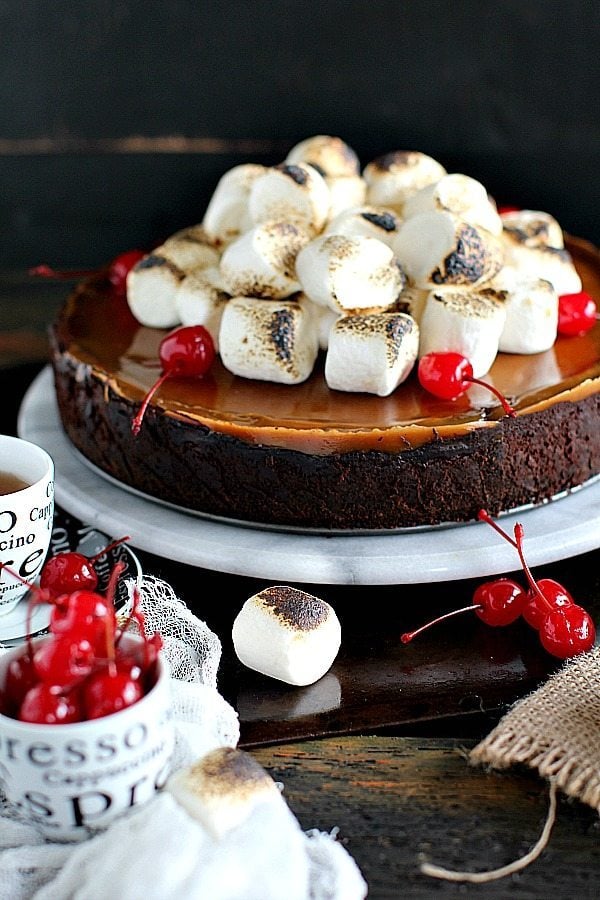 The Chocolate Caramel Cheesecake is not overly sweet, its very dense and creamy and has the perfect cheesecake texture. Rich, chocolate cheesecake sitting on a sweet oreo crust, its a chocolate lover dream come true.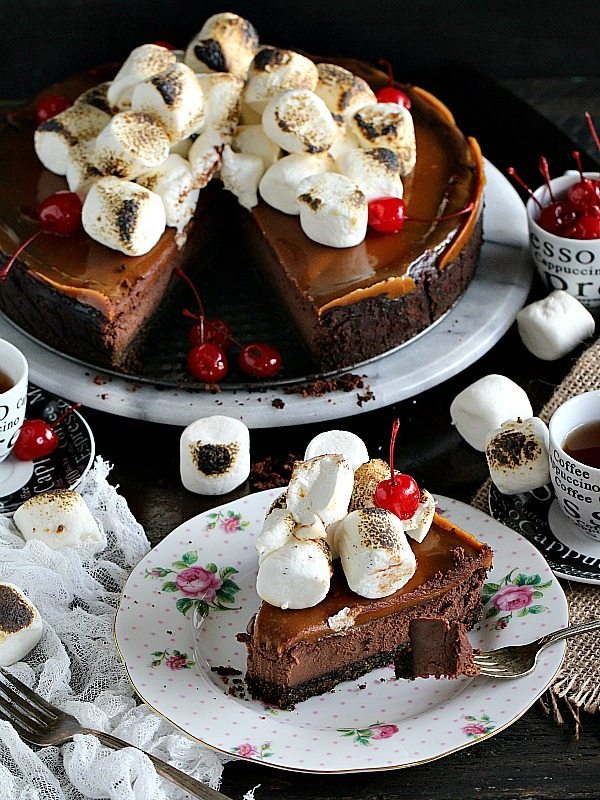 And the caramel, well everything is better with caramel in my humble opinion, especially when its chocolate and caramel. This caramel sauce once it hardens its not very liquid, it will create a mirror like surface on top of the cheesecake, so prepare the sauce once you are ready to pour it over the cake.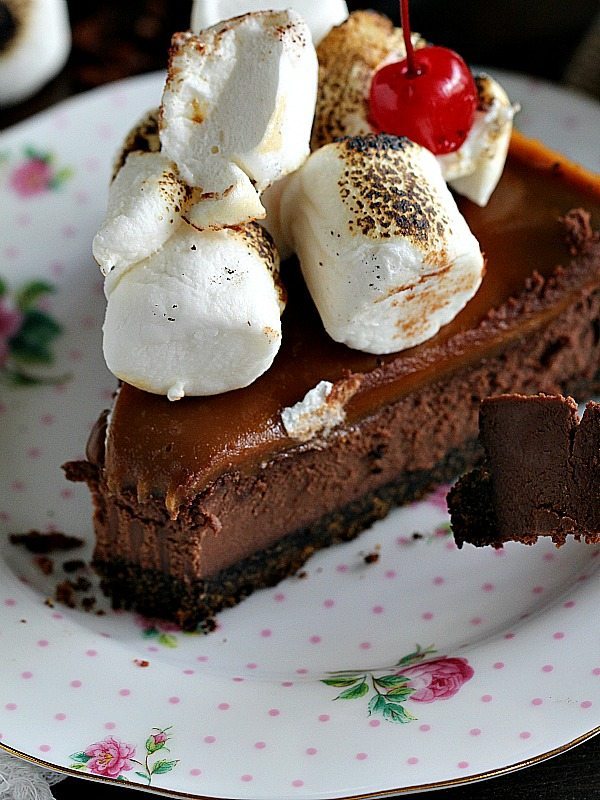 A cloud of sweet and toasted marshmallows are the perfect finish for this Chocolate Caramel Cheesecake and a few maraschino cherries are added for a pop of color and to brighten the overall chocolaty dessert. Toasted marshmallows, chocolate and caramel, this is the type of cake I can eat it all by myself!

Toasted Marshmallow Chocolate Caramel Cheesecake
Chocolate Caramel Cheesecake is topped with a pile of toasted marshmallows, easy homemade caramel sauce and sweet maraschino cherries.
Author:
Katalina Kastravet
Ingredients
For the Crust:
3 cups oreo crumbs, about 30 Oreo cookies
¼ cup unsalted butter, melted
For Cheesecake Filling:
2 lbs. cream cheese, room temperature
2 cups powdered sugar
½ cup unsweetened cocoa powder
4 eggs, room temperature
10 ounces semisweet chocolate, chopped
Caramel Sauce
1 cup granulated sugar
6 tablespoons unsalted butter, room temperature and cut up into pieces
½ cup heavy cream
1 teaspoon sea salt
Garnish:
20 large marshmallows
6-8 maraschino cherries
Instructions
Crust:
Preheat oven to 350 degrees F.
Spray a 9-inch springform pan with baking spray and set aside.
Finely crush the cookies in a food processor, transfer to a medium bowl and add melted butter. Mix until combined, press crumb mixture onto the bottom of the prepared pan and bake for 5 minutes. Remove from the oven and set aside on a wire rack to cool while making the cheesecake filling.
Filling:
Bring a medium saucepan half filled with water to a boil. Place chopped chocolate in a heat proof medium bowl set over the saucepan of simmering water, let it melt, stirring just a few times. Make sure the bowl doesn't touch the boiling water, to avoid overheating. Remove bowl from heat and set aside to cool.
In the bowl of a stand mixer fitted with the wire whisk, mix cream cheese and sugar until smooth, mix in cocoa powder and add the eggs one at a time, mixing on low speed and making sure not to overbeat. Pause a few times to scrape the sides of the bowl with a spatula.
Add melted chocolate and mix on low speed to combine.
Pour the cheesecake filling over the crust and smooth the top.
Bake until the center is set and the top looks dry (about 1 hour to 1 hour 10 minutes).
Remove from oven and cool in the pan on a wire rack and prepare the caramel sauce.
Caramel Sauce
In a medium sauce pan over medium heat melt sugar while stirring constantly until a brownish liquid forms.
When sugar has completely melted, add the butter and stir until well combined.
Carefully while still stirring add the heavy cream, once all the cream has been added let the mixture boil without stirring for one minute.
Remove from heat, and pour caramel over the cheesecake. Using a spatula or spoon smooth it on top of the cheesecake.
Let the cheesecake cool down and for the caramel to settle for 30-40 minutes, then run a thin knife around the sides of the pan and set the cake in the refrigerator (uncovered), for at least 8 hours, or better overnight before serving.
Garnish:
When ready to serve pile up 20 large marshmallows in the middle of the cake and using a torch toast them carefully.
Add a few maraschino cherries and serve.
Peas and Peonies, LLC. owns the copyright on all images and text and does not allow for its original recipes and pictures to be reproduced anywhere other than at this site unless authorization is given. If you enjoyed the recipe and would like to publish it on your own site, please re-write it in your own words, and link back to my site and recipe page. Copying and/or pasting full recipes to social media or personal blogs is strictly prohibited. Sharing this recipe is very much appreciated and encouraged. Read my disclosure and privacy policy. This post may contain affiliate links.