Marshmallow Chocolate Caramel Cheesecake
Marshmallow Chocolate Caramel Cheesecake is delicious, not overly sweet, yet very dense and creamy. It has the perfect cheesecake texture, with rich chocolate sitting on a sweet Oreo crust, making it a chocolate lover's dream cake.
Making beautiful and delicious Cheesecakes is a passion of mine. If you are a cheesecake lover like me, try my other favorite recipes like Crepe stuffed New York cheesecake, Meyer Lemon Blueberry Cheesecake and Cheesecake Factory Original Cheesecake.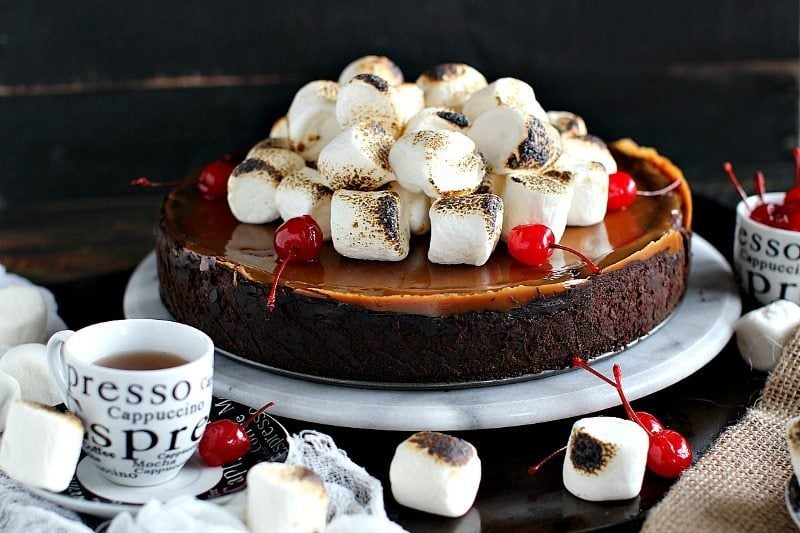 Marshmallow Chocolate Caramel Cheesecake
Marshmallow Chocolate Caramel Cheesecake is easy to make and tastes delicious. In addition, it is loaded with chocolate and topped with buttery Oreo crust and marshmallows. You don't even have to worry if the cheesecake cracks, because you will top it with caramel sauce. That will fill all the imperfections and make it perfect.
I usually give my cheesecakes a water bath, add some flour to avoid the cracks. However, not to this one, since the homemade caramel sauce literally takes care of everything. And that pile of toasted marshmallows on top of the caramel? That is whats making this dessert a show stopper!
Regardless if you celebrate Valentine's Day or not, or if you want to make this cake for yourself, a loved one, a friend or other half, you need to find a reason to get it into your life! The only kitchen gadget you need to have on hand for this cake is a torch. You better invest in one, cause that stuff makes magic happen in the kitchen.
Pin This Marshmallow Chocolate Caramel Cheesecake Recipe to your Favorite Board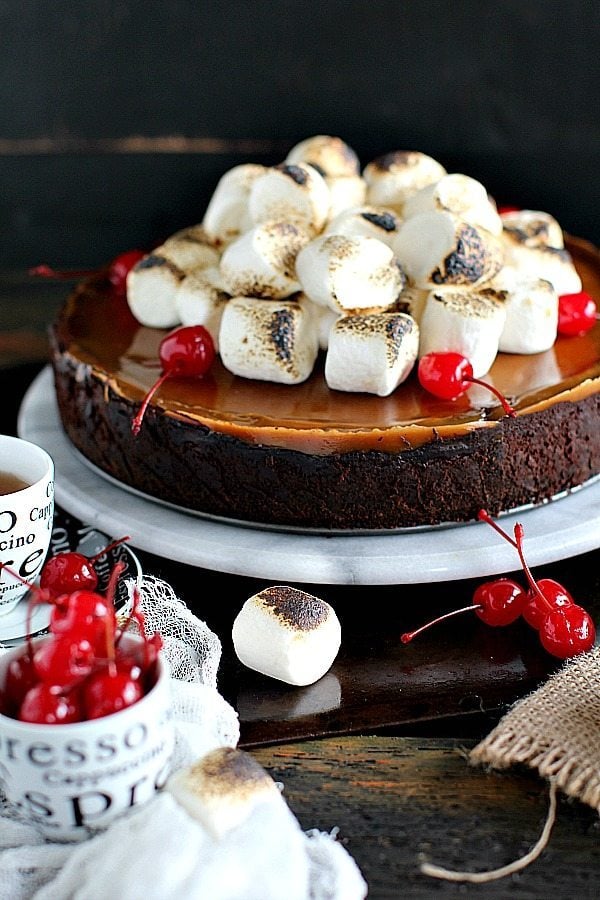 Why You'll Love This Chocolate Caramel Cheesecake:
Fool-proof and easy to follow.
Produces a creamy and rich cheesecake that will be a hit with everyone.
Perfect for chocolate lovers.
Can be made 1 or 2 days in advance so you don't have to worry about dessert.
The ingredients are simple and easy to find.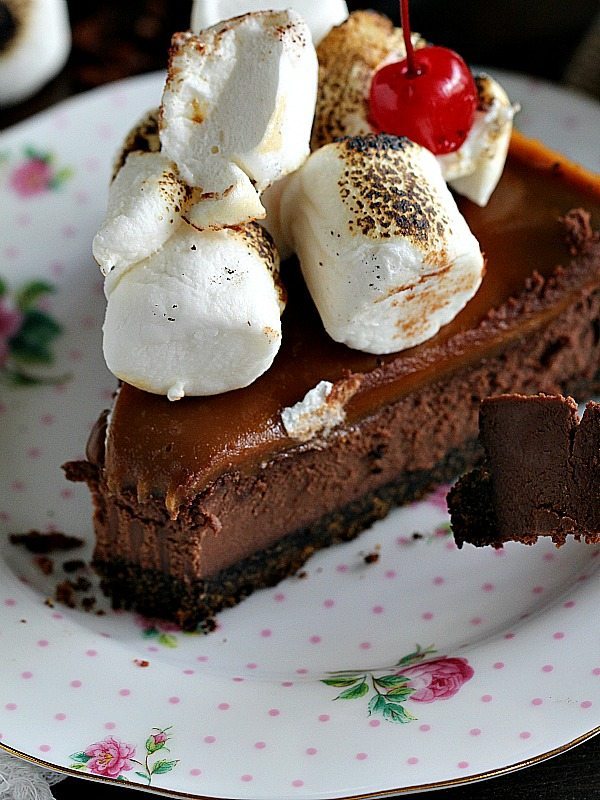 How do I know when a cheesecake is done baking?
Gently shake the cheesecake, If the cheesecake looks nearly set and only a small area in the center jiggles slightly, it is done. The center will firm up during the cooling time, as it will cook from the residual heat.
How to remove a cheesecake from the springform pan?
Carefully run a small knife around the edge of the pan, starting all the way up and working your way down. This way you will loosen and bits that stuck to the pan.
Unbuckle the spring form pan and remove the circular band only after the cheesecake has been properly chilled and becomes cold.
To transfer the cheesecake to a serving dish, run a long, thin spatula between the crust and the pan bottom, and gently slide the cheesecake onto the serving dish.
How to slice a cheesecake?
Run a long, sharp thin-bladed slicing knife under hot tap water or dip it into a glass of hot water prior to slicing the cheesecake. Wipe the knife clean and run it it under hot water before making another cut.
An easy, mess free way to cut even slices is to use cheese wire or unflavored dental floss. Clean the bits that stuck to the wire/floss before every cut.
HOW TO FREEZE A CHEESECAKE:
You can freeze the cheesecake BEFORE you top it with whipped cream or any other sauces or chocolate ganaches. Make sure the cheesecake has fully cooled and also was refrigerated for at least 6 hours. Wrap cheesecake tightly with aluminum foil or plastic freezer wrap, or place in a heavy-duty freezer bag. Properly stored, it will maintain best quality for about 2 to 3 months.
Marshmallow Chocolate Caramel Cheesecake
Marshmallow Chocolate Caramel Cheesecake is delicious, not overly sweet, yet very dense and creamy.
Save
Share
Print
Pin
Rate
Ingredients
For the Crust:
3

cups

Oreo crumbs

(about 30 Oreo cookies)

1/4

cup

unsalted butter

(melted)
For Cheesecake Filling:
2

lbs.

cream cheese

(room temperature)

2

cups

powdered sugar

1/2

cup

unsweetened cocoa powder

4

eggs

(room temperature)

10

ounces

semisweet chocolate

(chopped)
Caramel Sauce
1

cup

granulated sugar

6

tablespoons

unsalted butter

(room temperature and cut up into pieces)

1/2

cup

heavy cream

1

teaspoon

sea salt
Garnish:
20

large marshmallows

6-8

maraschino cherries
Instructions
Crust:
Preheat oven to 350 degrees F.

Spray a 9-inch springform pan with baking spray and set aside.

Finely crush the cookies in a food processor, transfer to a medium bowl and add melted butter. Mix until combined, press crumb mixture onto the bottom of the prepared pan and bake for 5 minutes. Remove from the oven and set aside on a wire rack to cool while making the cheesecake filling.
Filling:
Bring a medium saucepan half filled with water to a boil. Place chopped chocolate in a heat proof medium bowl set over the saucepan of simmering water, let it melt, stirring just a few times. Make sure the bowl doesn't touch the boiling water, to avoid overheating. Remove bowl from heat and set aside to cool.

In the bowl of a stand mixer fitted with the wire whisk, mix cream cheese and sugar until smooth, mix in cocoa powder and add the eggs one at a time, mixing on low speed and making sure not to overbeat. Pause a few times to scrape the sides of the bowl with a spatula.

Add melted chocolate and mix on low speed to combine.

Pour the cheesecake filling over the crust and smooth the top.

Bake until the center is set and the top looks dry (about 1 hour to 1 hour 10 minutes).

Remove from oven and cool in the pan on a wire rack and prepare the caramel sauce.
Caramel Sauce
In a medium sauce pan over medium heat melt sugar while stirring constantly until a brownish liquid forms.

When sugar has completely melted, add the butter and stir until well combined.

Carefully while still stirring add the heavy cream, once all the cream has been added let the mixture boil without stirring for one minute.

Remove from heat, and pour caramel over the cheesecake. Using a spatula or spoon smooth it on top of the cheesecake.

Let the cheesecake cool down and for the caramel to settle for 30-40 minutes, then run a thin knife around the sides of the pan and set the cake in the refrigerator (uncovered), for at least 8 hours, or better overnight before serving.
Garnish:
When ready to serve pile up 20 large marshmallows in the middle of the cake and using a torch toast them carefully.

Add a few maraschino cherries and serve.
Nutrition
Calories:
667
kcal
|
Carbohydrates:
82
g
|
Protein:
10
g
|
Fat:
34
g
|
Saturated Fat:
18
g
|
Cholesterol:
105
mg
|
Sodium:
732
mg
|
Potassium:
424
mg
|
Fiber:
3
g
|
Sugar:
63
g
|
Vitamin A:
700
IU
|
Calcium:
140
mg
|
Iron:
5
mg
More recipes you might love