Chocolate Blueberry Bread & French Toast
This post may contain affiliate links. Please read my disclosure policy.
A homemade Chocolate Blueberry Bread is transformed in a sweet and cinnamony French Toast served with a drizzle of honey and Nutella.
Happy Friday!! Let's celebrate the end of the week with chocolate. You have to make this Chocolate Blueberry Bread tonight so you can make French Toast tomorrow morning. It's a win win situation, you get to eat it as a snack today and have a chocolaty breakfast on the weekend.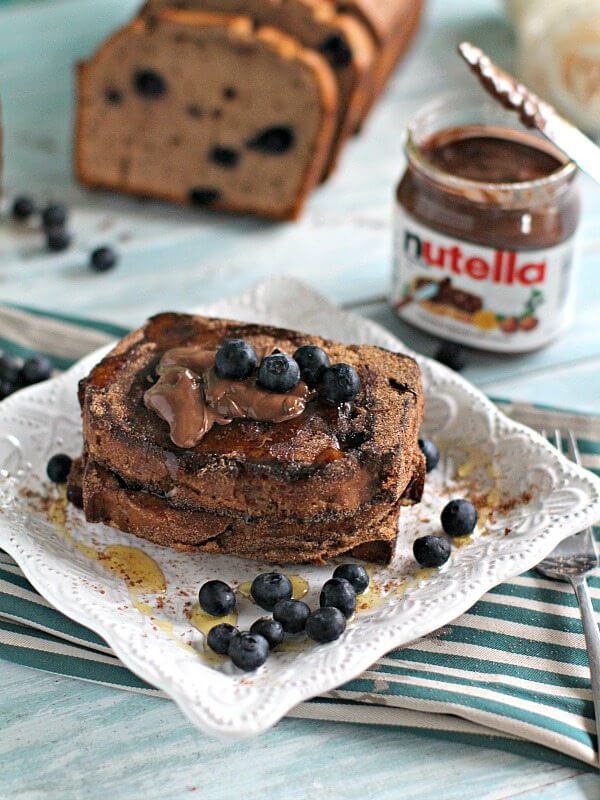 This Chocolate Blueberry Bread French Toast is the breakfast of the champions. I really want to eat it every single day! Sweet, fluffy, with lots of cinnamon flavor, a drizzle of honey and Nutella its the most fabulous start of the day!

It all begins with this Chocolate Blueberry Bread that is made with a little mascarpone for a denser texture. You see, this bread is not the super fluffy one you usually use for French toast. I am not a huge fan of that one since it absorbs a lot of liquid, gets wet and the French toast is ruined, or you have to cut huge slices to avoid that problem.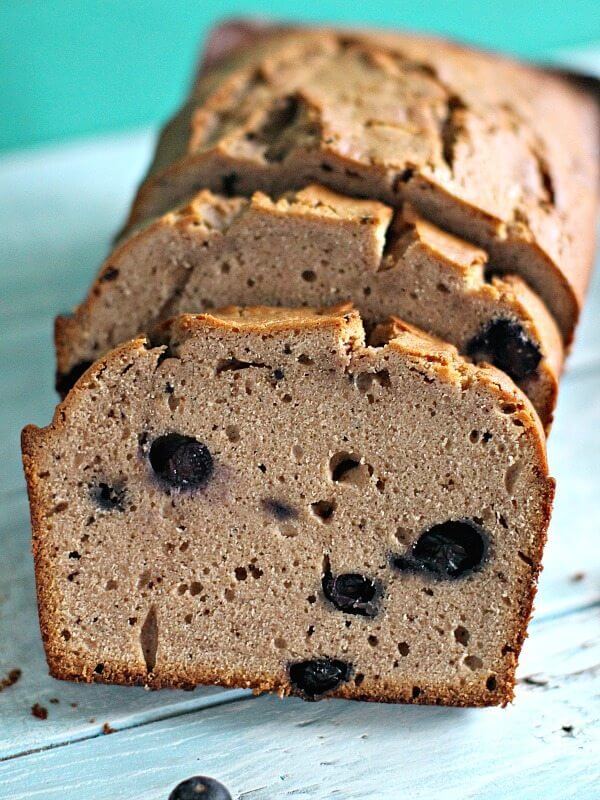 This Chocolate Blueberry Bread texture is perfect. Soft, with juicy blueberries and a little cacao to enhance its flavor. The bread holds up nicely doing the French Toast cooking action. It absorbs the right amount of egg mixture, and smoothered in cinnamon sugar it just becomes totally irresistible.

MY LATEST VIDEOS
And don't forget the Nutella!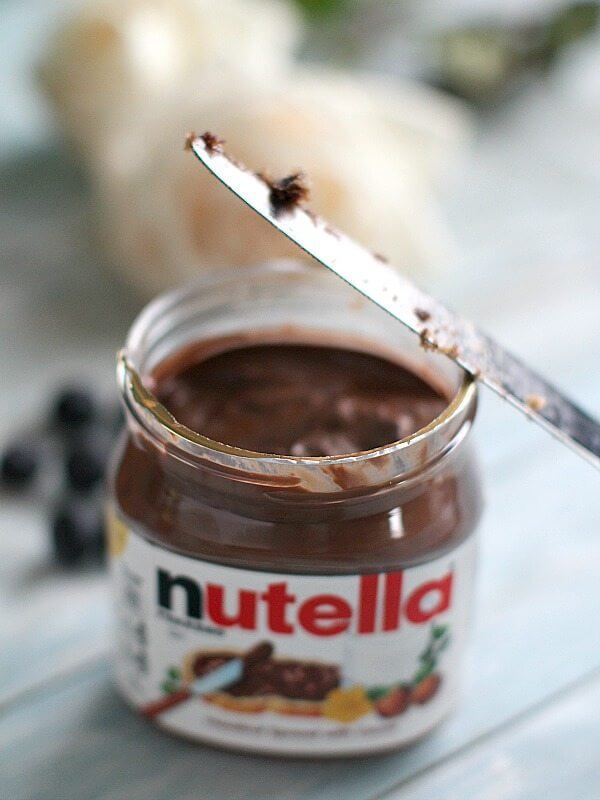 Nutella is always good, straight from the jar or on your French Toast, it's always a good idea to have some on hand.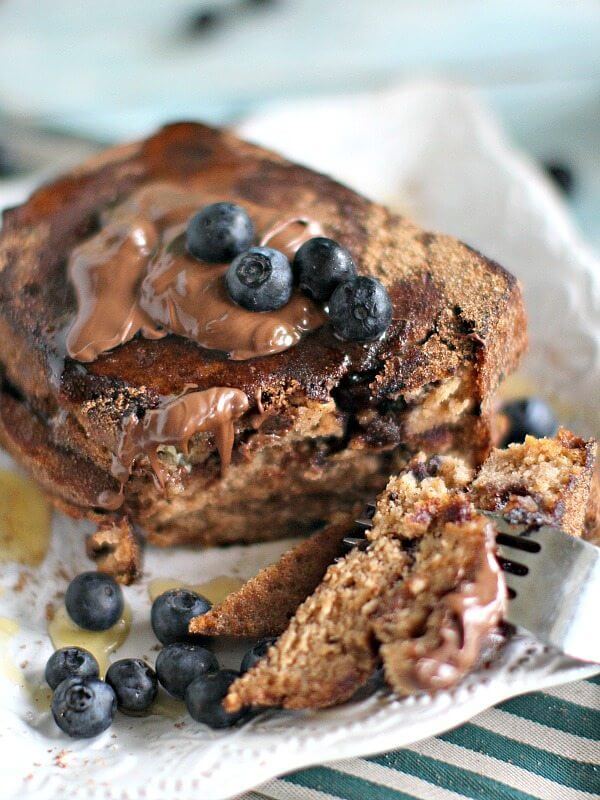 Just look at this stack of Cholcolate Blueberry Bread French Toast! The juicy blueberries, the drizzle of honey, the cinnamon sugar shell and the Nutella all work in harmony creating this decadent and indulging breakfast.
You can totally just eat the Chocolate Blueberry Bread on its own, plain, or toasted with some butter, or better Nutella. But, taking the extra 10 minutes to make this French Toast will make your taste buds extra happy.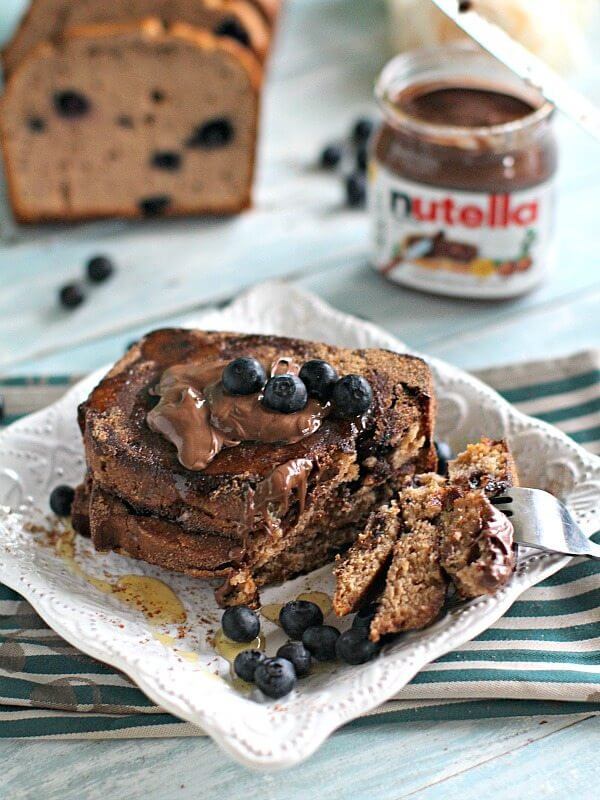 I am just happy I have some leftover Chocolate Blueberry Bread so I can indulge into this breakfast tomorrow morning again! I know my hubby and son will appreciate this just as much as I do!

Chocolate Blueberry Bread & French Toast
A homemade Chocolate Blueberry Bread is transformed in a sweet and cinnamony French Toast served with a drizzle of honey and Nutella.
Author:
Katalina Kastravet
Ingredients
Chocolate Blueberry Bread:
2½ cups all-purpose flour
2 cups sugar
½ cup unsweetened cocoa powder
1½ teaspoons baking powder
½ teaspoon salt
1½ cups heavy cream
½ cup mascarpone cheese
3 large eggs
1 cup fresh blueberries
French Toast:
4 thick slices of the chocolate blueberry bread
2 tablespoons butter
2 eggs
¼ cup milk
Pinch of salt
⅓ cup cinnamon sugar or ( ⅓ cups sugar mixed with ½ teaspoon cinnamon)
1 cup fresh blueberries
Instructions
Chocolate Blueberry Bread:
Preheat oven to 325 degrees F.
Grease a 9 by 5-inch loaf pan with melted butter and sprinkle with a dash of flour.
In a large bowl whisk the dry ingredients: flour, salt, baking powder and cocoa.
In the bowl of an electric mixer whisk eggs and sugar until light in color and fully combined. Whisk in the mascarpone cheese. Make sure to scrape the sides of the bowl with a spatula as needed.
Reduce speed to low and add the flour mixture alternating with the heavy cream. Whisk until combined.
Gently, using a spatula fold in the blueberries. Spoon the batter evenly into the prepared pan.
Bake until a wooden pick inserted in center comes out clean, about 1 hour to 1 hour and 20 minutes. If needed, shield the bread with aluminum foil to prevent excess browning.
Remove from oven and let the bread cool in the pan for 10 minutes, before removing from pan and transferring to a wire rack to cool completely.
French Toast:
Whisk together the eggs, milk and pinch of salt and transfer to a bowl large enough to dip the bread slices in.
In another bowl place the cinnamon sugar to have it on hand.
Place a medium pan over medium heat and add half of the butter to melt.
Submerge each bread slice into the egg mixture, remove and let the excess egg mixture to drip off. Make sure you don't soak the bread into the egg mixture too much, it should be just coated to create a golden shell.
Place 2 slices at a time in the pan and cook until golden brown on each side, 1½ minutes.
Add the remaining of the butter to the pan and repeat with the remaining 2 slices of bread.
Serve with fresh blueberries, Nutella and a drizzle of honey.
Peas and Peonies, LLC. owns the copyright on all images and text and does not allow for its original recipes and pictures to be reproduced anywhere other than at this site unless authorization is given. If you enjoyed the recipe and would like to publish it on your own site, please re-write it in your own words, and link back to my site and recipe page. Copying and/or pasting full recipes to social media or personal blogs is strictly prohibited. Sharing this recipe is very much appreciated and encouraged. Read my disclosure and privacy policy. This post may contain affiliate links.