Keto Blackened Chicken [video]
Blackened Chicken is a hearty, protein-rich dish that is flavorful and easy to make. Pair it with salads and casseroles for a balanced meal!
This makes a great dinner meal when paired with vegetables and fruits. You can try our easy recipes like the Mexican Salad, Roasted Asparagus, and Cheesy Hashbrown Casserole.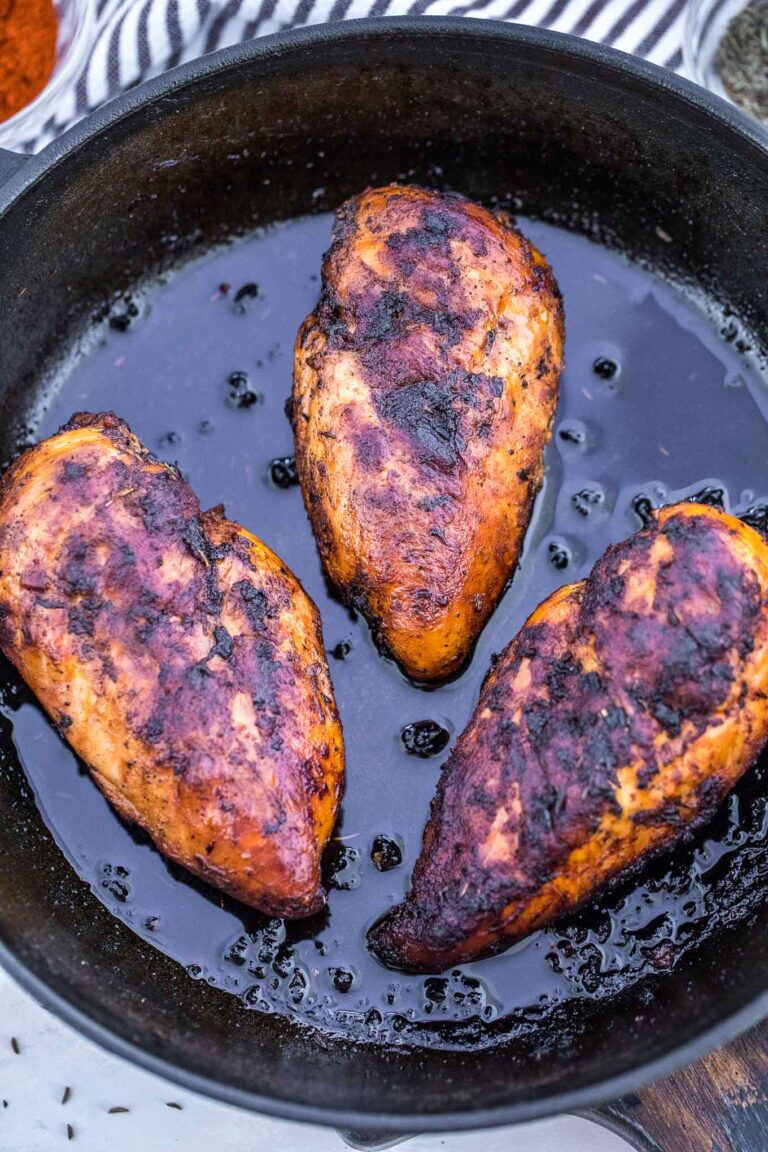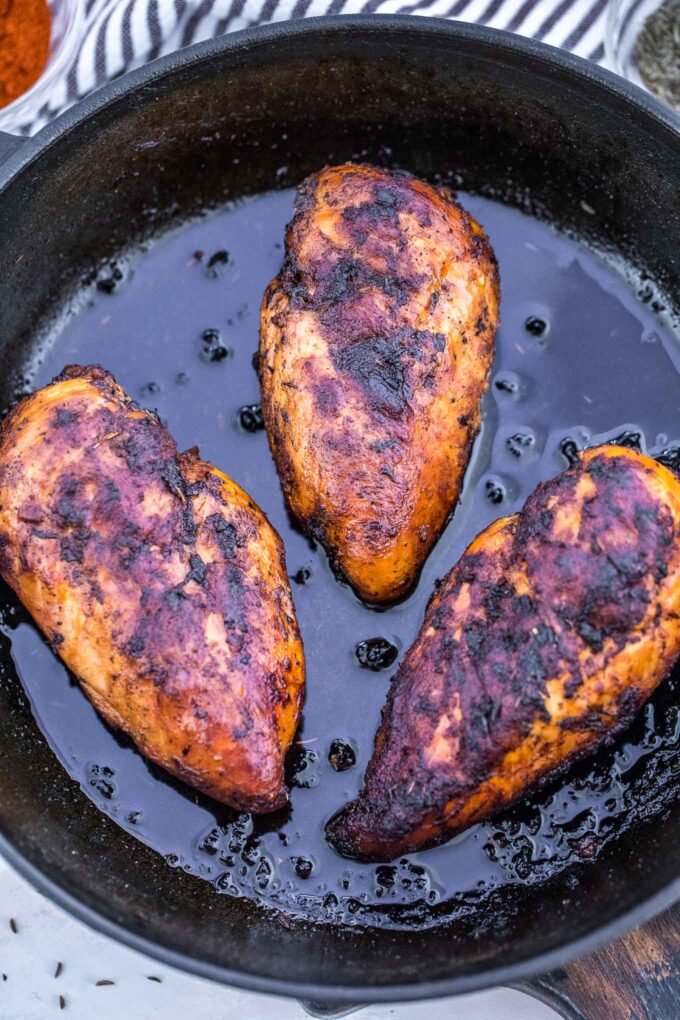 Easy Blackened Chicken Recipe
Blackened chicken is a recipe made with breast fillets seasoned with various blackening herbs and spices, searing in a hot pan and after that, baked in the oven. This is quite a versatile dish and it pairs with just about anything. Not to mention, this is also easy to make – in just under 30 minutes!
Blackening is a cooking technique wherein the meat is coated with oil, usually butter, and spices and then, seared quickly in a hot skillet. This creates a black crust on the surface that is neither charred nor well-cooked.
This seals in the flavors of this simple but tasty dish. The rest of the baking is a breeze and will not take too much of your time.
Chicken breasts might seem bland, but when cooked in this manner, it transforms into a surprisingly flavorful meal. Those on a strict diet can enjoy this without guilt!
What is Blackened Chicken?
It is a dish originally made with butter and Cajun spices to coat the meat and then, seared in a hot skillet. In the process, the coating browns and the spices get charred, giving the white meat an enticing brown-black color. It can be eaten as is, or it can be incorporated in salads and wraps.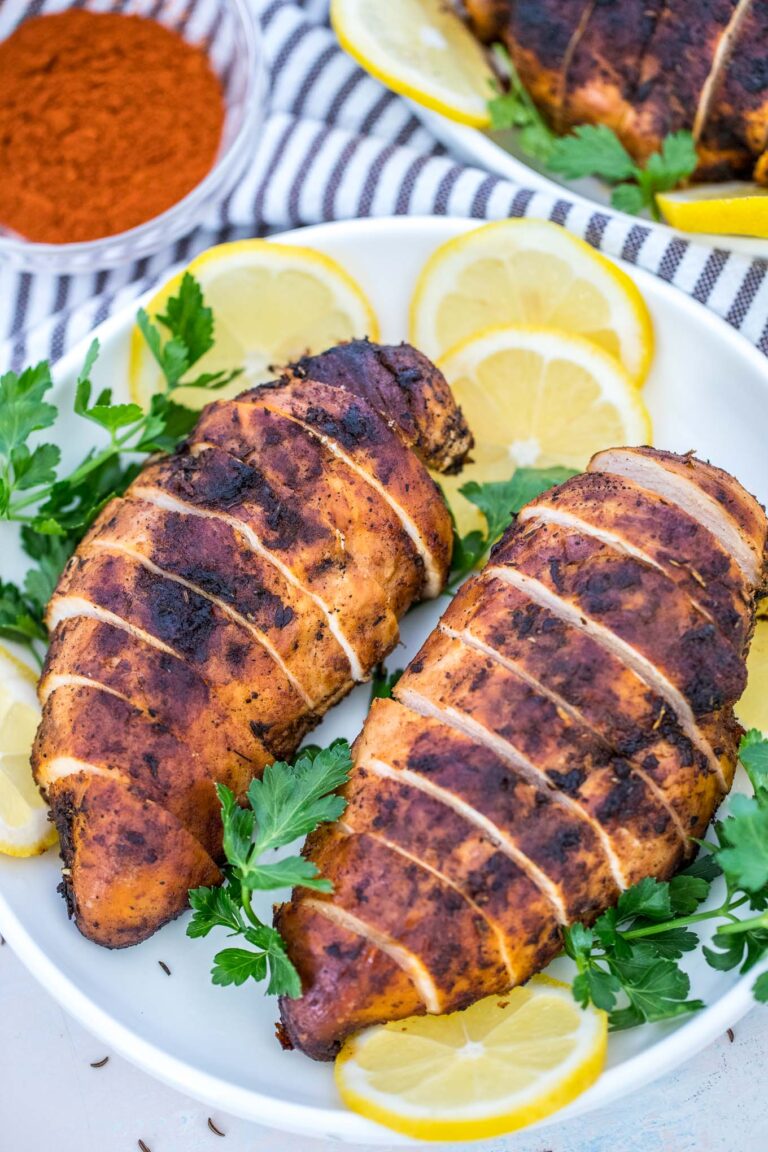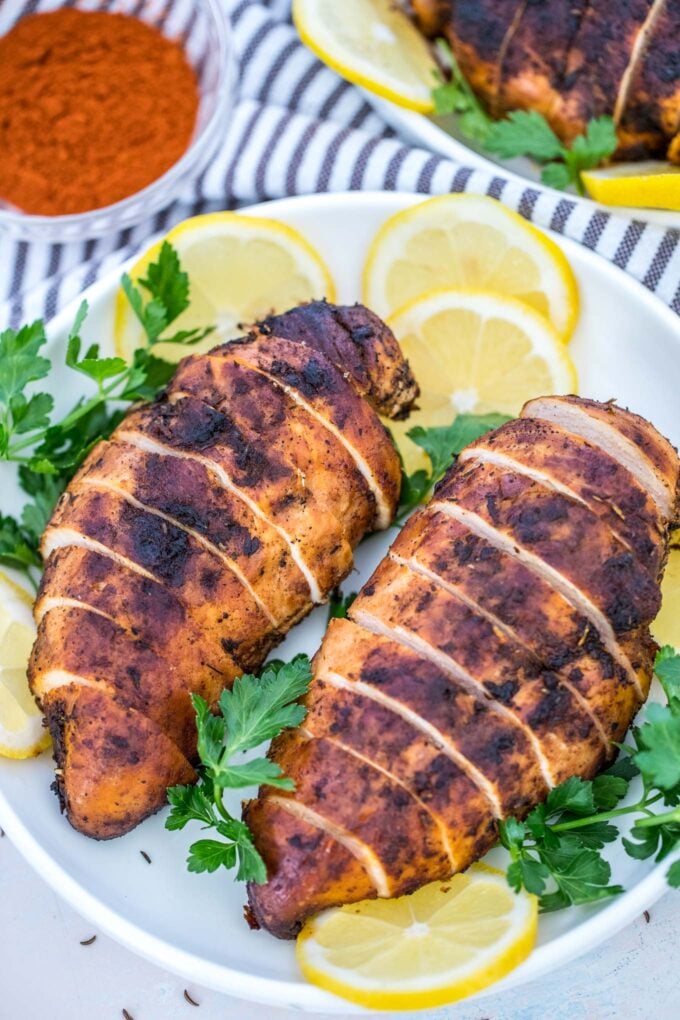 How to cook blackened chicken?
Before preparing the ingredients, start preheating the oven so that when everything is ready, the oven is nicely hot at 450 degrees Fahrenheit.
Prepare the chicken by patting it dry with a paper towel.
For the spices, whisk together the paprika, cumin, cayenne pepper, thyme, onion powder, garlic powder, kosher salt, and pepper in a bowl.
Put oil on the meat on all sides, and dredge the meat onto the spices, covering all areas.
Heat up a cast-iron skillet until smoking hot, searing each side of the meat for about 30 seconds.
After blackening, put the skillet in the oven to continue cooking thoroughly for about 10 to 12 minutes.
Check-in if the required internal temperature of the meat of 165 degrees Fahrenheit has been reached before taking it out.
Let the flavors meld for 5 minutes before slicing.
How to make blackening seasoning?
For this recipe, we used paprika, cumin, cayenne pepper, thyme, onion powder, garlic powder, kosher salt, and pepper. But, you can add your own spices, as there is no hard rule which must be included or not.
Just mix them all together in a bowl so that they get distributed evenly on the meat.
How to make blackened chicken on the grill?
It is possible to use the grill to cook this easy recipe. Just make sure that the temperature is high enough to sear the crust.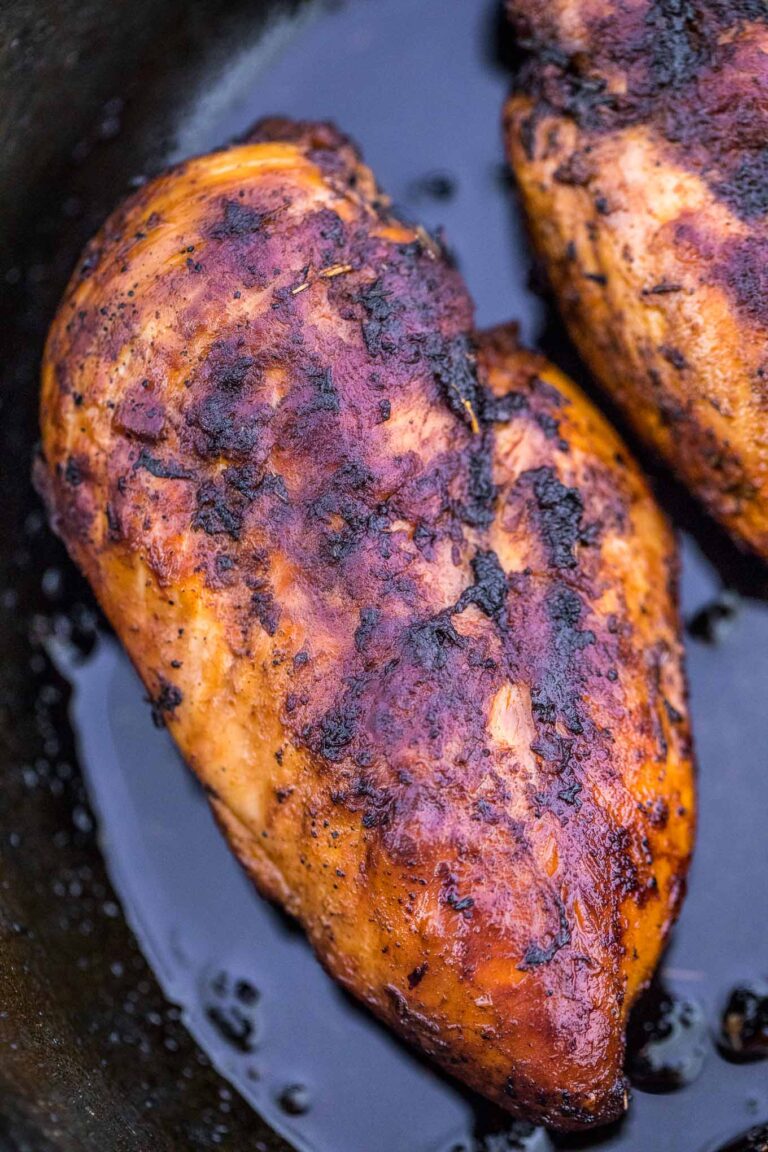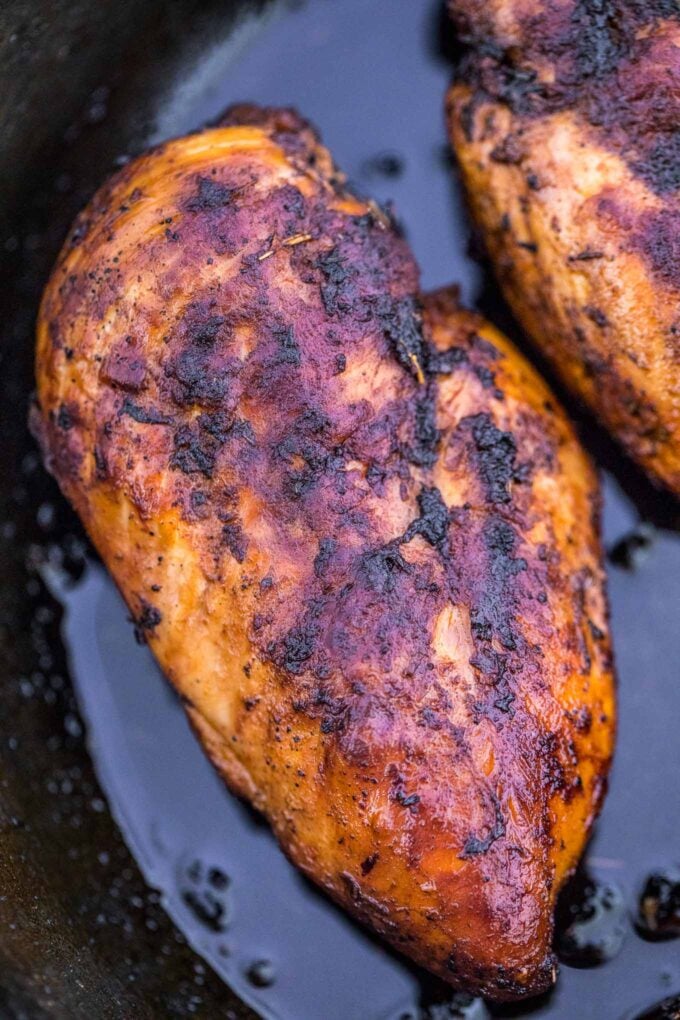 What to serve with blackened chicken?
As mentioned, it is best served with vegetables and fruits for a well-balanced meal. For summer, and since this dish is perfect for barbecue parties, it is nice to have refreshing sides like this creamy cucumber salad.
Leftovers can be used for pasta dishes, salads, or wraps.
Is blackened chicken healthy?
Chicken breast is the leanest part of the bird and it contains relatively little fat, and we used the boneless and skinless type. One 8-oz serving is about 224 calories, high in protein, and low in carbohydrates. If you are on a keto diet, this recipe is perfect for you.
How to make blackened chicken wings?
If you are curious to know if you can use dark meat in this recipe, the answer is yes. Just substitute your desired poultry parts, you can even use thighs. This recipe is versatile like that.
How to prevent the chicken from drying out?
Breasts have so little fats in them, which makes them dry out faster compared to thighs and other fatty parts. The key here is to not overcook the white meat, or else, you are risking the minimal amount of moisture in it to go out.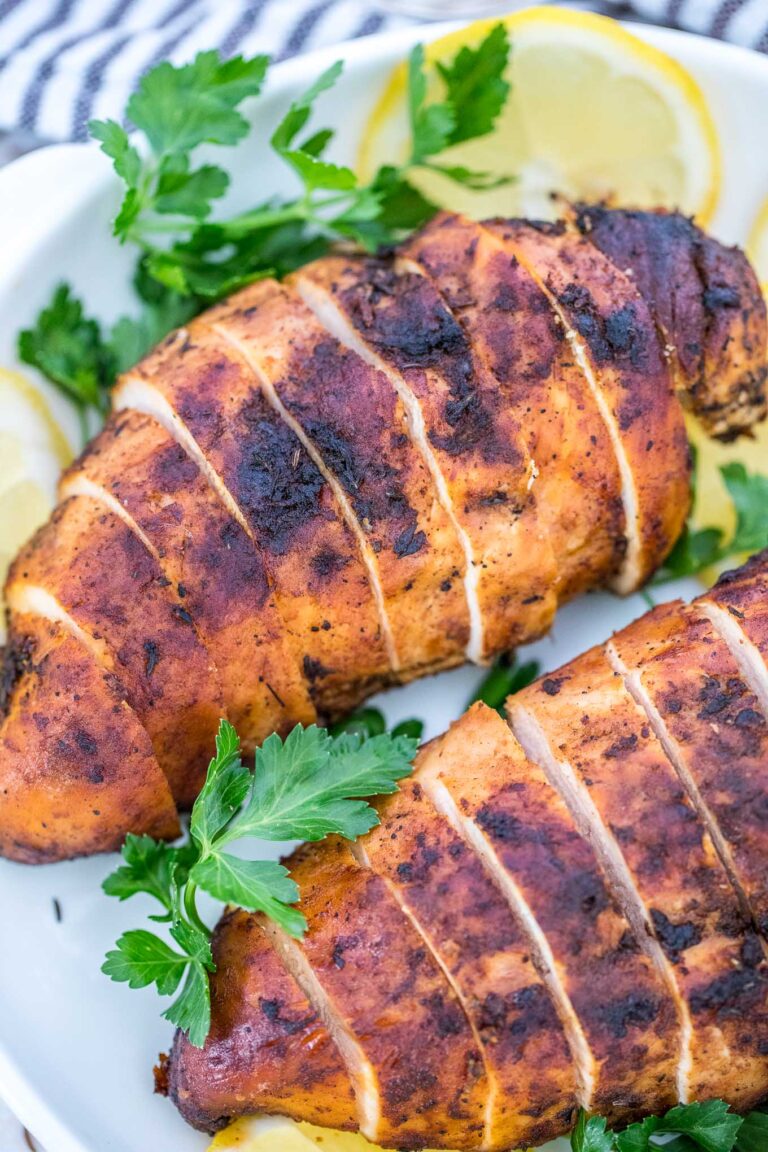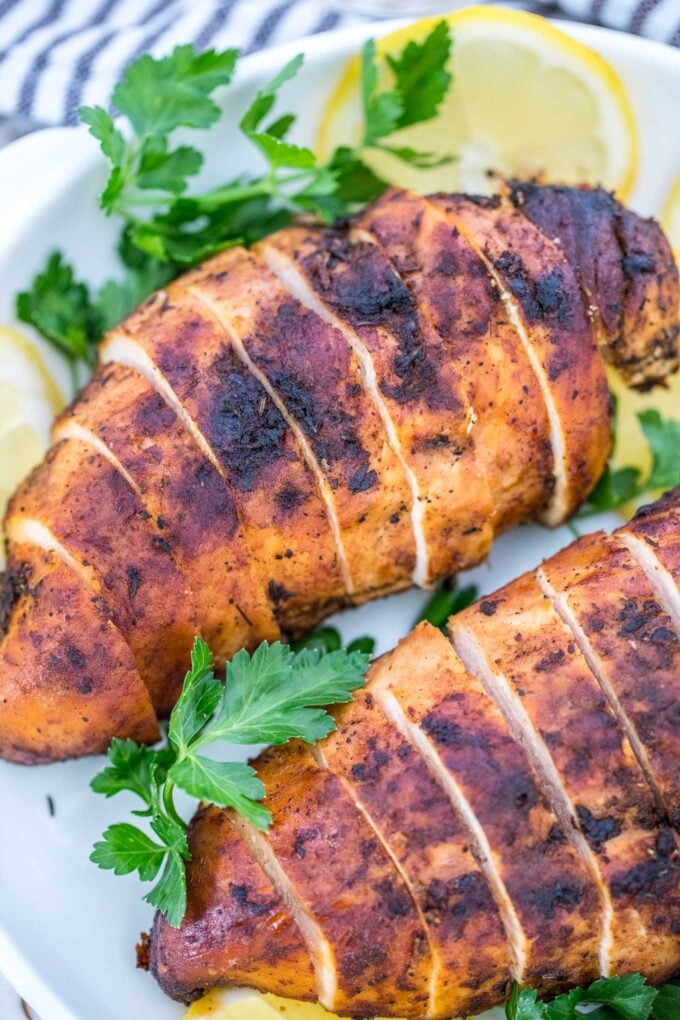 More Keto recipes:
How to store:
You can refrigerate the cooked meat once it has cooled completely in airtight, single-portion containers and it will keep for up to three days. Also, feel free to reheat is as needed. Just ensure to reheat it up to the internal temperature of 165 degrees Fahrenheit.
More chicken recipes:
Recipe Tips:
Use a meat tenderizer if you wish to even out the meat.
This recipe can be applied to other types of meat and fish just adjust the cooking time and oven temperature accordingly.
In addition, you can add jalapenos in the seasoning if you want it spicy.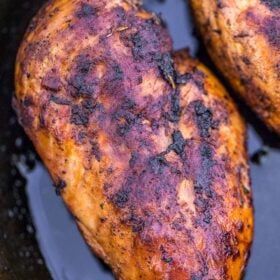 Easy Blackened Chicken
Blackened Chicken is a hearty, protein-rich dish that is flavorful and easy to make. Pair it with salads and casseroles for a balanced meal!
Save
Share
Print
Pin
Rate
Ingredients
4

boneless skinless chicken breasts

(about 1/2 lb. each)

2

tablespoons

paprika

1/4

teaspoon

cumin

1/4

teaspoon

cayenne pepper

1/2

teaspoon

Italian Seasoning herbs

1

tablespoon

dried thyme

1

tablespoon

onion powder

1

tablespoon

garlic powder

1

teaspoon

kosher salt

1/4

teaspoon

ground black pepper

3

tablespoons

canola oil

(divided)
Instructions
Preheat oven to 450 degrees F.

In a shallow dish, whisk together all the seasonings: paprika, cumin, cayenne pepper, thyme, onion powder, garlic powder, kosher salt, and black pepper.

Dry chicken breasts with paper towels and coat with two tablespoons of canola oil on both sides. Toss both sides in the seasoning mixture, pressing with your fingers to help the coating adhere.

Heat a large cast iron skillet over high heat until smoking hot, for about 5 minutes. Add just about 1 tablespoon of canola oil and brush it well all over the skillet.

Add the chicken breasts and cook for about 30 seconds on each side to blacken, then transfer the skillet into the oven to finish cooking, for another 12-15 minutes. Chicken should be no longer pink in the center and the internal temperature should reach 160 degrees F.

Remove chicken to a platter, cover with foil and allow to rest for 5 minutes before slicing and serving.
Nutrition
Calories:
248
kcal
|
Carbohydrates:
5
g
|
Protein:
25
g
|
Fat:
14
g
|
Saturated Fat:
1
g
|
Cholesterol:
72
mg
|
Sodium:
718
mg
|
Potassium:
538
mg
|
Fiber:
2
g
|
Sugar:
0
g
|
Vitamin A:
1850
IU
|
Vitamin C:
2.2
mg
|
Calcium:
39
mg
|
Iron:
2.7
mg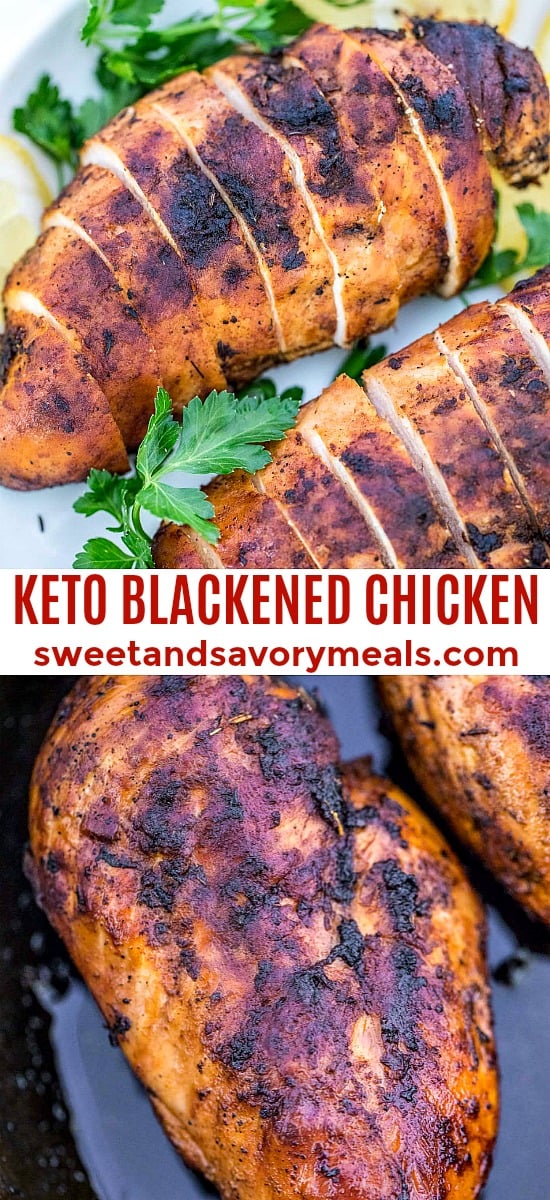 More recipes you might love