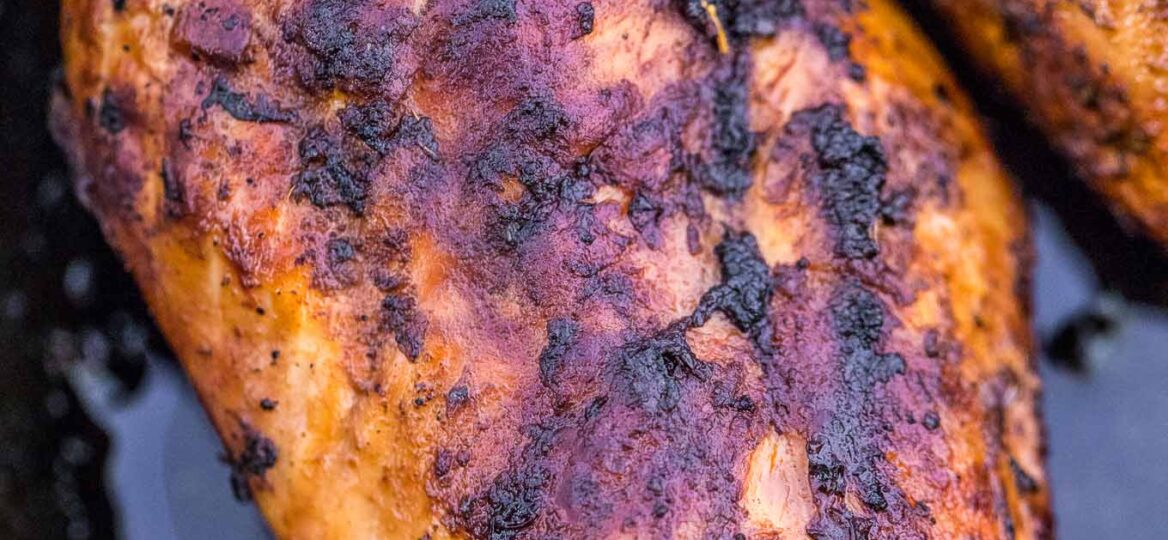 Keto Blackened Chicken [video]
Blackened Chicken is a hearty, protein-rich dish made with skinless chicken breasts, dried herbs, onion powder, garlic powder, and cayenne pepper. A quick and easy dish that is ready in 20 minutes. Pair it with salads and casseroles for a balanced meal!
If you enjoyed this recipe, you should try our Chicken Tinga recipe with avocado and fire-roasted tomatoes. Or have chicken for breakfast with our California Chicken Breakfast Burrito flavored with hot sauce and cheddar cheese. For Asian food fans, this Panda Express Black Pepper Chicken is soaked in oyster sauce, brown sugar, and chicken broth.
Our easy Blackened Chicken recipe is a flavorful keto meal made with tender juicy chicken breasts and a spice rub made with Cajun seasonings. Adjust the cayenne pepper to make it as spicy or mild as you like, and this will be the best blackened chicken recipe you have ever made.
Not to mention, this is also easy to make, and ready in just under 30 minutes!
Blackening is a cooking technique wherein the meat is coated with oil, usually butter, and spices. Then, seared quickly in a hot skillet. This creates a black crust on the surface that is neither charred nor well-cooked.
This seals in the flavors of this simple but tasty dish. The rest of the baking is a breeze and will not take too much of your time.
Chicken breasts might seem bland, but when cooked in this manner, it transforms into a surprisingly flavorful meal. Those on a strict diet, such as low carb can enjoy this without guilt!
If you are looking for a new way to cook a chicken breast, this blackened chicken recipe is perfect. It is fast and easy, and when you sear the meat, you trap all that juiciness inside where it belongs.
Looking for another great chicken recipe to try? This instant pot Tuscan chicken is deliciously seasoned with Italian spices and paired with mushrooms, tomatoes, and spinach. For game day, try these instant pot chicken nachos or our crispy air fryer jerk chicken wings.
Ingredients needed:
These are the main ingredients you will need for this easy blackened chicken recipe. For step-by-step instructions and exact amounts, scroll down to our printable recipe card.
Boneless skinless chicken breasts: You can also use bone-in chicken but remove the skin for best results.
Canola oil: Divided.
Smoked paprika: If you don't have smoked paprika, you can use the original stuff. However, the smoked paprika gives your blackened chicken a lot of its smoky flavor profile.
Italian seasoning herbs: You can use store-bought or make your own with this easy recipe.
Kosher salt
Ground black pepper
Cumin
Cayenne pepper
Dried thyme
Garlic powder
Onion powder
How to make blackened chicken recipe?
Preheat: First, preheat your oven to 450 degrees F.
Make the blackening seasoning: Meanwhile, whisk together all the blackened seasoning in a shallow dish.
Apply blackening seasoning: After you make sure the chicken is dry, coat each chicken breast with oil and then dip each side in the blackening spice. Press down firmly to help the spice rub stay on.
Preheat: Then, heat your skillet over high heat for about five minutes and add about a tablespoon of oil, brushing it all over the skillet.
Sear: Next, add chicken breasts and sear both sides of the chicken breast for 30 seconds each or until it has a black crust.
Bake: Last, put the skillet with the blackened chicken in the preheated oven and cook for another 12 to 15 minutes. The meat should not be pink, and the internal temperature should read 165 degrees F with an instant-read thermometer.
Serve: Finally, move the chicken breasts to a serving dish and cover them with aluminum foil. Let it rest for five minutes before serving.
How to make it on the grill:
It is possible to use a gas or charcoal grill to cook this easy recipe. However, just make sure that the temperature is high enough to sear the crust.
Simply, grease it with some cooking spray prior to placing the meat.
Then, simply grill for about 5 minutes on each side or until the internal temperature reaches 165 degrees F.
How to make air fryer blackened chicken:
Preheat: To start, preheat the air fryer to 360 degrees F.
Make the seasoning: While waiting, mix all the spices in a small bowl.
Coat the chicken: Next, pat chicken breasts dry before coating with oil and seasoning.

Sear: Then, sear your blackened chicken in a hot cast-iron skillet for five minutes or until it is golden brown or black.

Cook the chicken: After, place the blackened chicken in the air fryer basket and cook for 10 minutes before flipping and cooking for another 10 minutes. The chicken should be no longer pink in the center and the internal temperature should reach 165 degrees F.
Rest and serve: Lastly, move your blackened chicken to a serving platter and cover with foil. Let it rest for five minutes before you serve it with your favorite side dishes.
Recipe variations:
Another oil: Feel free to use other oils such as canola, vegetable oil, or whatever you usually like cooking with.
Chicken thighs: Although boneless skinless chicken breasts work best, you can use chicken thighs for this recipe.
Other meats: You can also use this easy blackened chicken recipe to make blackened shrimp, fish, pork, or beef but the cooking time may vary.
Hot stuff: Add more cayenne pepper for a higher spice level.

Garlic and onion powder: Fresh garlic and onion instead of garlic powder and onion powder will give your blackened chicken an even better flavor.
How to serve:
Serve blackened chicken breast with your favorite side dishes or try one of these great ideas:
This blackened chicken recipe goes perfectly with cheesy baked green beans and deviled egg potato salad.
Toss some leftovers in a bowl of lettuce, fresh tomatoes, bell peppers, and other veggies for a blackened chicken salad.
Chop these blackened chicken breast pieces into chunks and use them for our keto Italian chicken skewers recipe.
This main course cuisine also tastes fantastic alongside mashed potatoes with melted butter.
Sprinkle some of this homemade Cajun seasoning on top just before serving for an extra kick of spiciness.
Add shredded cheese to the top of the chicken before covering it so you can have melty cheesy blackened chicken.
Frequently asked questions
What does it mean to blacken chicken?
A blackened chicken recipe is meat coated with oil and spices that are seared in a hot, cast-iron skillet. It creates a crust that is golden brown or almost black, which gives it the name. It is not burnt, just coated in a special seasoning blend that turns black when seared.
The seasoning, also known as creole seasoning, is what makes it so easy to make blackened chicken. All you have to do is combine the herbs and spices, rub oil on the chicken breasts, and cook it in a hot pan for a few minutes on each side before cooking them.
What is blackened seasoning made of?
Blackened chicken seasoning can vary depending on the recipe. However, it typically includes freshly ground black pepper, kosher salt, cayenne pepper, oregano, thyme, garlic powder, onion powder, and paprika. Some recipes, like this best-blackened chicken, also add Italian seasoning.
How do you make blackened seasoning stick?
The most important thing to do when you make blackened chicken is to preheat your pan. This will prevent the chicken breasts from sticking to the pan and sears the seasonings into the meat. Also, make sure you spread olive oil all over the chicken breasts before adding the seasonings.
How do you season an iron skillet?
The best and easiest way to season your cast iron skillet is to bake it. First of all, you need to clean it with mild dish soap and let it dry completely while preheating your oven to 350 degrees F. Prepare a baking sheet by placing foil or parchment paper on it.
While you wait, spread vegetable oil, oleo, or canola oil inside and out using a folded paper towel. Do not use olive oil or butter. Then, put the frying pan upside down on the cooking sheet and bake for one hour. Repeat as needed.
How to store leftovers:
Store: You can store your leftover blackened chicken breasts in an airtight container in the fridge for several days. Let it cool to room temperature first.
Freeze: Go ahead and freeze any of the blackened chicken that you cannot eat in a few days. Place the meat in a freezer bag and it will be good for up to 90 days.
Thaw: Put your frozen leftover blackened chicken in the fridge to thaw overnight before serving.
Reheat: When it is time to reheat your blackened chicken, microwave it for a few minutes in a microwave-safe dish.
More chicken recipes:
Cooking Tips:
If you want your chicken flat and evenly spread, use a meat tenderizing mallet.
No meat mallet? No problem. Use a rolling pin, heavy book, or your cast iron skillet to flatten the chicken breasts.
Breasts have so little fats in them, which makes them dry out faster compared to thighs and other fatty parts. The key to keeping it juicy is to not overcook the white meat, or else, you are risking the minimal amount of moisture in it to go out.
Also, this recipe can be applied to other types of meat and fish. Just adjust the cooking time and oven temperature accordingly.
Let the blackened chicken rest for five minutes before serving.
Feel free to mix in other seasonings, such as creole seasoning, spice mix, etc.
Cooking at a high temperature is important to sear the flavors. That is why an iron skillet is used.
Make sure each chicken breast is completely dry before coating them with the oil and blackened seasoning.
If you don't have any oil, feel free to use melted butter or cooking spray.