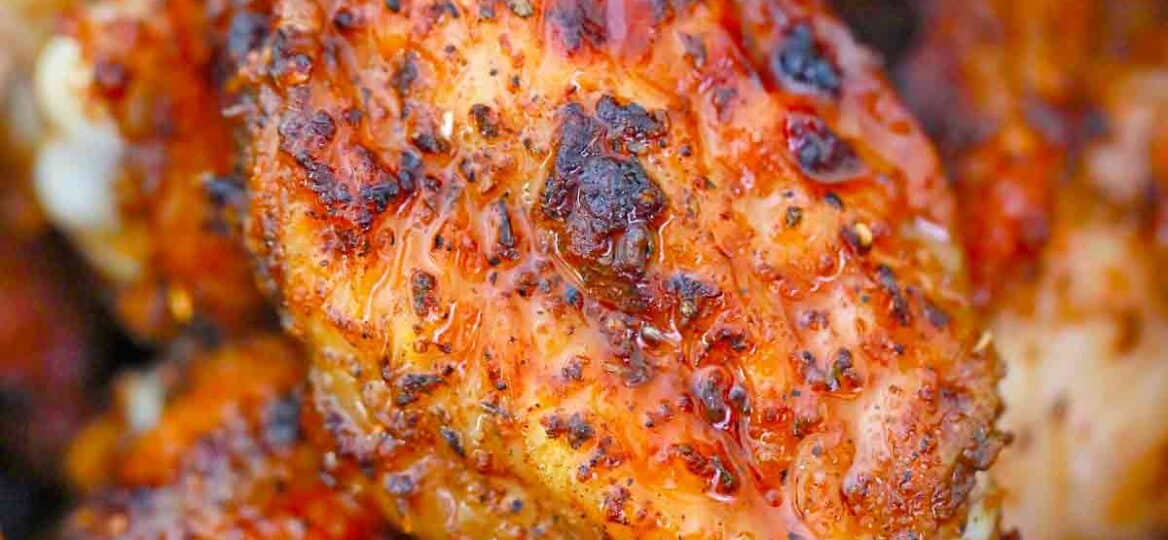 Best Air Fryer Jerk Chicken Wings
Air Fryer Jerk Chicken Wings are easy as well as delicious, the Jerk seasoning giving you extra flavorful chicken as you have never had before. The hardest part is waiting for them to marinate. All you need is a few ingredients for this Jamaican jerk chicken wings recipe and a little bit of patience.
If you like this air fryer jerk chicken wings recipe, you will love our easy oven Jamaican Jerk Chicken made with soy sauce, brown sugar, and jalapeno peppers. These Air Fryer Pork Belly Bites are also scrumptious with sesame seeds, smoked paprika, and pork belly.
Jamaican jerk chicken wings are basically the same thing as jerk chicken wings. However, some spice mixes are different than others.
For example, there are some jerk chicken spice recipes that contain cinnamon, cumin, paprika, allspice, and nutmeg as well as chives and thyme.
For a different kind of chicken meal, our Air Fryer Chicken and Broccoli is perfectly seasoned with hoisin sauce and honey.
Ingredients needed:
These are the main ingredients for this air fryer jerk chicken wings recipe. For exact measurements and complete instructions, scroll down to our recipe card.
Chicken wings
Walkerswood Jerk Seasoning
Onion powder
Garlic powder
Salt
Lime juice
Lime zest
How to make air fryer jerk chicken wings recipe?
Preheat: To begin, preheat your air fryer to 400 degrees F.
Mix: Then, combine the jerk seasoning, salt, garlic powder, onion powder, lime zest, lime juice, and chicken wings in a large mixing bowl.
Chill: Immediately, cover the bowl and chill in the refrigerator for at least one hour but three hours is better.
Air frying: After marinating, put chicken wings in your air fryer basket and air fry at 400 degrees F for 10 minutes.
Flip and cook: After 10 minutes, carefully flip chicken wings with tongs and cook for another 10 minutes.
Check: Lastly, check the internal temperature of the chicken wings before removing them. They should be 165 degrees F.
Serve: Finally, carefully remove your air fryer jerk chicken wings and let them rest for a few minutes before serving.
Oven-baked method:
Also known as Jamaican jerk chicken wings, these delicious chicken wings are easy to cook in the oven as well. Just follow these instructions.
Mix: First, mix all the ingredients in a bowl and cover them before chilling in the fridge for at least one hour but three hours is better.
Preheat: Meanwhile, preheat the oven to 375 degrees F.
Prepare sheet: Then, line a large baking sheet with aluminum foil sprayed with non-stick cooking oil.
Bake: Last, place jerk chicken wings on the prepared pan and bake for 45 to 50 minutes. The internal temperature should be 165 degrees F when done.
Broil: Last, broil for a few minutes for extra crispiness.
Serve: Finally, serve after letting it rest for a few minutes.
Recipe variations:
Olive oil: You can coat your chicken wings with a thin layer of olive oil before mixing it with the jerk seasoning.
Green onions: For extra flavor, add some chopped green onions.
Scotch bonnet peppers: If you want extra spiciness, add chopped scotch bonnet peppers.
How to serve:
This easy dinner recipe is ready in less than half an hour and can be served alone as a whole meal Try one of these serving ideas:
You could also sprinkle cheese on top. Any flavor you like is fine.
In addition, you can squeeze some lime juice and sprinkle on some lime zest.
Also, make sure to serve these with your favorite dipping sauce.
Frequently asked questions
How can I make my air fryer wings crispy?
Don't over-lap: Spread the wings out so they don't overlap. Giving the wings enough room will allow them to cook evenly and be crispy all around.
Using a large air-fryer will allow you to achieve the best results in just 1 round.
Can I use breading in an air fryer?
Can You Use Breading In An Air Fryer? Yes you can. But you also need to think about the logistics of it before you cook breaded food in the air fryer.
For example, before your breading is cooked in the air fryer it may be sticky and you don't want it to stick to your air fryer basket and come off your food.
Can I use parchment paper in the air fryer?
Yes, you can indeed use parchment paper in an air fryer – if you're careful.
In fact, parchment paper is one of the accessories for air fryers we turn to time and time again (read our full list of useful buys for your air fryer here).
How to store leftovers:
Store: You can store your leftover air fryer chicken and potatoes in an airtight container or gallon size zip baggie. Refrigerate for up to three days.
Freeze: It is also safe to freeze your air fryer chicken and potatoes for up to three months.
Thaw: Remember to put your frozen leftovers in the fridge to thaw overnight before serving.
Reheat: To reheat, put the chicken and potatoes in a microwave-safe dish and heat in the microwave for one minute. You could also reheat it in the air fryer for 90 seconds.
More chicken wings recipes:
Cooking tips:
A single layer helps to make sure the wings get evenly cooked and don't become soggy.
You may have to work in batches depending on the size of your air fryer.
Make sure the internal temperature of your air fryer jerk chicken wings is 165 degrees F before removing them from the air fryer.