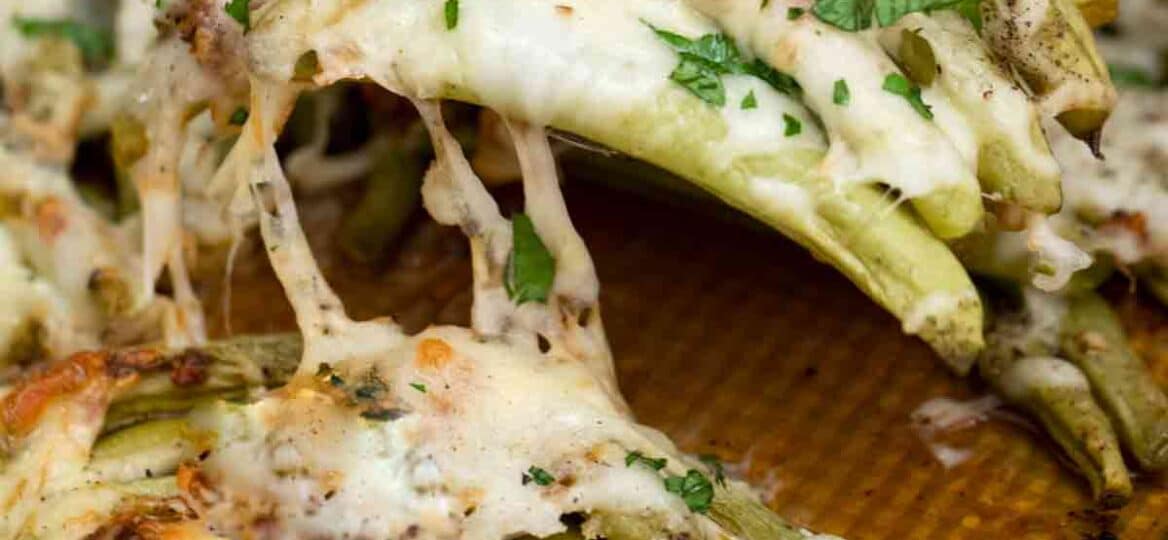 Cheesy Baked Green Beans [Video]
Cheesy Baked Green Beans are roasted until golden and caramelized, then baked with two kinds of cheese on top. This crunchy, cheesy, and colorful side dish never fails to impress!
It's hard to resist anything creamy and cheesy. For example, these Creamy Potato Gratin and Cheesy Broccoli Casserole are so delicious and indulgent that you will always crave for more. Also, my Spinach Ricotta Stuffed Shells is another flavorful dinner that will easily feed the whole family.
Best Cheesy Baked Green Beans
Cheesy Baked Green Beans is a classic side dish that is never absent at my holiday table. It is made with everyday ingredients, mixed with minced garlic and shredded parmesan. Then, it is quickly baked in the oven until bubbly.
Although this recipe is a holiday classic, you can easily make it any time of the year. It's a great way to incorporate more vegetables into your everyday meals. Roasting the veggies makes it more savory, and of course, everyone loves cheese. I call it my gateway veggie dish because even the pickiest eaters ask for more!
As is, this dish is vegetarian-friendly. However, you can make it vegan, by swapping the cheeses and seasonings. Also, you can add more proteins to it, by adding some bacon on top.
Just a heads-up, though — after the first time I served this, it quickly became one of my most-requested sides. So, prepare to be known for this creamy and irresistible green stalks!
Roasted Green Beans Ingredients:
Olive oil prevents the stalks from sticking to each other.
Also, we'll be tossing these vegetables in fresh parmesan cheese and several cloves of freshly minced garlic, making it one of the most amazing flavor combos ever.
For seasonings, I go with salt and back pepper, plus a dash of onion powder, and smoked paprika to add depth. You'll also need some Italian seasoning.
For the topping, we're using a mix of mozzarella cheese and cheddar cheese. The cheddar complements the mild mozzarella perfectly. Chop some parsley as garnish.
How to make Cheesy Baked Green Beans?
Roast the vegetables. Use olive oil to coat them nicely, then toss in parmesan cheese, minced garlic, and seasonings. Then, bake until crispy, bright green, and the outside is just starting to caramelize.
Top with cheeses. Take the pan out, then sprinkle generously with cheddar and mozzarella. Next, broil for a few minutes until the top is golden and melted.
Serve. Garnish with chopped parsley and serve hot.
Roasted Green Beans Variations:
Make it vegan: Use vegan cheese substitutes.
Try other cheeses: Jalapeno and pepper jack cheese add a savory kick. Other types I like to use low-moisture swiss cheese, stringy provolone, and smooth, melty Gruyere.
Make it healthier: To reduce the fat content from the cheese, use half the amount.
Add bacon: Crunchy bacon bits take this cheesy side dish over the top!
Use butter: For a more decadent version, use butter instead of olive oil.
Make them crispier: For a crispier texture, use panko breadcrumbs. It helps to keep the beans super crunchy.
How do I know when green beans are bad?
Check the snaps! If they are dry and limp, they're going bad already. Fresh ones will snap apart when you bend them and make a light snapping sound. Also, older ones just tend to bend because they're already tough and rubbery.
What to serve with Roasted green beans?
This side dish goes well with most mains. During the holidays, serve it with the Perfect Oven Roasted Turkey, Meatloaf, and then complete with Stuffing and Cranberry sauce.
If you're serving it for a family dinner, it pairs nicely with this Garlic Herb Butter Roasted Chicken, Bacon Wrapped Pork Tenderloin, or my Garlic Butter Swai Fish.
More delicious side dishes:
How to store leftovers?
For any leftovers, store them in an air-tight dish and keep in the fridge. It's best to consume it the next day to preserve the texture of the vegetables. To heat up, pop in the oven until warmed through and the cheese has melted.
Recipe Tips:
Don't use canned green beans for this. They're too soft and won't give you that nice, crunchy texture after roasting. Therefore, I highly recommend using the freshest ones you can find.
Try to grate garlic instead of chopping it so it spreads better among the veggies.
Spread out the veggies well in the pan so they crisp up well.

Also, use real parmesan that's grated fresh from the block for the best flavor.
Don't have garlic on hand? You can swap it out with garlic powder.

Make sure your oven is preheated properly to avoid overcooking the beans.
I like trimming the ends of my green beans, but it's fine not to.
Deliciousness to your inbox
Enjoy weekly hand picked recipes and recommendations