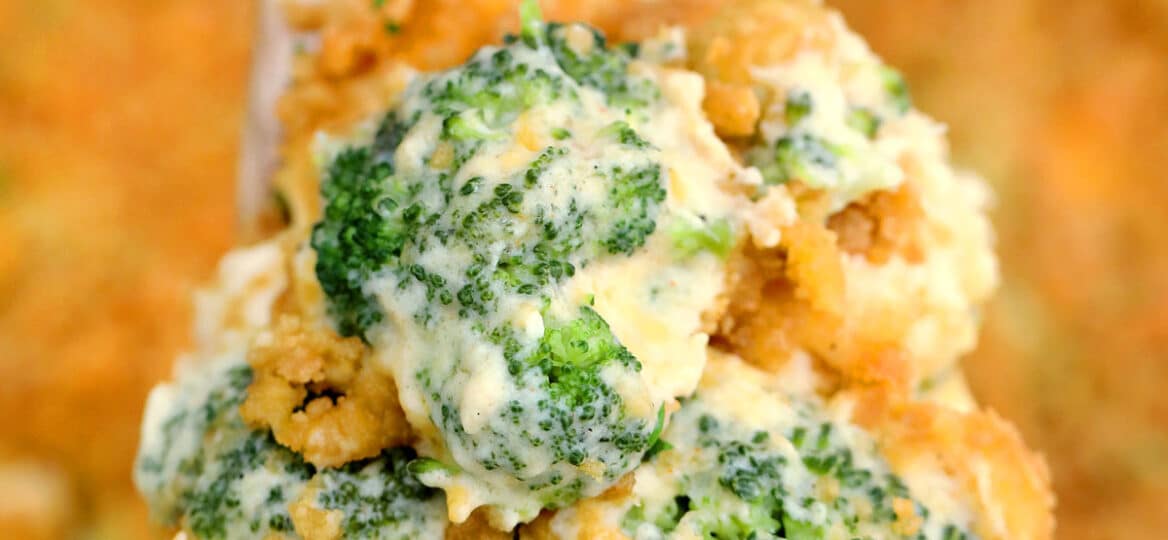 Cheesy Broccoli Casserole Recipe [Video]
This Cheesy Broccoli Casserole is a simple and creamy classic side dish that we all grew up loving! It is made with tender broccoli soaked in a creamy cheddar cheese sauce and topped with buttery crackers. Even kids devour this cheesy concoction in a matter of seconds!
The holiday season is almost here and it is time to prepare your menu! We suggest serving this great and delicious side dish with Lemon Garlic Roast Chicken, Oven Roasted Turkey Breast, or Slow Cooker Glazed Smoked Ham.
Homemade Broccoli Casserole is a great way to incorporate green veggies into your menu, especially during the holiday season. This is a super simple and easy recipe to make, that requires only a handful of ingredients.
If you are not a broccoli fan, I am pretty sure you will become one after trying this recipe. The homemade cheese sauce and butter crackers make the whole difference here, which will delight even the picky eaters.
During Thanksgiving, this is our family's favorite side dish. While you can find the vegetable all year round, the peak season would start around October. Hence, this recipe is just in time for your Thanksgiving and Christmas dinners.
I like how the cheese complements the tender veggies and the colors are so appetizing, too. Even without toppings, guests will still devour it in a heartbeat! And that is exactly what happened last weekend when I served it for dinner. The whole family just loved this cheesy goodness. It's a good thing that I doubled my recipe and kept one in the fridge which I reheated later. And yes, this makes for a great freezer meal, too!
Recipe Ingredients:
Brocolli – I go with fresh broccoli florets most of the time, especially when in season. However, frozen broccoli can be used as well.
Dairy – To make the sauce, you will need butter, cheddar cheese, milk, and cream.
Flour
Seasoning – Salt and pepper.
Buttery crackers – For a crunchy topping.
How to make Broccoli Casserole?
Prepare for baking: Preheat the oven to 375 degrees F. Grease a casserole dish with some oil or cooking spray, and set aside.
Cook the florets: Steam the florets until the stems are fork-tender.
Prepare the cheese mixture: Next, in a skillet over medium heat, sauté the onion and garlic in melted butter. Then, whisk in flour to make a roux. Continue stirring as you pour in the milk and then, the cream. Add spices and seasonings then, allow to simmer. Once hot and bubbly, remove from heat. Stir in the cheeses.
Bake: In a large bowl, mix the florets and the sauce. Then, pour everything into the baking dish. Top with remaining cheese. Bake until bubbly and the top is nicely browned.
Serve: Lastly, allow it to rest for about 5 minutes before serving.
Variations and Substitutions:
Add Proteins: Want to add it as part of your main dishes menu? Then, simply add some proteins to it. Great additions would be mixing in rotisserie chicken, sausage, ground beef, ground chicken, or ground turkey.
Extra creamy: This is already a creamy casserole as is. However, you can make it even creamier by adding 1/2 cup of cream of mushroom soup, cream cheese, or sour cream.
Seasoning: Feel free to mix in other seasonings such as garlic powder, onion powder, mustard powder, Italian seasoning, or ranch seasoning.
Cheese: Swap the cheese with your favorite type. Great alternatives would be sharp cheddar cheese, mozzarella cheese, or parmesan cheese.
Add rice: You can add some cooked rice to it, such as white rice or brown rice.
Mushrooms: Another great addition would be adding 1 cup of diced mushrooms to it.
Is Broccoli and cheese Casserole healthy?
Yes! Because the main ingredient which is the vegetable is a superfood containing many vitamins and minerals.
It is particularly rich in vitamin C and K, with content responsible for more than 100% of the recommended daily intake. It also has lots of antioxidants containing those that improve eyesight and lower blood sugar and cholesterol levels.
And this dish is a low-carb dish making it keto-friendly. Hence, a lot of those trying to lose weight by reducing carbs intake can benefit from this dish.
Can I substitute fresh broccoli for frozen?
Absolutely! While I love using fresh broccoli, you can easily substitute it with frozen in this recipe. For best results, I would recommend steaming it first to get the tender crips and that green bright color.
What cheese goes best with this dish?
It highly depends on you, it is a matter of personal preference. But cheddar is a favorite kind, as well as parmesan and mozzarella. You can add in Fontina, Gruyere, or Monterey Jack, too.
Can this be made with other vegetables?
Certainly! You can substitute the florets with cauliflower which has a similar texture as the broccoli. Or, use baby carrots, or green beans instead.
You can also add other vegetables like water chestnuts and bean sprouts in one dish.
What to serve with broccoli casserole?
I like serving it with meaty dishes, especially those that are roasted and grilled. Some great suggestions would be:
How to Store leftovers?
Refrigerate: First, cool it completely before putting it in the fridge. Then, store in an airtight container for about 4 to 5 days.
Freeze: Allow it to cool until room temperature. And, store in airtight containers, too. This will keep in the freezer for 4 to 5 months.
To reheat: Thaw overnight and then, reheat the same way as you would cook a fresh batch.
More homemade side dishes:
Recipe Tips:
Aside from adding more cheese, you can top it with French fried onions, bread crumbs, Ritz crackers, or simple crackers.
This is a great recipe to deal with leftover steamed broccoli.
Also, when buying the vegetable, look for those that are still intact and not yellowish.
Adjust the salt and black pepper per your own preference.
I bake it uncovered because I like it extra crunchy on top. Alternatively, you can bake it covered with aluminum foil.