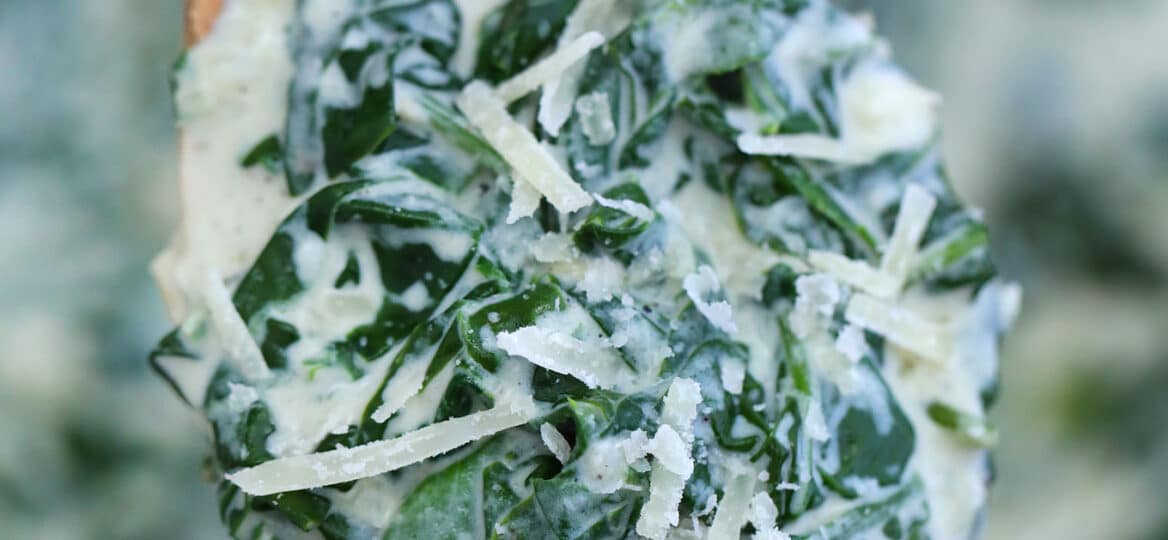 Creamed Spinach Recipe [Video]
Creamed Spinach is creamy and cheesy making it a delectable side dish to savory entrees! It is a nice take on the leafy green that even kids will love!
In just a matter of a few weeks, this leafy green will be in season during the winter. And I love serving it as part of our Thanksgiving dinner. What I love about it is that it is healthful and you can incorporate it into many dishes. You can use it as stuffing in pork chops, as a dip for biscuit rolls, or make it into a refreshing smoothie!
Creamed Spinach Recipe
This easy recipe is one for the books! It looks simple but it is packed with amazing flavors.
A lot of people shun this vegetable because it leaves a slightly bitter after-taste and the texture is a bit slimy. Also, spinach naturally contains oxalic acid which causes bitterness. But, do not be discouraged!
This recipe involves cooking the leaves such that the oxalic acid content is reduced. And this recipe plays on that texture and disguises it.
And yes, the sauce makes this dish a winner! That's why even kids love this specific side dish. I think everybody loves anything cheesy, too.
Is Spinach healthy?
Yes, it is extremely nutritious. It is particularly rich in calcium, potassium, folic acid, vitamin C, vitamin K, and iron.
These vitamins and minerals make this super vegetable healthful. It has been associated with improving eyesight, preventing cancer, and regulating the circulatory system.
Can you believe that 100 grams of these green leafy greens contain only 23 calories with 91% attributed to water? This is according to the USDA.
How to make Creamed Spinach?
Prepare the leafy veggie: Give the vegetable a quick rinse with water then, dry the leaves out. Also, trim off hard stems. If you are using fresh ones, then, parboil them in water just until they wilt. An alternative way is to blanch it in hot water or cook in the microwave. Drain again after cooking.
Make the sauce: In a skillet, sauté the aromatics and whisk in flour. At this point, you can also add in the spices and seasonings. Then, stir in the dairy and add your preferred cheese until everything melts.
Combine: Put the leaves in and cook further just enough to warm them up a little.
Serve: Serve it at once.
Can you make Creamed Spinach using frozen spinach?
Yes! Frozen ones are abundant, affordable, and easy to prepare. You will need to thaw the leaves and drain them.
Keep in mind that any excess moisture from the vegetable will yield a sauce that is too watery. What you want to achieve is something silky and velvety but not too runny.
What is the best spinach to use for this recipe?
Use fresh baby spinach. This is the ideal kind to use. Mature leaves that are darker in color tend to be more bitter. So, stay away from those.
What meat goes well with Creamed Spinach?
This dish is a popular side to steaks. It pairs well with grilled and roasted meat dishes. Also, you can serve it with chicken, pork, beef, shrimp, or even lamb.
How to Store:
Refrigerate: You can keep this in airtight containers and refrigerate for about 3 days.
Freeze: Put it in freeze-proof containers and freeze for up to a year. The dairy may separate but just give it a whisk when you reheat it. To reheat, thaw it first in the fridge overnight.
Recipe Tips:
If using frozen spinach, it is important to drain the spinach so that the whole thing will not be runny and this is done by squeezing out any excess moisture using a cheesecloth, kitchen towel, or paper towel.
To make this dish gluten-free, substitute the flour with gluten-free flour or sweet rice flour.
You can use heavy cream, half and half, or regular milk if you wish. You may have to adjust the consistency, toggling with the dairy and the melted cheese.