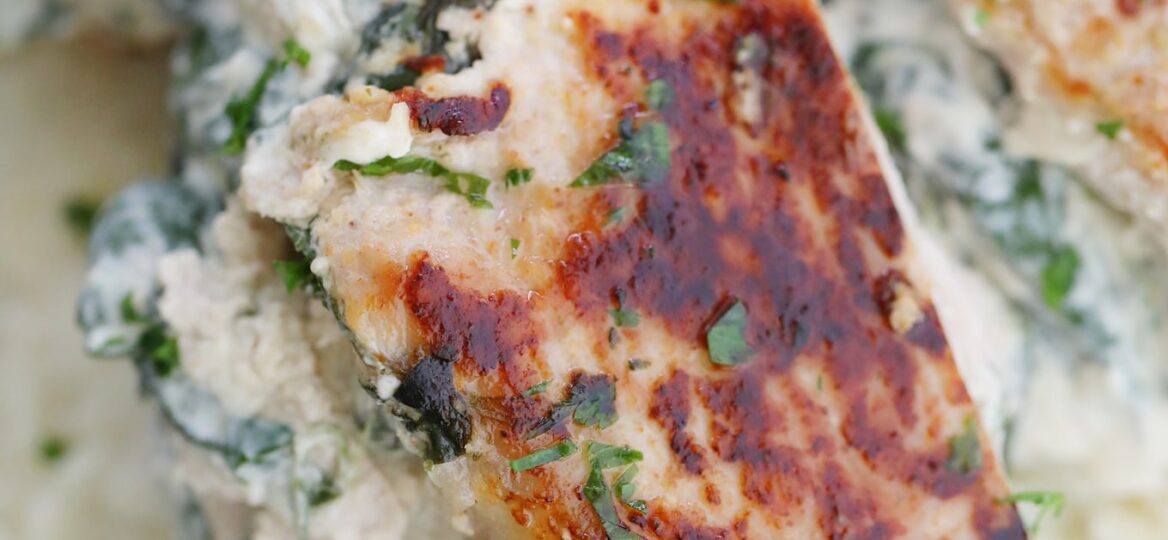 Spinach Dip Stuffed Pork Chops [video]
Spinach Dip Stuffed Pork Chops will surprise you with the oozing creamy filling as you cut through the tender meat. It is a good protein-rich dinner entree that is easy to prepare for the whole family!
We love stuffed recipes, and some of our favorites are Mexican stuffed peppers, the pizza stuffed zucchini boats, and stuffed mushrooms.
Homemade Spinach Dip Stuffed Pork Chops
Spinach Dip Stuffed Pork Chops recipe upgrades any dinner menu with its elegant taste and texture. It has the right balance between the cheesy spinach dip and tender and juicy meat. You get a restaurant-quality dish right at your own dinner table with a lot less money.
Pork chops come from the loin parts of the pig in its spine. Each type differ based on the actual part that they are cut from. For this recipe, we will be using boneless chops which are generally healthier, too.
Are pork chops healthy?
They can be good sources of protein and zinc. For a healthier option, we recommend choosing lean meat like sirloin over the fatty parts. To lessen fat intake, refrain from deep-frying them, but rather roast or braise them instead.
What kind of pork chops should I use for the stuffed pork chops recipe?
For this recipe, we like to use boneless chops as these parts are lean, with very little fat. It is a healthier choice over other kinds of chops. However, if you prefer the bone-in version, feel free to go with them. We made the recipe with both versions, and they taste great, just make sure you choose thicker chops.
How long to cook Spinach Dip Stuffed Pork Chops in the oven?
For safety, pork chops must be cooked at an internal temperature of at least 145 degrees Fahrenheit according to the United States Department of Agriculture. Afterward, let the meat rest for 3 minutes. Roasting in an oven will take about 20 minutes per pound.
But if you will be pan-searing the boneless chops first, then the cooking time will be reduced by about half. Also, the cooking time will vary based on the thickness of the meat.
How long to cook stuffed pork chops at 375 degrees?
If you are cooking this dish in the oven at 375 degrees, it will take about 15 minutes or so.
If you are cooking them in the oven at 400 degrees, it will take about 10-12 minutes.
How to cook stuffed pork chops without drying them out?
To prevent your chops from drying out, we recommend soaking the meat in brine. Simply, dissolve salt and sugar in water and submerge the pork chops in there for about an hour per pound of meat.
The salt in the meat will retain water over the course of the cooking and it also enhances the flavor, too. After soaking, take the meat out of the brine, pat them dry, and cook as usual.
You can also choose to buy thicker chops. Thicker once will also dry out slower a bit.
Also, you can opt for bone-in chops. They are juicier than boneless ones as the bone kind of protects the meat from overcooking. The fat in the meat also provides moisture while cooking, so, choose fatty ones if you like.
How to cook stuffed pork chops on the stove?
Making them on the stovetop is a great alternative. We like to prepare this dish in a cast-iron skillet.
Place your skillet over medium heat and add some olive oil. Add in the onion and saute for a few minutes, and then, add the garlic. Once cooked, add in the spinach until the leaves wilt. Season the mixture with salt and pepper. Remove from the heat and set aside.
To finish making the stuffing, add the cream cheese, sour cream, mayo, mozzarella, Parmesan, pepper flakes, and Italian seasoning to the cooked spinach.
To fill the chops, cut out pockets with a sharp small knife. Be careful not to cut all the way through the other side. Once cut, put the spinach dip filling in the pocket.
Next, sear the meat in the same pan. Add more olive oil if needed, and cooked on both sides for about 4 minutes, until golden brown. Let the chops rest for a few minutes prior to serving.
How to grill stuffed pork chops?
Once you have the Spinach Dip Stuffed Pork Chops filled and ready, you can also easily grill them. Simply, pre-heat your grill to high, and place the meat over. Cook for about 5 minutes on each side.
Also, be careful and gentle when turning the meat over, so the spinach dip does not squeeze out. Ensure to rest the meat for a few minutes to absorb all the juices and flavors.
What to serve with stuffed pork chops?
You can serve this protein-rich entree with sides that are carbohydrate-rich and fiber-rich. We like serving this dish with roasted asparagus or mashed potatoes, or Greek salad.
More pork recipes:
Slow Cooker Pineapple Pork Loin
Recipe Tips
To prevent the filling from squeezing out when cooking, you may use toothpicks to secure it while cooking. Just remove them before serving.
Also, you can prepare this dish in advance and store it for later. Just wrap each chop individually with aluminum foil, and store it in the refrigerator for up to 4 days.
You may use a meat thermometer to check the internal temperature. Make sure that you are getting the temperature of the meat itself, not the bone or just the filling.
For a spicier kick, add some crushed red pepper flakes or sliced jalapeno peppers.
Similarly, other veggies can be added to the mixture for stuffing, such as bell peppers or mushrooms.
This is a perfect dinner dish for holidays such as Easter or Christmas. If you are hosting a larger crowd, just double or triple the ingredients and follow the same steps.