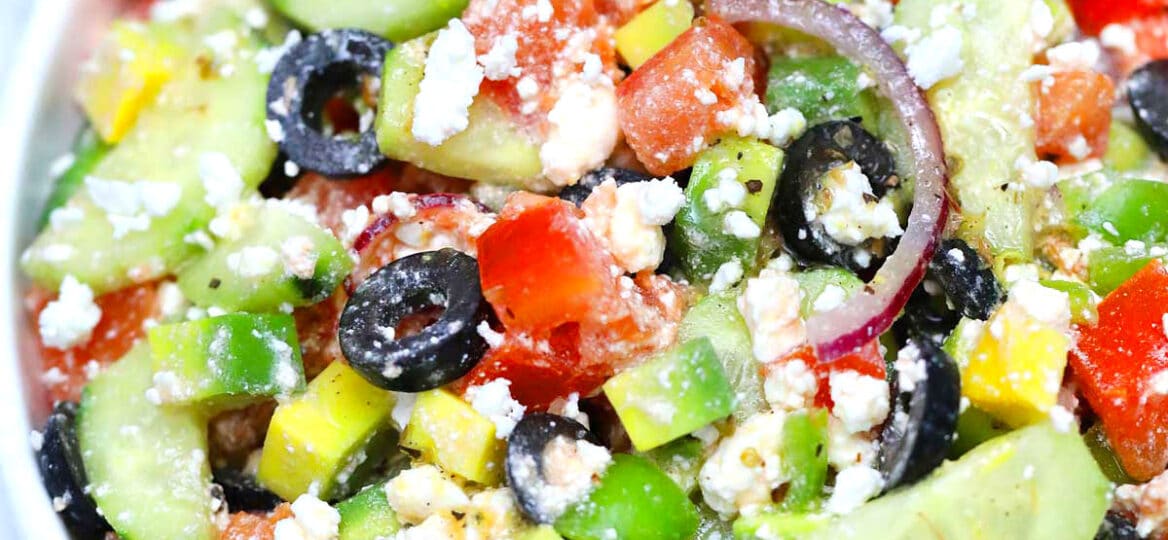 Greek Salad with homemade Greek Salad Dressing is an easy and healthy recipe to make at any time of the day. Take this delicious and refreshing twenty-minute recipe and make it as often as you want!
Salads are a great way to start off the warmer seasons. It is way more pleasant to eat some cool salads than hot soups. Other salads to try are Easy Cucumber Salad and Taco Salad.
Homemade Greek Salad Recipe
There are so many wonderful options when it comes to salad. This Mediterranean dish can be served in a variety of different ways. This dish is most commonly served as a side alongside meat. Eating this with something such as Pesto Chicken Kabobs would be a perfect meal.
This is also excellent because there is no cooking or grilling involved. All you have to do is cut some vegetables and mix them together in one big bowl.
Even though the recipe calls for avocados, it is not always necessary. Avocados can be expensive, though having them in the dish would make it taste that much more delicious not having them is alright too. Of all the ingredients, that is the one that you can take out.
Otherwise, the recipe is so good as it is that you will not even want to take out and replace any of the ingredients!
Greek Salad Origin:
Though this dish claims that it originates from Greece it is most commonly used in the Mediterranean area. However, the Greeks do not own this salad it has also been called "Khoriatiki" or "Cypriot" salad because it also originated in Cyprus.
Anyway enough of history! This is healthy for you because it is low in calories and rich in nutrients it gives you a good dose of vitamins A, C, potassium, and Iron! What a great food to eat!
How to make a greek salad?
Making this salad is fairly easy and simple. Just chop the veggies and mix with the lettuce in a large bowl. Pour the salad dressing on top and toss to combine.
If you like chicken, consider adding some for a little bit added protein. This also tastes very good and is nice if you incorporate it with your salad.
What's inside the salad?
Mixed:
Some ingredients in the salad include Roma tomatoes, cucumbers, red onions, green/yellow bell peppers, black olives, feta cheese, and an avocado.
Dressing:
Ingredients for the dressing are olive oil, lemon juice, red wine vinegar, garlic, parsley, oregano, honey, and salt.
Tips:
If you would like to substitute the romaine lettuce for a different kind of lettuce like iceberg or leaf lettuces are good alternatives to romaine. They still have the same crispiness, but a slightly different taste.
How to make greek salad dressing/ what kind of dressing to use?
Making greek dressing is extremely simple. All you need to do is gather together some olive oil, red wine vinegar, garlic cloves, oregano, lemon juice, and dijon mustard. Mix them all together in a bowl and you have a Greek dressing.
By making it at home it will taste fresher and less oily than the kind that you would typically get at a grocery store.
How many carbs in a greek salad?
There are about 40 carbs total in this salad per serving. This is a great option if you are looking to cut down on different carbs because you can control what kinds of vegetables go in it.
What to serve with greek salad?
Serving any kind of meat with this meal is great. I love serving chicken or beef kabobs with this because of the perfect balance of fresh and grilled foods.
This is also a great side salad for pasta. I know what you are thinking first meat and now pasta? I say why not. This is great as a side for literally anything.
Watch Recipe Video: