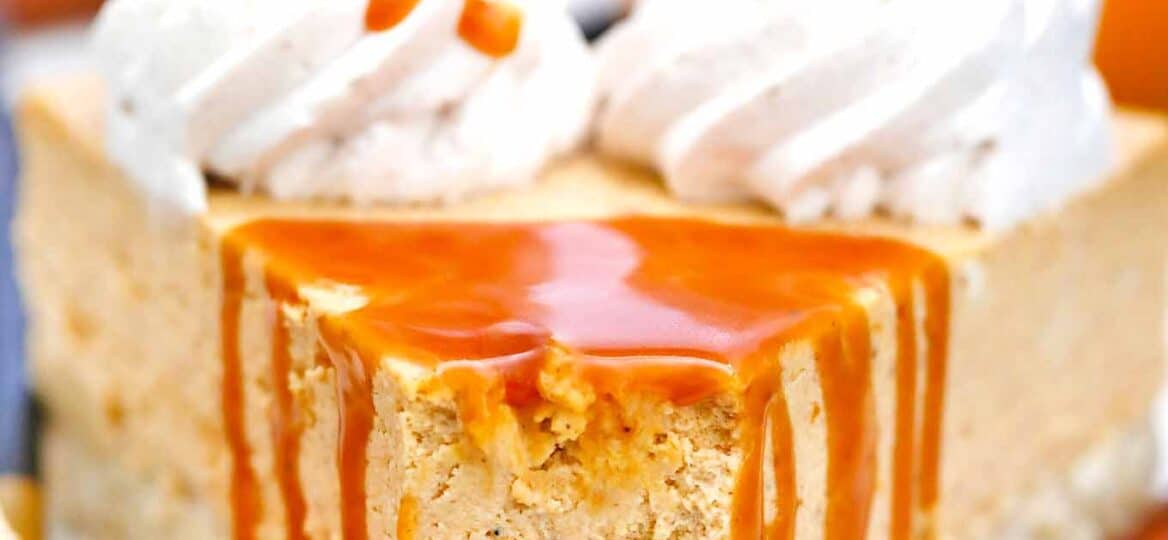 Keto Pumpkin Cheesecake [Video]
Keto Pumpkin Cheesecake is a rich, smooth dessert with all the warm spices of autumn and a creamy filling, minus the sugar crush and carbs. With the fall season right around the corner, this is the perfect dish for your Thanksgiving table or for a snack anytime. This low-carb pumpkin cheesecake is perfect for those on a keto diet, and it is gluten-free as well.
I love the fall season because the pumpkin dishes are in full swing. If you are on a keto diet and want to pair this recipe with some other dishes, I highly recommend checking out our Buffalo Shrimp Dip, Keto Italian Chicken Skewers. and Keto Brussels Sprouts with Bacon.
Low-Carb Keto Pumpkin Cheesecake
In 1915, Dr. John Howland, a pediatrician at Johns Hopkins University discovered that a diet high in fat and low in carbs was a good way to treat epilepsy. But it was Dr. Russell Wilder from the Mayo Clinic in 1921 who designed the ketogenic diet to trick the body into thinking it was fasting by eating a diet of 70 to 90 percent fat with little carbs and protein. Today, it is a popular diet followed by millions for weight loss and good health.
For this easy keto pumpkin cheesecake recipe, all you need is some basic ingredients like butter, flour, spices, and eggs with pumpkin puree, shredded coconut, almond flour, sugar substitute, and a few other ingredients. The process takes a while, but it is well worth it in the end to get this delicious treat without all the sugar.
Also, if you are looking for a special, yet delicate cake to make for Thanksgiving, then this is definitely the one. It is flavorful, with a deep pumpkin note, and the perfect texture to it. My son just loves this dessert, and he would never tell me that it is keto!
Ingredients needed:
Gather the ingredients below to make this delicious recipe for keto pumpkin cheesecake. After you have everything you need, scroll down to our handy recipe card for the exact measurements and directions.
Keto almond flour crust:
Unsweetened shredded coconut
Almond flour
Melted butter: Unsalted butter is best.
Sugar substitute
Cinnamon
Ground nutmeg
Baking spray: For the pan.
Keto pumpkin cheesecake filling:
Pumpkin puree: Not pumpkin pie filling.
Large eggs: At room temperature.
Cream cheese: Softened to room temperature.

Sour cream: At room temperature.
Vanilla extract
Sugar substitute

Xanthan gum
Ground ginger
Ground cinnamon
Ground nutmeg
Cloves
Sugar-free cinnamon whipped cream:
Whipped topping
Ground cinnamon
Sugar substitute
Garnish:
How to make keto pumpkin cheesecake from scratch?
Preheat oven: First, preheat your oven to 300 degrees F and set the oven rack in the middle.

Prep the pan: While you wait for the oven to heat, wrap the outside of your springform pan in a double layer of aluminum foil and spray the inside with baking spray.

Make the crust: Now, add all the crust ingredients to a large mixing bowl and stir well. Press the crust mixture into the pan using your fingers or a cup. Make sure you go up about one inch on the sides. Chill your pie crust while you make your filling.
Make the pumpkin filling:
Beat it: In the bowl of a stand mixer, beat cream cheese until it is light and fluffy using medium-low speed. This takes about a minute. Add the cream and beat for another minute, making sure to scrape the sides of the bowl.

Add the gum and spices: While the beater is still going, add the xanthan gum and sugar to the cream cheese mixture. Beat until creamy before adding the cloves, ginger, nutmeg, cinnamon, and vanilla. Mix well.

Make pumpkin mixture: After, mix in the eggs one at a time, beating after each one. Do not overmix but do scrape the sides before you add pumpkin puree.

Pour into crust: Then, pour the cheesecake mixture into the cooled crust to bake.
Bake pumpkin cheesecake:
Make the water bath: To begin, set your pan in a large roasting pan. Pour hot water into the roasting pan until it reaches halfway up the sides of the springform pan.

Bake cheesecake: Now, put the cheesecake in the oven and bake for 60 to 80 minutes. It should only slightly jiggle in the middle.

Turn oven off: Next, turn the oven off and leave the cheesecake inside with the door cracked open for one hour.

Let it cool: Afterward, move your cake to a cooling rack and remove the foil. Run a knife around the edges to keep it from sticking and cool for two hours. Then, let it cool completely in the fridge for six to eight hours.

Top and serve: When the cheesecake is ready, whisk the whipped cream ingredients until fluffy. Finally, put the cream in a piping bag and decorate the top before serving.
Best SWEETENERS to use:
We have quite a few low-carb dishes on the site, and we get a lot of questions about which sweeteners are best to use. There are quite a few of them out there, but we love using the following:
Recipe variations:
Another crust recipe: Instead of almond flour, you can make a pecan crust or use coconut flour instead. You could even use a sugar-free graham cracker crust.

Other flour: In fact, you can use any kind of flour like all-purpose or whole wheat flour.

Pumpkin cheesecake bars: To turn these into bars you can eat on the go, bake cheesecake in a square pan and cut into rectangles.

Mini-cheesecakes: Similarly, you can make this into mini-cheesecakes by using a muffin tin or muffin pan. But make sure to use cupcake liners.

Other flavors: To add some different flavors to your cheesecake mixture, try using some extracts like apple, cranberry, or hazelnut.
No-bake recipe: Use gelatin instead of eggs for the no-bake version of this cheesecake.

No coconut: Instead of coconut flakes, you can use oats or some kind of ground nuts.
How to serve:
This is the best keto pumpkin cheesecake recipe I have ever used, and my family agrees. And with such an amazing recipe, there are also many great ways to serve it. Try one of these fun ideas or share some of your own ideas in the comments section.
Serve with a scoop of your favorite low-carb ice cream for a more filling dessert.
Instead of buying sugar-free caramel sauce, use this easy recipe for keto caramel sauce.
For a more festive dessert, add some sugar-free sprinkles and pumpkin candies on top.

You can make your own pumpkin puree using our simple recipe instead of canned pumpkin puree.

Put leftovers into a food processor and add coconut or almond milk to make a pumpkin pie smoothie.

This keto pumpkin cheesecake is the perfect dessert for this juicy oven-roasted turkey.

Another way to top this keto pumpkin cheesecake is with homemade preserves made with a sugar substitute.
Frequently Asked Questions
How do I make pumpkin pie spice?
Also known as pumpkin spice, this is a popular blend of fall spices that are often used in desserts made with pumpkin. You can make it yourself and you probably already have the ingredients in your kitchen. You need 3 tablespoons of ground cinnamon, 2 teaspoons of ground ginger and nutmeg, 1 1/2 teaspoons of ground cloves, and 1 1/2 teaspoons of allspice.
Why did my cheesecake crack?
There are many reasons for a cracked cheesecake. Overbaking is the most common reason. Make sure you remove it when the center is still jiggly. It could also be that your oven temperature was too high, you beat it too much when mixing, or you used cold ingredients. It is also important to use a water bath and to cool it slowly by leaving it in the oven for one hour with the door open a crack.
What is a keto diet?
The main rules of keto are to cut out carbohydrates, eat high-quality protein, add plenty of healthy fats, and drink a lot of water. You should avoid starchy fruits and vegetables and try to keep your food consumption to an eight-hour time period. The main foods you will see on these diets are nuts, meats, oils, eggs, butter, and cheese.
What is the best sugar-free sweetener to use?
To make a delicious sugar-free pumpkin cheesecake, you have to use the best sweetener. Since there are so many on the market, it can be difficult to choose. Most of them use erythritol, which is a sugar alcohol. Swerve is what this recipe calls for, but you can use your favorite. Swerve brown sugar and powdered sugar are also available.
Splenda has a popular baking mixture that works well but includes some sugar as well. Stevia is one of the most common brands with all-natural ingredients and it tastes great. Powdered monk fruit is perfect for icing, glaze, and other smooth desserts. Coconut sugar is also a great choice for keto dessert recipes. Although some people use maple syrup for low-calorie recipes, it is not good for a low-carb diet.
More Keto desserts to try:
How to store leftovers:
Store: You can store your leftover keto pumpkin cheesecake in an airtight container for up to three days.
Freeze: It is also safe to freeze your leftovers for up to three months. Just wrap it in plastic wrap and then foil. Then, place it in a freezer bag or another freezer-safe container.

Thaw: For the best pumpkin flavor and texture, thaw your pumpkin keto cheesecake overnight in the fridge before serving.
Recipe tips:
If you do not have a springform pan, you can use a regular pie pan or pie plate. Just line it with parchment paper for easier removal.

For those who are worried about fat and calories, use low-fat cream cheese and cream.

It is important to use room-temperature ingredients. This is especially true for cream cheese and eggs, or the cheesecake batter will be lumpy.

Also, do not overmix the batter. Once the ingredients are well combined, stop mixing them.
You can process your crust mixture in a food processor or high-speed blender to make it faster and easier.

Keep a close eye on your cheesecake when baking. Check on it every few minutes after the 50-minute mark.

Looking for more keto pumpkin recipes? We have lots of great keto desserts and recipes on our food blog for you to try.
Keto Pumpkin Cheesecake
Ingredients
Keto Pumpkin Cheesecake Filling:
32

oz

cream cheese

softened to room temperature

16

oz

sour cream

room temperature

1

cup

Swerve Granular Sugar

1

teaspoon

ground cinnamon

1/2

teaspoon

ground nutmeg

1/2

teaspoon

ground ginger

Pinch

of cloves

1

teaspoon

Xanthan Gum

3

large eggs

1

can pumpkin puree

1

teaspoon

Vanilla extract
Sugar-Free Cinnamon Whipped Cream:
Instructions
Preheat oven to 300 degrees Fahrenheit.

Adjust the top rack to be positioned in the middle of the oven.
Keto Cheesecake Crust:
Wrap the outside of an 8 or 9-inch springform pan in a double layer of foil. Covering the bottom and sides of the pan, only from the outside. This will prevent the cheesecake from water leaking in.

Spray the springform pan inside with baking spray and set aside.

Add all the ingredients to a large bowl and stir until fully combined.

Press the mixture into the prepared springform pan. Using a measuring cup or your fingers, press the crust and try to line the sides about 1 inch up.

Refrigerate for at least 20 minutes.
Keto Pumpkin Cheesecake Filling:
In the bowl of a stand mixer or in a large bowl using a hand mixer, beat the cream cheese until light and fluffy on medium-low speed, for about 1 minute. Add sour cream and beat for another minute, stopping to scrape the sides and bottom of the bowl.

Add the sugar and xanthan gum and continue beating until well combined and creamy.

Add the vanilla, cinnamon, nutmeg, ginger, and cloves. Beat to combine.

Add the eggs one at a time and beat after each addition until just combined. Be careful not to over-mix. Stop to scrape the sides and bottom of the bowl when mixing.

Add the pumpkin puree and stir to combine.

Pour cheesecake batter into the prepared crust.
Bake:
Set the springform pan in a large roasting pan, that is deep enough to add water to it. Pour HOT water into the roasting pan, about halfway up the sides of the springform pan.

Transfer to the preheated oven. Bake for 1 hour to 1 hour 20 minutes, until it only slightly jiggles in the center. I baked my cheesecake for exactly 1 hour and 20 minutes at 300 F.

Turn the oven off, but leave the cake in the oven with the door slightly opened to cool slowly for an hour.

Transfer the cake to a cooling rack and take off the foil. Run a butter knife around the edges to prevent the cheesecake from sticking to the sides. Cool for another 2 hours and transfer to the fridge to chill for 5-6 hours or better overnight.
Cinnamon Whipped Cream:
Add all ingredients to a bowl and whisk until fluffy.

Add to a piping bag fitted with the star tip and pipe on the cheesecake.
Deliciousness to your inbox
Enjoy weekly hand picked recipes and recommendations