Keto Pumpkin Cheesecake [Video]
Keto Pumpkin Cheesecake is a low-carb and perfectly smooth dessert that is great for Thanksgiving. This super tasty and creamy recipe is loaded with pumpkin flavors, and contains just a few carbs per serving!
I love the fall season because the pumpkin dishes are in full swing. If you are on a keto diet and want to pair this recipe with some other dishes, I highly recommend checking out our Buffalo Shrimp Dip, Keto Italian Chicken Skewers. and Keto Brussels Sprouts with Bacon.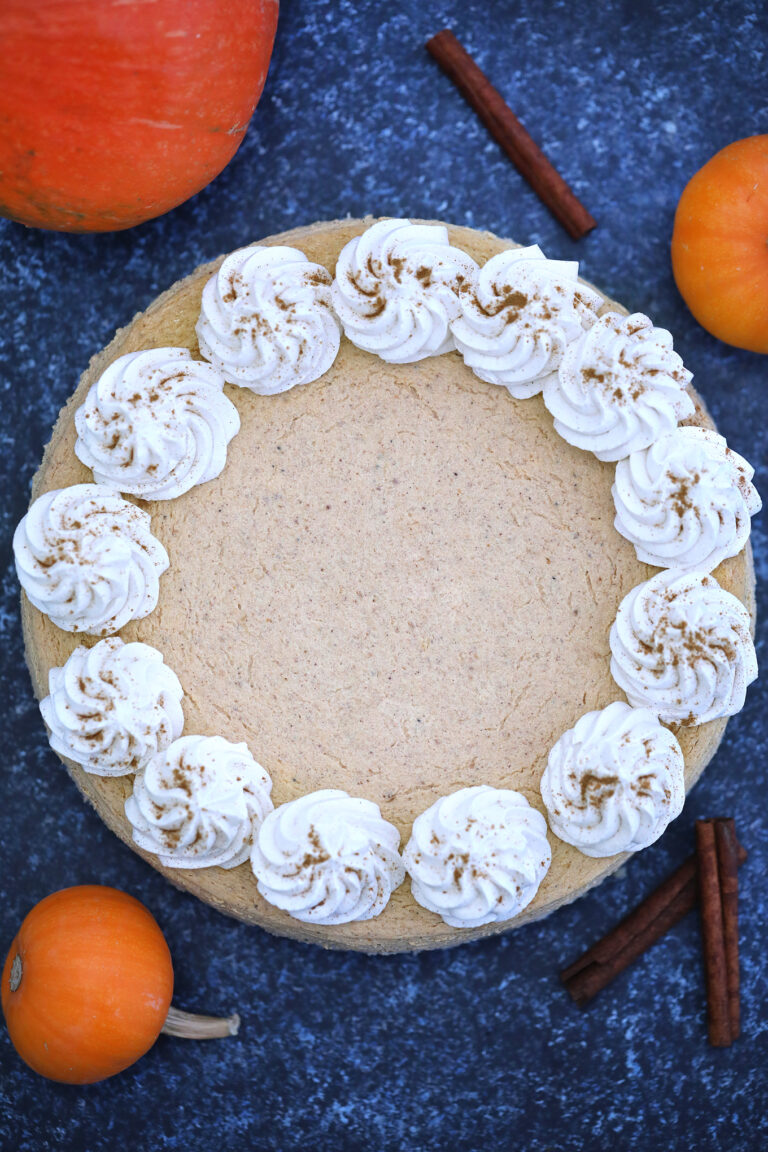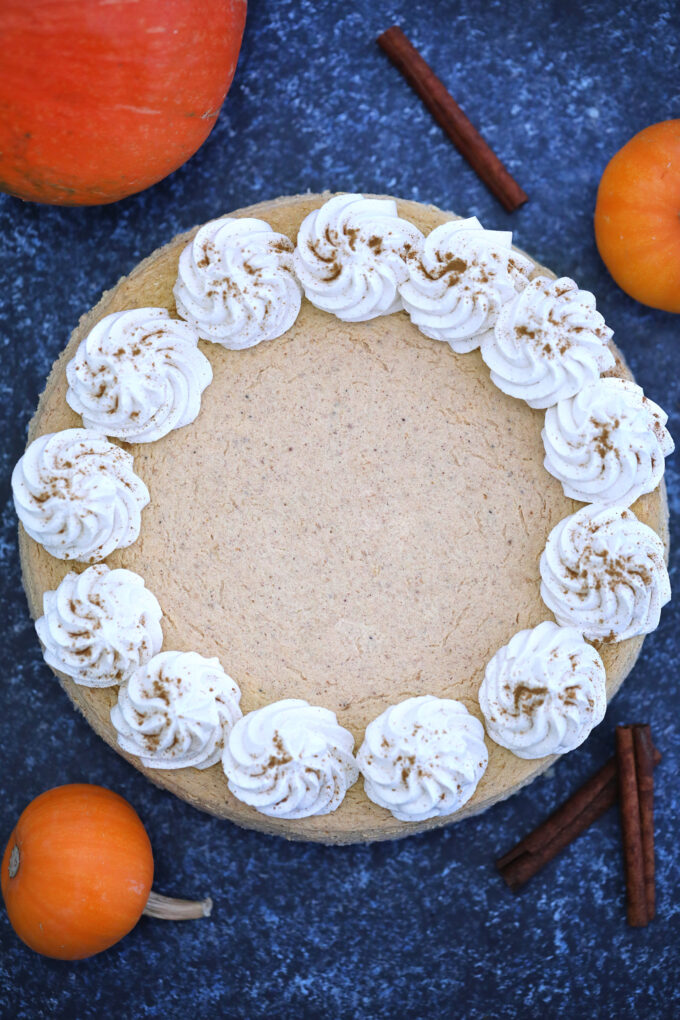 Low Carb Keto Pumpkin Cheesecake
Keto Pumpkin Cheesecake is one of those desserts that you won't get enough of. Being in love with pumpkin, this is truly one of my favorite treats to have during the fall season. Also, it is quite healthy compared to the traditional pies, and you won't feel guilty enjoying an extra slice.
With only about 3 grams of carbs per serving, this is the perfect dessert to enjoy on a keto diet!
Also, if you are looking for a special, yet delicate cake to make for Thanksgiving, then this is definitely the one. It is flavorful, with a deep pumpkin note, and the perfect texture to it. My son just loves this dessert, and he would never tell me that it is keto!
The texture is fluffy, creamy, and not too sweet. You can also easily modify it, by simply adding some spices to it. Whether you are on a low carb diet or not, this dessert is guaranteed to sweeten up your day!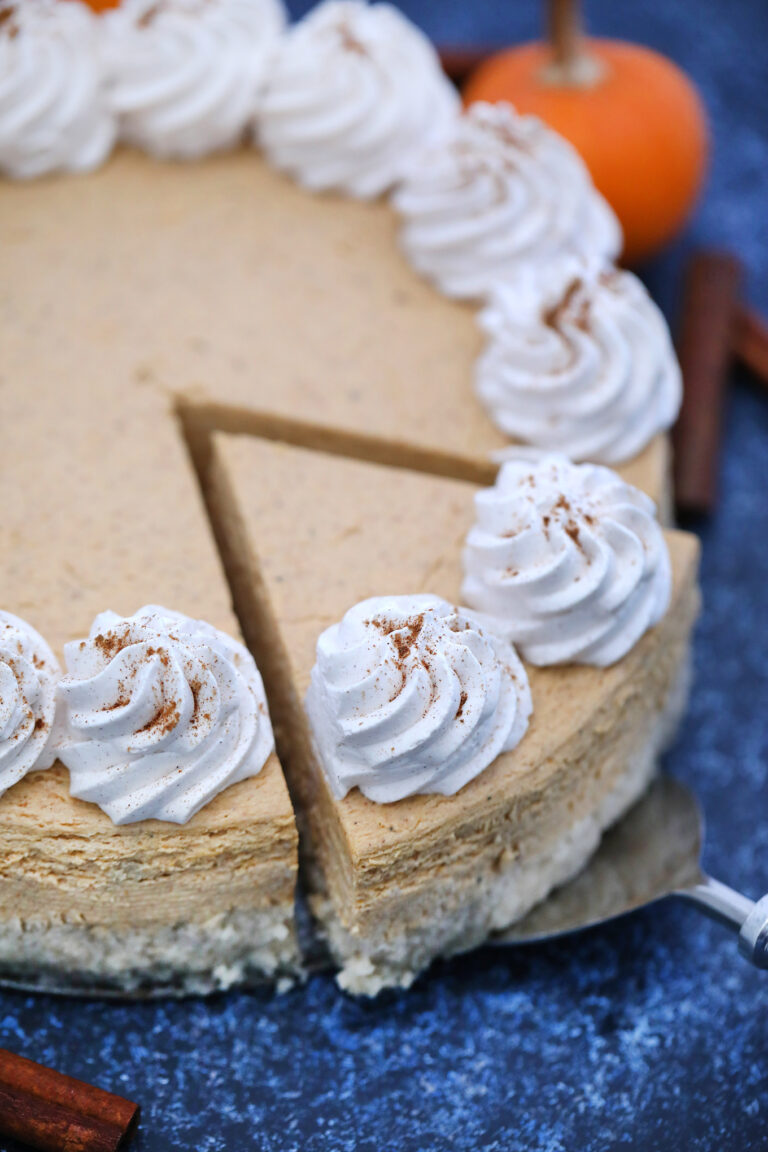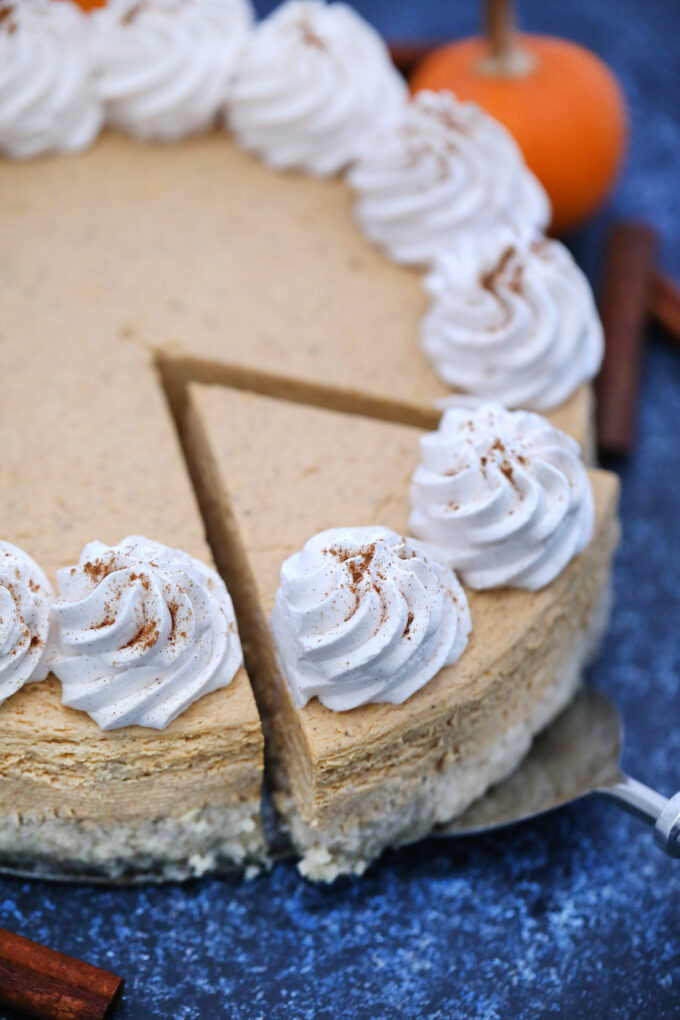 How to make low carb keto pumpkin cheesecake?
Preheat the oven: First, while preparing the ingredients, preheat the oven to 300 degrees F.
Combine the ingredients: In a large bowl, combine almond flour, coconut flour, sweetener (such as swerve), cinnamon, and salt. Also, add melted butter and mix until well combined. Once the ingredients are combined, press the crust into an 8-inch springform pan. Ensure the crust is layered evenly.
Chill the crust: Place the crust in the freezer to chill for about 30 minutes.
Prepare the batter: In a separate bowl, beat cream cheese and sweetener together until light and fluffy. Slowly, add the eggs, one at a time, and beat until well combined. Then add the rest: vanilla, cinnamon, ginger, and salt. Next, add pumpkin purée and beat until no lumps remain. Once the ingredients are well combined, pour the batter on top of the crust. Using a spatula level the batter evenly.
Bake the cake: Depending on the oven, the baking time should be around 50-60 minutes. I recommend checking after the 50 minutes mark, and once the center of it is slightly jiggly, it means it is ready. At that point, turn off the heat and one the oven door slightly (about 1/4 of the way). Let the cake cool this way in the oven for about 50-60 minutes.
Refrigerate and serve: Once cooled, remove it from the oven and refrigerate for at least 3 hours. Once chilled, serve it as is, or with your favorite toppings.
Best SWEETENERS to use:
We have quite a few low-carb dishes on the site, and we get a lot of questions on which sweeteners are best to use. There are quite a few of them out there, but we love using the following: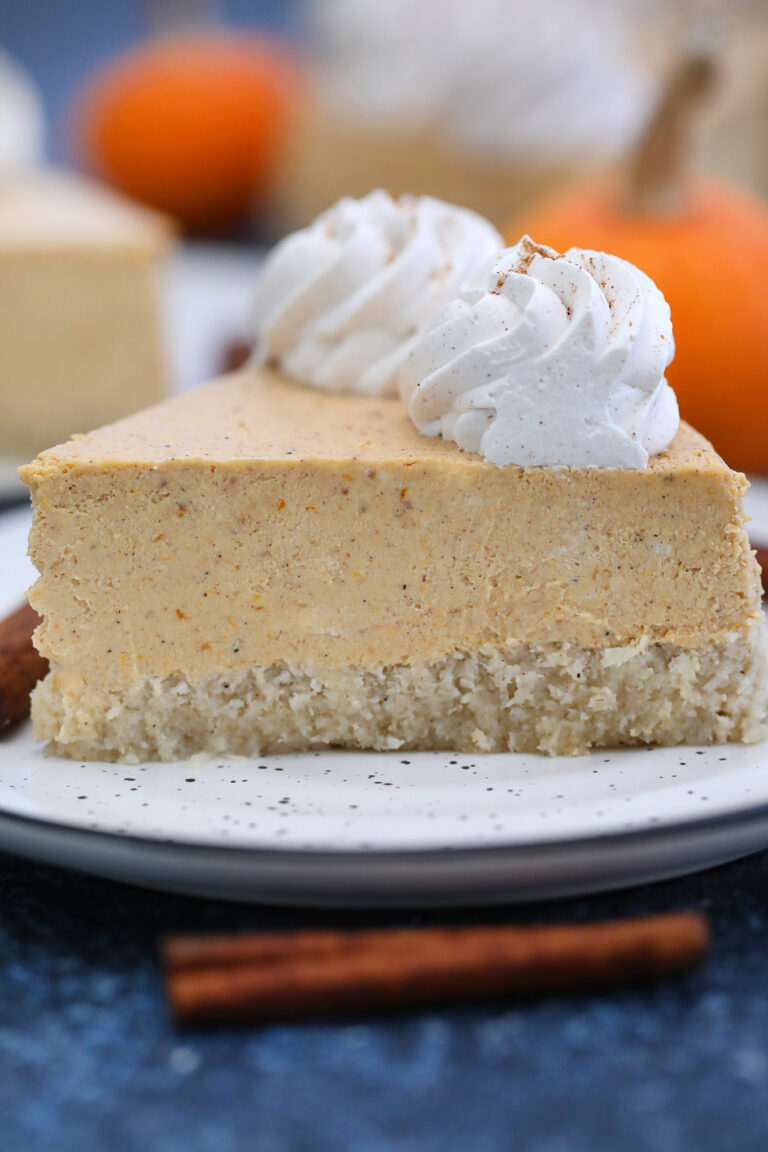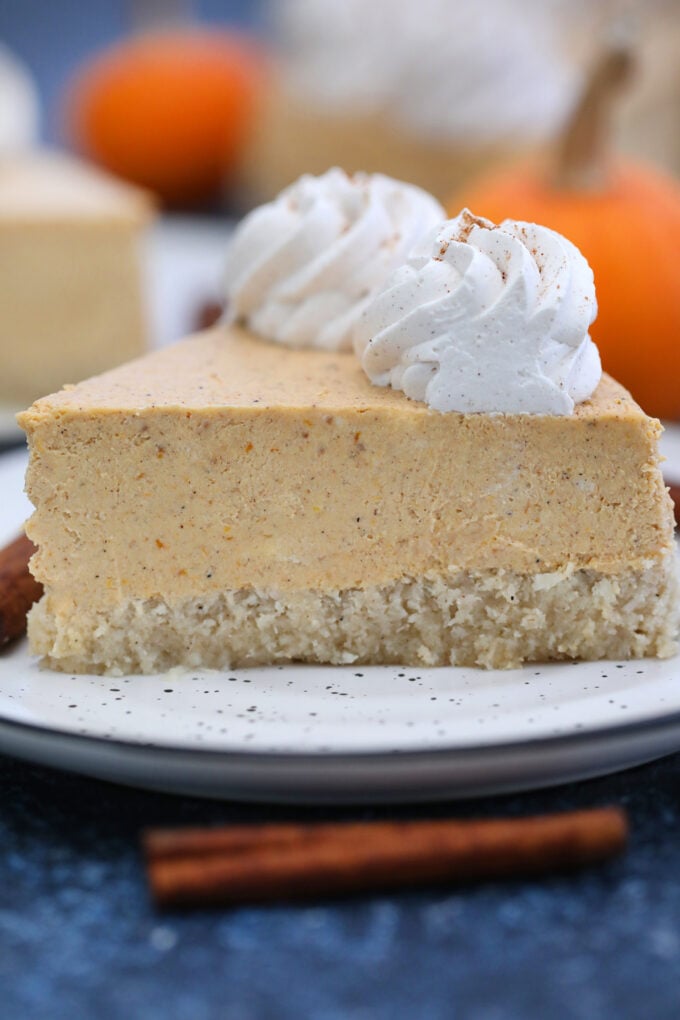 Is cream cheese keto-friendly?
Yes, cream cheese is used a lot on a ketogenic diet, especially on this one. It is ok to incorporate it into these types of recipes, as it is a high fat, low-carb ingredient.
However, make sure you stay away from flavored cream cheeses, such as strawberry or blueberry flavored. They add high-carb sugars to achieve the flavorings. Because of that, try avoiding it, and stick to the original version.
CAN YOU MAKE KETO PUMPKIN CHEESECAKE AHEAD?
Absolutely! This is a great dish to make ahead of time, as it stores well. Actually, it usually tastes better the following days. As a general rule, you want to chill the cake anyways for at least 3 hours in the fridge prior to serving. Therefore, you will need to schedule some tie in advance to make it anyway.
Looking for other pumpkin deserts?
How to store and freeze Keto Pumpkin Cheesecake?
To refrigerate: Prior to refrigerating it, ensure it is completely cool. Then, place it in an air-tight container and refrigerate for up to 5 days.
To freeze it: After it sets in the fridge, wrap it tightly in plastic, and foil over that. Then, place it in the freezer for up to 3 months. Prior to serving, allow it to thaw overnight in the fridge.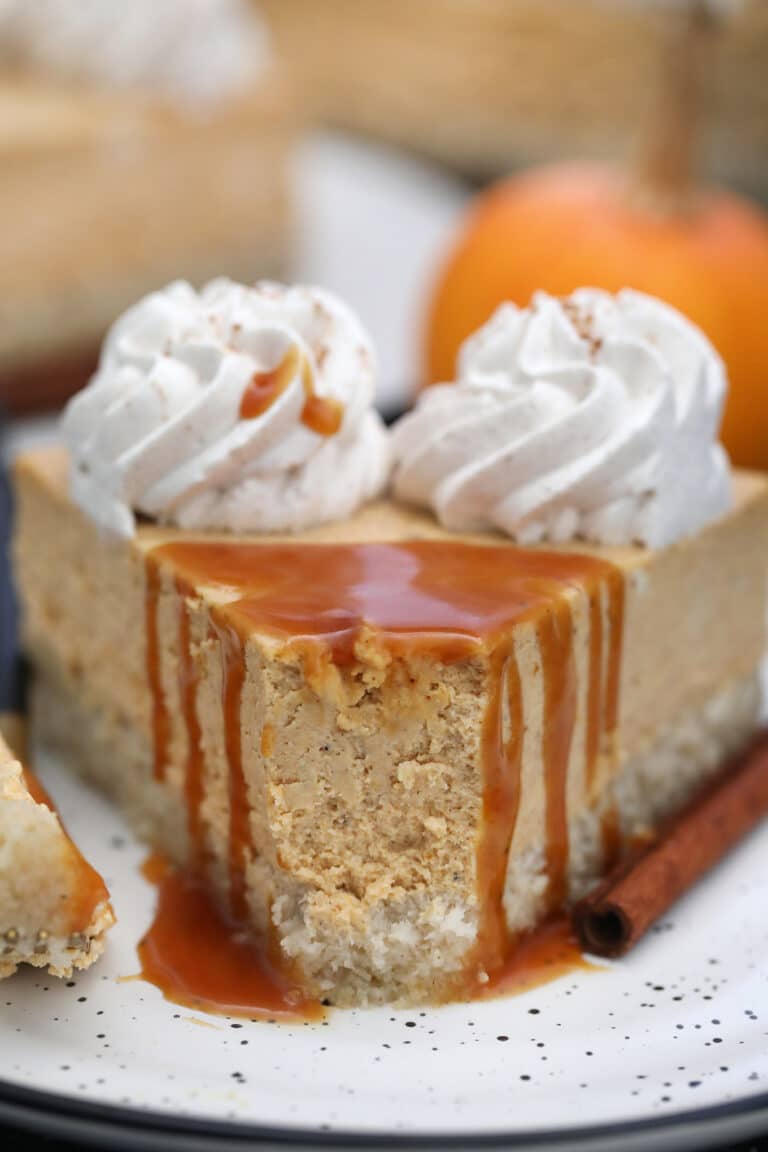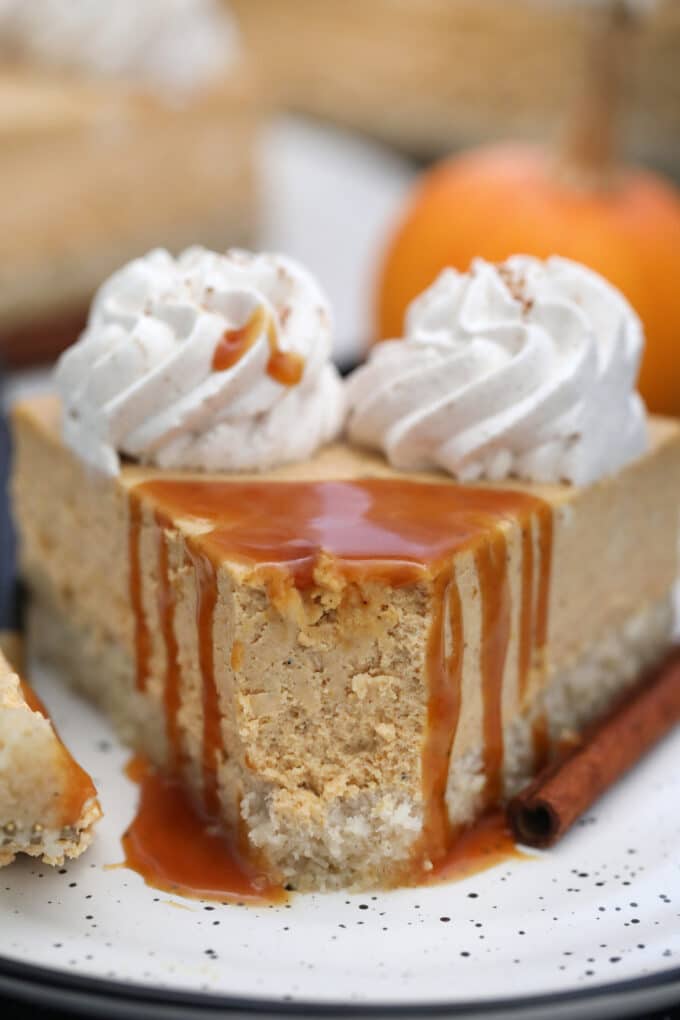 Keto Pumpkin Cheesecake Tips:
It is highly important to use room-temperature ingredients. This is true especially for cream cheese and eggs, otherwise, the batter will get lumpy.
Feel free to top it with your favorite ingredients. If you are on keto, I recommend going with low-carb ice-cream or whipped cream.
Also, to get the right and fluffy texture, do not overmix the batter. Once the ingredients are well combined, feel free to stop mixing them.
Cool it in the oven first with the door open. Otherwise, it might crack due to a rapid change in temperature.
Similarly, keep a close eye on it when baking. This is a delicate dessert, and you do not want to overbake it. Check on it after the 50-minute mark. Remember that it should be jiggly in the middle, and not firm.
A nice trick – to avoid crack when baking, always place a pan with boiled water inside the oven, right below the baking cheesecake. This way, the boiling water will keep the moisture inside when baking underneath the cake. This is similar to the water-bath techniques, but with less work and effort.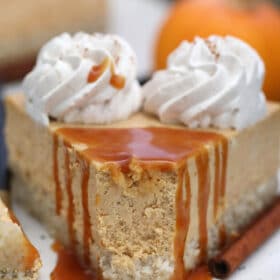 Keto Pumpkin Cheesecake
Keto Pumpkin Cheesecake is a low-carb and perfectly smooth dessert that is great for Thanksgiving.
Save
Share
Print
Pin
Rate
Ingredients
Keto Pumpkin Cheesecake Filling:
32

oz

cream cheese

(softened to room temperature)

16

oz

sour cream

(room temperature)

1

cup

Swerve Granular Sugar

1

teaspoon

ground cinnamon

1/2

teaspoon

ground nutmeg

1/2

teaspoon

ground ginger

Pinch

of cloves

1

teaspoon

Xanthan Gum

3

large eggs

1

can pumpkin puree

1

teaspoon

Vanilla extract
Sugar-Free Cinnamon Whipped Cream:
Instructions
Preheat oven to 300 degrees Fahrenheit.

Adjust the top rack to be positioned in the middle of the oven.
Keto Cheesecake Crust:
Wrap the outside of an 8 or 9-inch springform pan in a double layer of foil. Covering the bottom and sides of the pan, only from outside. This will prevent the cheesecake from water leaking in.

Spray the springform pan inside with baking spray and set aside.

Add all the ingredients to a large bowl and stir until fully combined.

Press the mixture into the prepared springform pan. Using a measuring cup or your fingers, press the crust and try to line the sides about 1 inch up.

Refrigerate for at least 20 minutes.
Keto Pumpkin Cheesecake Filling:
In the bowl of a stand mixer or in a large bowl using a hand mixer, beat the cream cheese until light and fluffy on medium-low speed, for about 1 minute. Add sour cream and beat for another minute, stopping to scrape the sides and bottom of the bowl.

Add the sugar and xanthan gum and continue beating until well combined and creamy.

Add the vanilla, cinnamon, nutmeg, ginger, and cloves. Beat to combine.

Add the eggs one at a time and beat after each addition until just combined. Careful not to over-mix. Stop to scrape the sides and bottom of the bowl when mixing.

Add the pumpkin puree and stir to combine.

Pour cheesecake batter into the prepared crust.
Bake:
Set the springform pan in a large roasting pan, that is deep enough to add water to it. Pour HOT water into the roasting pan, about halfway up the sides of the springform pan.

Transfer to the preheated oven.

Bake for 1 hour to 1 hour 20 minutes, until it only slightly jiggles in the center. I baked my cheesecake for exactly 1 hour and 20 minutes at 300 F.

Turn oven off, but leave the cake in the oven with the door slightly opened to cool slowly for an hour.

Transfer cake to a cooling rack and take off the foil. Run a butter knife around the edges to prevent the cheesecake from sticking to the sides. Cool for another 2 hours and transfer to the fridge to chill for 5-6 hours or better overnight.
Cinnamon Whipped Cream:
Add all ingredients to a bowl and whisk until fluffy.

Add to a piping bag fitted with the star tip and pipe on the cheesecake.
Nutrition
Calories:
365
kcal
|
Carbohydrates:
10
g
|
Protein:
7
g
|
Fat:
35
g
|
Saturated Fat:
20
g
|
Cholesterol:
102
mg
|
Sodium:
130
mg
|
Potassium:
158
mg
|
Fiber:
4
g
|
Sugar:
3
g
|
Vitamin A:
727
IU
|
Vitamin C:
1
mg
|
Calcium:
111
mg
|
Iron:
1
mg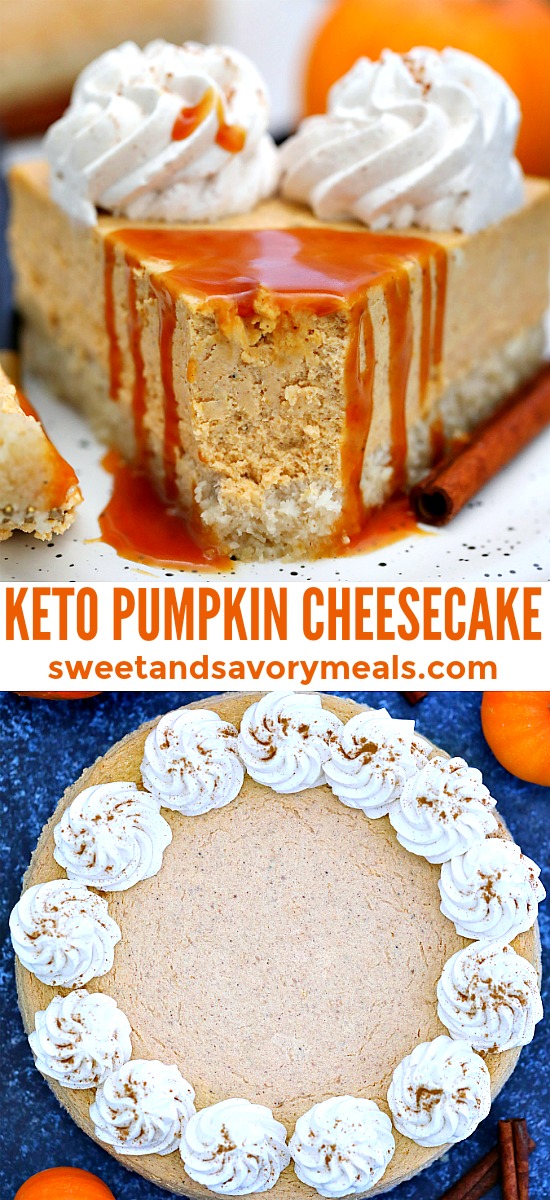 More recipes you might love