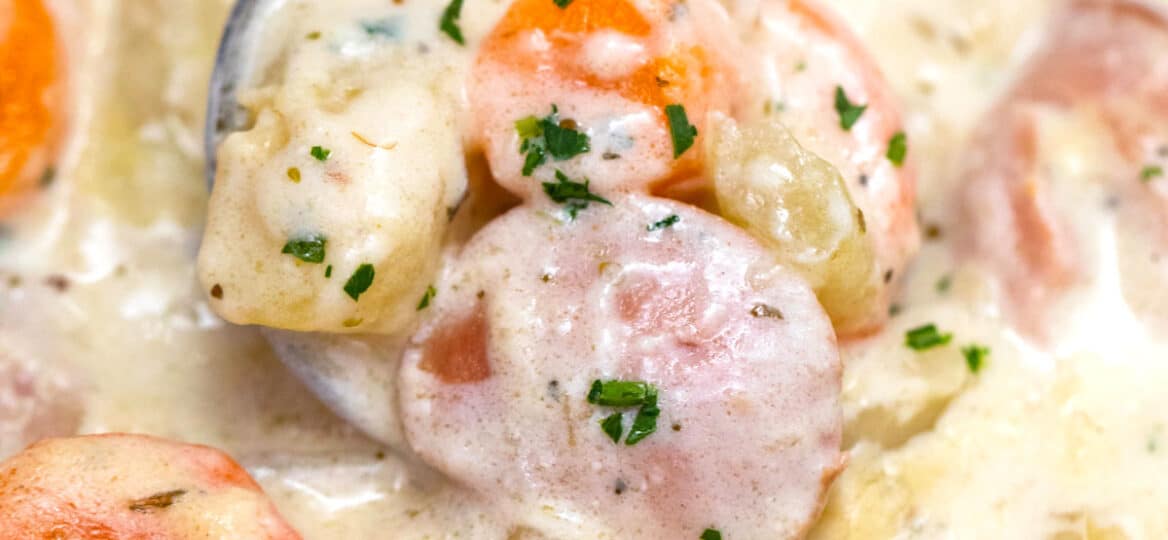 Sausage and Cabbage Soup [Video]
Sausage and Cabbage Soup is loaded with juicy kielbasa and tender vegetables in a velvety cream broth flavored with herbs and spices. A comforting winter fare that's also fantastic throughout the year!
Cabbage is such a versatile and tasty vegetable if done right. Say goodbye to bland, and try these amazing takes on these humble veggies with my Slow Cooker Stuffed Cabbage Rolls, Roasted Cabbage, and Slow Cooker Corned Beef with Cabbage.
Creamy Sausage and Cabbage Soup Recipe
Sausage and Cabbage Soup feels like the warmest hug in a bowl. The mixture of hearty sausage, tender vegetables, and that super creamy soup is just pure comfort food. This is a dish that gets requested in my home A LOT, especially when the weather starts to get cold. The familiar flavors appeal to everyone from kids to grown-ups.
Aside from being incredibly delicious, it's healthy, too. In fact, I'm always amazed at how much vegetables my kids eat whenever I serve this on the table. This recipe also reheats really well, so I recommend making it ahead.
Knowing I always have a batch of this tasty and comforting dish makes me so happy inside because that means I can enjoy it throughout the week.
Is cabbage soup good for you?
Yes! The broth retains all those nutrients present in the vegetables, and the sausage adds a flavorful protein boost.
Now, don't worry about the cream and butter in this recipe! They're just enough to make the broth silky-smooth without adding too many calories and fat. And as long as you consume this dish in moderation, it's an excellent, well-rounded meal the whole family can enjoy.
What do you need to make Sausage and Cabbage Soup?
Meat: Polska kielbasa or some smoked sausage is perfect for this dish.
Veggies: Chopped Green cabbage, a sliced stalk of celery, diced potatoes, and sliced carrots.
Herbs: We're using dried basil, dried oregano, and dried Italian seasoning. Feel free to use fresh if you prefer a stronger herb flavor!
Aromatics: Chop a small red or white onion, and mince some garlic finely
Stock: Store-bought is fine, but if you have time, try making your own. It's so much better and healthier from scratch!
Seasonings: Aside from the usual salt and fresh ground pepper, measure out some Worcestershire.

Cream mixture: We're blending half and half, flour, milk, and butter for that rich creaminess.
Olive Oil: For sauteing

Garnish: Fresh chopped parsley
How do you make Sausage and Cabbage Soup from scratch?
Sauté. Cook onion in oil until tender and translucent. Add the sausage and saute until it's nicely brown. Add your dried herbs, minced garlic, then stir. Follow this up with your veggies, seasonings, and stock.
Simmer. Bring to the boil, then lower to a simmer until the potatoes are done and tender. This usually takes about 10 to 15 mins.

Cook the cream mixture. In a saucepan, melt the butter. Add flour and stir for a couple of minutes. Next is the half and half then milk. Whisk until the mixture is thick and smooth.
Finish. Pour the cream blend into the pot, then simmer for a final 5 minutes.
Serve. Enjoy hot, with a sprinkling of fresh chopped parsley on top.
Recipe Variations:
Use other meats: Try other sausages like Italian, chicken, or hot. You can also add other meats like shredded chicken breast, some chopped ham, and ground meat.

Skip the cream: For a lighter version, use milk only or alternatives like soy milk or almond milk. Do note that this will result in a thinner broth, so you may need to add a slurry to thicken.
Add other veggies: Most veggies would work in this dish! Throw in some broccoli or cauliflower florets, snow peas, fresh baby spinach, white or brown mushrooms, and parsnips.

Add grains: Try adding some cooked wild rice, quinoa, or barley into the dish. You can stir in some cooked noodles, too!
Can you make Creamy Sausage and Cabbage Soup in the Slow Cooker?
Yes. Place the meat, veggies, seasonings, and stock in your crockpot. Make the cream mixture and pour it into the pot.
Cook on high for 5 hrs., or on low for 8 hrs. Serve garnished and hot.
Can you make it in the Instant Pot?
Use Sauté in the IP to brown your meat and onions. Deglaze with broth, then return the meat with the aromatics, herbs, seasonings, and vegetables. Cook for 8 minutes set on High Pressure.
Release the step by venting quickly. Stir in the cream mixture, then simmer until thick. Serve hot with parsley on top.
How do you thicken soup?
Try increasing the amount of butter and flour in the cream mixture. You can also smash your potatoes very slightly to release more starch into the broth.
A longer simmer time after adding the cream mix will also help thicken the broth some more.
How do you reheat soup that is too thick?
Thin it out with some stock or water. I like doing it over low heat first so that the bottom doesn't burn. Stir the additional liquid carefully into the broth. Add more as needed until it's hot and reaches your desired consistency.
How to store:
Cool it down completely before adding it into a container with a tight seal. Consume within 3 days for best texture and taste.
How to freeze:
I don't recommend freezing this dish as is, because dairy-based broths tend to separate after thawing. If you want to make it ahead, I suggest skipping the cream mixture first. Freeze the portion you want to store, then continue with the cream step for those servings when you're ready to serve.
Soup Topping Suggestions:
Try chopped herbs like dill, fresh chives, or cilantro.
Sprinkle with a squeeze of lime or lemon.

Sprinkle with some shaved parmesan or pecorino.
Add crunch with croutons, bacon bits, or toasted nuts and seeds.
More Soup Recipes:
Recipe Tips:
You can slice or crumble the sausage depending on the texture you prefer.

Cook the flour in the butter for at least 2 mins to remove the taste of raw flour.
Don't forget to remove the core from the cabbage.
Deliciousness to your inbox
Enjoy weekly hand picked recipes and recommendations