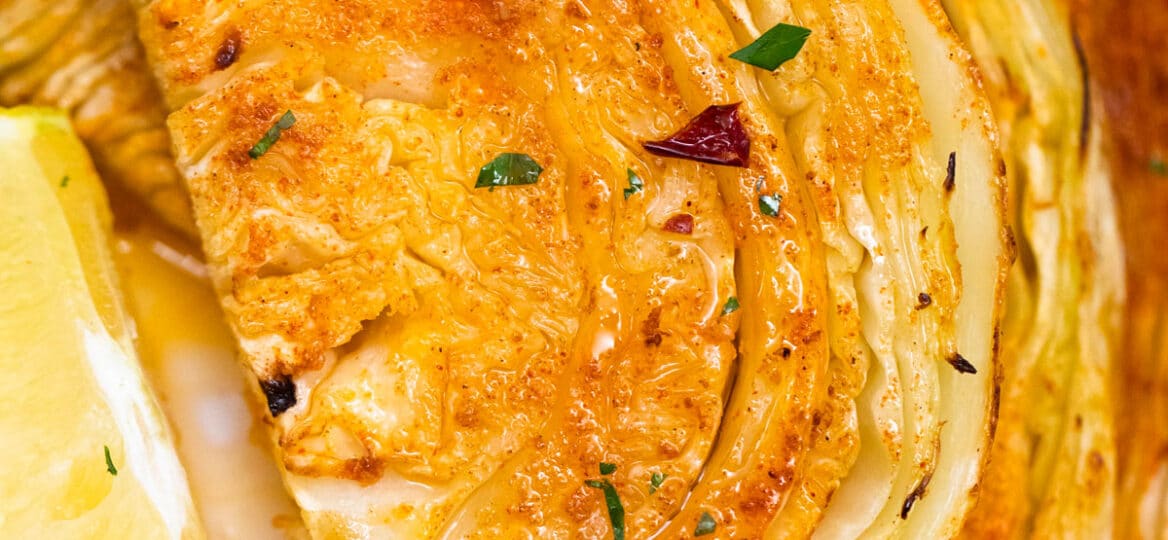 Roasted Cabbage Recipe [Video]
Roasted Cabbage is an amazing veggie side dish that's ready in 30 minutes! Seasoned cabbage wedges are roasted in a very hot oven until tender-crisp with beautiful, crispy edges.
This is another easy cabbage recipe part of our growing collection. Roasting this vegetable gives it such an amazing texture and flavor. This delicious side dish can be made with cabbage slices or if you prefer roast a whole head of cabbage!
If you are a cabbage fan these crispy roasted cabbage steaks will quickly become one of your favorite side dishes. This easy recipe is versatile and simple to prepare.
For one, very little prep is involved. Just season the wedges, pop them in the oven, and you can come back to a tasty side in half an hour!
And the taste— this is seriously yummy, the natural sweetness of the cabbage comes through when roasted. The texture is fork-tender with a nice crunch and golden brown with caramelized edges (the best part if you ask me!).
Also, the garlic and paprika complement this vegetable so well, while the spicy red pepper flakes add a bit of heat. A good squeeze of lemon juice brightens up the savory flavors perfectly! Serve this with your next meal, and watch your family finish their veggies, and ask for seconds!
Ingredients Needed:
Extra-virgin olive oil
Green cabbage
Lemon
Kosher salt and ground black pepper
Onion powder
Garlic powder
Smoked paprika
Red pepper flakes
How do you make Roasted Cabbage Steaks?
Prep and season. First, place the head on a cutting board, and cut it into fat wedges or thick slices after removing the loose outer leaves. Then, place cabbage steaks in a single layer on the prepared baking sheet pan or rimmed baking sheet covered with aluminum foil.
Seasoning: Mix all the seasoning ingredients in a small bowl.
Oil: Brush the surface with oil, then season ALL sides of each wedge.
Roast. Next, bake in a 425F preheated oven for about 25 to 30 mins until tender but still slightly crisp, and you're starting to see deep brown edges.
Serve. Enjoy hot out of the oven with a sprinkle of red pepper flakes and lemon slices on the side! Season with salt and pepper if needed.
Recipe Variations:
Sauce: Coat the steaks in a different sauce, for a change try Teriyaki, Szechuan Sauce, or General Tso sauce.
Different spices: As an alternative play with the seasoning, add some caraway seeds, fennel seeds, Old Bay, lemon salt, white pepper, dried herbs Cajun seasoning, or Ranch seasoning.
Veggies: Try this recipe with Napa cabbage steaks, red cabbage, toss is some Brussel sprouts, green beans, and sweet potato chunks.
Bacon: This easy side dish is great with bacon, cook the slices in bacon grease and top them with chopped bacon.
Add crunch: I like adding crispy, seasoned bread crumbs on top for more texture.
Add cheese: Try sprinkling some grated parmesan cheese on the slices before roasting!
Make it zesty: Instead of lemon juice, drizzle some balsamic vinegar on top after roasting.
Air fryer: Make this recipe in the air fryer.
Nutrition Facts:
This great recipe isn't just tasty; it's packed with nutrients, too! This vegetable is rich in fiber, Vitamin C, Vitamin K, potassium, folate, Vitamin B6, and many other vitamins and minerals. Also, it is an excellent addition to any diet, especially when it tastes as good as this one.
In this recipe, there is almost no oil or salt, and the roasting process helps the wedges retain most of their nutrients. Eat as much as you want without the guilt because it's low in carbs and calories!
Frequently Asked Questions
What goes well with cooked cabbage?
Is cooked cabbage healthier than raw?
In a way, yes. The heat breaks down the thick cell walls of the vegetable, which means your body absorbs more of the nutrients.
However, it also depends on the cooking method. Naturally, fried veggies are extremely unhealthy. Stick to methods like roasting and steaming.
What type of cabbage is best for roasting?
I prefer using the leafy green ones for their neutral flavor, which allows the seasonings to shine. For roasting, you should always use a large one for at least 2 lbs.
They make the perfect steaks! They're sturdy, and the outsides brown nicely while keeping the insides tender and delicious.
How do you keep cabbage crispy?
It helps to start with wedges that are as dry as possible. Moisture is the enemy of crispness and will steam your veggies instead of roasting them.
In addition, make sure to preheat your oven as well, so that the wedges start to roast the moment they're placed inside.
How to store and reheat leftovers?
Cool: First, let the roasted cabbage steaks cool down first, then place them in a container with an air-tight seal. Consume within a day or two if you're keeping them in the fridge.
Freeze: I don't recommend freezing them because you lose a lot of that crispiness after thawing, and it tends to be soggy. Therefore, if you decide on freezing them, wrap each piece in plastic wrap and after that in foil. After that, arrange them in a freezer bag and freeze them for up to 3 months.
Thaw: Next, when ready to thaw, just transfer the slices from the freezer to the fridge and thaw overnight.
Reheat: To reheat, microwave, or roast for a few minutes until hot.
More Easy Cabbage Recipes:
Recipe Tips:
Don't remove the core! It keeps the wedges together and lessens prep work, too.
Look for raw cabbage that is crunchy! That's how you know it's fresh and high-quality. Roasting transforms that raw crunch into a wonderful crispy texture.
The head should feel compact and tight with very few limp and damaged leaves outside. A good one will feel heavy in your hands and look fresh and green.
Get a cabbage that weighs 2 lbs. before you trim it. If it is too small, then the wedges may burn in the oven, or you may not have enough to serve.
Season BOTH sides for max flavor.
Keep in mind that the cooking time may differ based on how thick you cut the slices.
Also, to add some flavor, feel free to add crunchy bacon to the dish.
Deliciousness to your inbox
Enjoy weekly hand picked recipes and recommendations