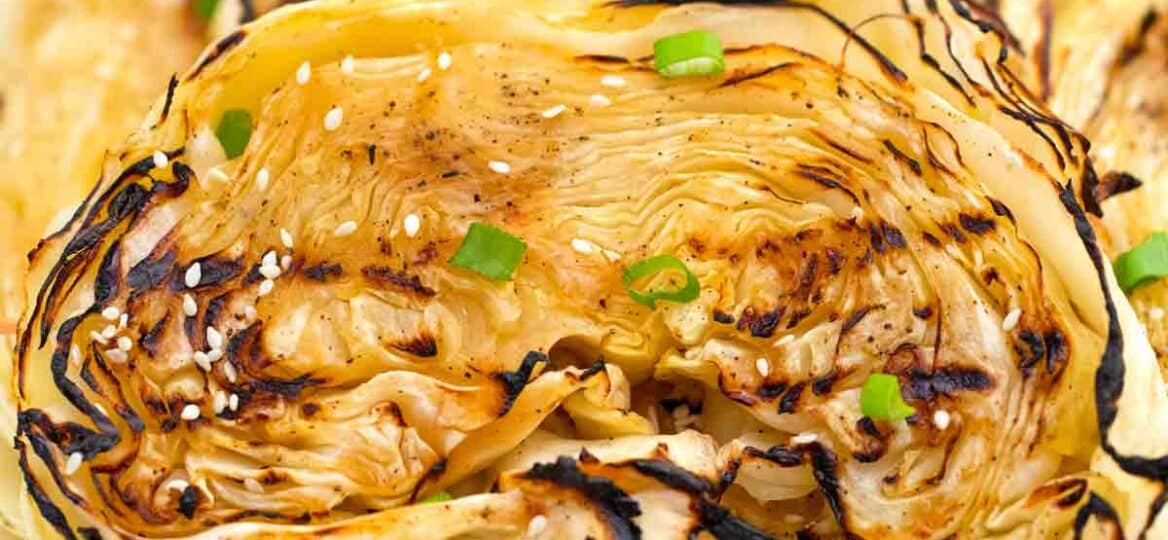 Teriyaki Cabbage Steaks [Video]
Teriyaki Cabbage Steaks are brushed with a sesame honey-ginger sauce, then grilled until beautifully caramelized and tender. A lovely side or vegetarian entree packed with amazing Asian flavors!
For more Japanese-inspired deliciousness, try this crispy Chicken Katsu with Tonkatsu Sauce, Soba Noodles, and Tonkotsu Ramen with Chashu Pork!
Grilled Cabbage Steaks Recipe
Teriyaki Cabbage Steaks can make anyone finish their veggies and ask for more! We take fresh cabbage, chop them steak-style, and grill them until they're perfectly tender.
Then we finish them off with lots of homemade teriyaki sauce and continue grilling until all the sides are browned, caramelized, and full of crispy edges. So full of flavor, it can rival any main!
How do you choose fresh cabbage?
To check, hold it in your hands. It should be much heavier than it looks, which will tell you that it's intact inside. The outer leaves should uniformly green and blemish-free. The core should be white and feel solid, and there should be no brown, soggy spots anywhere on the head.
How do you clean and prepare cabbage for cooking?
Take off all the outer leaves, then wash the head to get rid of any leftover dirt. Pat the whole head as dry as possible before slicing it for your recipe. You can also wash off the chopped pieces, but make sure to dry them off properly before cooking.
How do you cut cabbage into steaks?
First, slice off the bottom of the core. To get steak-style slices, chop the head carefully into 1.5-inch-thick pieces crosswise. Be very careful when slicing since you don't want to rip the pieces apart.
More grilled recipes:
What is teriyaki sauce?
This sauce has roots in Japanese cuisine, and it's thick, rich, and loaded with umami flavors. The flavors are sweet and savory at the same time, with strong tastes of ginger and sesame.
What do you need to make Teriyaki Cabbage Steaks?
Cabbage: Sliced into 1.5-inch thick steak-style pieces.
Aromatics: Fresh, grated ginger and finely-minced fresh garlic.

Seasonings: A quarter cup of mirin, soy sauce for saltiness, and umami, plus sesame oil to give the sauce a delicious nutty taste.

Sweeteners: We're using brown sugar to encourage caramelization and honey to make our sauce thick.
Canola oil: It helps the sauce and seasonings stick to the veggies and encourages the surface and edges to crisp up.
Water: To loosen up the sauce so we can brush it on the vegetables easily.
For serving: Wedges of lemon, chopped scallions, and sesame seeds
How do you make Teriyaki Cabbage Steaks from scratch?
Cook the sauce. Begin by simmering the water, mirin, and soy sauce until the mixture starts bubbling. Take it off the heat, then add your aromatics, sesame oil, and both sweeteners.
Oil and season. Brush each steak with oil before seasoning with fresh-ground pepper and salt.

Grill. Place in your preheated grill on the cool side, and let it cook up to 40 to 45 mins, occasionally turning until tender.
Brush. Once the slices are as tender as you like, brush each one generously with the teriyaki glaze before transferring to your grill's hotter part. Turn the pieces once or twice, brushing with more teriyaki each time. Do this until the surface is brown and caramelized, about 3 to 5 mins.
Serve. Serve the steaks with the remaining teriyaki drizzled on top, topped with chopped scallions and sesame seeds plus lemon on the side.
Recipe variations:
Spicy: Stir in some chopped fresh red peppers or dried chili flakes into the teriyaki.

Air fryer: Preheat your air fryer for 5mins at 360F. Placed the oiled and seasoned cabbage pieces into the air fryer, then cook for 8 to 10 mins until tender. Brush with the sauce, then air-fry for 2-4 mins more, brushing with more teriyaki until caramelized.
Oven method: Arrange the veggie steaks on your sheet, then oil, season, and brush with sauce. Roast for about half an hour at 400F.
Try other sauces: This recipe is also fantastic with Szechuan Sauce, Orange Sauce, or General Tso Sauce!

Use cauliflower: Try this with cauliflower! To learn how to slice cauliflower into steaks, follow these instructions.
What goes well with Teriyaki Cabbage Steaks?
They're a great vegetarian main with hot rice or egg fried rice. This dish is also a fantastic side, especially with Asian dishes like Slow Cooker Asian Short Ribs, Korean Beef Bulgogi, and Firecracker Chicken.
How to store leftovers:
After the leftovers have cooled down, transfer to a large container. Keep in the fridge up to three days, but try to finish earlier. You can also freeze them inside a freezer bag for up to a month.
To reheat, defrost first. Then, bake in a 400F oven for up to 10 mins until hot.
More cabbage recipes:
Recipe tips:
Make sure to slice thicker steaks, around 1.5 inches crosswise. Too thin, and they can fall apart and burn on the grill.
No mirin? Try subbing with marsala wine or dry sherry. Apple cider will work in a pinch, too. Just make sure to add more brown sugar to counteract the sourness.
Start grilling on the cooler part! Otherwise, the surface of the veggies will brown too soon, way before the insides are tender.