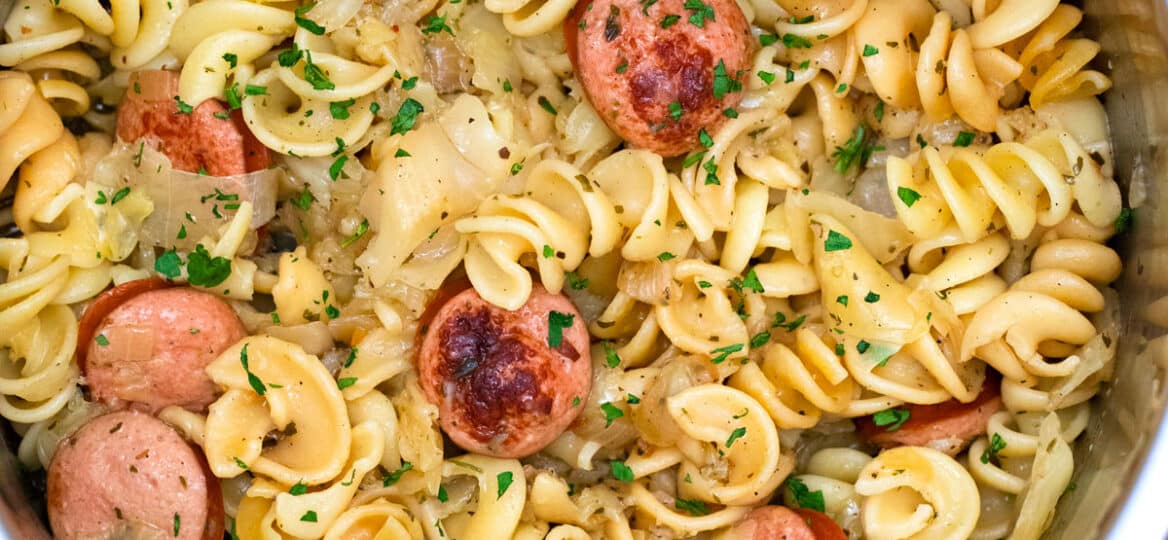 Instant Pot Cabbage and Noodles [Video]
Instant Pot Cabbage and Noodles are cooked with juicy sausages in broth, butter, and seasonings until tender and delicious. It's true comfort food made in less than 30 minutes and in one pot!
The Instant Pot is perfect for cooking flavorful and fast pasta dishes. Use your IP to make the Ultimate Lasagna, Penne Alla Vodka, and Cheeseburger Macaroni!
Pressure Cooker Cabbage and Noodles Recipe
Instant Pot Cabbage and Noodles are our quicker version of Haluski. You'll love these buttery ribbons of egg noodles and tender-crisp cabbage cooked with juicy smoked kielbasa!
It's very kid-friendly as well. My kids request this often, and it's become a beloved comfort food in our home. This recipe is highly customizable too. For instance, you can make it low carb and add various meats and veggies to make it your own!
Is cabbage and noodles and Haluski the same?
Almost! Traditional Haluski is sauteed and only contains noodles, cabbage, and seasonings. The IP shortens the cooking time while giving us the same delicious flavor profile. As for the addition of kielbasa, that's actually a common variation of the traditional recipe.
What do you need to make Instant Pot Cabbage and Noodles?
Cabbage: A small, green one will do. Chop into strips.
Egg noodles: We love using extra-wide ones for this dish!
Chicken broth: Pre-made is fine, but for the best flavor, try using homemade.
Sausage: We use Polish kielbasa to make this dish as close to authentic as possible.
Butter: About a whole stick. It's key to silky, rich, and delicious Haluski!
Dried herbs: Parsley and oregano add a really nice herby flavor.
Aromatics: Fresh minced garlic and chopped fresh onion.
Worcestershire: Cuts through the rich buttery taste with a little tang.
How do you make Instant Pot Cabbage and Noodles?
Saute. In the Instant Pot, stir-fry the aromatics in butter for a couple of minutes. Then, add your kielbasa, and brown it nicely, followed by the Worcestershire and dried herbs. Deglaze the bottom with a little broth to remove browned bits.
Assemble. Next, add your cabbage, egg noodles, then the stock, plus butter on top. DON'T STIR.
Cook. Pressure cook on high for 2 mins., then perform a manual release. Turn on Saute to cook the noodles a bit more, then stir in the remaining butter.
Serve. Enjoy hot with a sprinkle of herbs and optional cottage cheese or a dollop of sour cream.
Recipe variations:
Use other meats: Try this with cubed ham, corned beef, different sausages (mild or spicy Italian, Andouille, or any smoked sausage will be great), or chicken for a lighter version.
Low carb: Use low-carb egg noodles or any flat keto pasta.
Include more vegetables: Make it healthier with spinach, julienned carrots, mushrooms, peas, broccoli, and other veggies!
Add cheese: We love some ricotta, cottage cheese, or shredded parmesan stirred through the finished dish.
More Pasta Recipes:
What are the rules to cook pasta in the instant pot?
The most common question we get about this is, "how long should I cook pasta in the IP?"
So, this will involve a tiny bit of math, but nothing too complicated! Once you memorize this formula, you'll have perfectly-done pasta every time.
Check the package to see the recommended cook time. Let's say it's 7 to 10 minutes.
Take the lowest number. If it's not even, round it down. So, for 7 minutes, we'll round that down to 6 minutes.
Divide that lowest even number in half, then subtract 2 (So our 6 minutes will become 1 minute cook time).
Cook on high based on the resulting cook time, with a 5-min natural release.
Done!
As for other rules, here are a few more:
Break long varieties in half (such as spaghetti, linguine, etc.), so they fit into the pot.
DO NOT STIR, so they don't stick together.
Also, for every 8 ounces of pasta, use 2 cups of water.
The natural release should be 5 mins only, then quick release all remaining pressure to prevent overcooking. You can also use manual release all the way right after the IP finishes cooking.
How to not overcook pasta in the instant pot?
First, don't wait for all of the pressure to be naturally released! This is a surefire way to overcook it. Again, go natural for only 5 mins or release all pressure manually immediately after pressure cooking.
In addition, I also prefer undercooking pasta a bit. You can always turn on the Saute function to cook it a little more, but it's impossible to salvage limp, soggy, and overcooked noodles.
What pasta is best for cabbage and noodles?
Egg noodles are the traditional choice, and frankly, the most delicious in this dish! If you don't have it, you can also use flat pasta like tagliatelle or fettuccine. Even spaghetti will work in a pinch!
What goes well with cabbage and noodles?
It's amazing with most crispy entrees, like our baked pork chops, crispy tilapia, and fried chicken. We also recommend enjoying it with rich and hearty mains, like Swedish meatballs, Beef Tips and Gravy, Hamburger Steak, and Beef Stroganoff.
How to store leftovers:
If you're storing this in the fridge, cool down the remaining dish, then transfer it to an air-tight container. This will stay tasty and fresh for up to 3 days, but try to finish it earlier.
To freeze, cool it down and transfer it to an air-tight container or into freezer bags. Keep frozen up to 3 months.
When you're ready to enjoy it, thaw overnight. Then, heat it up in the microwave or in a skillet with a splash of broth, making sure to cover the pan, so it doesn't dry out.
More Instant Pot Recipes:
Recipe tips:
Take out the core from the cabbage since it's really tough and tastes bitter.
Slice the veggies into strips as thick as your egg noodles.
The pasta won't be fully cooked right after pressure cooking. That's okay! Just turn on Saute on the IP, and cook until tender. You can also add some broth if it's getting a bit dry.