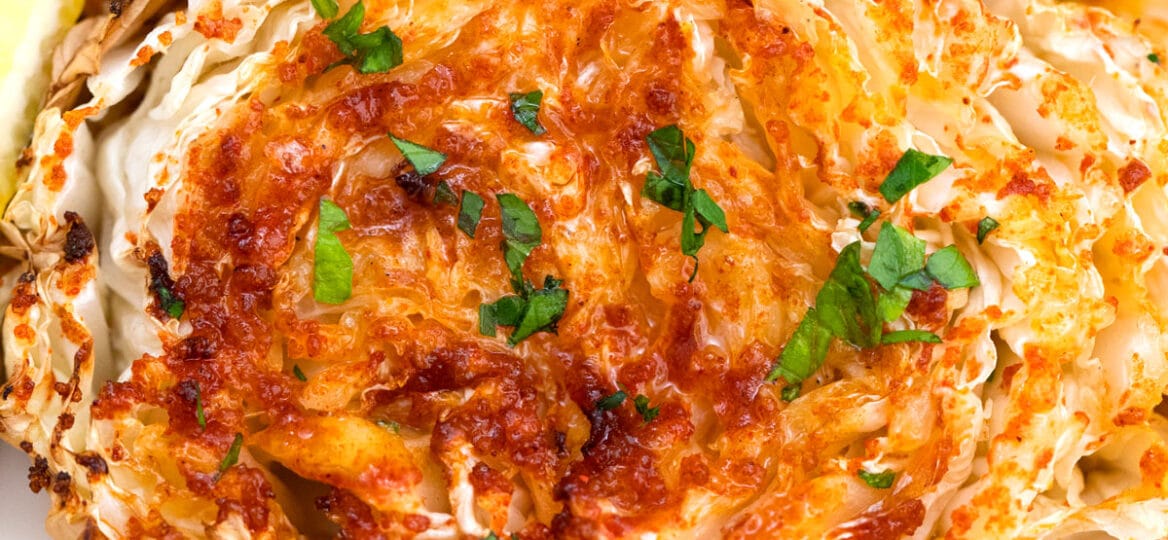 Napa Cabbage Steaks [Video]
Napa Cabbage Steaks are coated with spiced soy sauce and maple syrup, then roasted until beautifully caramelized on the outside and tender in the center!
Roasted vegetables are next-level delicious, like our Brown Sugar Roasted Carrots, Rainbow Roasted Vegetables, and Roasted Cauliflower!
Oven Roasted Napa Cabbage Steaks
Napa Cabbage Steaks are brushed with a mixture of maple syrup, spices, herbs, and soy sauce, then baked until crispy and brown outside and irresistibly tender inside.
This is NOT the usual bland cabbage so many of us grew up eating. It's so satisfying that we have it sometimes as a light main! If you don't love Napa yet, this is going to change your mind!
Pro-tip: Save those crispy, dark brown ends for yourself— they're the best part!
What is Napa Cabbage?
Aka Chinese cabbage, it's oblong-shaped versus the round, regular green variety many of us are familiar with. It has a thick white stem that goes up towards the leaves, which are green, slightly frilly, and really crisp. It looks a little like romaine lettuce.
As for how it tastes, we find Napa softer and sweeter than the regular kind. Really good for roasting, stir-frying, and adding raw to salads!
How do you cut napa cabbage into steaks?
Slice off the white stem at the bottom first. Then slice off the frilly top (chop them up and use in an Asian stir-fry, add to Chicken Chow Mein, or stir into soups!)
After that, cut the middle into four round pieces of "steak," about an inch and a half thick. It needs to be a little thick so they stay intact during roasting.
Is napa cabbage healthy?
Yes, it's one of the best things you can add to your diet. For one, it's got a ton of dietary fiber, which is fantastic for digestion and staying full (can help you avoid overeating!)
Furthermore, it's rich in antioxidants, Vitamin A and B, folic acid, Vitamin K, and Vitamin C. It's also a natural source of phosphorous, calcium, iron, and magnesium. Some studies have linked this vegetable with lower cholesterol levels, protection against certain kinds of cancer, and a stronger immune system.
Napa is very low in calories, so you can eat a lot without packing on the pounds. So yes, this veggie doesn't only taste good, it's perfect for your health, too!
Is napa cabbage low carb?
Yes! It's actually keto-approved because there's less than 1 carb in every cup of this vegetable.
Is it good cooked?
Cooked Napa is really tasty! It wilts down during cooking, which makes it really tender with a slight crisp. Taste-wise, it has a subtle sweetness that goes well with many seasonings and spices. Better yet, it beautifully absorbs any flavor you cook it with!
What do you need to make napa cabbage steaks?
Napa cabbage: Cleaned and divided into thick steaks
Olive oil: This allows our seasonings to stick to the vegetables and encourages caramelization during roasting
Soy sauce: Complements the sweetness of the veggies really well and infuses the dish with umami and the perfect amount of saltiness
Maple syrup: Adds a delicious but subtle maple to the dish, and also thickens the sauce, and like the olive oil, encourages browning and caramelization
Dried herbs: We're using basil and oregano to intensify those vegetable flavors
Spices: Measure out some smoked paprika, onion powder, and garlic powder. We're also adding some chili pepper flakes for some kick.
How do you make napa cabbage steaks?
Prep the maple-soy sauce seasoning. Combine the syrup, soy sauce, and the rest of the spices and herbs plus the oil.
Brush the vegetables. Place the Napa discs onto your baking sheet. Brush generously with the maple sauce.
Roast. Bake for about 30 mins at 400F until you see the surface is caramelized and with deep brown edges.
Serve. Enjoy hot, with a sprinkle of parsley and lemon on the side.
Recipe variations:
Use other seasonings: This is so delicious with Old Bay, Cajun seasoning, dried Italian herb blend, lemon pepper, and even Taco seasoning!
Low carb: Replace the maple with monk fruit sweetener, Swerve brown sugar, or erythritol. For the soy sauce, replace it with liquid aminos or fish sauce.
Try other sauces: Instead of the spiced maple sauce, brush the steaks with Buffalo sauce, teriyaki sauce, or BBQ sauce.
Grill: Brush the sauce on top, then grill at 425 for 5 mins per side.
Air-fry: Pop in a 360F air fryer for 10 mins, adding more minutes depending on how tender you like your vegetables.
More Side Dishes:
How to serve:
It's best fresh off the oven because cooked Napa has a tendency to wilt as it cools down (it has really delicate leaves). Enjoy it hot with a big squeeze of lemon. It's also really good with some shredded parmesan on top!
What goes well with napa cabbage?
A lot of things! We love eating it raw as a lettuce alternative, dressed with Italian dressing, Caesar, Greek salad dressing, ranch, or any favorite salad dressing you have.
You can also chop it up and add it to soups like Bacon Cannellini Soup, Turkey Soup, and Ham Split Pea Soup. Try sauteing it with a little oil, garlic, and fresh onions. Serve as a simple veggie side to various mains like Mongolian chicken, crispy pork chops, and Beef Bulgogi.
How to store leftovers:
Because cooked Napa has a tendency to wilt, we don't really recommend storing leftovers for a long time. But for any leftover pieces you have, transfer them to an air-tight container once completely cool. Store in the fridge for up to a day or two.
To reheat, re-bake at 400F for around 5 mins until hot or in a 425F air-fryer.
More Cabbage Recipes:
Recipe tips:
Hold the cabbage together as you're slicing it into discs, and use a very sharp knife. This way, you avoid tearing the leaves apart.
Customize your seasonings as you like! You add more chili flakes for heat or sprinkle some cayenne in there. Reduce or add maple syrup as you want. Use the recipe as a guide to making your own perfect Nappa Cabbage Steaks.
When buying Napa, look for bright green leaves with clean, white stems free of brown, soft spots (indicating that it's close to going bad).