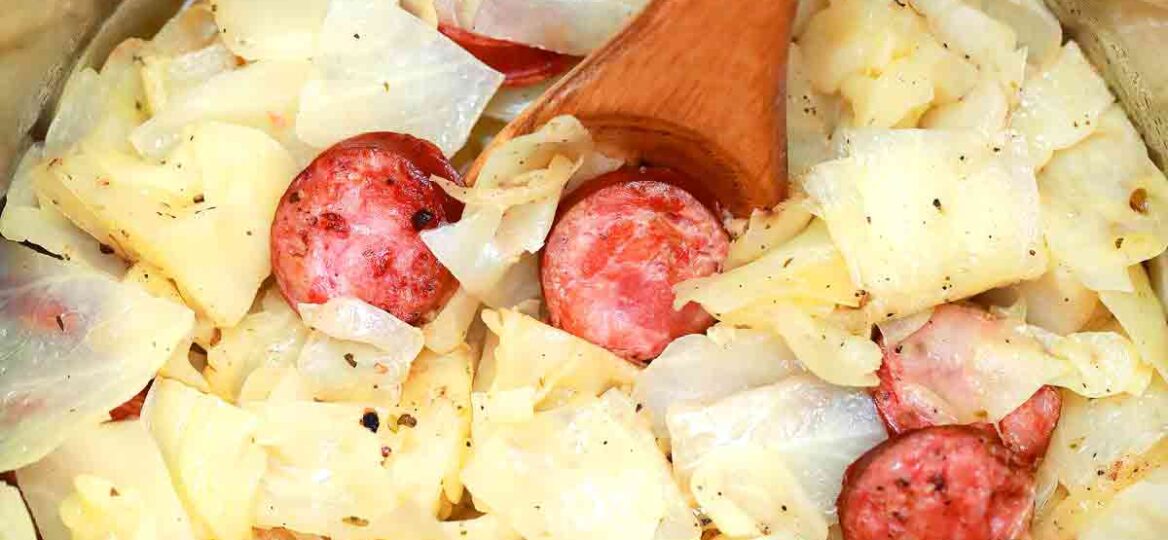 Instant Pot Cabbage and Sausage [Video]
Instant Pot Cabbage and Sausage is a terrific one-pot meal complete with sausage slices and tender vegetables! It's low in fat, calories, and carbs, making it a healthy choice for lunch or dinner.
This dish is not just delicious, but really healthy, too! Trying to eat better? Hit your fitness goals with a Green Smoothie Bowl for Breakfast, some Grilled Chicken Skewers for a light but protein-packed lunch, and this Healthy Roasted Butternut Squash Trifle for a guilt-free dessert!
Instant Pot Cabbage and Sausage Recipe
Instant Pot Cabbage and Sausage is perfect for those days when you only have half an hour for dinner and have no idea what to cook. This one-pot recipe takes minutes!
You get buttery, tender-crisp cabbage with sausage slices seasoned with garlic and herbs. Also, the flavors are satisfying but familiar. Even kids love it!
I encourage you to put your own twist on this dish. Feel free to use bacon, add more veggies, or make it vegetarian! You can also play with seasonings to suit your taste. It's a versatile recipe sure to be a staple in your home!
How do you cook cabbage in an Instant Pot?
The IP has multiple cooking functions, which means you can prepare this vegetable in several delicious ways!
Sauté: Great for browning or caramelizing this vegetable, whether in wedge form, shredded, or chopped.
Boil: Use the sauté function to boil wedges with your preferred seasonings until fork-tender and bright green.
Steam: Next, set the wedges on a trivet, and set to Steam or High Pressure for 5 to 10 minutes.
Slow Cook: Set on High for 2.5 to 3 hrs. for tender vegetables. If you want it crispier, open at the 2.5 hr. mark.
Pressure Cook: Set the timer for just 3 to 4 mins. for perfectly done vegetables!
How do you make Instant Pot Cabbage and Sausage?
Brown the sausage. Sear the slices on Sauté and remove.
Sauté. Begin with the onions until fragrant and wilted, followed by the herbs. Finally, add the meat, vegetables, Worcestershire, and butter. Season and toss.
Cook. Set the IP for 3 minutes on High Pressure, then leave for 5 minutes after the time is up. Afterward, vent to release all remaining pressure.
Serve. Scoop into bowls topped with oregano and parsley. Enjoy!
Recipe Variations:
Use other meats: Thick-cut bacon and ham are so tasty in this dish!
Vegetarian version: Leave out the meat, and use vegan meat substitutes instead. Use vegan butter and veggie broth as well.
Add other vegetables: Make it healthier with other veggies like carrots, broccoli, cauliflower, and spinach. Slice them in small/thin pieces so they're all done at the same time.
Use other seasonings: For a spicier dish, use Cajun or Creole seasoning. Old Bay is another great option.
Can you make things crispy in the Instant Pot?
Yes, and very easily! The pressure cooker has something called a "Sauté" function. It works similarly to a regular pan, which means it heats the bottom of the pot directly.
Just add oil, wait for it to heat up, and start browning or shallow-frying food in your pressure cooker.
What cabbage is best for Instant Pot Cabbage and Sausage?
I love green because of its mild taste and how it turns sweet and a beautiful green as it cooks. However, you can also use the red variety if that's all you have. You can even mix up the two!
What sausage is best for Instant Pot Cabbage and Sausage?
Smoked is a classic choice, but you can certainly use any type you like. Try this with Andouille, hot or mild Italian, Chorizo, or kielbasa! Chicken or turkey is delicious as well if you want it lighter.
Can you cook frozen cabbage in the pressure cooker?
Sure! Just add a minute or two to the recipe's cook time.
What to serve with Cabbage and Sausage?
This dish is already a filling meal on its own, but you can serve it with anything you wish! It's particularly delicious with some Homemade Corned Beef, Barbecue Ribs, or a nice Yankee Pot Roast.
We also enjoy it spooned over hot rice!
How to store leftovers?
Once the leftovers are completely cool, transfer to a container with a tight seal. Put this in the fridge and eat within a day or two.
Can you freeze fried cabbage?
Sure! First, make sure the entire dish is cool. Then, transfer to a baggie or a tightly-sealed container. Freeze up to a month. Thaw and reheat in the microwave or on a skillet until hot.
More Instant Pot Recipes with Cabbage:
Recipe Tips:
You can "dump and cook" this meal by using pre-cooked sausage. Slice it up, add all the ingredients to the IP, and cook as directed.
After searing the sausages, make sure to deglaze the bottom of the pot completely to avoid a Burn notice on your IP.
Double-check the valve position! It should be set to "Sealing," otherwise your IP won't come to pressure.
Deliciousness to your inbox
Enjoy weekly hand picked recipes and recommendations