Instant Pot Cabbage Roll Soup [Video]
Instant Pot Cabbage Roll Soup is so easy to make, that it's ready in just 30 minutes. The soup is loaded with beef and veggies, making it a hearty dinner.
Instant Pot Soups are very easy to make and such a time saver during busy weeknight dinners. Our favorites include these loaded Taco Soup, Stuffed Pepper Soup, and Zuppa Toscana. I love making soups in my pressure cooker because the cooking time is reduced to just a few minutes. Bonus points for adding all the ingredients together and not having to worry about stirring or keeping an eye on it.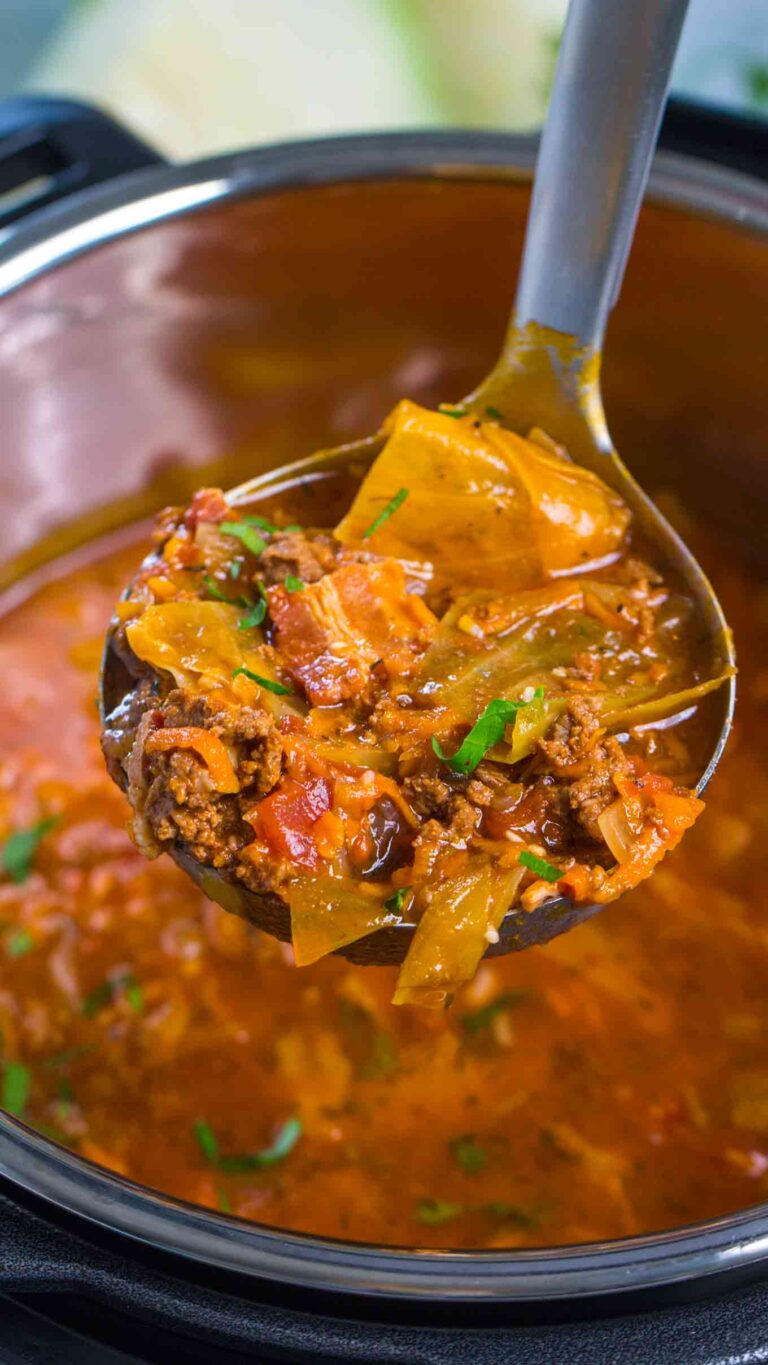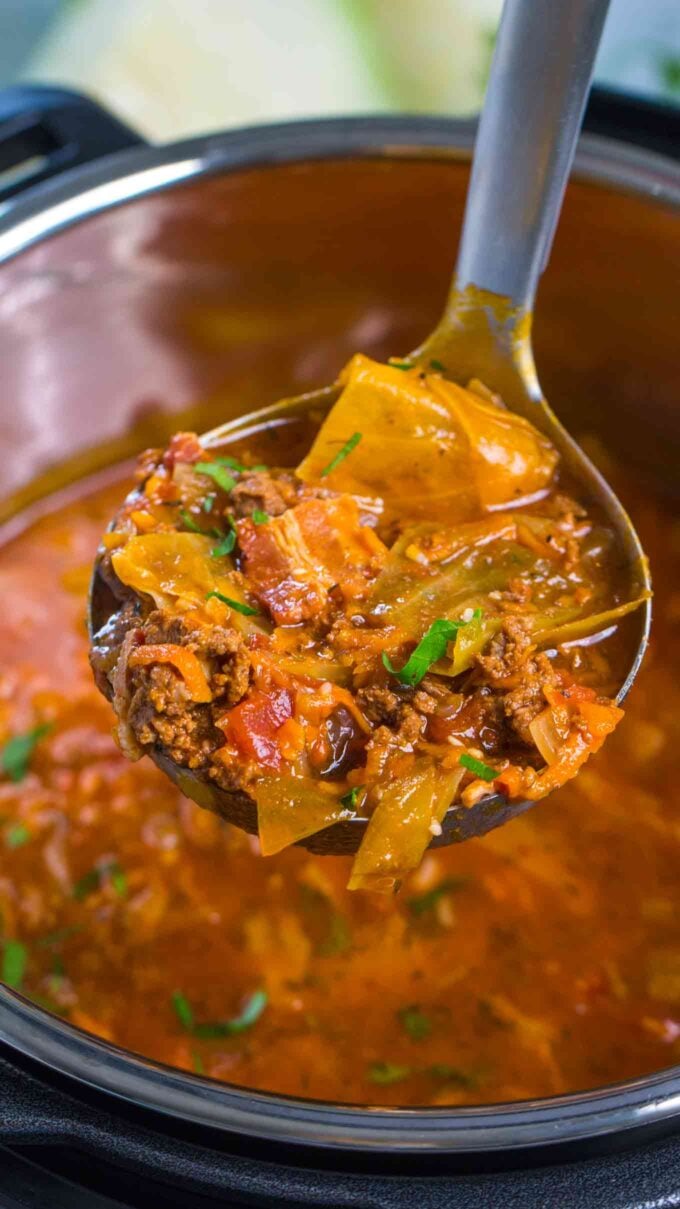 The Best Instant Pot Cabbage Roll Soup
Instant Pot Cabbage Roll Soup the perfect comfort food. If you are a fan of stuffed cabbage rolls, you will love this recipe. It packs all the flavors and textures you usually find in a ground beef stuffed cabbage roll, except its 10 times easier to make, and not at all time-consuming.
I added bacon to the soup, because I love it, and I absolutely adore the deep smoky flavor it adds to the broth. You can skip the bacon if you want, the soup will still taste delicious. This soup is so hearty and tasty, that it will become one of your go-to meals.
You can also make this soup with ground chicken, turkey or even sausage. For a vegetarian option, use 2 cans of drained and rinsed beans, chickpeas are also a great alternative. I like to serve the soup garnished with cooked white rice and some fresh parsley.
How do you make Instant Pot Cabbage Roll Soup?
First, open any cans needed for this recipe and prepare all the ingredients.
Second, if you are using bacon, you can cook it in the Instant Pot or in the oven. Also, you can use pre-cooked bacon and skip this step.
After that, you brown the beef. This is an important step as it will add extra flavor.
Drain any grease, leaving just about 2 tablespoons in the pot.
Add the remaining ingredients, like chopped veggies, tomatoes and broth.
Cook and serve.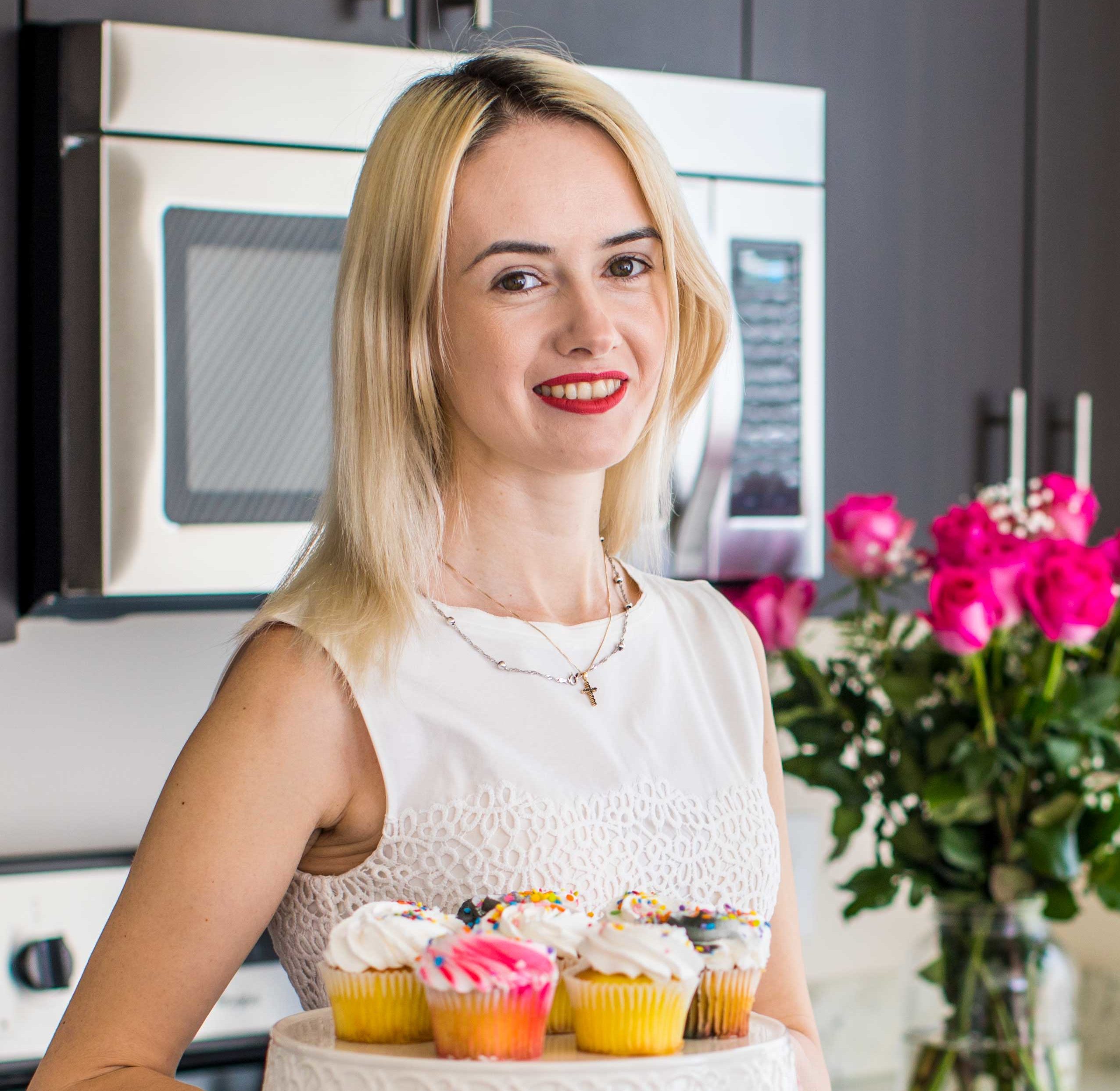 Follow us on Pinterest for more delicious recipes!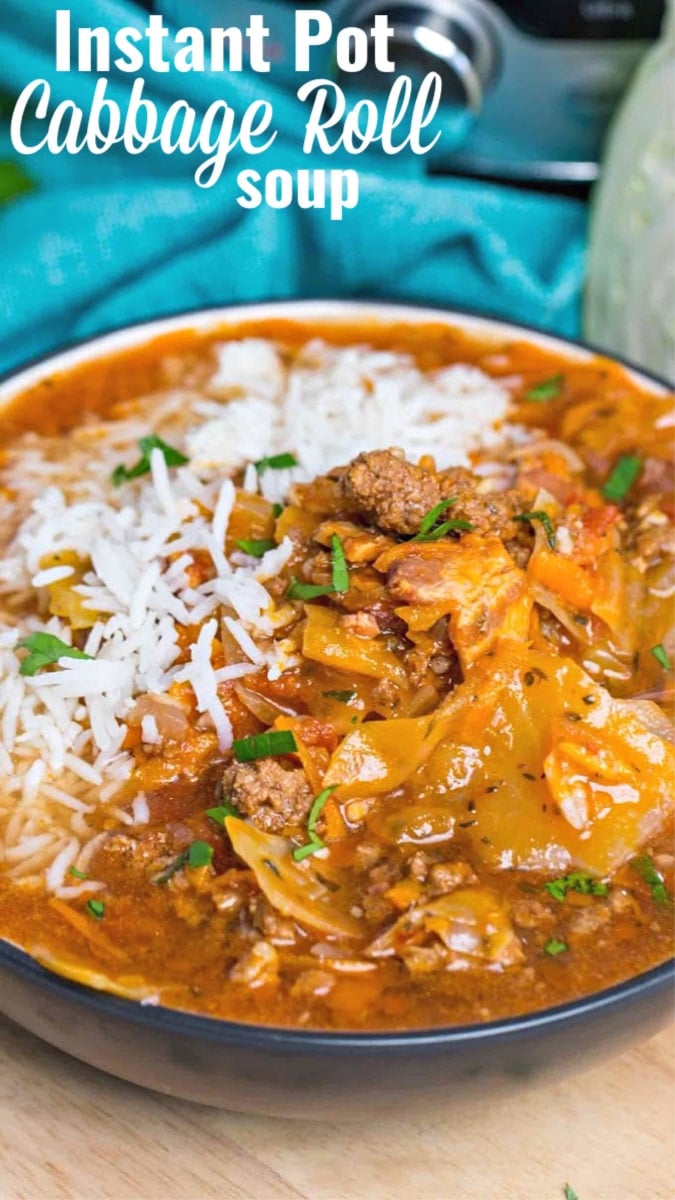 How long do you cook Cabbage Roll Soup in the Instant Pot
You only have to cook the soup for 10 minutes on High Pressure, followed by a 10 minutes Natural Pressure Release.
Can I substitute beef with other meats?
Yes. I love making this soup with beef, but you can make it with ground chicken or turkey as well.
Can I use vegetable broth to make this Cabbage Roll Soup?
Absolutely! You can use vegetable broth or chicken broth, instead of beef broth.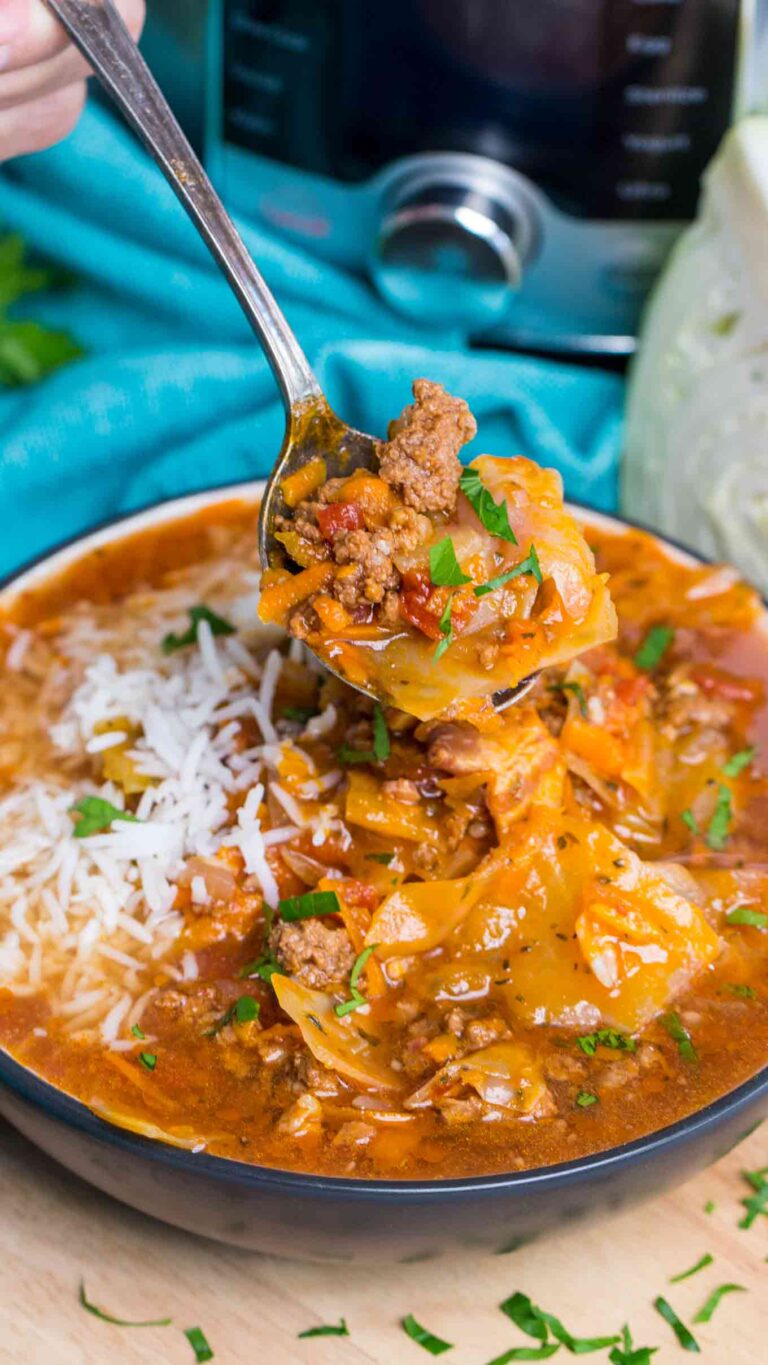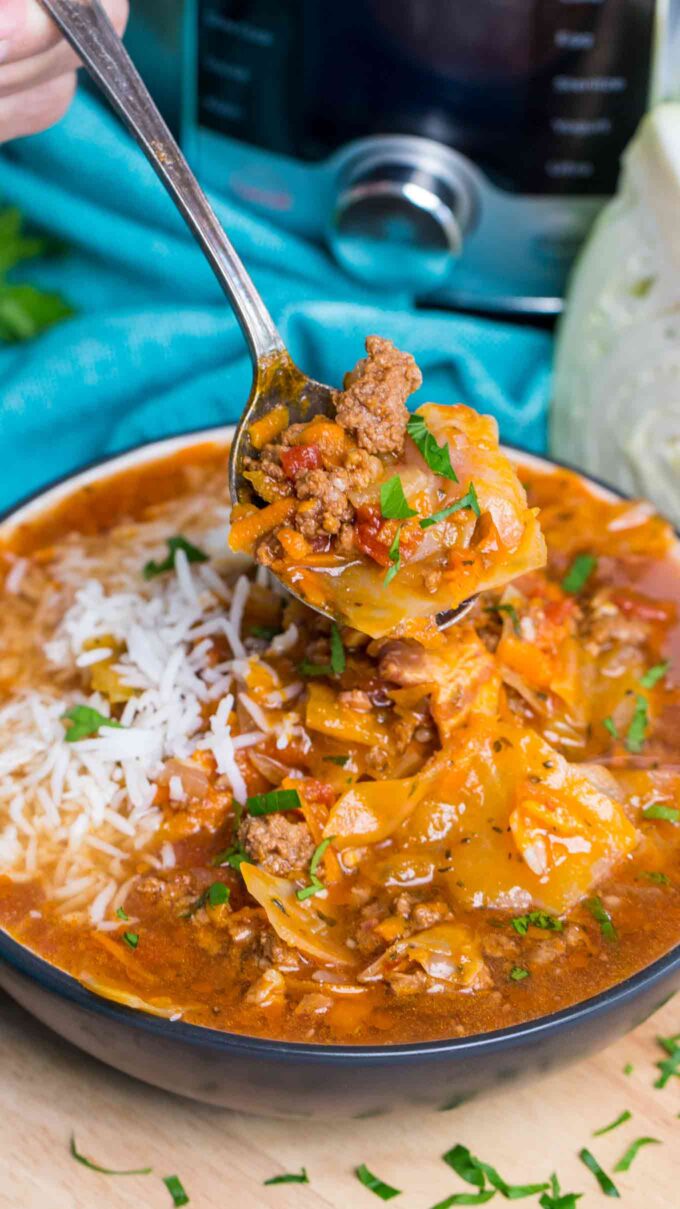 HOW TO FREEZE INSTANT POT CABBAGE ROLL SOUP
Use quart bags to freeze the soup.
First, make sure that the soup is cold.
Transfer the soup from the pot into the bags.
After that, squeeze out excess air and seal the bags.
Lay bags flat in the freezer.
The bags can nicely be stored in the freezer for up to 3-4 months.
HOW TO THAW FROZEN INSTANT POT CABBAGE ROLL SOUP
To thaw the soup, remove it from the freezer the night before serving, or put the sealed soup bag in a large bowl or casserole dish filled with warm water, to thaw it faster.
Add soup to a large saucepan and heat on medium-low heat.
Recipe Tips and Tricks
Use high quality canned tomatoes, I like San Marzano canned tomatoes when I can get my hand on some. They add lots of flavor to the broth.
Also, use fresh garlic and onion instead of garlic and onion powder, the fresh garlic will add way more flavor.
You can add more veggies to it, like celery and bell peppers.
Dried herbs like Italian seasoning and oregano will add great flavor to the soup.
Adding Worcestershire sauce will enhance the beef flavor.
Also, you can use either chicken or beef broth, just make sure you choose a low sodium option.
Watch Recipe Step0by-Step Video:
Save Recipe
Easy Instant Pot Cabbage Roll Soup
Author: Catalina Castravet
Serves: 6 servings
Prep time:

10

minutes
Cook time:

20

minutes
Total time:

30

mins
Ingredients
12 bacon slices (chopped into 1 inch pieces)
1 pound ground beef (chicken or turkey)
1 onion (diced)
1 tablespoon minced garlic
1 can 15oz crushed or diced tomatoes
1 can 8oz tomato sauce
1 tablespoon tomato paste
2 cups grated carrots (about 1 large carrot)
3 cups chopped cabbage
1 teaspoon dried thyme
1 teaspoon dried oregano
1 teaspoon Italian seasoning
1/4 teaspoon salt and pepper or to taste
4 cups low sodium beef broth (or chicken broth)
Garnish:
1 cup cooked rice
Fresh parsley (chopped)
Instructions
Cook Beef & Bacon:
Select Sauté and once the Instant Pot reads Hot, add the chopped bacon, DO NOT move for about 1 minute.
Using a wooden spoon, start stirring frequently for a few minutes until the bacon is nice and crispy.
Carefully remove the pot and drain grease. Wipe the edges and return the pot to the Instant Pot and push the bacon on one side of the pot. You can also remove it, and set it aside, to stir into the soup when done.
Add the ground beef to the other side of the pot. Using a wooden spoon, break the beef and cook by stirring frequently for a few minutes, until no longer pink.
Carefully, remove the pot from the IP and discard excess grease. Wipe the edges and return pot with beef to the Instant Pot.
Adding the rest of the ingredients:
Add the onion and garlic and cook for 1-2 minutes, stirring occasionally.
Add the rest of the ingredients and stir to combine. Make sure you don't go over the max line of your pot, once you add the broth.
Cook:
Close the IP with the lid and lock it. Turn the steam release vent to 'sealing' and set it to cook for 10 minutes on High Pressure.
When the cook time is up, allow the pressure to reduce on its own without opening the steam release vent for 10 minutes, this is called Natural Pressure Release. After 10 minutes carefully release the rest of the pressure by opening the vent.
Open the lid and stir the soup. Taste and adjust for salt and pepper.
Once you add the soup to individual bowls, if desired, top with cooked rice and sprinkle chopped fresh parsley.
Calories: 498 Carbohydrates: 26 Protein: 25 Fat: 33 Saturated Fat: 11 Cholesterol: 82 Sodium: 1294 Potassium: 1374 Fiber: 5 Sugar: 10 Vitamin A: 7790 Vitamin C: 32 Calcium: 103 Iron: 4.4
Save Recipe
More recipes you might love