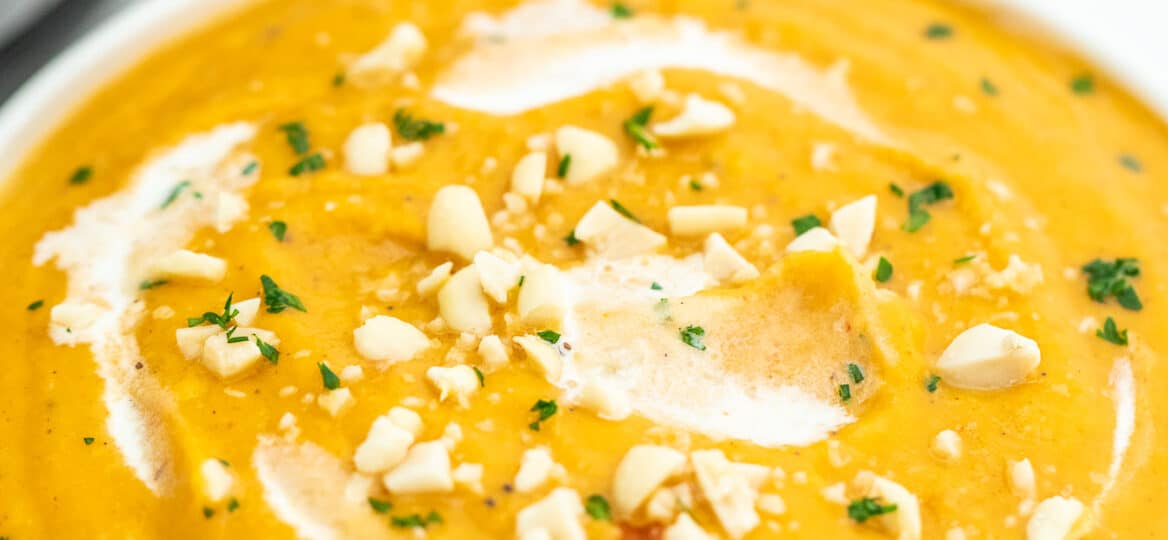 Instant Pot Sweet Potato Soup [Video]
Instant Pot Sweet Potato Soup is creamy, hearty, and full of autumn flavors! This healthy soup is the perfect recipe to make on a cold day. Made with simple ingredients and in a fraction of the time in the pressure cooker, you can enjoy it any day of the week.
Healthy instant pot recipes are incredibly easy to make and on a regular rotation around here. Since pressure cooking reduces the effort and cooking time a lot, making recipes with whole foods and simple ingredients is even easier now! We enjoy comfort food as much as you do, so make sure to also try our Cabbage Roll Soup and Ham and Potato Soup.
Pressure cooker Sweet Potato Soup is something that you can make quickly but tastes like you put in so much time to prepare it. This recipe can be a delicious vegetarian main dish or you can easily serve it as a side dish on a special occasion like Thanksgiving.
The earthy and woody flavors of the sweet potatoes blended with warm fall spices and cream make for an incredibly tasty soup. Not only does this dish highlight those flavors, but also, I like how it can be prepared using just a few healthy ingredients.
This yummy soup is so good, it is usually a hit with everyone. The best part is that the recipe is so versatile, you can adjust it to your own liking. In addition, you can easily make it in the slow cooker or on the stove as well.
Alternatively, make a huge batch of this dish and double the recipe if you please. Serve some now, then, reheat and serve the rest for later. This dish can be cooked then, frozen to lengthen the storage time. This will quickly become one of your favorite recipes!
Ingredients Needed:
Oil: Extra virgin olive oil, also you can try avocado oil, pumpkin oil, or coconut oil.
Veggies: Onion, garlic fresh ginger, and obviously large sweet potatoes.
Broth: We make this soup with vegetable broth, however, vegetable stock or chicken broth can be used as well.
Cream: To make it creamy add some heavy cream, or coconut cream if you are aiming for a vegan version.
Warming spices: Nutmeg, cinnamon, and ground cloves.
Seasoning: Salt, ground black pepper, and cayenne pepper.
How do you make Instant Pot Sweet Potato Soup?
Prep the spuds: Start by peeling the spuds, cutting them into cubes, and having all the ingredients ready and on hand.
Sauté setting: First, turn on the SAUTE function of the IP. Next, add the oil to the bottom of the pot and cook the onion, garlic, and ginger.
Add the spuds: After that, add the spuds, and the rest of the ingredients to the electric pressure cooker.
Pressure cook: Close the lid and point the valve to seal, then, manually set the timer to cook on high pressure for 10 minutes.
Natural Pressure Release: Once done cooking, do a 15-minute natural release.
Natural Pressure Release: After that, do a quick release by opening the valve and releasing any remaining pressure.
Mash: Once the valve drops, open the lid carefully. Mash the spuds using either a masher, food processor, hand blender, or immersion blender.
Serve: Garnish with cream, cilantro, and nuts before serving.
Recipe Variations:
Vegan: As an option, make this recipe vegan by using creamy coconut milk and veggie broth.
Curry: As an alternative, add extra flavor to this meal by stirring in one tablespoon of red curry paste.
Nut butter: Just like the curry, you can add some almond butter or peanut butter to this flavorful soup.
Fresh herbs: Chop some fresh rosemary and thyme and saute them with the onion and garlic.
Protein: In addition, make it a hearty soup by stirring in some shredded chicken, red lentils, or beans.
Spicy: Also, if you like spicy food, feel free to add some chili powder.
Citrus: For a refreshing finish, stir in some lime juice after cooking.
Sweeteners: Another option is to contribute to the flavor and taste of this easy peasy thick soup by adding some brown sugar or maple syrup to enhance the fall flavors.
Slow Cooker: Follow these simple steps to make this delicious sweet potato soup in the crockpot.
Stove top: Make this satisfying soup on the stovetop using this original recipe for the sweet potato soup recipe.
Is sweet potato soup healthy?
Yes! The tuber itself, which is the foundation of this recipe, is nutrient-dense. Considered a superfood, the spuds are rich in antioxidants and fiber.
Beta-carotene, an abundant antioxidant in this kind of potato, is responsible for maintaining good eyesight. The body converts it to vitamin A, too, which also helps in strengthening the immune system.
The other antioxidants in this root vegetable help boost the brain and the body's ability to fight cancer.
I could go on and on and tell you how healthy this vegetable is. Though the soup version is relatively high in calories at around 272 calories, the pros outweigh the cons.
How to serve:
This creamy soup is great served with a drizzle of heavy cream or coconut cream on top.
Another option is to add a drizzle of olive oil on top and some chopped fresh herbs.
In addition, adding some crunch to the already creamy texture is highly recommended. Hence, chop some peanuts and sprinkle them on top.
Any crusty bread, French baguette, or dinner rolls are great on the side.
Also, we recommend serving it in these homemade bread bowls.
How to Store leftovers:
Refrigerate: First, allow the leftover instant pot sweet potato soup to cool to room temperature. Then, transfer it in airtight containers and refrigerate for up to 4-5 days.
Freeze: In addition, this dish freezes well. After cooling the leftovers, add them to a large freezer bag, lat flat in the freezer, and freeze for up to 3 months.
Thaw: Finally, when ready to serve, thaw the frozen soup in the fridge overnight or add the frozen bag to a casserole dish under warm running water.
To reheat: Transfer the thawed mixture to a dutch oven and reheat on the stove, adjust for salt and pepper.
More Delicious Recipes:
Cooking Tips:
Note that this recipe calls for peanuts as a topping. If you are allergic, you can leave that out or use a substitute.
If you want your dish to be smooth, use a stick blender. Or, if you want it coarse, then, use only a fork or a masher to mash the spuds.
In addition, do not rush and make sure you do a natural release. If you open the valve immediately, hot liquid may erupt through the valve.