Instant Pot Sweet Potato Soup
Instant Pot Sweet Potato Soup perfectly fits everybody's menu! It is creamy, hearty, and full of autumn flavors! Make it hassle-free with this recipe!
If you like using the Instant Pot just like I do, then, this recipe is for you! I use it all the time to cook delicious side dishes like Refried Beans, Mashed Cauliflower, and Cinnamon Apples!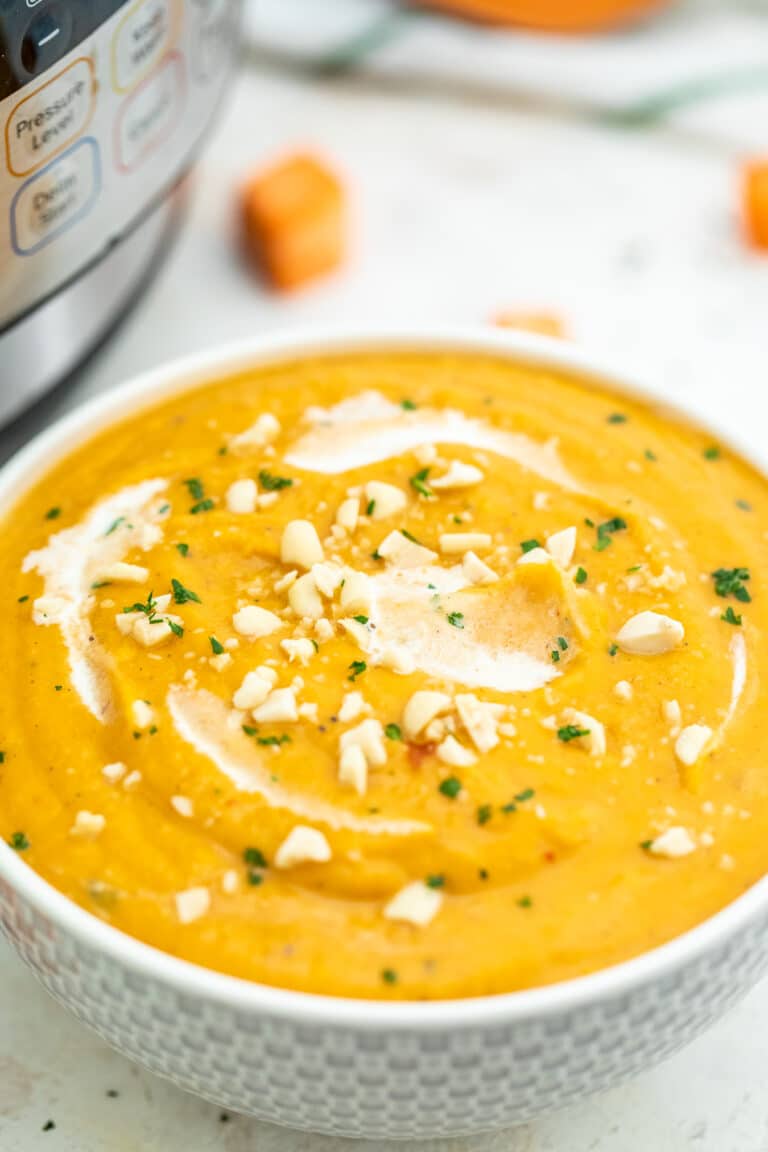 Pressure Cooker Sweet Potato Soup Recipe
Instant Pot Sweet Potato Soup is something that you can make quickly but tastes like you put in so much time to prepare it. What I like about making this is that I can cook it while I make something in the oven or on the stove.
That takes away the hassle of having to wait for the entree to cook before you can cook the sides. And this specific recipe has made its way into our regular menu rotation this autumn.
I am likely to prepare it all-year-round, too! The earthy and woody flavors of the sweet potatoes are to be enjoyed not just around this time of the year.
Not only does this dish highlights those flavors, but also, I like how it can be prepared using just a few basic ingredients. Let me show you how.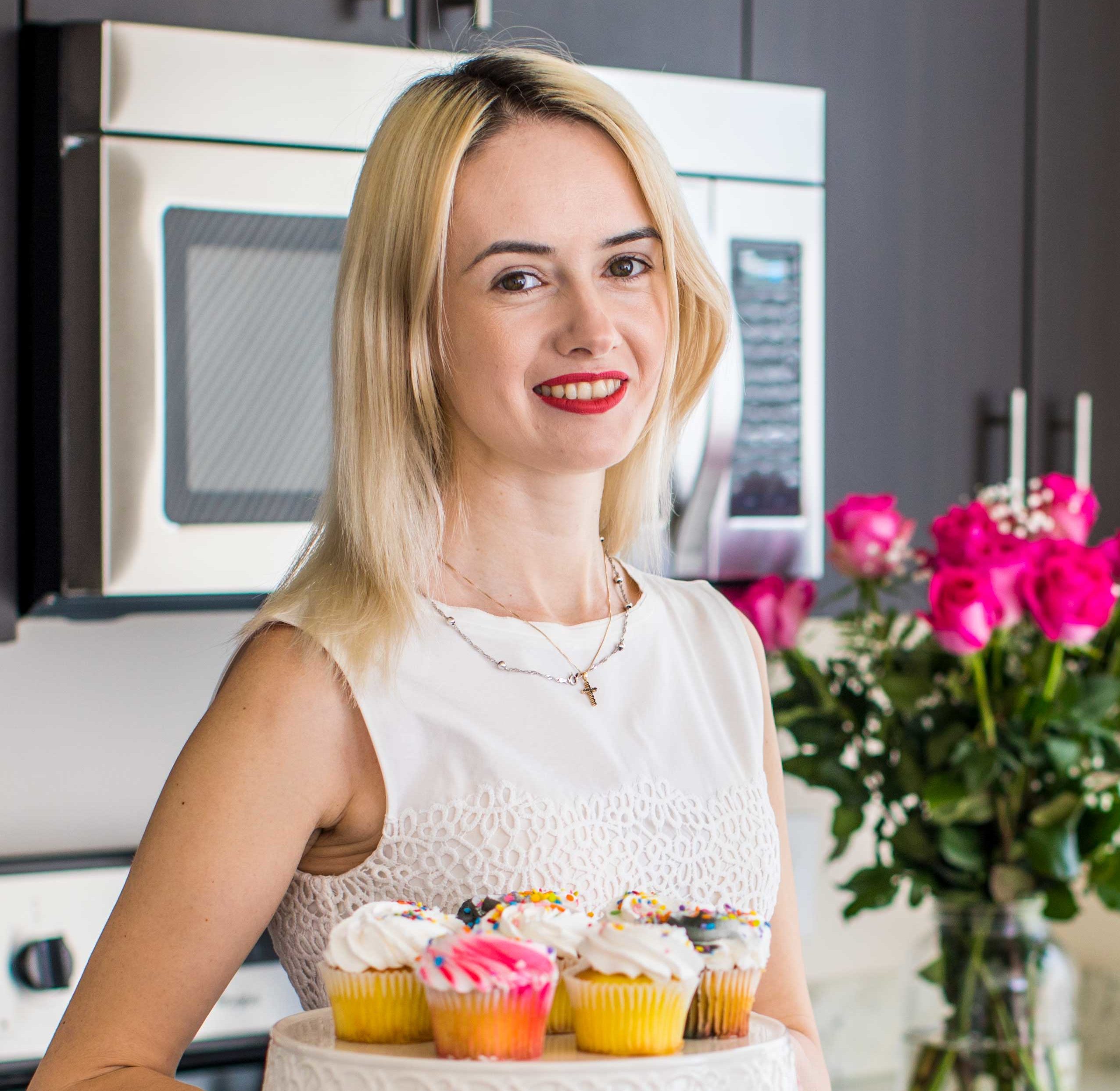 Follow us on Pinterest for more delicious recipes!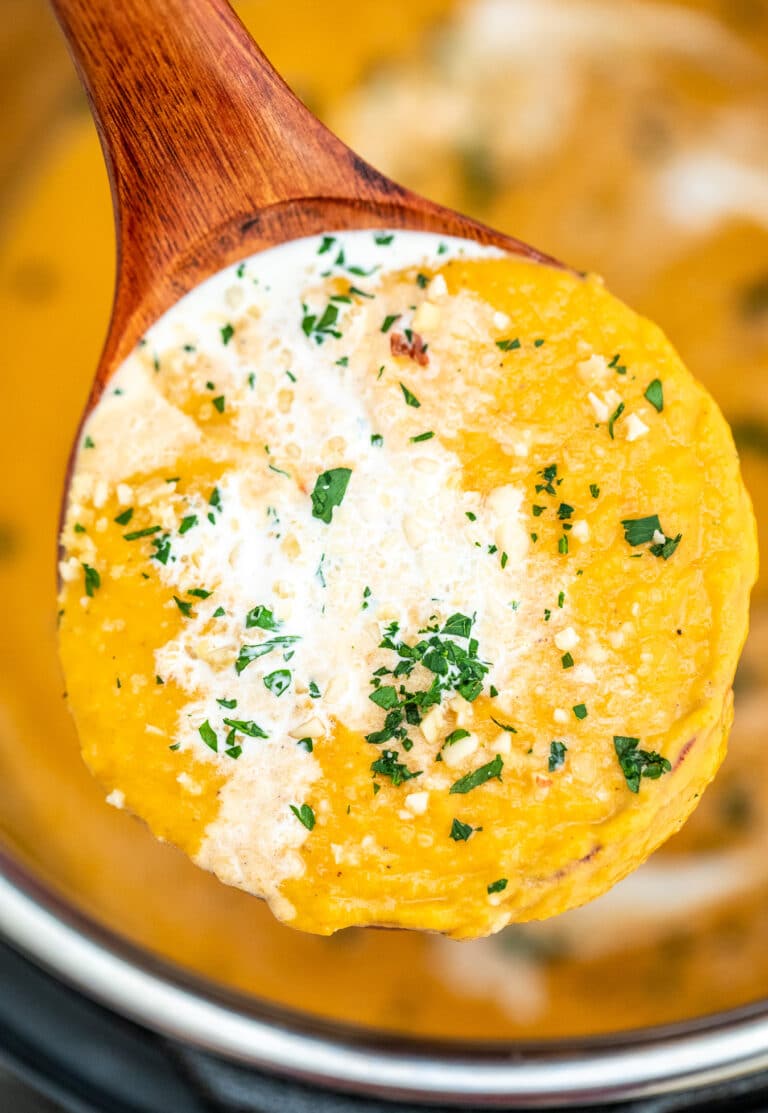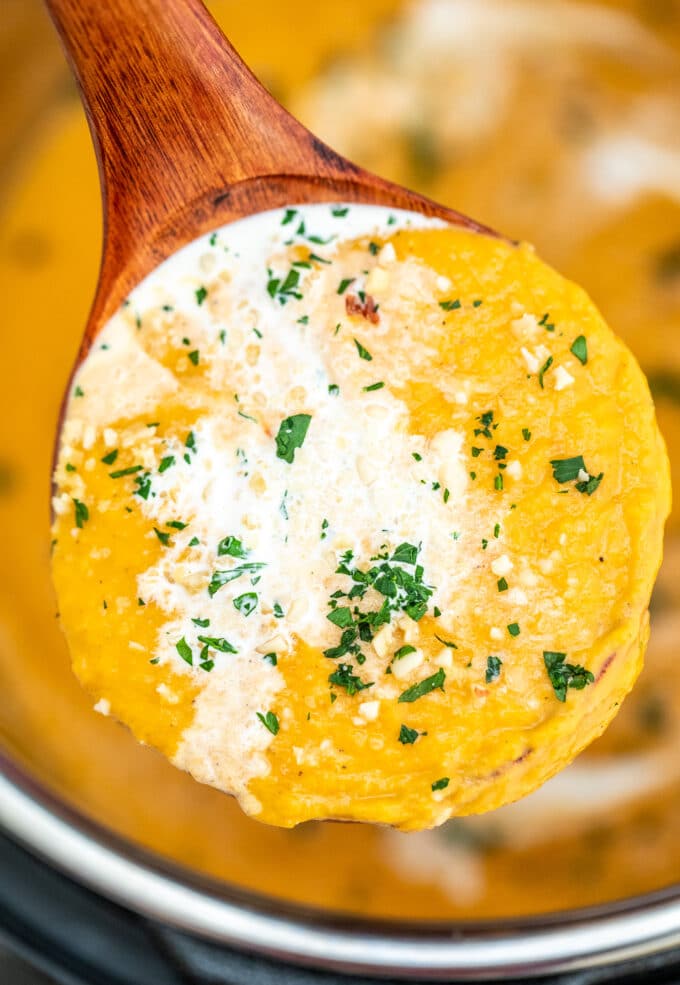 Is sweet potato soup healthy?
Yes! The tuber itself, which is the foundation of this recipe, is nutrient-dense. Considered a superfood, the spuds are rich in antioxidants and fiber.
Beta-carotene, an abundant antioxidant in this kind of potato, is responsible for maintaining good eyesight. The body converts it to vitamin A, too, which also helps in strengthening the immune system.
The other antioxidants in this root vegetable help boost the brain and the body's ability to fight cancer.
I could go on and on and tell you how healthy this vegetable is. Though the soup version is relatively high in calories at around 272 calories, the pros outweigh the cons.
How do you make Sweet Potato Soup in the Instant Pot?
Sauté: Turn on the SAUTE function of the IP to cook the onions, garlic, and ginger in olive oil.
Add the spuds: Add the spuds cut into cubes, spices and the rest of the ingredients.
Pressure-cook: Close, then, manually set the timer to about 8 to 12 minutes and the valve is sealed.
Mash: Once done, do a natural pressure release, then, open the lid carefully. Mash the spuds using a masher or a blender.
Serve: Garnish with cream, cilantro, and nuts before serving.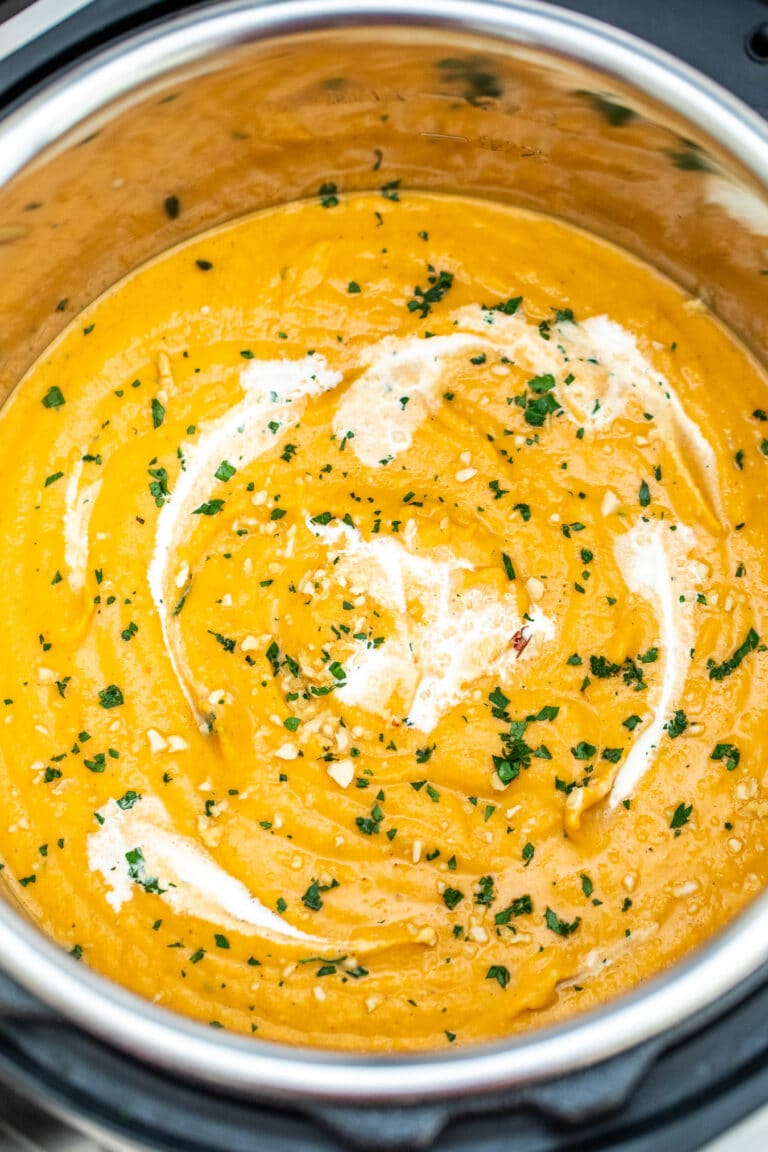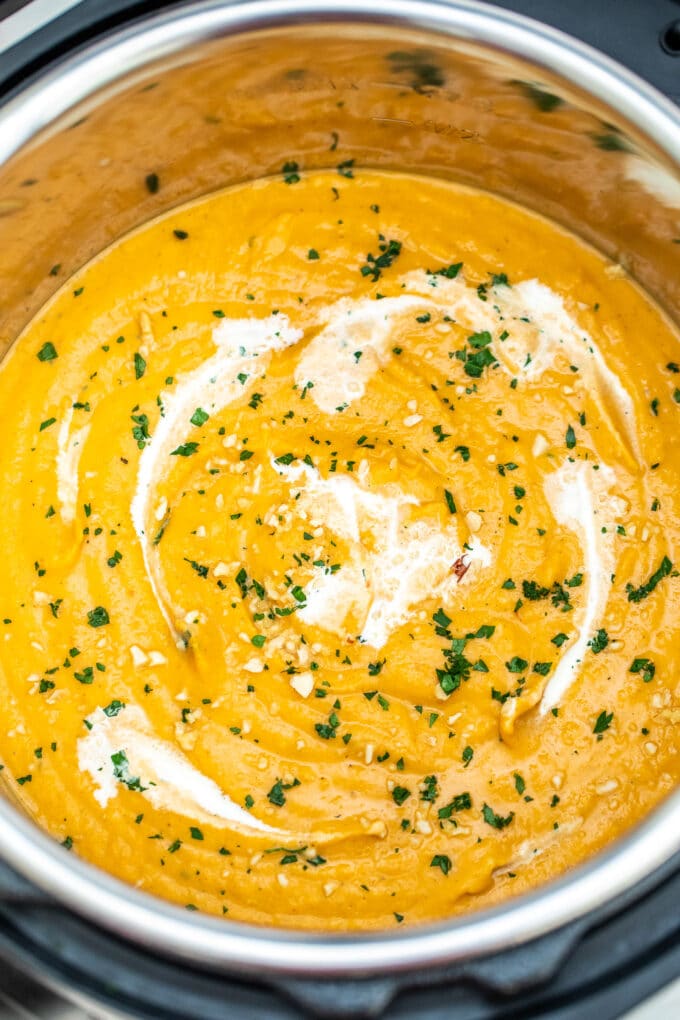 Can you make Sweet Potato Soup in the crockpot?
Yes! The crockpot is so efficient in cooking dishes like this that I am starting to think that it was invented for soups. Kidding aside, it is relatively simple.
All you have to do is to sauté the aromatics. Then, add in all the other ingredients except for the dairy. Then, cook on slow for about 6 hours while it only takes about 4 hours when cooked on high.
Note that the addition of dairy is done towards the end, say the last 30 minutes of cooking time.
Can you make it in advance?
Yes! What you can do is make a huge batch of this dish and double the recipe if you please. Serve some now, then, reheat and serve the rest for later. This dish can be cooked then, frozen to lengthen the storage time.
What to serve with Sweet Potato Soup:
I like how it is already that I do not need anything else. But, it tastes well when paired with the following:
any crusty bread or French baguette
salad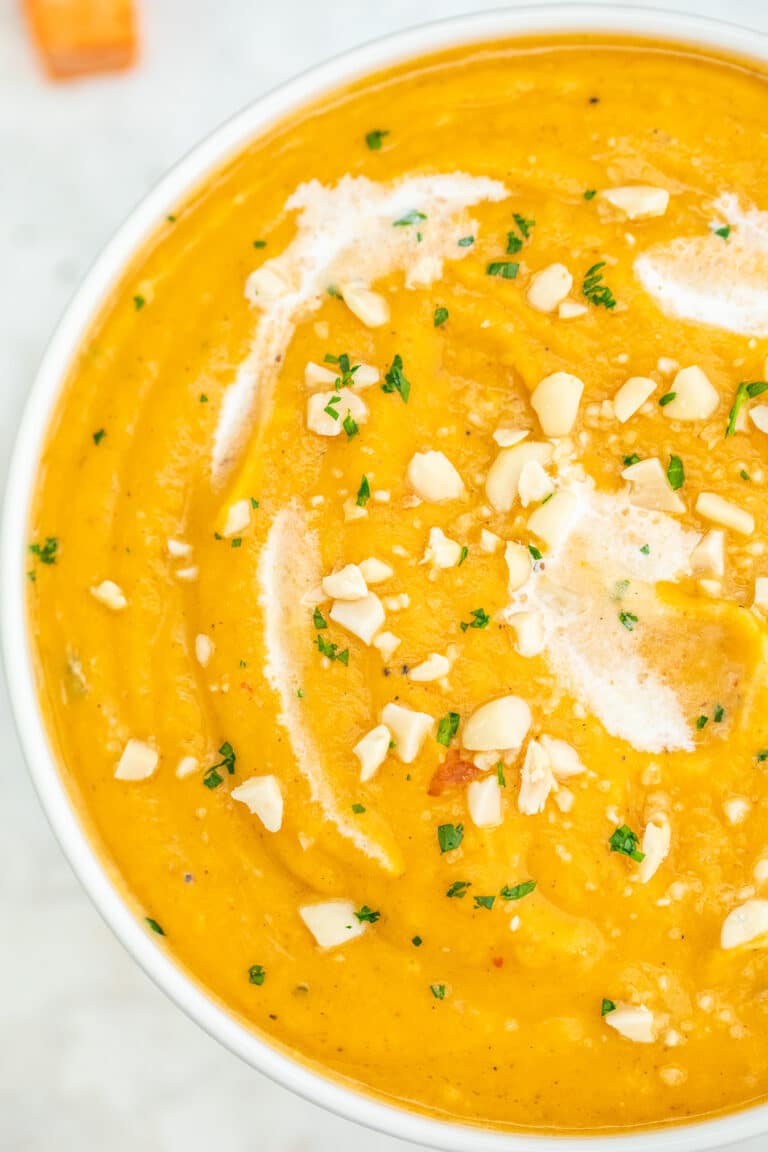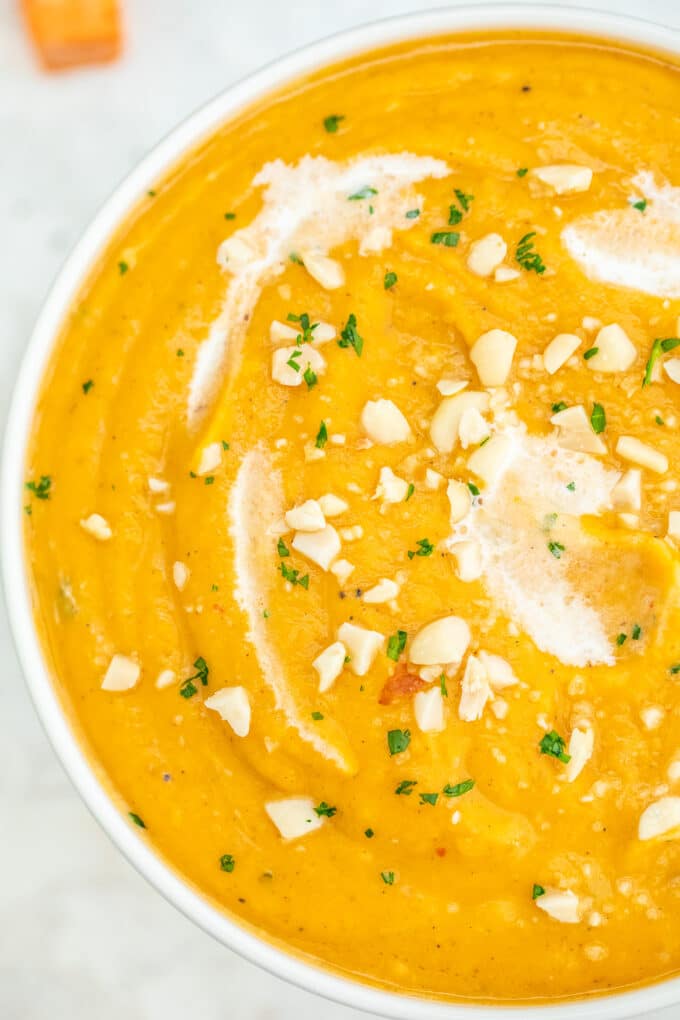 How to Store:
Refrigerate: Allow it to cool to room temperature. Then, transfer in airtight containers.
Freeze: This dish freezes well but not if it has dairy already. I can keep for at least 4 months.
To reheat: Transfer the frozen ones to the refrigerator to thaw overnight before reheating on the stove.
Recipe Tips:
Note that this recipe calls for peanuts as a topping. If you are allergic, you can leave that out or use a substitute.
If you want your dish to be smooth, use a stick blender. Or, if you want it coarse, then, use only a fork or a masher.
No IP? Do not worry, I do have a stovetop version that you can follow.
Save Recipe
Instant Pot Sweet Potato Soup
Instant Pot Sweet Potato Soup perfectly fits everybody's menu! It is creamy, hearty, and full of autumn flavors! Make it hassle-free with this recipe!
Author: Catalina Castravet
Serves: 6 servings
Prep time:

20

minutes
Cook time:

10

minutes
Total time:

45

mins
Ingredients
Soup:
Toppings:
Nutrition information
Calories: 204 Carbohydrates: 33 Protein: 4 Fat: 7 Saturated Fat: 2 Cholesterol: 4 Sodium: 912 Potassium: 529 Fiber: 4 Sugar: 10 Vitamin A: 19303 Vitamin C: 5 Calcium: 90 Iron: 1
Save Recipe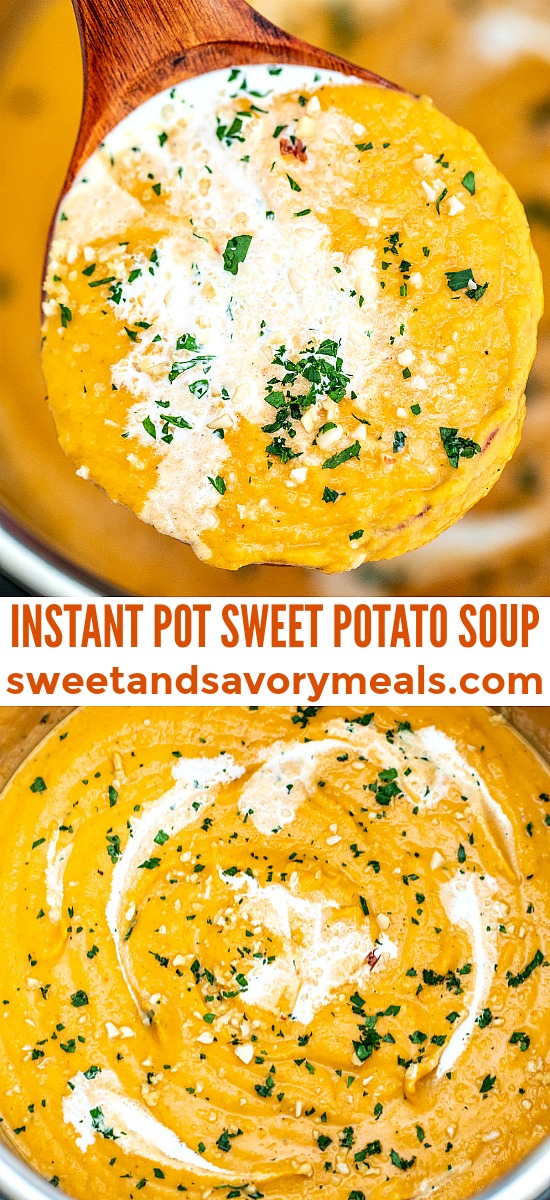 More recipes you might love