Slow Cooker Sweet Potato Soup
Slow Cooker Sweet Potato Soup is creamy, thick, rich, and flavorful, also hassle-free and comforting! This warm dish is perfect for the cold weather!
I like buying this vegetable in bulk because it keeps well and is versatile. It is perfect for autumn with its flavor, just like our recipes for Pumpkin Pie, Blueberry French Toast Casserole, and Creamed Spinach. Check them out!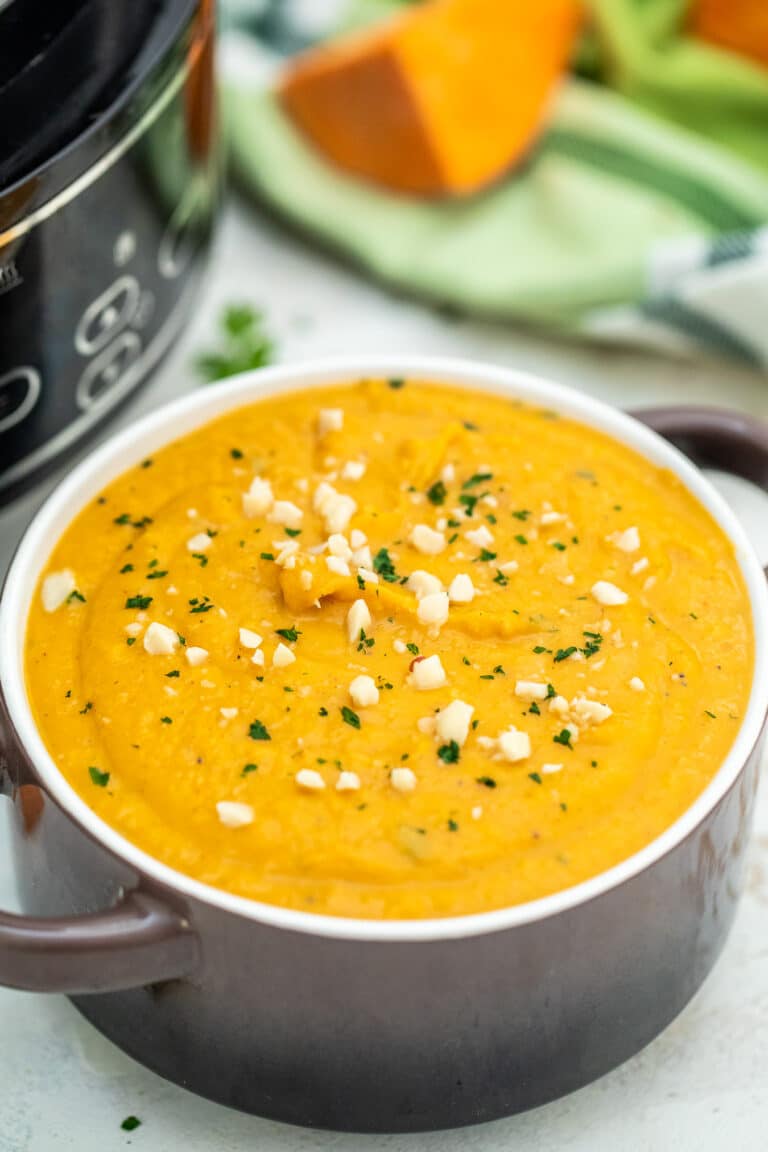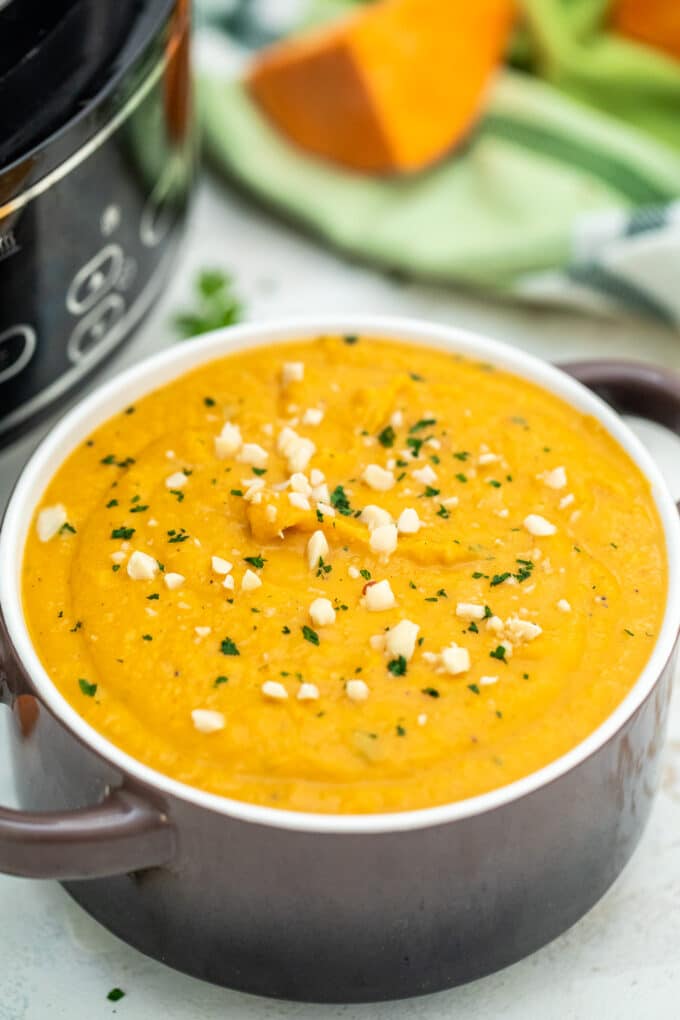 Crockpot Sweet Potato Soup
Slow Cooker Sweet Potato Soup may not be the quickest to make but this recipe is hassle-free. And what I mean by that is that you can just put the ingredients in the crockpot and then, forget it for a while.
Yes, it is possible! Using the crockpot has that advantage and more. Slow-cooking helps bring out the flavors which in turn meld beautifully for a long time and are not destroyed by high heat.
And this recipe for spuds is a winner in my book! While the spuds are naturally sweet and creamy, those qualities are amplified multiple times in this dish.
Let the richness of this vegetable go hand in hand with the spices, seasonings, and dairy. And, this recipe is quite versatile, too. As long as you think that certain flavors go well with it, then, you can substitute freely. Try it now!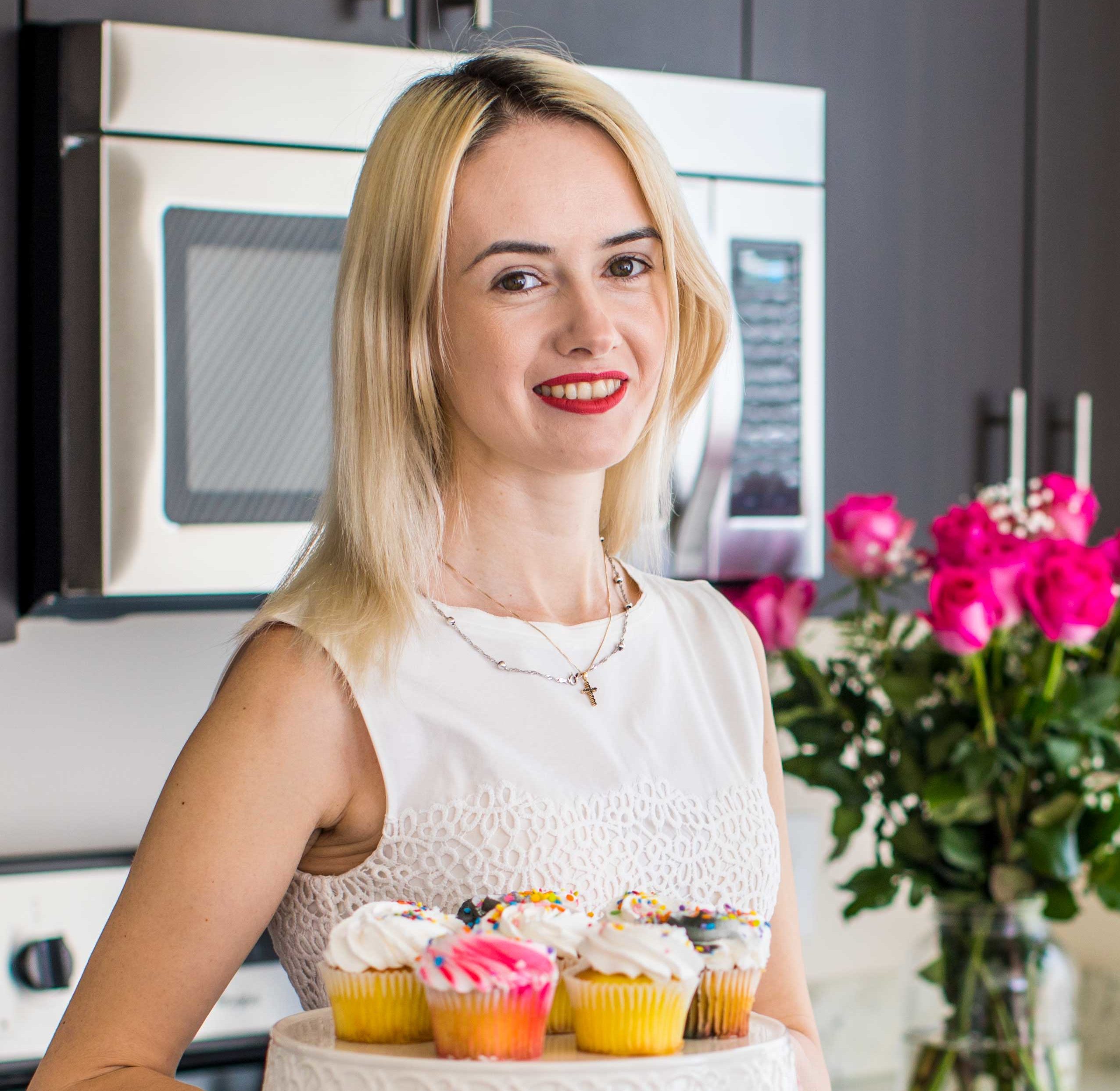 Follow us on Pinterest for more delicious recipes!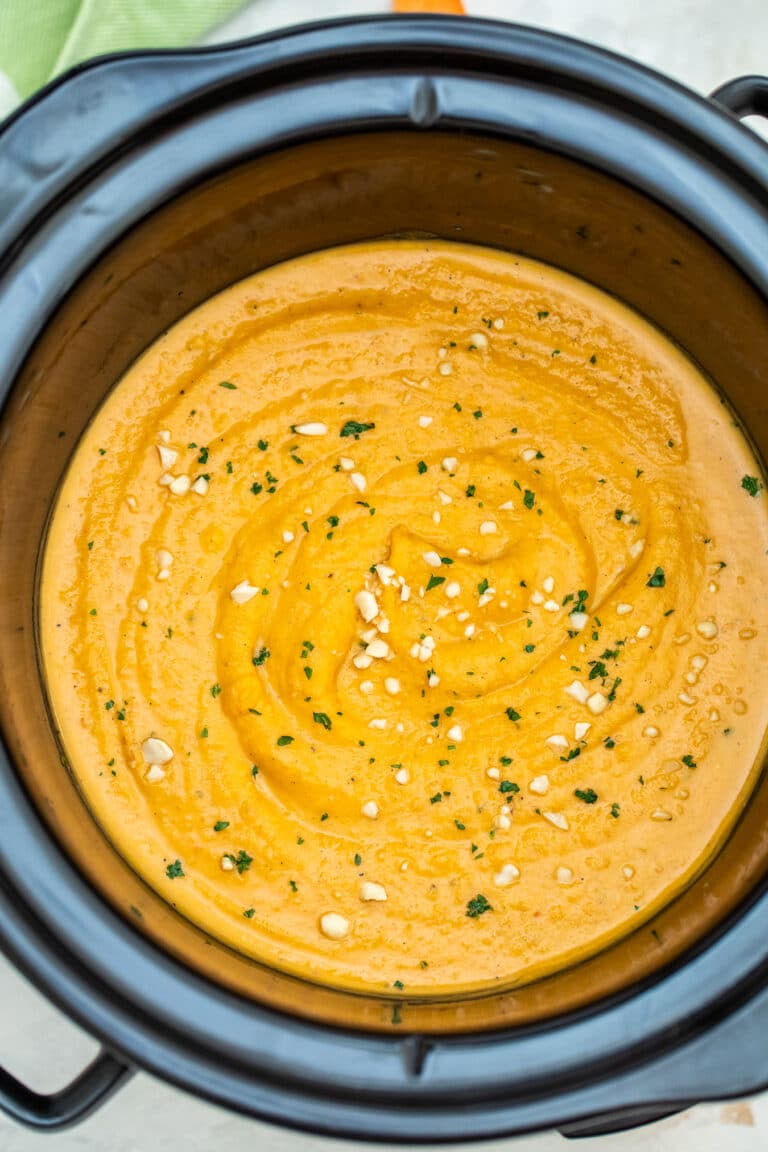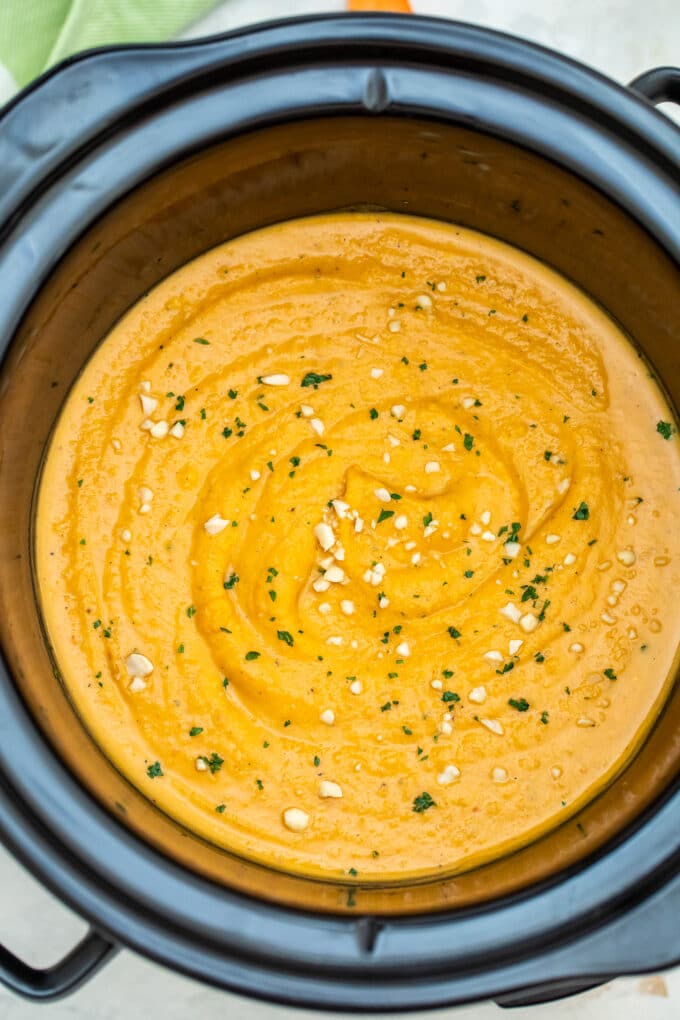 What do you need to make Slow Cooker Sweet Potato Soup?
Aside from the sweet potatoes, you will need the following:
aromatics: onions, garlic, and ginger provide depth
spices: curry paste, ground nutmeg, ground cinnamon, peppers, and salt go well with the sweet potatoes' earthy flavors
liquids: to make the base, use low-sodium broth
cream: add heavy cream and peanut butter for a richer taste and to make it more creamy
toppings: more cream, cilantro, and nuts are great choices
Also, you will need a masher or a blender to puree the spuds and turn them into a smooth and thick soup.
How to make Slow Cooker Sweet Potato Soup?
Prep the ingredients: Wash and dice the spuds into uniform pieces. Put it in the crockpot along with the rest of the ingredients except for the dairy and the toppings.
Cook: Set it on high for 4 hours, or on low and for 6 hours until the spuds are fork-tender.
Puree: Using a stick blender, mash, and puree the spuds.
Serve: Add dairy and adjust the taste if needed. Add toppings on the top and serve.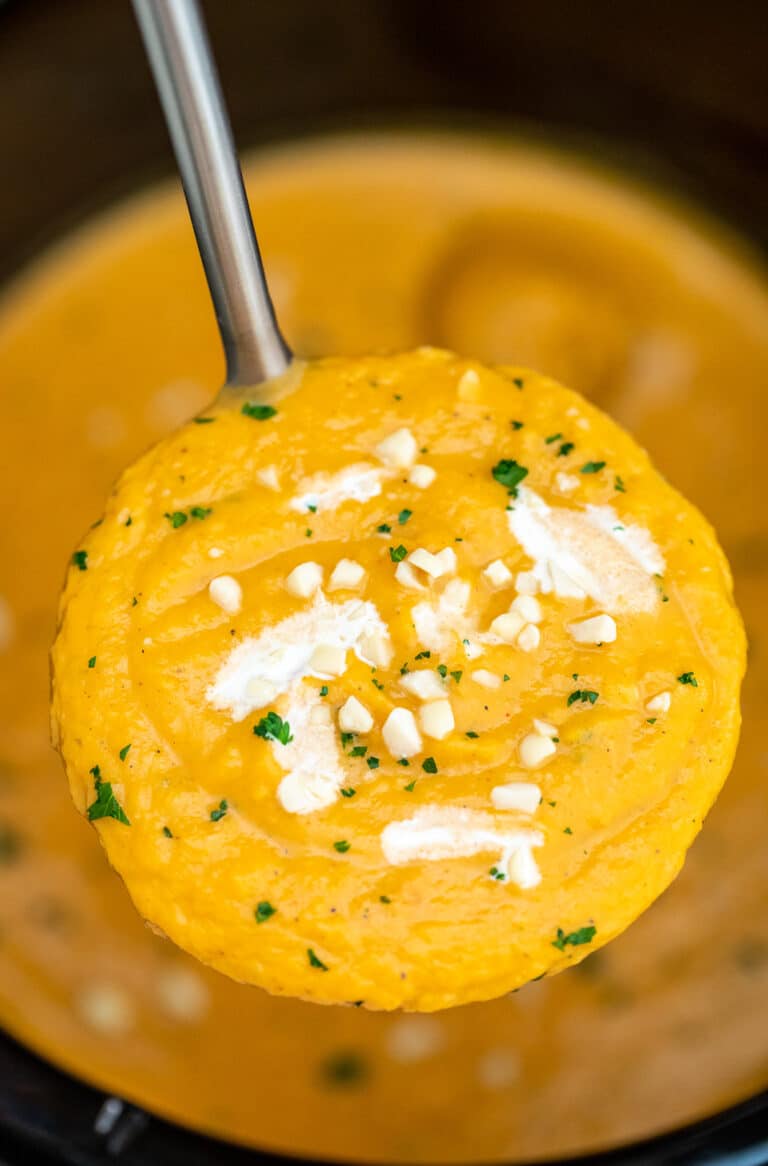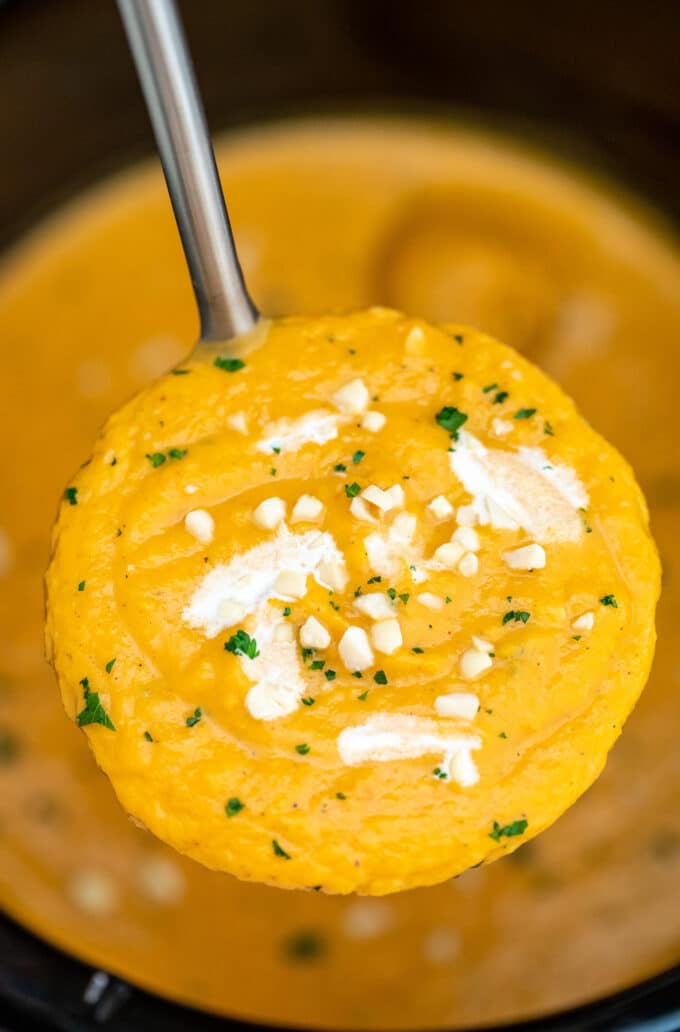 Recipe variations:
To make the best out of the crockpot, learn these few basic things:
Add dairy in the end: It will curdle if added at the beginning. So, it is better to add it towards the end or right before serving.
Less liquid: Do not put too much liquid, just enough to cover the veggies.
Add spices in the beginning: You can add the spices and seasonings along with the veggies so that the flavors will meld for a longer time. Avoid adding rosemary at the start though as it becomes bitter when cooked for a long time.
Sauté first: While you can put the ingredients directly into the crockpot for most recipes, it still pays to sauté meat along with the aromatics before slow-cooking. This releases much of the flavors in them, too, which makes your soup more delicious.
Recipe Substitutes:
The sweet and creamy sweet potatoes can be substituted with other veggies of the same texture and taste. Best alternatives are:
butternut squash
white potatoes
chickpea
chestnut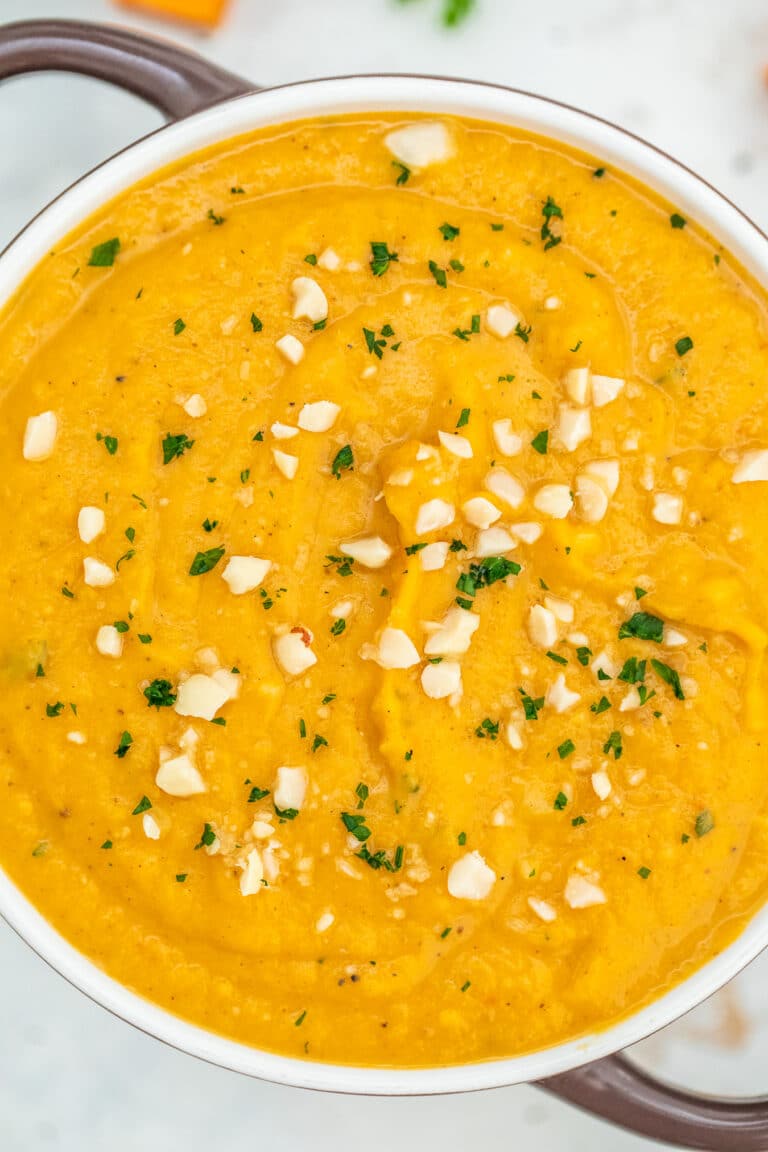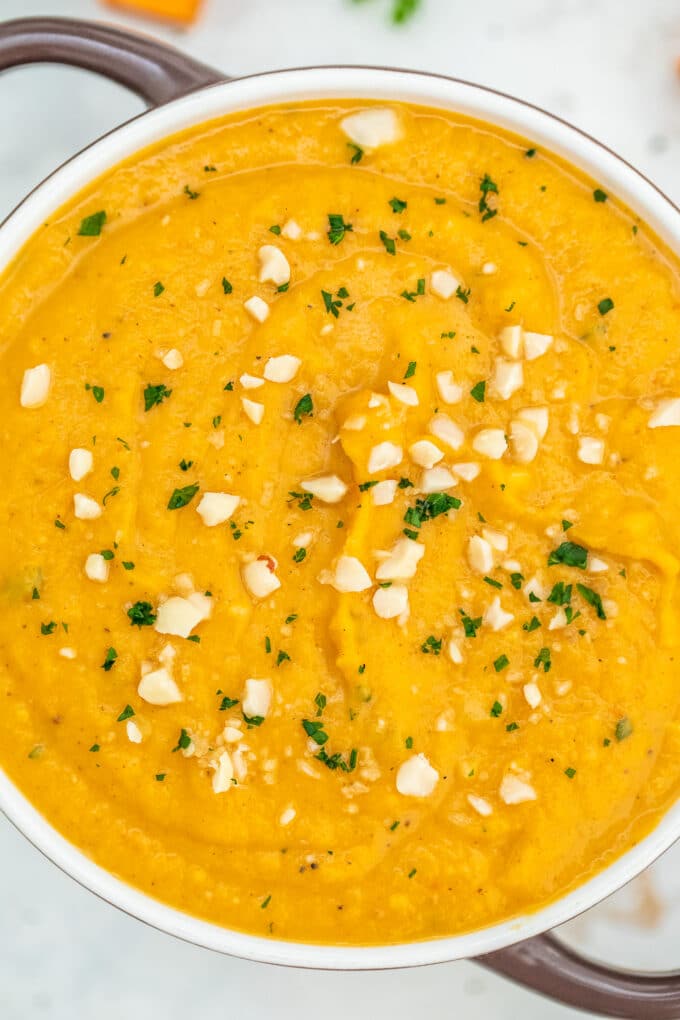 How to Store:
Refrigerate: Chill this in the fridge for no more than 4 days.
Freeze: This freezes well in freezer bags for up to 6 months. However, do not add any dairy yet as it does not freeze well.
Recipe Tips:
This can also be prepared in the Instant Pot and check this out if you wish to learn the stovetop version.
Other toppings that you may like are cheese and bacon with sour cream or some fresh coriander to go with coconut milk and dried chilies.
Make sure that the spuds are cut as uniform as possible to ensure that everything cooks at the same rate.
Save Recipe
Slow Cooker Sweet Potato Soup
Slow Cooker Sweet Potato Soup is creamy, thick, rich, and flavorful, also hassle-free and comforting!
Author: Catalina Castravet
Serves: 6 servings
Prep time:

15

minutes
Cook time:

6

hours

30

minutes
Total time:

6

hrs

45

mins
Ingredients
Soup:
Toppings:
Nutrition information
Calories: 301 Carbohydrates: 39 Protein: 8 Fat: 14 Saturated Fat: 2 Cholesterol: 4 Sodium: 917 Potassium: 723 Fiber: 7 Sugar: 13 Vitamin A: 19303 Vitamin C: 6 Calcium: 169 Iron: 2
Save Recipe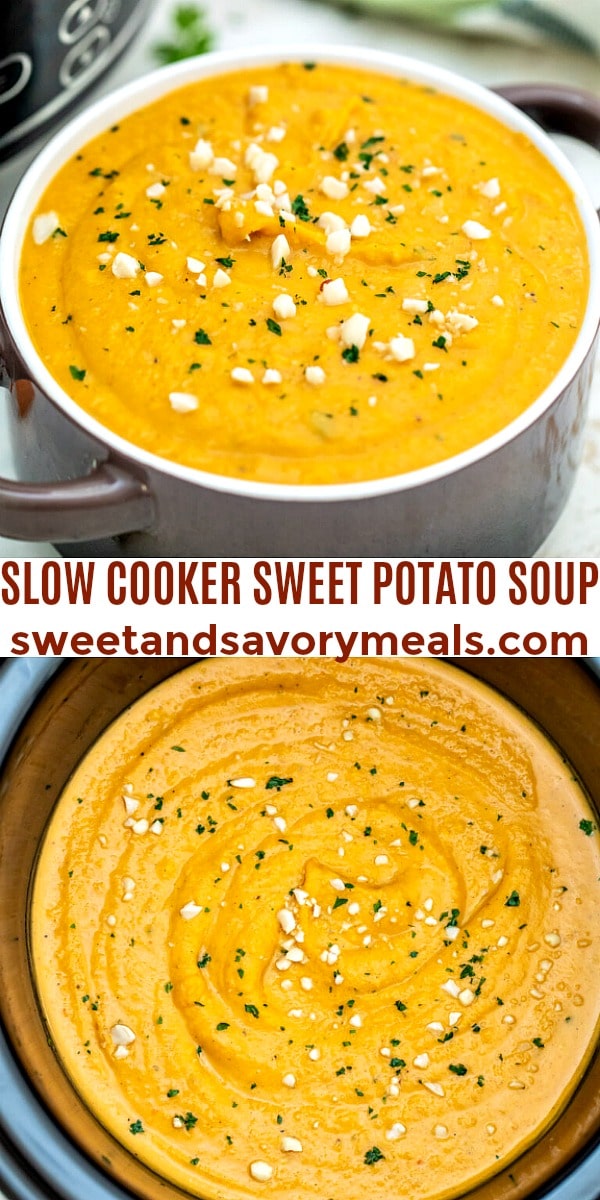 More recipes you might love