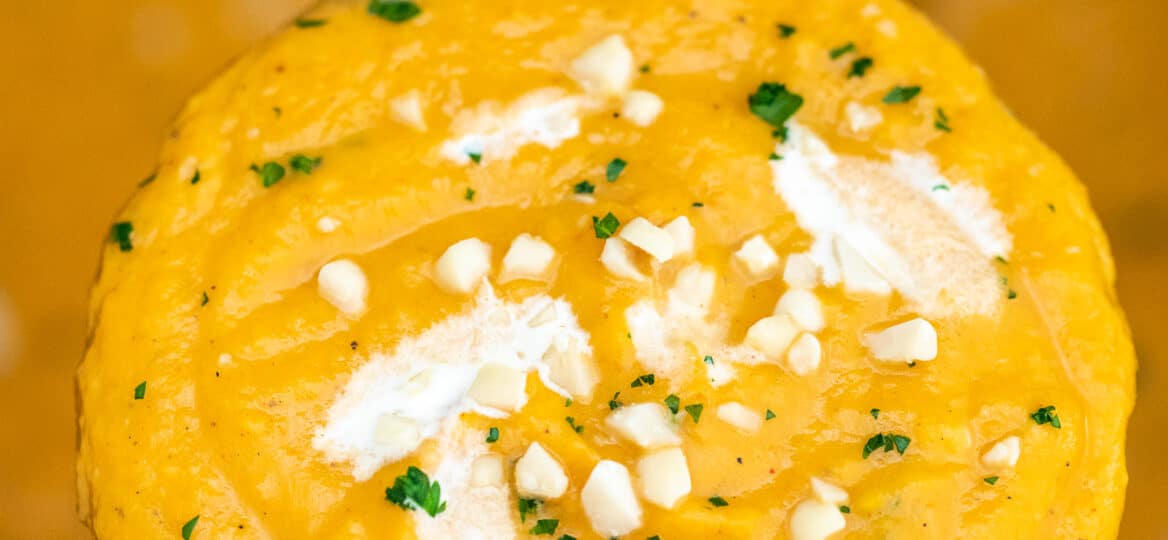 Slow Cooker Sweet Potato Soup
Slow Cooker Sweet Potato Soup is creamy, thick, rich, and flavorful, also hassle-free, and comforting! This warm dish is perfect for the cold weather!
I like buying this vegetable in bulk because it keeps well and is versatile. It is perfect for autumn with its flavor, just like our recipes for Pumpkin Pie, Blueberry French Toast Casserole, and Creamed Spinach. Check them out!
Crockpot Sweet Potato Soup
Slow Cooker Sweet Potato Soup may not be the quickest to make but this recipe is hassle-free. And what I mean by that is that you can just put the ingredients in the crockpot and then, forget it for a while.
Yes, it is possible! Using the crock pot has that advantage and more. Slow-cooking helps bring out the flavors which in turn meld beautifully for a long time and are not destroyed by high heat.
And this hearty soup is the ultimate holiday meal to enjoy with the entire family. While the spuds are naturally sweet and creamy, those qualities are amplified multiple times in this dish.
Let the richness of this vegetable go hand in hand with the spices, seasonings, and dairy. And, this delicious soup is quite versatile as well. As long as you think that certain flavors go well with it, then, you can substitute freely. Serve it with some crusty bread on the side for a complete family meal!
Ingredients needed:
Aside from the sweet potatoes, you will need the following:
aromatics: onions, garlic, and ginger provide depth.
spices: red curry paste, ground nutmeg, ground cinnamon, peppers, and salt go well with the sweet potatoes' earthy flavors. Also, for more flavor, feel free to add bay leaf, curry powder, cayenne pepper, fresh thyme, or other fresh herbs.
liquids: to make the base, use low-sodium broth
cream: add heavy cream and peanut butter for a richer taste and to make it more creamy
toppings: more cream, cilantro, and nuts are great choices
Also, you will need a masher or a blender to puree the spuds and turn them into a smooth and thick soup.
How to make Slow Cooker Sweet Potato Soup?
Prep the ingredients: First, wash and dice the spuds into uniform pieces. Then, put it in the crockpot along with the rest of the ingredients except for the dairy and the toppings.
Cook: Next, set it on high for 4 hours, or on low and for 6 hours until the spuds are fork-tender.
Puree: Then, using an immersion blender, mash, and puree the spuds.
Serve: Lastly, add dairy and adjust the taste if needed. Add toppings on the top and serve.
Sweet potato substitutes:
The sweet and creamy sweet potatoes can be substituted with other veggies of the same texture and taste. The best alternatives are:
butternut squash
white potatoes
chickpea
chestnut
Favorite toppings:
I love topping this great soup with the following:
Lemon juice
Bacon bits
Crushed chips
Maple syrup
A bit of olive oil
Croutons
Chopped jalapenos or hot sauce
More healthy soup recipes:
Storing instructions:
Refrigerate: The soup taste even better the next day. Simply let it cool first at room temperature. Then, transfer leftover to an airtight container, and refrigerate it for up to 4 days.
Freeze: This freezes well in freezer bags for up to 6 months. However, do not add any dairy yet as it does not freeze well.