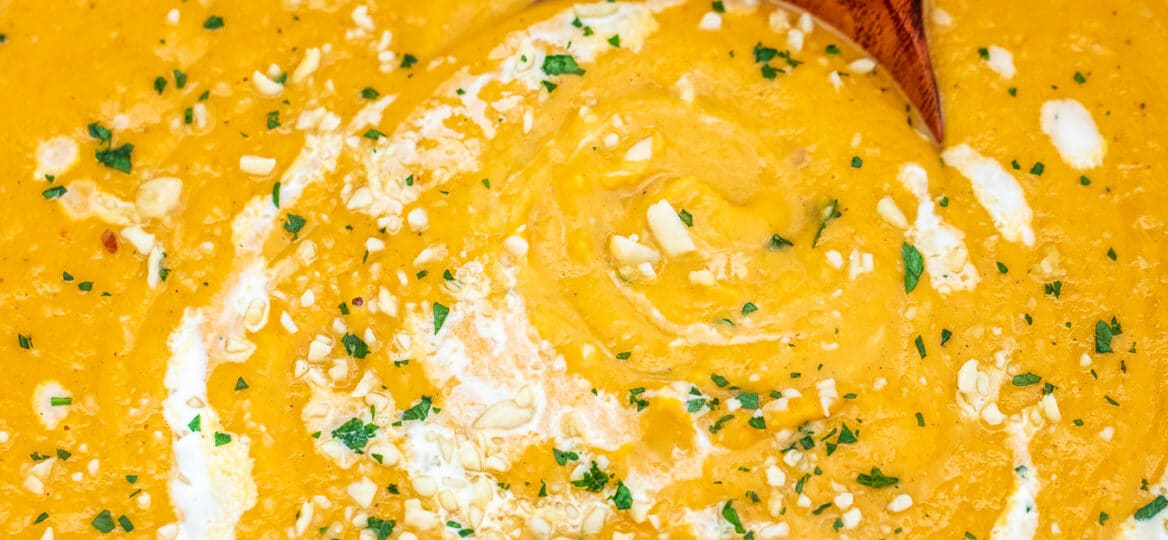 Creamy Sweet Potato Soup [Video]
The Creamy Sweet Potato Soup is the perfect soup to enjoy during a chilly day. It is light, with a sweet and savory note to it, making it the most flavorful and delicious soups!
I love making easy homemade soups and stews recipes. This one, in particular, is great to serve during the holiday season along with our other favorite dishes like Cranberry Relish, Glazed Smoked Ham, and Oven Roasted Turkey Breast.
This Creamy Sweet Potato Soup recipe is flavorful, loaded with warm spices, and super easy to prepare. It is ready in under an hour, giving you enough time to do other dishes! The spud is naturally sweet so making it savory balances out all the sweetness.
Honestly, this is my favorite vegetable. I love incorporating them in my meals, pretty much any day of the week. My sweet potato casserole is always a hit during the Thanksgiving season.
This creamy soup is a staple dinner during the fall or winter season. Also, it makes for a great appetizer, a side dish, or even a main dish! Just serve it with some green beans, crusty bread, or dinner rolls. You are guaranteed to get yourself a light, and delicious dinner.
The warmth of this savory soup is so comforting and cozy! In addition, make a big batch and store some for later. It is highly nutritious and since it is so yummy. Not to mention, it has a vibrant color and is an ideal dish to enjoy during cold nights with the whole family!
In addition, this is a great way to introduce veggies to kids. Try this amazing dish, and you will thank us later!
What is Sweet Potato Soup?
It is made with sweet potatoes boiled in broth and seasoned with spices. Then, it is pureed to perfection for a smooth and creamy side dish. We recommend best served it warm. It is one of the best comfort food to enjoy in fall or winter!
What are the benefits of sweet potato?
This root vegetable is highly nutritious, abundant, and inexpensive. Also, it stores well, so you can buy a lot of it for later use. This veggie is easy to cook and can be enjoyed in many ways. This creamy sweet potato soup recipe is just one of the many recipes that we have for it. Not only is it versatile, but is also very healthy!
According to verywellfit, 100 grams of this spud only has 86 calories. Aside from the energy it gives, it has a good amount of fiber, vitamins, minerals, and antioxidants.
The root vegetable contributes to a healthy digestive system, helps fight cancer, and promotes healthy vision and brain function. It is filling without the guilt!
Ingredient List:
Sweet potatoes: I use about 6 cups of diced sweet potatoes. You can find them in your local grocery store. Just go with your favorite type and brand.
Onion and minced garlic: Both bring a ton of flavor to the dish.
Oil: A bit of olive oil or coconut oil to saute the veggies.
Fresh ginger
Red curry paste
Vegetable broth: Use low-sodium broth.
Heavy cream: This is what makes the soup rich and creamy.
Peanut butter: The secret ingredients here! It adds a sweet note to it, and also a creamy texture. I highly recommend using it!
Seasoning: Such as ground nutmeg, cinnamon, cayenne pepper, black pepper, and salt.
How to make sweet potato soup?
Heat oil and Sauté: First, add some olive oil to a large pot or Dutch oven, and saute the aromatics over medium heat.
Add the spuds: Next, add in the curry paste, peanut butter, and the spuds. Then, add the salt and vegetable broth.
Boil: Let it boil then, reduce the heat to a simmer. Cook until the spuds are soft enough such that the fork can easily pierce through the pieces.
Add the cream: Add the spices and the cream. Stir well.
Blend: Using an immersion blender, puree the soup. Also, you can scoop the cooked soup into a blender or food processor and process it until smooth.
Season: Add salt and pepper to taste, and depending on your taste. Add more of the spices. Also, feel free to put it back on the pot to reheat or to add more broth if you think it is too thick.
Serve: Serve it while hot, and garnish with peanuts, cilantro, and a drizzle of cream.
Variations and substitutions:
Broth: Feel free to use chicken stock instead of vegetable stock.
Seasoning: Use your favorite seasoning. Some great addition would be curry powder, red pepper flakes, fresh thyme, rosemary, etc. Also, for a smoky flavor, add some smoked paprika.
Slow cooker: Do you have a crockpot? Then, try making this slow cooker sweet potato soup.
Instant Pot: Alternatively, try making it in the pressure cooker.
Can you make it dairy-free?
Yes! You can substitute coconut milk with dairy. It melds well with the curry.
Favorite Toppings:
Here are some suggestions that you can try:
Bacon bits and cheese
Fried shallots
Croutons
Chips
A dollop of sour cream
Shredded parmesan cheese
What type of sweet potato to use?
There are many varieties you can pick from. Here are some quick tips on what you should look for:
Orange and red-skinned ones: These are usually called the "moist variety" and are usually sweeter, and creamier. They are perfect to be used in soups and desserts.
Yams: You can use yams as well. They look very similar. However, they tend to be starchy and a bit drier.
How to store it?
Refrigerate: This makes for excellent leftovers. Simply put it in an airtight container when cooled, and refrigerate for up to 4 days.
To reheat: Allow 24 hours of thawing time then, reheat on the stove. During reheating, if you find that it tends to separate, whisk it to combine or pulse it in the blender.
How to freeze the soup?
If you know that you are going to freeze it for later, then, here are some guidelines:
Always let it cool completely before freezing it. This is for food safety purposes than anything else.
Liquid expands when it freezes. So, allow it to do so without breaking the container by leaving out space. An inch of headspace may be enough.
Do not freeze it if it has dairy in it. Instead, it is better to add the dairy when you reheat it.
More delicious soup recipes:
Recipe Tips:
To make it paleo, skip the dairy and use coconut milk.
In addition, you could roast the spuds, onions, and garlic first in the oven. Drizzle them with olive oil and seasonings, then, puree in the blender along with the broth.
Also, feel free to add carrots and cauliflower without altering the overall taste.
Serve it in individual bread bowls and with a green salad on the side.