Creamy Pumpkin Soup [Video]
Pumpkin Soup is creamy, hearty, and perfect for the fall season! It is a classic dish that is comfortingly rich and deliciously spiced with fall flavors. Watch the recipe video below and see how easy and festive this dish is!
This recipe is perfect for a light supper, eaten with Dinner Rolls. It could also be a good appetizer and side dish for your holiday dinner table along with savory main dishes like Dry Brined Turkey that is perfect for Thanksgiving! Add Broccoli Cauliflower Salad to the menu for that serving of healthy veggies!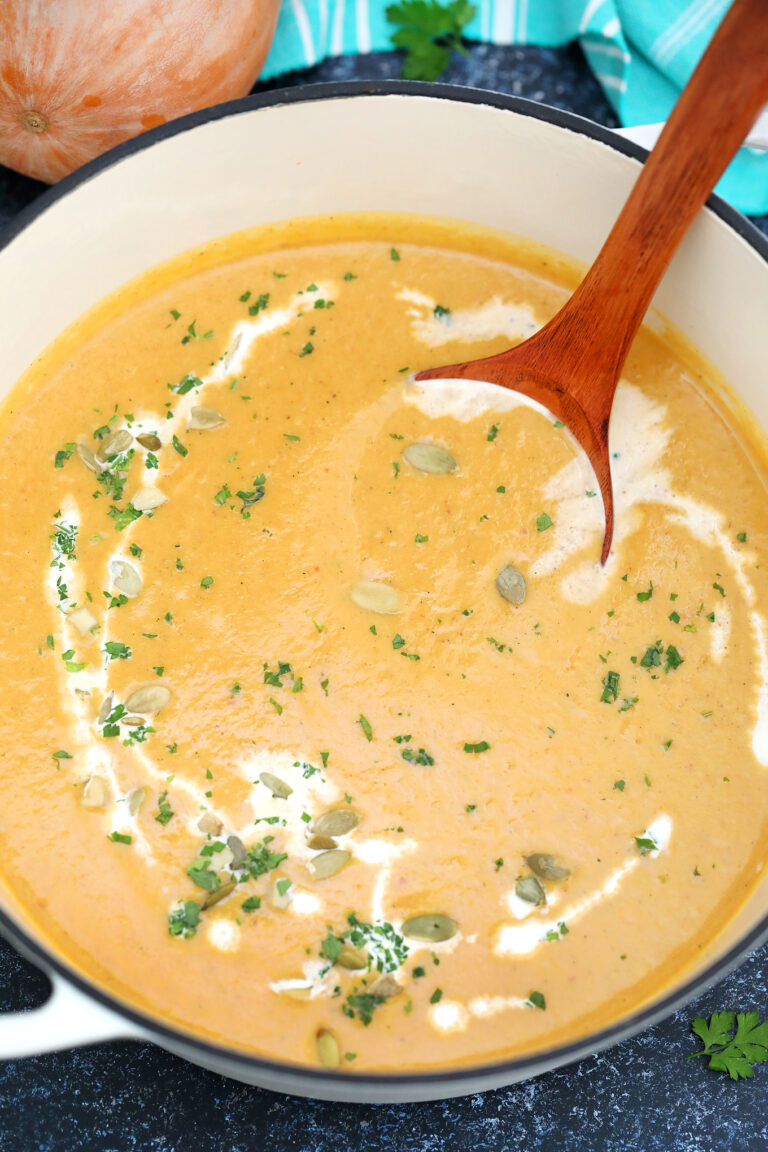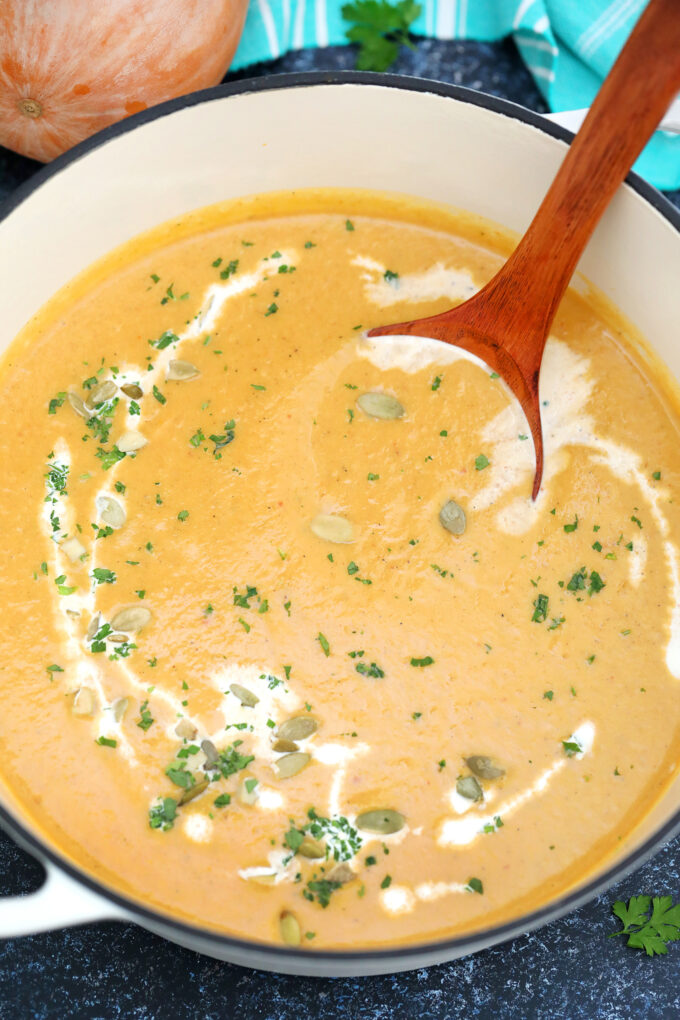 Pumpkin Soup Recipe
The soup has a silky texture with all the fall flavors that you love. It is so flavorful that it can be a main dish on its own, but still light enough to not be overwhelming.
A warm bowl of this soup for the cold nights of fall and winter is so comforting. The pumpkin itself lends a flavor that is so often associated with the fall season.
This dish is easy to prepare and most of the ingredients can already be found in your pantry. Why don't you give it a try and I am sure that the whole family will like it!
Is Pumpkin Soup healthy?
Yes! The main ingredient is rich in vitamins, minerals, and anti-oxidants. With all the nutrients that it has, it only has 50 calories per cup.
It is particularly rich in vitamin A which is responsible for good eyesight. Together with this vitamin, it also has lutein and zeaxanthin which fight degenerative diseases of the eyes.
It can be a good source of vitamin C and E which help strengthen the immune system and fight cancer. Read more about its health benefits in this link.
Since the pumpkin itself is healthy, then, we must keep the rest of the ingredients on the healthy side as well. That is why we are incorporating low-sodium vegetable broth instead of the regular ones which have higher sodium content.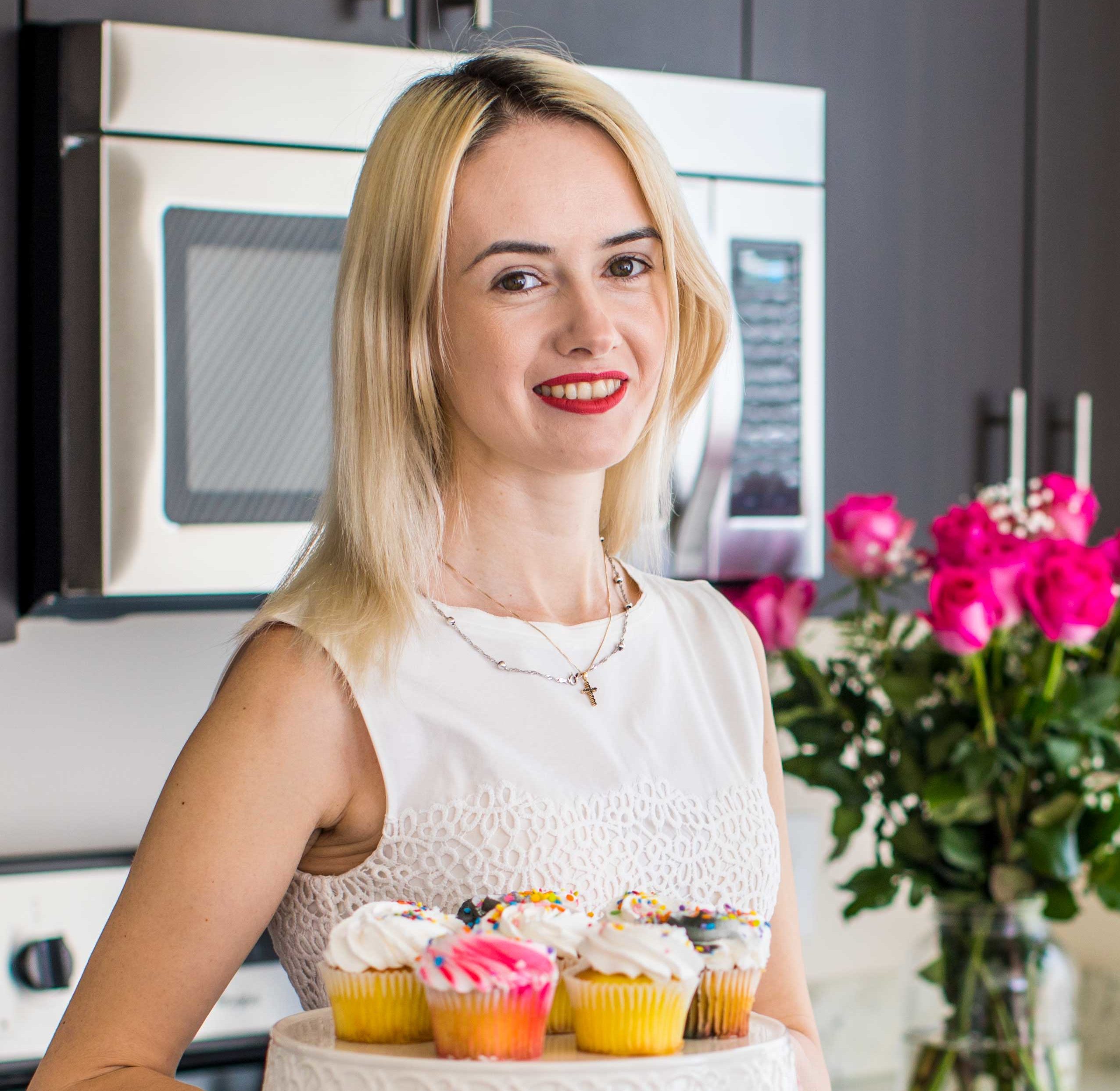 Follow us on Pinterest for more delicious recipes!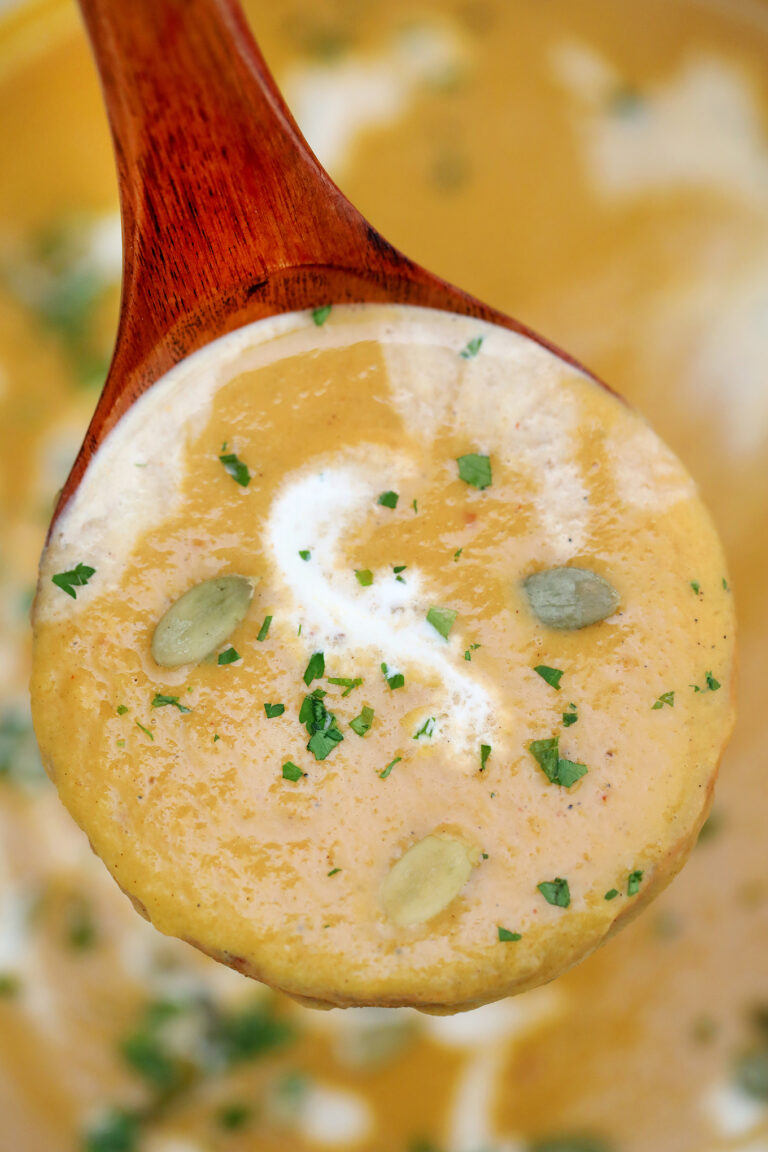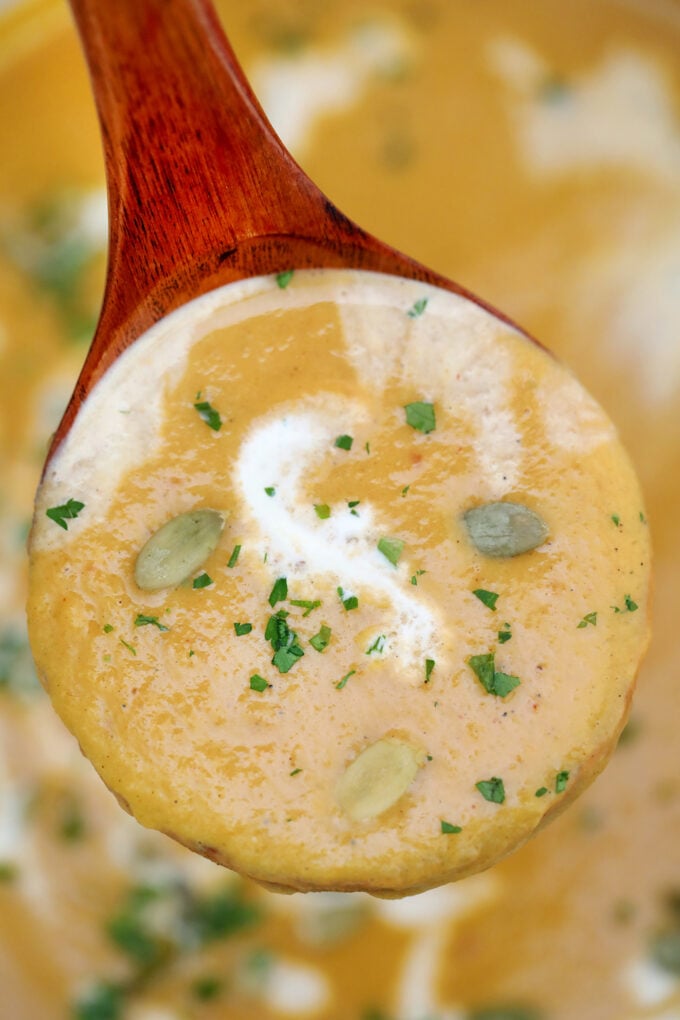 How to make Pumpkin Soup:
Prep work: Peel and cut the pumpkin into cubes until you make about 6 cups as this recipe calls for. Set aside.
Sauté: In a large pot, sauté onion, garlic, and ginger in olive oil until the onions are see-through. Stir in the curry paste.
Add the fruit: In a small bowl, mix a cup of broth with peanut butter until smooth. Add this to the pot. Then, stir in the cubed pumpkin, salt, and more broth. Let the whole thing boil, then, reduce to a simmer and cook until the pumpkin is soft enough when pierced with a fork.
Season: Add the spices and then, the cream.
Blend: Transfer the soup into a heat-resistant blender in batches. Then, put it back to the pot to season some more and to thin out the consistency with more broth.
Serve: Top with cilantro, peanuts, and heavy cream.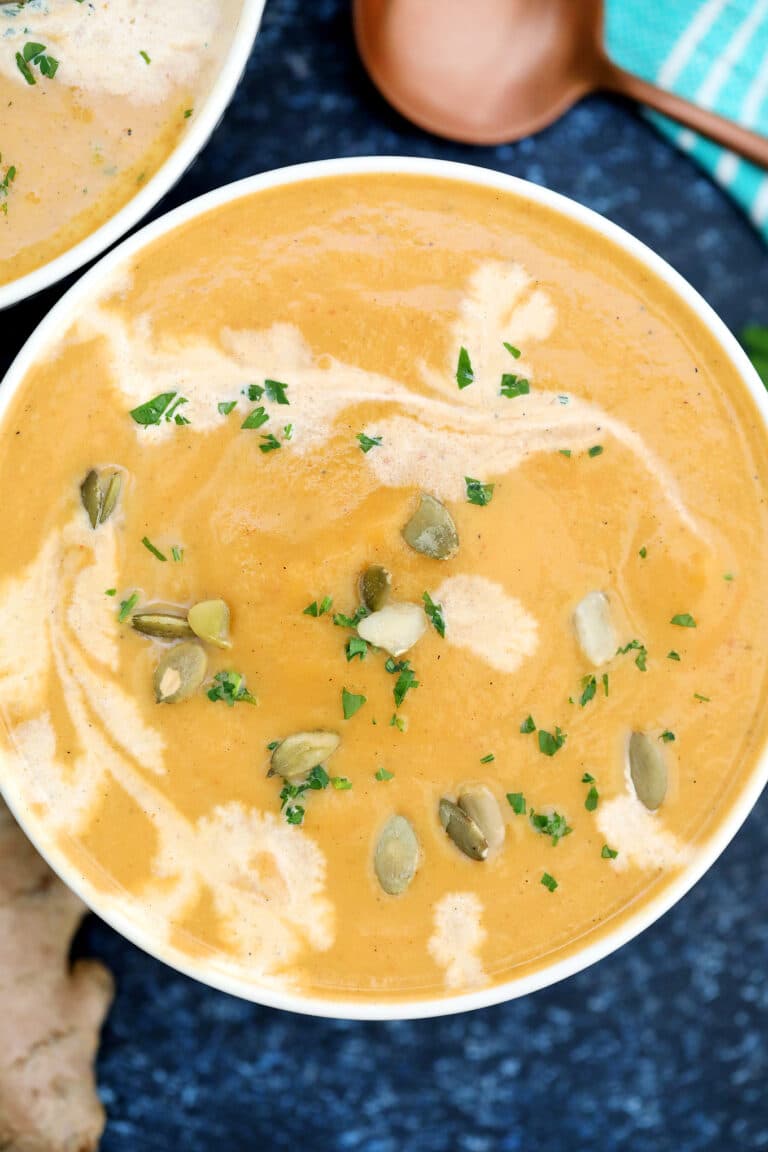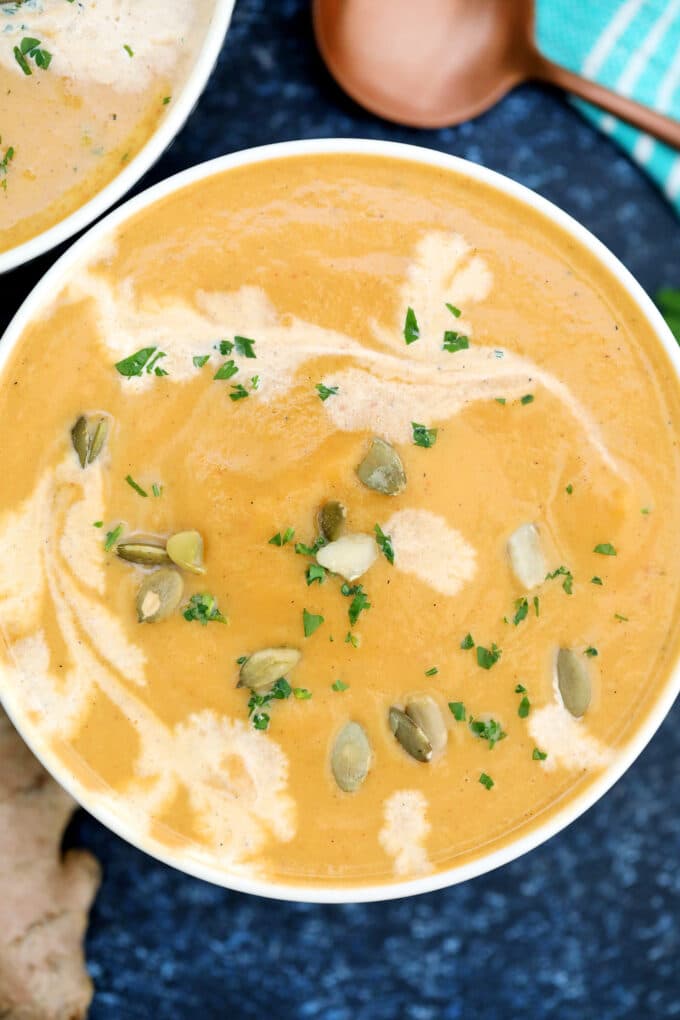 What type of pumpkin is best to use for this soup?
You can use butternut squash, sugar pumpkin, or any hard kind. Soft ones can make your soup too thin.
How do you thicken Pumpkin Soup?
You can allow it to simmer without the lid to let some of the water evaporate. Or, you can add in heavy cream and blend the soup like what this recipe calls for.
You can also add a bit of slurry by dissolving a small amount of cornstarch or flour in water and then, adding it directly as the dish is simmering.
Topping Suggestions:
Aside from those mentioned in this recipe, add some crunch and variation in the texture by topping it with any of the following:
bacon
croutons
chorizo
seafood like fried prawns or scallops
roasted veggies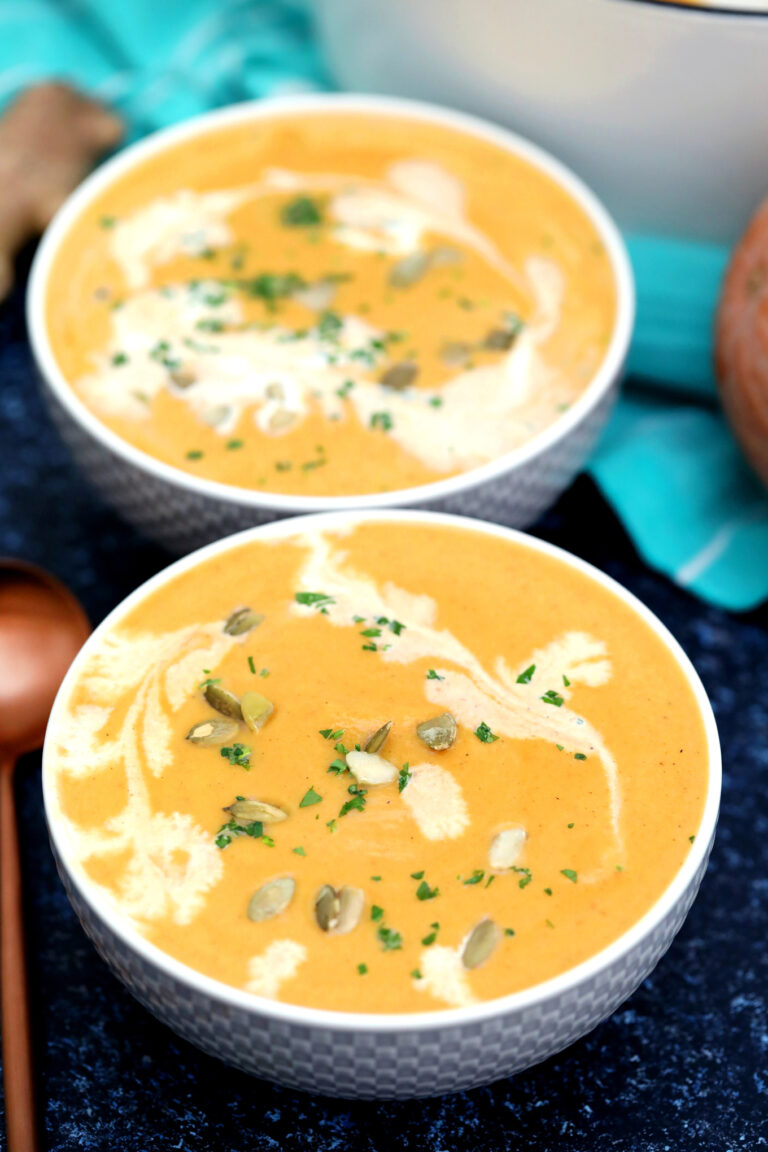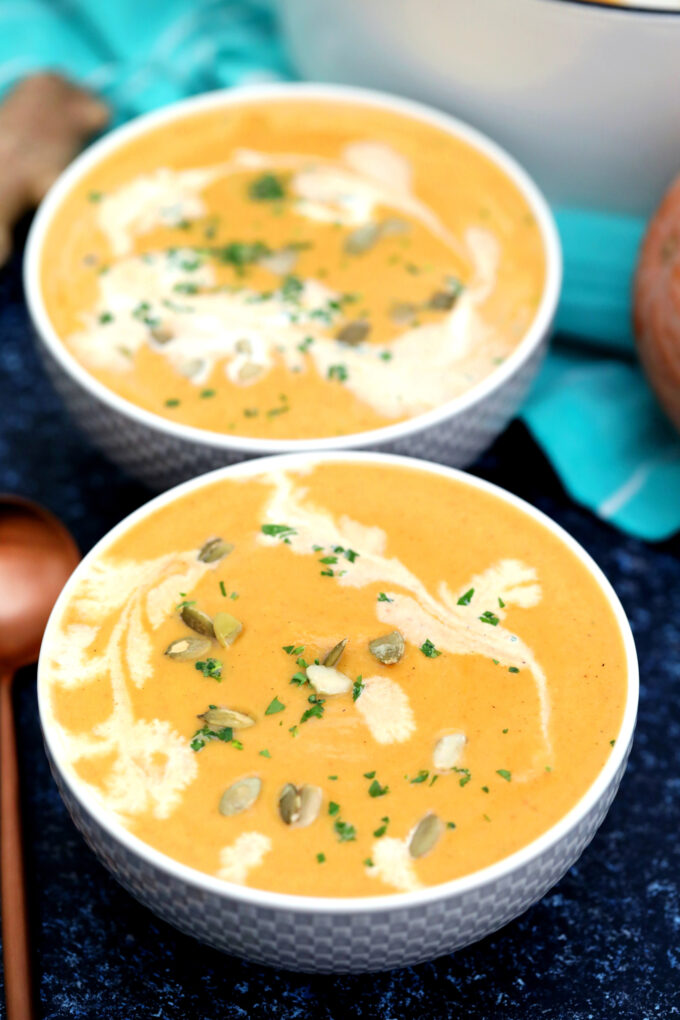 How to store:
Refrigerate: Let it cool completely then, refrigerate in an airtight container. It will keep for 3 to 4 days.
Freeze: Put it in an airtight container, allowing a bit of headspace to anticipate the expansion of the liquid as it freezes. Consume within 2 to 3 months. Preferably, there is no cream if you will put it in the freezer. Simply add it in when you reheat it.
To reheat: Simply heat it on the stove after thawing overnight.
More Pumpkin recipes:
Recipe Tips:
For a richer flavor, you can use roasted pumpkin to be used for this. We have a recipe for the roasted butternut squash.
You can keep the seeds when preparing the fruit. Roast them and eat them later, or use them as a topping for this dish.
You can incorporate more veggies in this, like carrots and potatoes.
Also, you can easily make this recipe in the Slow Cooker.
Save Recipe
Creamy Pumpkin Soup
Pumpkin Soup is creamy, hearty, and perfect for fall! It is a classic dish that is comfortingly rich and deliciously spiced with fall flavors.
Author: Catalina Castravet
Serves: 6 servings
Prep time:

15

minutes
Cook time:

30

minutes
Total time:

45

mins
Ingredients
Soup:
Toppings:
Nutrition information
Calories: 134 Carbohydrates: 16 Protein: 3 Fat: 7 Saturated Fat: 2 Cholesterol: 4 Sodium: 844 Potassium: 514 Fiber: 1 Sugar: 10 Vitamin A: 11097 Vitamin C: 14 Calcium: 88 Iron: 1
Save Recipe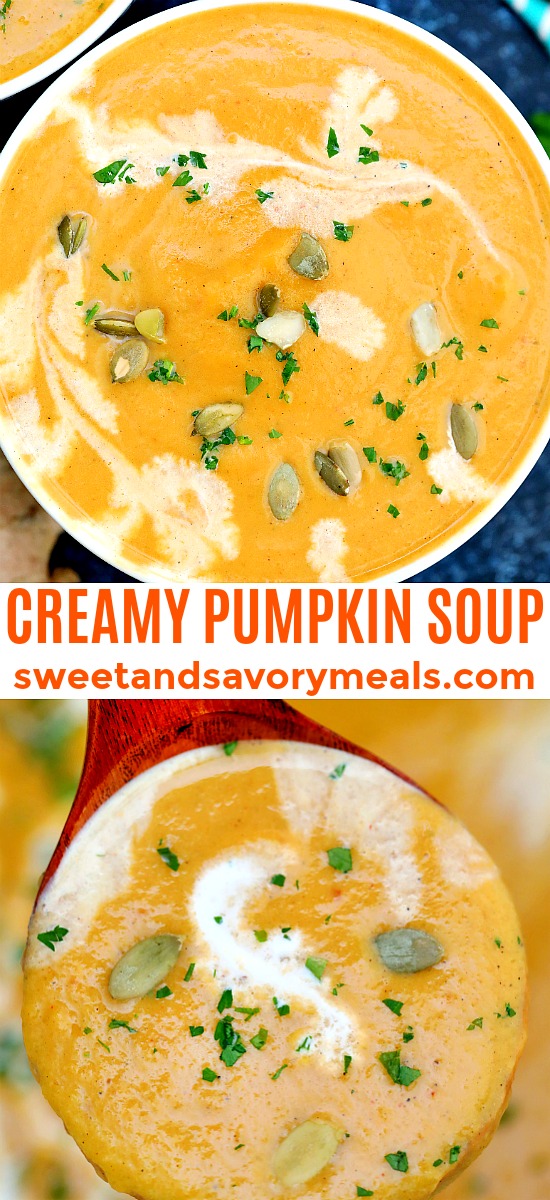 More recipes you might love