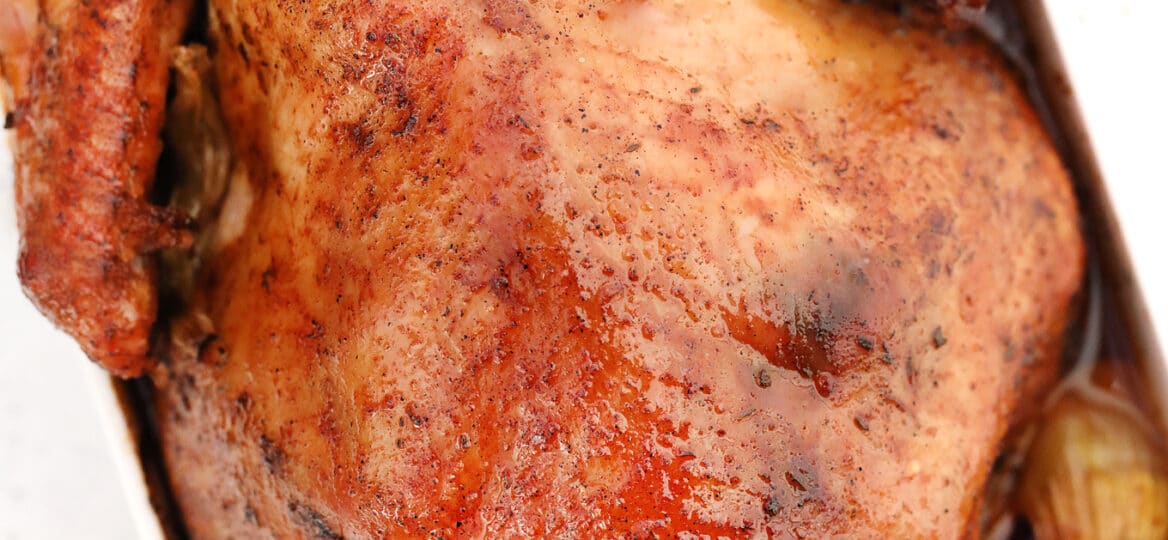 Perfect Dry Brined Turkey Recipe
Dry Brined Turkey has tender and moist meat and is covered with crispy skin! It is perfect for all your parties this coming holiday season!
How times flies! So, if you are already gathering your recipes for your holiday menu, include this fabulous recipe! Feel free to include our other recipes such as Slow Cooker Mashed Sweet Potatoes, Pesto Pasta Salad, and Slow Cooker Pineapple Pork Loin!
How do to dry roast brine a turkey?
Dry Brined Turkey is the ultimate Thanksgiving dish! It can be tricky to prepare but with this easy recipe, you can never go wrong.
All you have to do is follow everything in this post and I can guarantee that you will have the best tasting poultry dish on your dinner table!
I adore this specific dish because it is easy to prepare without skimping on flavor. The whole preparation makes the meat super tender and moist at the same time.
Roasting can dry out the meat, especially when you are cooking a whole bird. It can be quite overwhelming, but this way it is simple. All you need is this recipe and proper planning to execute this dish!
What is a dry roast brine?
Brining is a technique wherein you allow the salt to infuse the meat. In so doing, the juices are sucked out and are replaced with flavors from the mixture.
But with dry brining, there is no water involved. Instead, the mixture is directly rubbed on the surface of the meat. It is more like a dry rub. But this kind of brining takes time.
Dry brining not only infuses flavor, but it also helps with tenderizing the meat. Also, as a bonus, this technique keeps the skin crispy upon cooking.
What is a wet brine?
This is the opposite of dry brine. It has water in the mixture and the meat is submerged in it. You have seen us do this for making BBQ Pork Chops.
Can you dry brine a pre-basted turkey?
No, because you cannot simply know how much salt it already has. It is best to use an unsalted bird for this recipe so always check the label. If it has salt in it, you cannot use it.
How do you dry roast brine a turkey?
Prep the poultry: Clean the poultry and pat dry. Separate the skin from the meat without breaking it.
Rub: Mix the ingredients in a bowl. Sprinkle and rub all over the turkey, inside the cavity and skin. This ensures that the meat itself is tasty, not just the surface.
Refrigerate: Place the bird on a roasting pan, with the breast-side up. Wrap with plastic and put in the fridge for 48 to 60 hours. Then, remove the plastic and refrigerate for 8 to 12 hours more.
Prep for roasting: Allow the bird to rest at ambient temperature. On the pan, arrange the vegetables and the aromatics. Then, put a cup of water. Place the bird on the pan upside down.
Roast: Roast for about 45 minutes in an oven preheated to 425 degrees F. Then, turn over the bird to cook the breast part. Then, lower the oven temperature by 100 degrees. Make sure that the safe internal temperature of 165 degrees F is reached. Measure with a thermometer at the thick parts.
Rest: Allow the poultry to rest for it to further cook and for the juices to redistribute before slicing.
How long should you dry brine a turkey?
To allow the flavors to infuse and to season the meat well, allow at least 3 days. So, plan to consider this.
Recipe Tips:
You can use any herbs and spices that you like as it is a matter of personal preference. Try our recipe for homemade poultry seasoning.
You can only use kosher salt for this one or coarse grain sea salt. Never use a finer one or else, it will be too salty.
Serve it with Cranberry Relish!