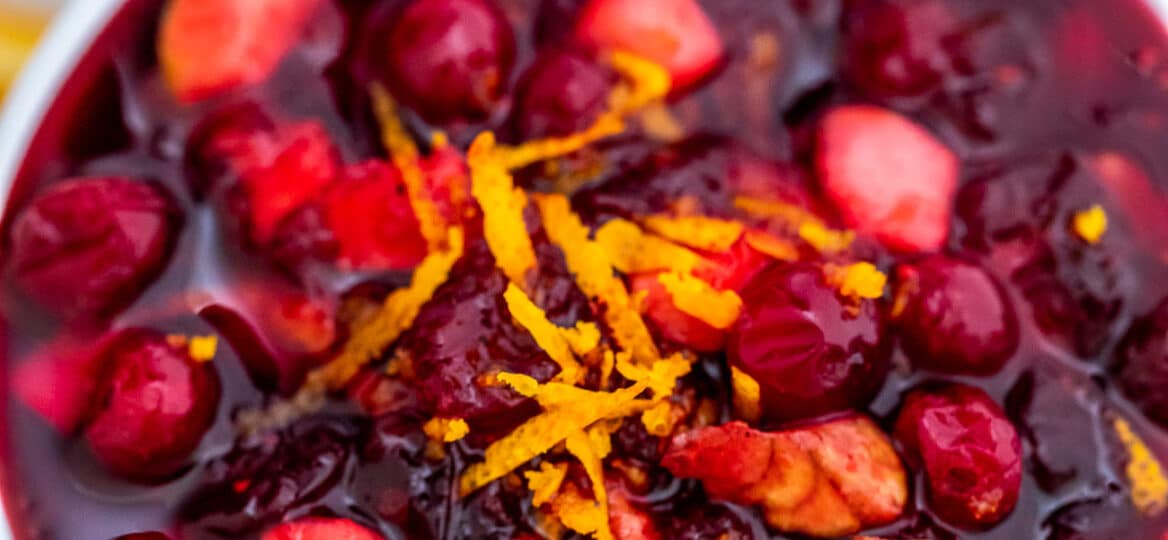 Easy Cranberry Relish [Video]
Cranberry Relish is the perfect pair for your roasted turkey this Thanksgiving! It is healthful, refreshing, and so easy to make with this recipe!
If you are looking for holiday recipes, then, include this in your list! You may want to also include Brown Sugar Roasted Carrots, Dinner Rolls, and Slow Cooker Mashed Potatoes!
Cranberry Relish Recipe
Cranberry Relish reminds me of my grandmother and this recipe is an attempt to replicate hers! It is something that we had growing up in every Thanksgiving dinner all thanks to my grandmother!
This side dish gives serious holiday feels with its intense color, making your Thanksgiving table more festive!
In the coming months, the fruit will be in season. Cranberry is versatile as it can be made into sauces and desserts. So, aside from making this, feel free to try out other recipes and for that, it pays to stock up!
The fruit itself is full of vitamin C, K, and B-vitamins and has an antimicrobial property. So, aside from being delicious, it is also healthful, too!
What is Cranberry Relish?
It is a condiment that is usually served with roasted meat, typically turkey. Bits and pieces of the cranberry, apples, and nuts make up this dish. Usually, oranges are mixed in, too.
I like that it is sweet, yet the tartness perfectly balances everything out. As a fruit-based condiment, it is refreshing and makes for a perfect pair to savory dishes.
What is the difference between cranberry sauce and cranberry relish?
The main difference would be the preparation. The sauce is cooked, while the relish can be prepared without cooking. Also, the sauce is known to be a sweeter version than the relish which is on the tangier side.
Some recipes do not require the berries to be cooked, just chopped into small pieces and prepared ala salad. But in this version, I cook the berries first just like how the sauce is prepared to sweeten it and then, mix some freshly chopped fruits and nuts in the end.
How do you make cranberry relish?
Soften: Transfer all the berries except for 1/2 cup in a saucepan. Add the sugar, the zest of orange and lemon, and orange juice. Cook under low heat until the sugar dissolves and the berries are soft.
Burst: Once soft, let the berries burst by turning the heat up. This will take around 12 minutes.
Season: Lower the heat. Add sugar, salt, and pepper to taste.
Fold: Chop the fruits and pulse in the food processor with sugar. Then, fold in with the rest of the ingredients.
Serve: Let it cool then, serve.
How do you chop fresh cranberries?
The easiest way is to use the food processor and pulse a few times until chopped to your desired size. But if you do not own one, then, let this procedure guide you. This procedure will ensure that each piece will not roll as you slice through them.
Lay a handful of round fruits on a chopping board.
Hold the knife in one hand, then, use the other to secure the fruits. Place your palm flat over the fruits.
Slice the berries into half by sliding the knife in between your palm and the chopping board.
Chop into smaller pieces by piling several pieces together then, cutting through them.
How long does cranberry relish last in the fridge?
It will last for 3 days. So, considering this, you can make it ahead of your party. Before storing, allow about an hour for the dish to cool down.
How to store it?
Simply put in an airtight container and keep in the fridge for 3 days. Although the sauce can freeze well, this relish will not. Do not freeze it as it can get watery when thawed.
More Cranberry recipes:
Recipe Tips:
You can leave out the nuts if you want to or substitute the walnuts with pecans.
If the cranberry is not in season, and the only available one is frozen, go for that. Just make sure that it is not stored with sugar as this recipe calls for plain fruits.
If you have leftover cranberry, use it as a substitute for peach in this cobbler recipe!