Broccoli Cauliflower Salad [Video]
Broccoli Cauliflower Salad made with fresh produce, including almonds, dried cranberries, crunchy apples, and feta cheese. Served with a creamy poppy seed dressing.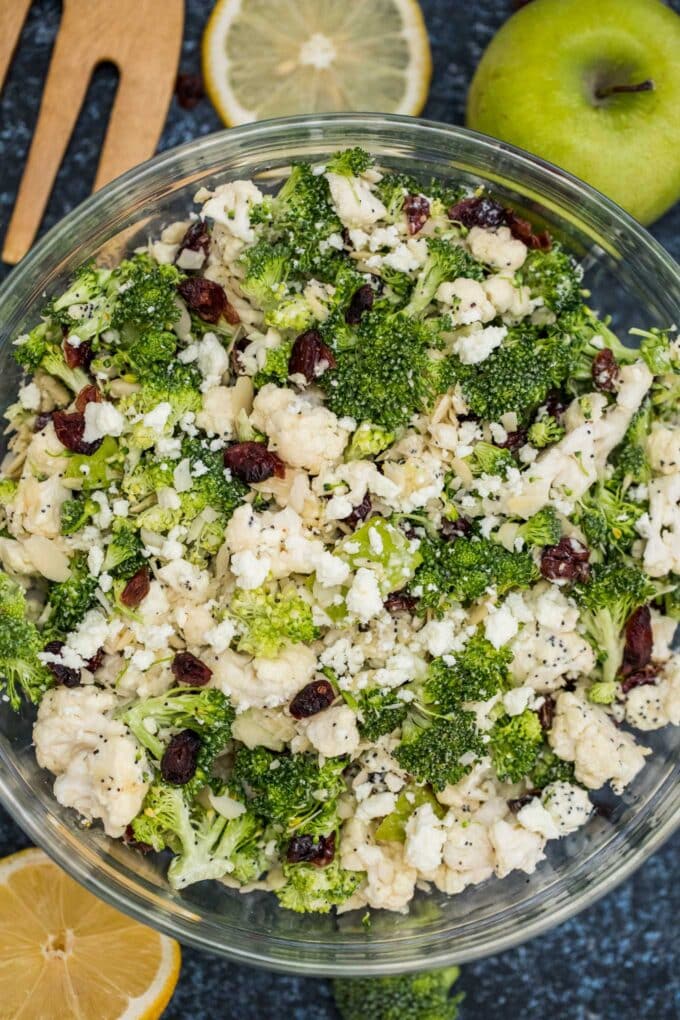 Broccoli Cauliflower Salad Recipe
Broccoli Cauliflower Salad Recipe is one of our favorite side dishes. It is so filling, combines many textures and flavors and is a guaranteed crowd-pleaser. I enjoy making it, as it usually can be served as a main dish for our vegetarian friends.
Using fresh fruits and veggies is key, as they create the perfect balance and crunchiness when combined with nuts and dried cranberries.
The creamy poppy seed dressing is the perfect blanket that brings together all the textures in one delicious bite.
Broccoli Cauliflower Salad Ingredients:
To make this easy recipe, all you need is some organic, high quality, fresh produce.
Here are the fruits and veggies that you need to make this recipe:
Broccoli
Cauliflower
Granny smith apple
Dried cranberries
Almonds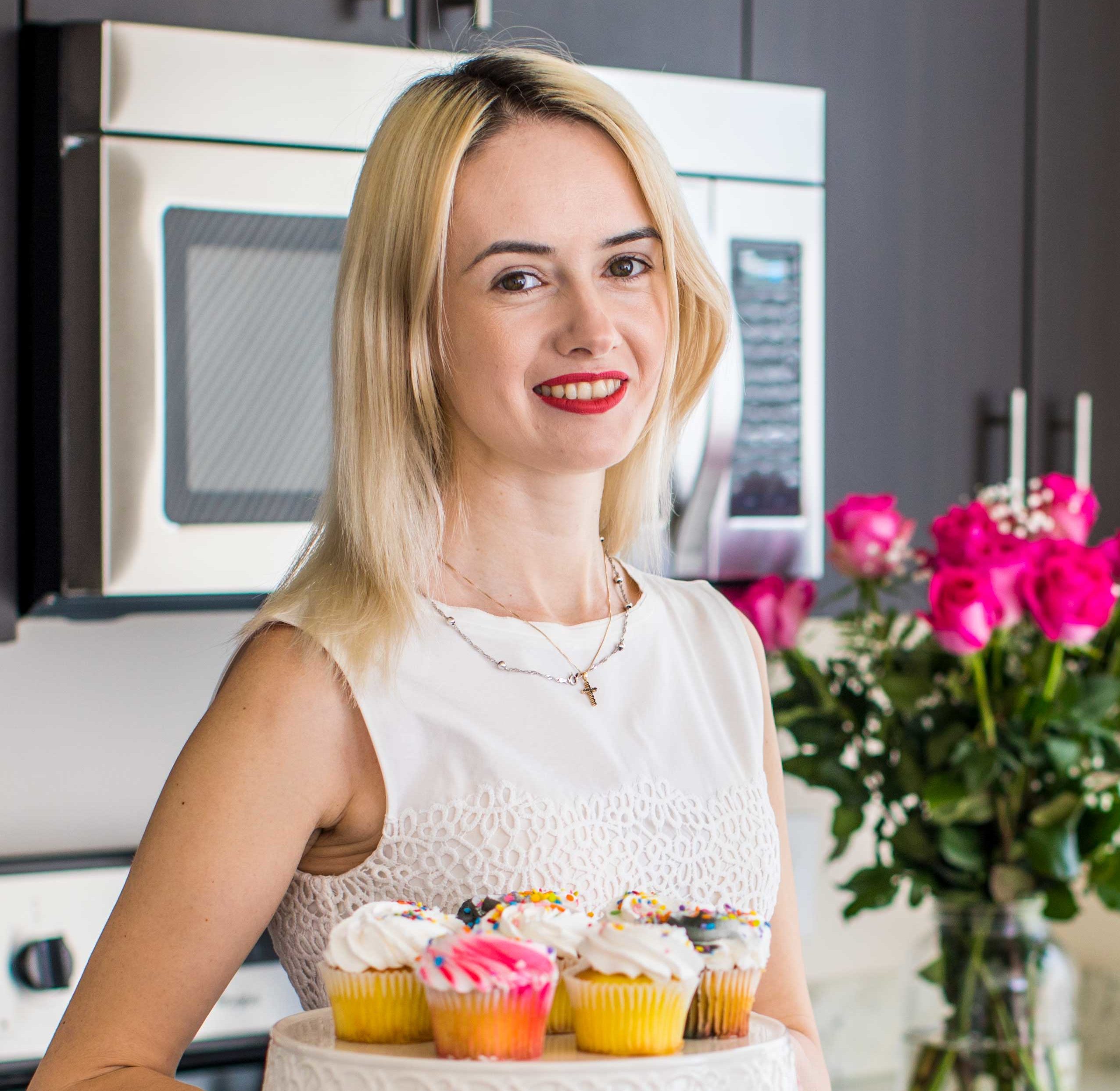 Follow us on Pinterest for more delicious recipes!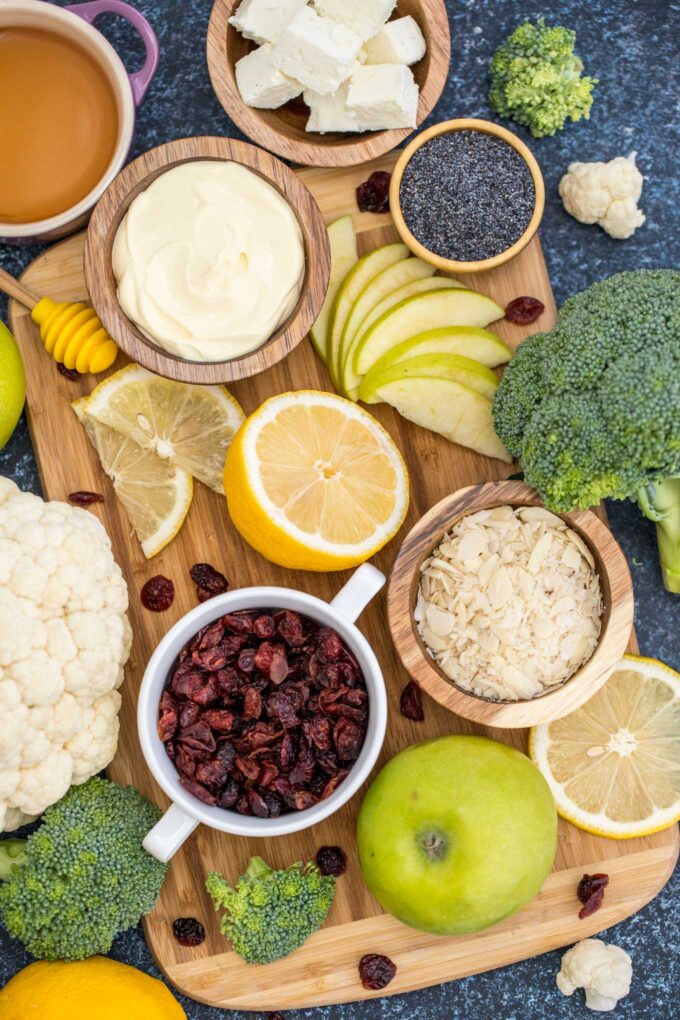 We also like adding feta cheese because the saltiness and tanginess pair well with the Lemon Honey Poppy Seed dressing.
This recipe was actually inspired by the Walmart event we attended in August in NYC. The event was a kick-off of Walmart's Rediscovering America program, which has tasked nine celebrated chefs from across America to use the fresh, locally grown and organic produce found in Walmart stores in a dish for their menus.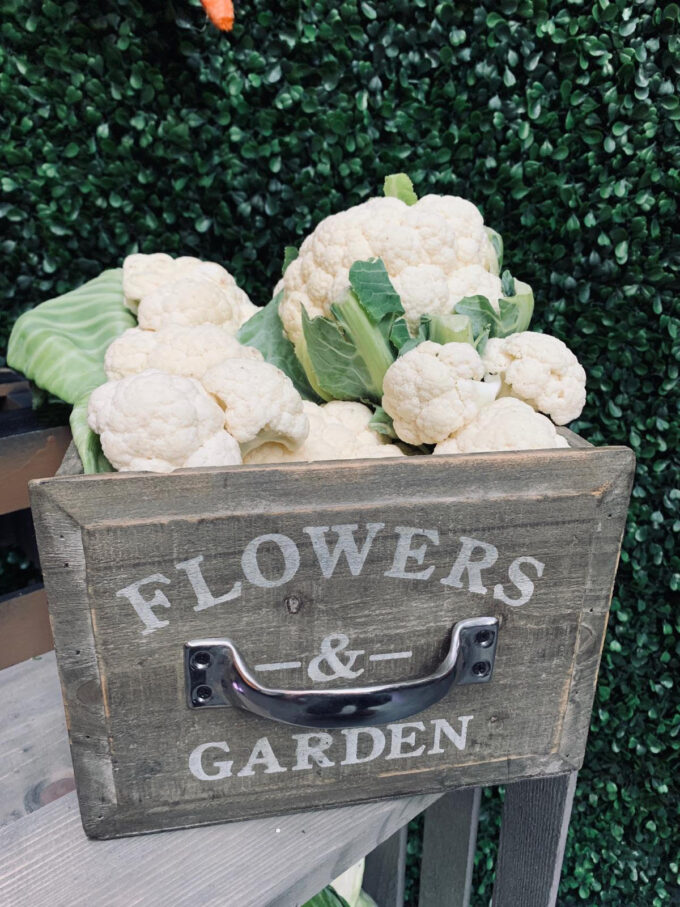 At the event, I had the great pleasure to try some dishes, prepared by James Beard Award- winning Chef JJ Johnson, that used a variety of organic, locally grown fruits and veggies carried by Walmart.
I like and respect that by supporting local farms and farmers, Walmart positively impacts the economy and brings its customers fresh and high-quality produce.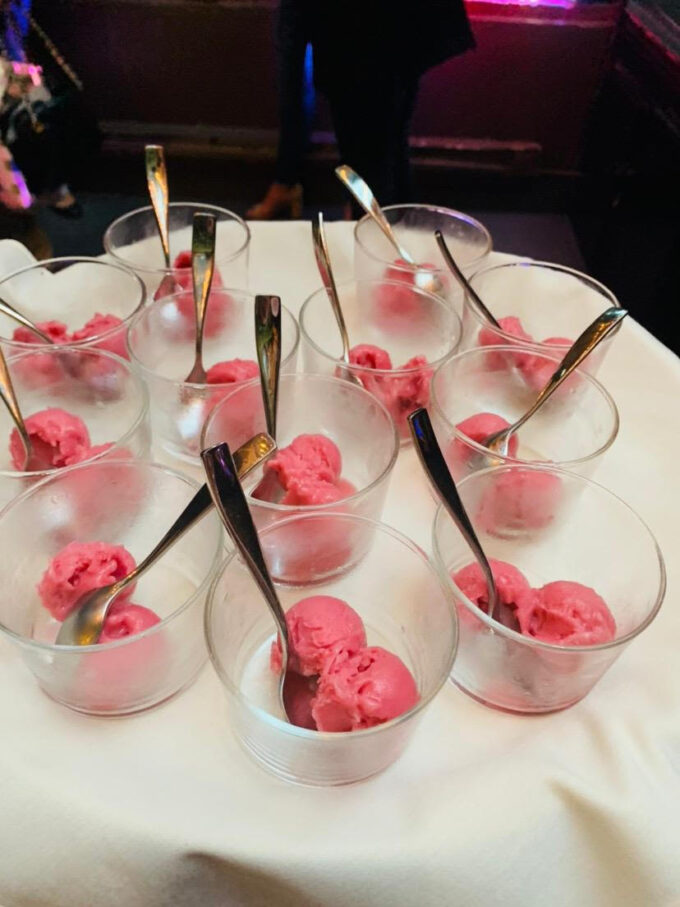 How to make Broccoli Cauliflower Salad:
Prepare the fruits and veggies: First, start by preparing the fresh ingredients. Wash them, chop them and add them to a large bowl.
Add the rest of the ingredients: Next, add the. nuts, dried fruits and also the cheese if using.
Make the dressing: Finally, prepare the homemade Lemon Honey Poppy Seed dressing, drizzle it all over the salad. Mix well, to coat the ingredients in the creamy dressing and either refrigerate or serve immediately.
Recipe Variations:
This salad is very versatile and can be made in so many other ways. Here are a few other possible mix-ins:
Bacon
Blue cheese
Pears
Cucumbers
Shaved Brussel sprouts
Pomegranate arils
Walnuts
Pecans
Grilled chicken
Cubed ham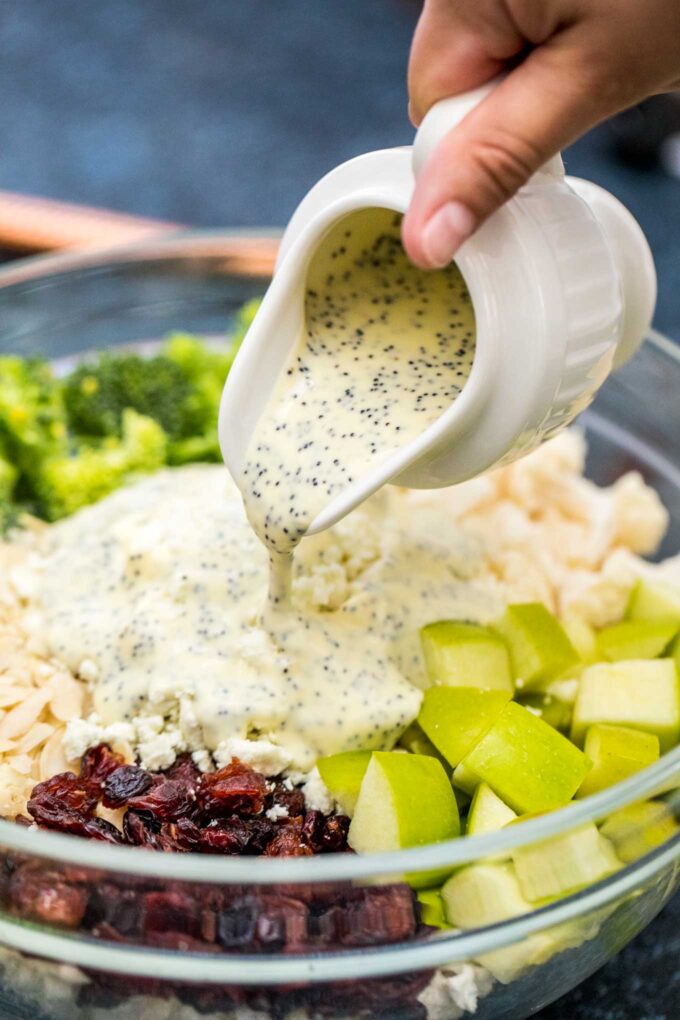 Make it in advance:
This salad can be made in advance. You can easily cut and chop all the ingredients, except the apple and add them to a large bowl. Cover tightly with plastic wrap and refrigerate.
Same applies to the dressing, you can mix all the ingredients in a small container and refrigerate until ready to use.
When ready to serve, just chop the apple and add it to the bowl with the rest of the ingredients. Pour the dressing on top, toss well to combine and serve.
How to store:
If making the salad in advance, add the chopped veggies, fruits (except apple), nuts and cheese to an airtight container or large bowl and cover with plastic wrap. Refrigerate for 1 day.
The dressing can be stored in the fridge in an airtight container for up to 5 days.
The tossed salad can be stored in the fridge in an airtight container for 1-2 days.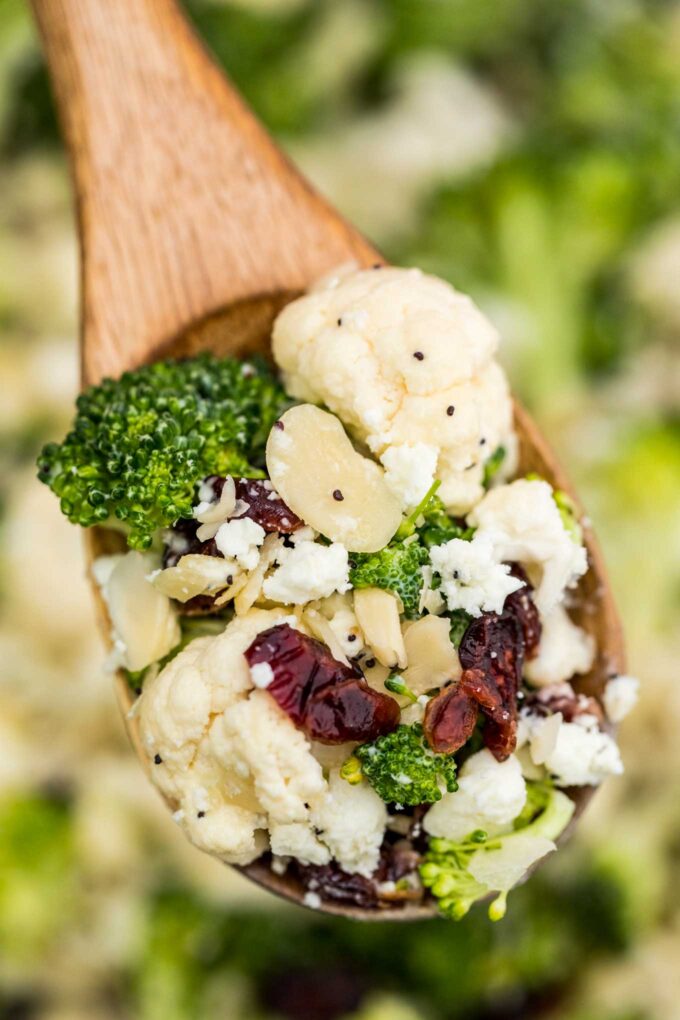 Recipe Tips:
Choose organic, in-season veggies and try to buy local produce.
Equally important, is to slice the broccoli and cauliflower into smaller, bite-size pieces, this way you can experience more flavors and texture into each bite.
The cranberries can be replaced with raisins.
Also, to reduce the dressing in calories, substitute half (or all) of the mayo with full-fat
Greek yogurt.
Add meat or beans to the salad for an extra protein boost.
Save Recipe
Broccoli Cauliflower Salad
Author: Catalina Castravet
Serves: 8 servings
Prep time:

20

minutes
Total time:

20

mins
Ingredients
Salad:
Dressing:
Nutrition information
Carbohydrates: 34 Protein: 9 Fat: 31 Saturated Fat: 7 Cholesterol: 28 Sodium: 435 Potassium: 580 Fiber: 6 Sugar: 23 Vitamin A: 583 Vitamin C: 106 Calcium: 189 Iron: 2 Calories: 425
Save Recipe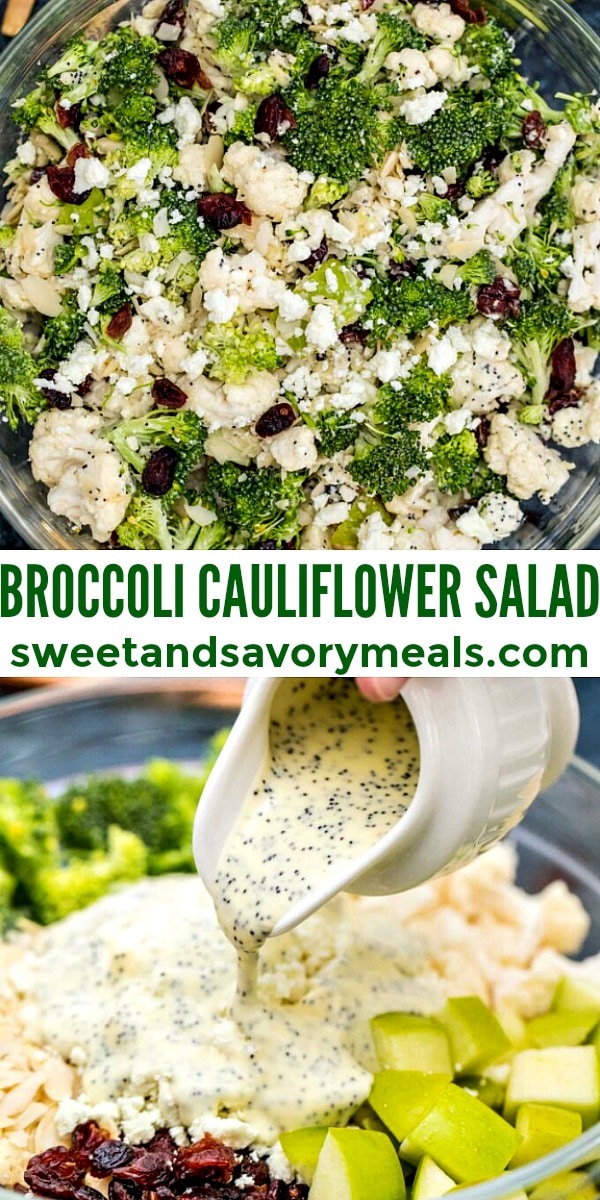 More recipes you might love