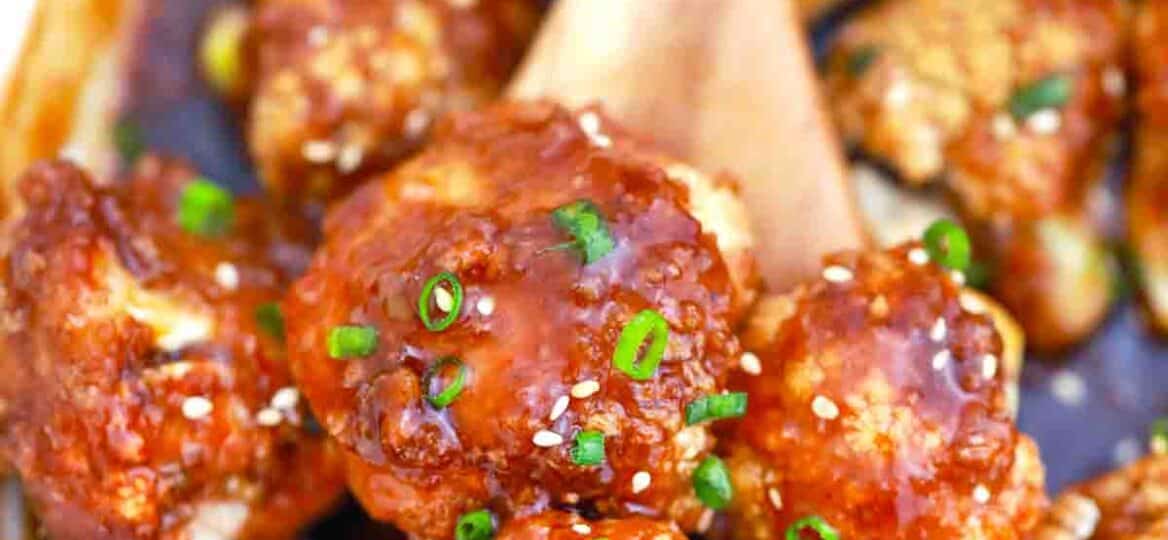 Sticky Sesame Cauliflower Recipe
Sticky Sesame Cauliflower is a delicious vegetarian dish made with crispy cauliflower coated in a sweet and slightly spicy Asian sauce. Turn a head of cauliflower into an amazing meal with spicy sesame sauce, honey, and panko breadcrumbs seasoned with garlic, onion, chili powder, hoisin sauce, and sweet chili sauce. The sticky sesame sauce is a family favorite and it is healthy too.
Looking for more delicious cauliflower recipes? Try our tangy and sweet Indian Coconut Butter Cauliflower recipe made with coconut milk, rice, and garam masala.
Many people think veggies are a side dish, but you can turn any vegetable into a delicious meal. Whether you want to make this delicious recipe for lunch, dinner, or a snack, you can turn it into a hearty meal with rice or pasta on the side. If you have kids that do not like to eat cauliflower, serve them this recipe and they will change their tune!
Whether you serve it with brown rice, jasmine rice, or plain old white rice, sticky sesame cauliflower is a great recipe for any meal. The crispy cauliflower and sweet and sour sauce make this a favorite with the whole family and it tastes better than the Chinese food from your local restaurant.
Are you ready for some delicious vegan recipes? Our vegan mashed potatoes are creamy, rich, and buttery made with vegan butter and mayo. And this creamy vegan pasta recipe with baby Bella mushrooms, onions, and snow peas are absolutely delicious. If you think that sounds delicious, you will love our vegan French toast for breakfast or a snack.
For meat lovers, this Crispy Honey Sesame Chicken is the best! It has crispy chicken chunks doused in sweet honey sauce. Mongolian Meatballs with ground beef, oyster sauce, and soy sauce is another stellar Asian dish to try.
Ingredients needed:
Here are the main ingredients for this great sticky sesame cauliflower recipe. For the step-by-step directions and precise measurements, scroll down to the bottom of the page to find our handy recipe card.
Whole head of cauliflower: Cut into cauliflower florets.
Egg whites
Panko bread crumbs: Or you can use regular flour like all-purpose flour.
Fresh paprika
Fresh ground cumin
Garlic powder
Onion powder
Chili powder
Salt and freshly ground black pepper: To taste.
Sesame oil or vegetable oil: You could also use sunflower oil, olive oil, or whatever oil you like.
Sticky sauce ingredients:
Honey: Any kind of honey will work here.
Low sodium soy sauce: You can use regular soy sauce but omit the salt.
Mirin: Rice vinegar will work too.
Sweet chili sauce: Or sriracha sauce.
Hoisin sauce: Also known as Chinese barbecue sauce.
Garlic cloves: Minced.
Water
Cornstarch
Toasted sesame seeds: For garnish.
Chopped green onions: For garnish.
How to make sticky sesame cauliflower from scratch?
Preheat: To begin, preheat the oven to 400 degrees F and lightly grease a baking sheet with non-stick cooking spray or olive oil.
Shake the cauliflower: While you wait for the oven to heat up, add your egg whites and cauliflower florets to a gallon-sized Ziploc bag and shake it until the cauliflower is coated.
Make the breading: Then, using a separate zipper bag, mix salt, pepper, chili powder, onion powder, garlic powder, cumin, paprika, and panko crumbs before adding the cauliflower. Close the bag and shake again.
Bake cauliflower: Next, move cauliflower to your prepared baking sheet and spread it out into a single layer. Bake for 15 to 18 minutes until they are lightly brown and tender.
Prepare the sauce: While your cauliflower florets cook, stir oil, garlic, chili sauce, mirin, soy sauce, hoisin sauce, and honey over medium heat until it simmers. Continue to simmer on medium heat for 10 minutes.
Make cornstarch slurry: Meanwhile, mix water and corn starch in a small bowl until the corn starch dissolves. Then, add it to the sticky sauce ingredients and stir before removing it from the heat.
Add the sauce: Lastly, pour sauce over your baked cauliflower or you can add the florets to the pan and mix.
Garnish and serve: Finally, garnish sticky sesame cauliflower with green onions and toasted sesame seeds and serve immediately.
How to make air fryer sticky sesame cauliflower:
Preheat: First, preheat your air fryer to 400 degrees F.
Shake: Put eggs in a baggie with the cauliflower and shake until it is all combined.
Make the panko mixture: In a separate baggie, combine the panko, spices, garlic and onion powder, chili powder, salt, and pepper. Shake to combine well before putting in the florets.

Place the florets: Carefully put each piece of battered cauliflower into the air fryer basket, shaking off the excess batter. Make sure there is space in between each piece. You may have to cook in batches. Cook for five minutes and then flip before cooking for another five minutes.
Make the sauce: Meanwhile, mix the sauce ingredients in a frying pan over medium heat until it simmers. Let it simmer for another 10 minutes.
Make slurry: While it simmers, mix the cornstarch and water in a small bowl before adding it to the sauce. Add the air-fried cauliflower to the pan and mix until completely coated.
Serve: Last, garnish with green onions and toasted sesame seeds and serve immediately.
Recipe variations:
No panko: Feel free to use all-purpose or wheat flour instead of panko breadcrumbs.
Gluten-free flour: For gluten-free cauliflower, try almond flour, arrowroot powder, rice flour, or buckwheat.
Other herbs and spices: You can also add your own favorite herbs and spices like fresh ginger (or powdered ginger), cumin, sage, chopped scallions, or turmeric.
Maple syrup: Add maple syrup and brown sugar to your sticky sauce to make it even sweeter.
Spicy sesame sauce recipe: Make a spicy sesame sauce by adding red pepper flakes or cayenne pepper.
Liquid aminos: Use liquid aminos instead of soy sauce for a soy sticky sesame cauliflower.
No sesame seeds: If you do not have or do not like sesame seeds, try sunflower kernels, hemp seeds, or flax seeds.
Different veggies: You could also make this recipe with broccoli, bok choy, or cabbage.
Vegan dish: Make this a vegan dish by using egg white substitutes.
How to serve:
Serve your sticky sesame cauliflower recipe tonight as the main entree cuisine or side dish to accompany basmati rice or noodles. No matter how you serve this lightly crisp vegetarian dish, it will be absolutely delicious. You can also treat your taste buds to one of these excellent ideas:
Turn leftovers into cauliflower rice for your sesame chicken dinner tomorrow.
This Asian delight goes great with spicy bourbon chicken or instant pot meatloaf and mashed potatoes.
Skip the rice altogether and serve as cauliflower wings for the next game night.
Use leftover florets to grilled shrimp skewers for a nice healthy addition.
Add firm tofu or seitan for a hearty meal.
Sprinkle with a bit of white wine, apple cider, or rice vinegar.
Frequently asked questions
How do you properly cut cauliflower?
After removing the leaves, cut the cauliflower in half and then in half again so you have four pieces. Then, cut out the core on each piece before pulling apart the florets. This is much easier than trying to remove the core first.
Should I wash my cauliflower?
Yes, it is a good idea to clean the cauliflower first to remove dirt or any bugs that may be hiding in there. It is best to clean the cauliflower florets after cutting the head into pieces so you can get into the nooks and crannies. Also, be sure to dry all the pieces well before coating them with panko and sauce.
Can I deep fry these cauliflower florets instead of baking them?
Yes, go ahead and make deep-fried this sticky sesame dish by frying battered cauliflower for four or five minutes before adding the sauce. You will have golden brown and crispy cauliflower to toss in your sticky sesame sauce half the time. However, remember that deep frying adds a lot of fat and calories.
What are the nutrition facts for this recipe?
Cauliflower is a very healthy vegetable with plenty of vitamins and minerals. Each serving only has 270 calories, 49 grams of carbs, 6 grams of fat, and 30 grams of sugar. You also get 9 grams of protein, 274 units of vitamin A, 70 milligrams of vitamin C, 4 grams of fiber, 2 milligrams of iron, and 72 milligrams of calcium.
How to store leftovers:
Store: If you have any leftovers, put them in an airtight container or zipper bag in the fridge for up to five days.
Freeze: To freeze, put your cauliflower in a freezer bag and eat within 90 days.
Thaw: Thaw out your sticky sesame cauliflower in the fridge overnight before reheating.
Reheat: Put leftovers in a microwave-safe dish and heat for one minute in your microwave. For extra crispy cauliflower, broil in the oven for five minutes.
More Asian recipes:
Cooking tips:
Skip the cauliflower cutting and use frozen cauliflower to make it easier and faster.
Shake the excess batter from the battered cauliflower before putting them on the tray.
To prevent sticking, use a piece of parchment paper on your pan.
Use veggie broth instead of sweet chili sauce in this great recipe for a milder flavor.
For more free amazing recipes, check out our website.
Sticky Sesame Cauliflower
Ingredients
1

head cauliflower

cut into small florets

2

whole egg whites

1/4

cup

panko bread crumbs

1/2

teaspoon

paprika

sweet or smoked

1/2

teaspoon

ground cumin

1

teaspoon

garlic powder

1/2

teaspoon

onion powder

1/4

teaspoon

chili powder

Salt and fresh ground pepper

to taste
Sauce:
2

teaspoons

sesame oil

1/3

cup

honey

or maple syrup

1/3

cup

low sodium soy sauce

or tamari sauce

1

tablespoon

mirim

1

teaspoon

sweet chili sauce

or sriracha

1

teaspoon

hoisin sauce

4

cloves

garlic

minced

1/3

cup

water

1

tablespoon

cornstarch
Garnish:
sesame seeds

chopped green onions
Instructions
Preheat the oven to 400 degrees F.

Lightly grease a baking sheet with cooking spray and set aside.

In a large Ziploc bag add egg whites and cauliflower florets. Close the bag, and shake it very well to make sure that the florets are totally coated.

In another Ziploc bag combine the panko crumbs, paprika, cumin, garlic powder, onion powder, chili powder, salt, and pepper. After that, add the cauliflower florets, close the bag, and shake them well to coat evenly in the bread crumb mixture.

Transfer the florets to the prepared baking sheet, and distribute them evenly in one layer.

Bake for 15 to 20 minutes, or until tender and lightly golden brown.
Sauce:
Place a nonstick skillet over medium heat, and add sesame oil, honey, soy sauce, mirim, hoisin sauce, chili sauce, and minced garlic. Stir and bring the sauce to a simmer.

Simmer on low for 10 minutes.

In a small mixing bowl combine cornstarch and water and stir until the cornstarch is fully dissolved.

Add the slurry to the sauce and stir to combine for 1-2 minutes; remove from heat.

Remove cauliflower florets from the oven and add them to the sauce or add them to a large bowl and add the sauce on top. Gently toss to combine, making sure the florets are evenly coated.

Garnish with toasted sesame seeds and green onions.

Serve as an appetizer or serve as dinner over rice.
Deliciousness to your inbox
Enjoy weekly hand picked recipes and recommendations