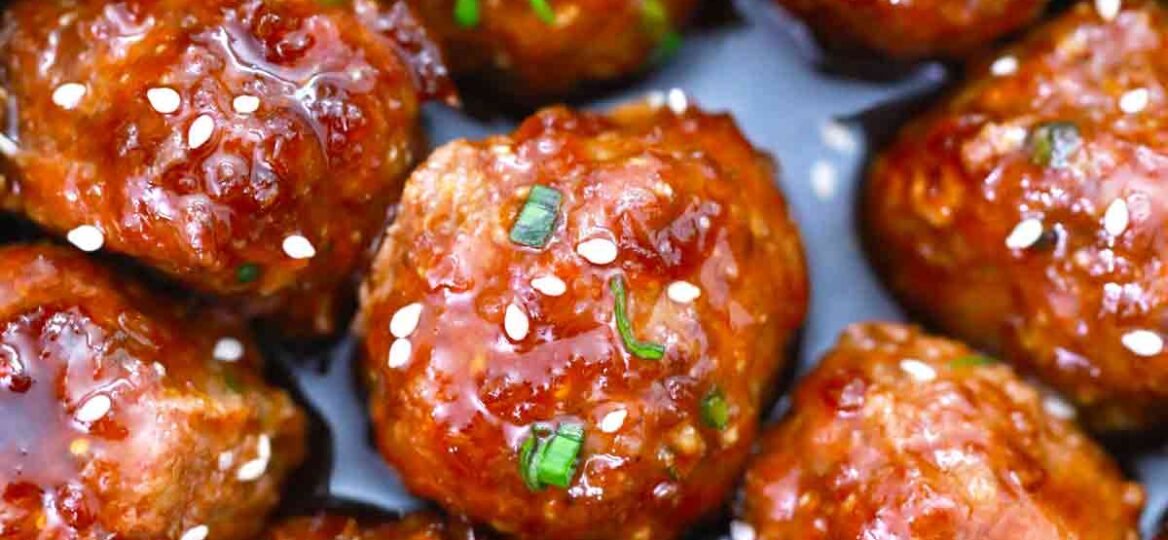 Mongolian Meatballs Recipe
Mongolian Meatballs are sticky and sweet with a little bit of spicy zing in every bite. These beef and pork meatballs are a great snack for when you are tailgating or watching the big game on television. You can also make them for dinner for the whole family to enjoy.
If you are looking for more Asian recipes, try our Instant Pot Orange Chicken made with white wine, orange juice, and soy sauce. Or try this delicious Instant Pot Italian Meatball Soup for a different way to enjoy meatballs. This Ultimate Instant Pot Beef Stew with pearl onions and brown sugar is a great way to enjoy a nice warm meal.
Asian meatball recipes are so fun and easy, you can make them any time of the year for a meal or a snack.
If you enjoy Asian-style meals, try our honey sesame chicken with soy sauce and sesame seeds or Korean fried chicken made with chili sauce and brown sugar.
Ingredients needed:
Scroll down to get the exact instructions and measurements from our recipe card. But here are the ingredients you need for this special dish:
Meatball ingredients:
Ground beef: Lean ground beef is best for this recipe.
Ground sausage: Ground pork or beef.
Panko: Or bread crumbs.
Soy Sauce: Low sodium soy sauce is best.

Large egg: At room temperature.
Worcestershire sauce
Mirim: Korean cooking wine.
Garlic cloves: Finely chopped.
Fresh ginger: Minced.
Green onions: Sliced thin.
Kosher salt: To taste.
Black pepper: To taste.
For the Mongolian glaze:
Sesame oil
Garlic cloves: Finely chopped.
Fresh ginger: Minced.
Soy sauce: Low sodium.

Brown sugar: Light or dark.

Hoisin sauce
Oyster sauce
Red chili powder: Or red pepper flakes.
2/3 cup water
To serve:
Sesame seeds
Green onion: Sliced thin.
How to make Mongolian meatballs recipe?
Preheat: First, preheat your oven to 400 degrees F.
Mix: Meanwhile, in a large bowl, combine all the meatball ingredients until it is completely mixed.

Scoop: Then, use a cookie scoop or tablespoon to spoon out 1-inch balls and place them onto a baking sheet covered in parchment paper.
Cook meatballs: Next bake for 10 to 12 minutes until they are golden brown.
Make the sauce: Meanwhile, preheat a non-stick skillet over medium-high heat. Whisk all the sauce ingredients and pour it into the pan. Bring it to a simmer and cook until the sauce is thick. This usually takes about eight minutes. Be sure to stir it occasionally to prevent burning.

Coat: After you make the spicy Mongolian sauce, add half of the cooked meatballs to the pan and coat them with sauce.

Transfer: Then, transfer the Asian meatballs to a serving dish with a slotted spoon while you finish cooking the others.
Serve: Finally, sprinkle with green onions and sesame seeds before serving with toothpicks.
Recipe variations:
White pepper: To get the flavor of pepper without the heat, use white pepper instead.
Slow cooker: This is the perfect appetizer for the slow cooker. Just make the meatballs, brown them in a skillet, and cook with the sauce in the crockpot for four hours on high.

Pressure cooker: You can also make this Asian recipe in the pressure cooker. Use the sauté setting to brown the meatballs before adding the sauce. Then, seal it and cook on high pressure for five minutes. Do a quick release and let it sit for about 10 minutes before opening.

Buffalo chicken: Use ground chicken and buffalo sauce to make buffalo chicken meatballs.

Angus beef meatballs: Alternatively, use Angus beef instead of ground beef and pork.
Sweeten it up: Make the sticky glaze even sweeter with a tablespoon of honey.
How to serve:
Whether you are serving this Mongolian beef meatball recipe for a main course, appetizer, or snack, don't forget the toothpicks. You could also try one of these awesome serving ideas:
These delicious meatballs are great for game days.
Serve these on top of our yummy homemade cauliflower rice for a healthy low carb dinner.
Try serving with PF Chang Home Menu Mongolian BBQ sauce on top for homemade restaurant food flavor.
This Mongolian meatballs recipe goes great with white or brown rice.
Add a loaf of beer bread or Irish soda bread to the table for dipping in the sauce.
You could also serve these on top of your favorite pasta.
Be sure to put out some bowls of your family's favorite sauces like oyster, barbecue, fish sauce, or this homemade tangy teriyaki sauce.
Frequently asked questions
What is the difference between Mongolian and Chinese Meatballs?
Also known as Lion's Head meatballs, Chinese meatballs are a lighter and fluffier style. They are made with pork instead of beef and have a bit of water mixed in to make them lighter.
In addition, there are a lot of water chestnuts, and the sauce ingredients are different.
What is in Hoisin sauce?
The main ingredient in this tasty sauce is fermented soybean paste. This may not sound very good, but it really is.
Other ingredients typically include red chili peppers, garlic, vinegar, sugar, and some have peanut butter and sesame seeds as well as five-spice.
What is the difference between green onions and scallions?
Actually, they are the same thing. It just depends on how your local grocery store or farmers market labels them.
However, spring onions are different. Although they look the same, they have a larger bulb at the bottom like miniature onions.
How to store leftovers:
Store: To store your cooked meatballs, put them in an airtight container or zipper bag and put them in your refrigerator for about three or four days.
Freeze: These homemade meatballs can also be frozen for up to 90 days in a freezer bag.

Thaw: Be sure to thaw these Mongolian beef meatballs overnight in the fridge before serving for best results.

Reheat: To reheat these glazed meatballs, put them in a small bowl in the microwave for one minute. Or you can cook in a large skillet on the stove over medium heat.
More Asian recipes:
Cooking tips:
It is important to use low sodium soy sauce because the hoisin and oyster sauces are both high in salt.

You can substitute the garlic cloves for garlic powder if that is all you have.
Save time and work by using frozen meatballs.

Spray your pan with olive oil spray to keep the parchment paper from moving around.
The sauce thickens as it cools so if it is too thick, add some water or beef broth.
Mongolian Meatballs Recipe
Ingredients
Meatballs:
2

pounds

ground beef

1/2

pound

ground sausage

3/4

cup

Panko

or plain breadcrumbs

2

eggs

2

tablespoons

low sodium soy sauce

1

tablespoon

Worcestershire sauce

1

tablespoon

mirim

4

cloves

garlic

minced

1

teaspoon

minced ginger

1

cup

chopped green onions

Kosher salt and pepper

to taste
Mongolian sauce:
2

teaspoons

sesame oil

4

cloves

garlic

minced

1/2

tablespoon

minced ginger

1/2

cup

low sodium soy sauce

1

cup

water

1/2

cup

brown sugar

2

tablespoons

hoisin sauce

2

tablespoon

oyster sauce

1/2

tablespoon

red chili powder
Garnish:
Sesame seeds

1

green onion

finely sliced
Instructions
Meatballs:
Preheat oven to 400 degrees F.

In a large bowl, mix together all of the meatball ingredients until well-combined.

Spoon the meat mixture with a one tablespoon cookie scoop, shape it into balls, and arrange onto 2 large baking sheets lined with parchment paper.

Bake for 10-12 minutes, or until golden brown and cooked through.
Sauce:
Place a non-stick skillet over medium-high heat. Add all the sauce ingredients to the pan and stir until well blended. Bring to a simmer and continue cooking until sauce thickens, stirring occasionally, for about 8-10 minutes.
Coat:
When meatballs have finished cooking, add half of them into the pan with the sauce and gently coat each meatball in the sauce.

Transfer the glazed meatballs to a serving dish and repeat with the remaining ones.

Sprinkle with sesame seeds and sliced green onions, and serve with toothpicks or mini forks.
Deliciousness to your inbox
Enjoy weekly hand picked recipes and recommendations