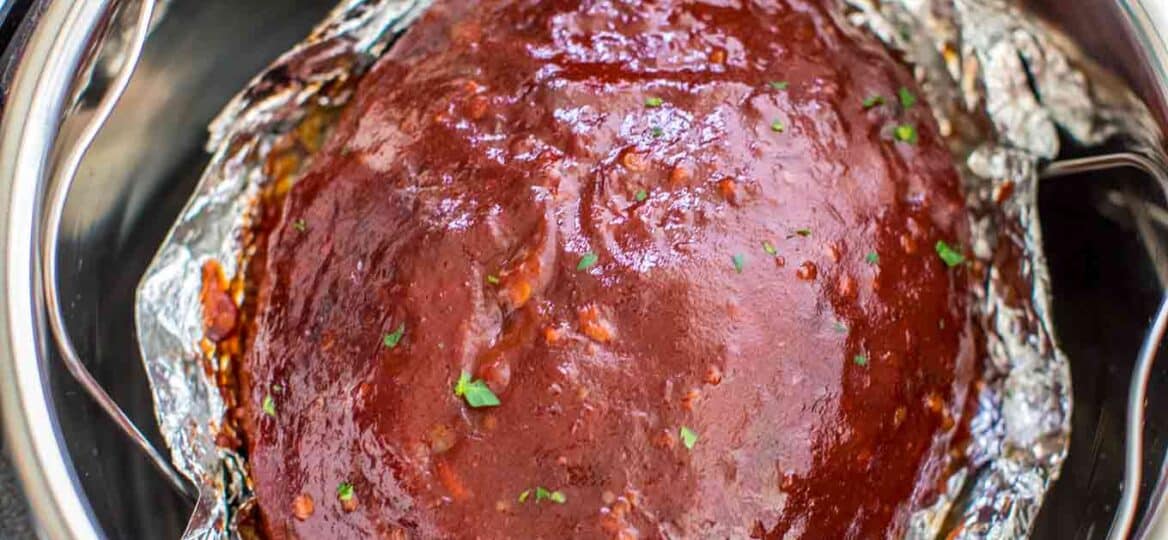 Instant Pot Meatloaf and Mashed Potatoes [video]
Instant Pot Meatloaf and Mashed Potatoes is an easy and delicious dinner that is ready in less than one hour. This is one of the best comfort foods cooked at the same time in the pressure cooker.
Using the pressure cooker to make this dish is truly rewarding. You end up with a hearty and full meal in no time. You can also try chicken and dumplings, Mongolian beef or beef and broccoli.
The Best Instant Pot Meatloaf Recipe
Instant Pot Meatloaf and Mashed Potatoes is our favorite recipe to make when we want a full and quick dinner. This meal is pretty easy to make, and the best part is that you cook the potatoes and the beef together in the pressure cooker. They end up cooked perfectly together and taste even better. The potatoes are creamy while the beef is juicy and tender.
You can even through in some Brussell sprouts, broccoli, or mushrooms to it. The loaf is then glazed with a delicious bbq sauce which makes it just perfect. It gives the right balance of sweet and savory to it.
The meal takes only 30 minutes to cook in the Instant Pot. Once done, you can broil it for a few minutes to get the sticky and thick caramelization on it.
How to make Instant Pot Meatloaf and Mashed Potatoes?
This is one of the easiest comfort food to make with the help of a pressure cooker.
Start by washing and cleaning the potatoes. Once cleaned, cut them into fairly large pieces to accommodate the cooking time for the meat.
Using an Instant Pot liner, place the potatoes on the bottom.
Then, pour in chicken or beef stock, and sprinkle the mixture with some salt, pepper, and garlic seasoning.
You can also use water if short on broth. However, using the stock as liquid will gives this meal much more flavor as compared to when cooking with water.
Next, shape the meat mixture into a loaf and place it on top of the liner in the IP.
Then wait for 30 minutes for the perfectly cooked meal.
We like to broil the meat for a few minutes once it is removed from the pressure cooker. This gives it a nice caramelization on top and the glaze is thick and sticky, just perfect to enjoy for dinner. To do so, simply place it in the oven, and broil for 3-5 minutes.
Also, there are a few ways to customize the meatloaf, which might add some extra flavor to it:
Add a 1/3 cup of shredded cheddar or parmesan cheese to the mix.
Chop up 1/2 cup of mushrooms and add to the meat mixture.
Similarly, you could substitute the ground beef with ground chicken or turkey.
Want to make it in the slow cooker? Check out the slow cooker recipe here.
How long should I cook meatloaf in the Instant Pot?
Cook it under HIGH pressure for 20 minutes, followed by 10 minutes natural pressure release prior to opening the lid. I then love to transfer it to the oven and cook the loaf for an additional 5-10 minutes and glaze it.
Also, you can glaze it, and then quickly broil it for 3 minutes to add that nice outside crust.
How to shape meatloaf?
It is very easy to shape it. Simply, put your meat mixture onto a tray and assemble it into a loaf shape yourself by hands. This will give it a homemade look to it and is how we usually do it.
Also, as stated above, you could use the mini loaf pans. In this case, just place the mixture into it, and you will end up with a uniform and nice-looking shaped loaf.
Should I cover the meatloaf with foil when placed in the Instant Pot?
We are usually cooking with aluminum foil the loaf because sometimes we go for a bigger sized loaf. However, there is an alternative way to this, which we have used many times, and it works just as fine.
You can use a mini loaf pan, that fits just right perfectly in the pot. Also, if you are using an 8 quart IP, you can even use two mini loaf pans and position them side by side when placed on the trivet. This way you could cook the meat and the potatoes in each pan if preferred.
What to serve with meatloaf?
This is the ultimate comfort food that goes pretty much with any side dishes. Here are some of our favorite ways to serve it:
During the holiday season, such as Thanksgiving or Christmas, serve it with scalloped sweet potatoes, sweet potato casserole, sweet potato salad, or cheesy loaded cauliflower bake.
More easy Instant Pot recipes:
How to store leftovers?
Refrigerate: If you have leftovers, simply transfer the meat to an airtight container and refrigerate for up to 4 days.
Freeze: Use an airtight container or a zippered bag. Then, freeze the meatloaf for up to 3 months.
To reheat: Thaw the meat and reheat it in the oven for about 10-15 minutes at 350 degrees F. Or, use the microwave to reheat it until warm.
Recipe Tips:
This recipe has only been tested in a 6qt Instant Pot. If your Instant Pot is a different size, cooking instructions may vary.
If skipping the potatoes make sure to place the loaf on a trivet and add the broth or some water to make pressure.
To prevent dry spots in the meatloaf, make sure all ingredients are mixed together well.
Once cooked, add the topping and broil the meat. This step is optional but it helps to caramelize the topping!
Before slicing, be sure to let it sit for at least 10 minutes to prevent the slices from crumbling or falling apart before serving.
Deliciousness to your inbox
Enjoy weekly hand picked recipes and recommendations