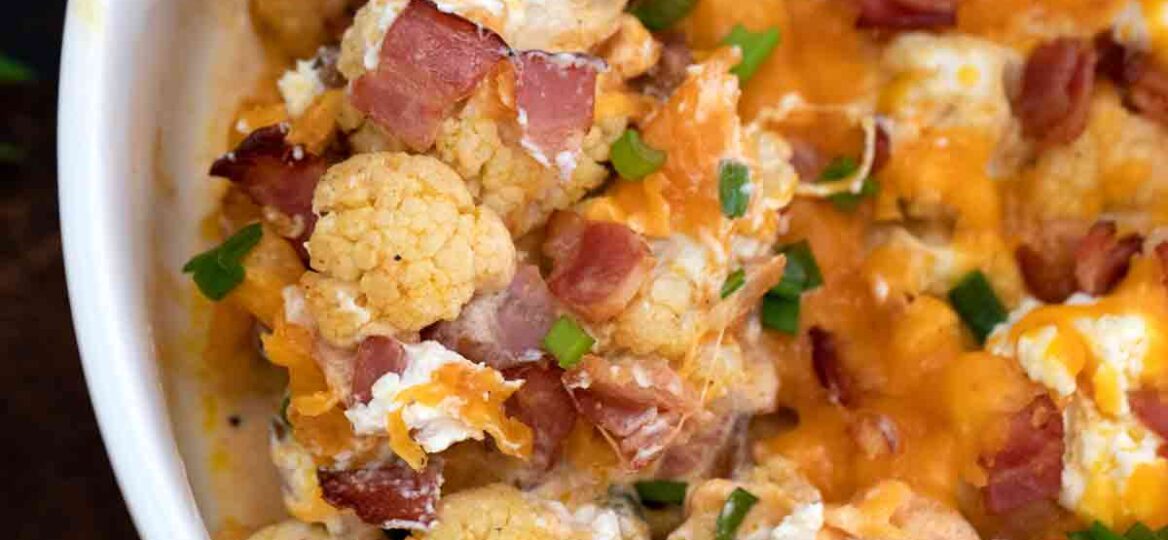 Cheesy Loaded Cauliflower Bake Recipe [Video]
This Cheesy Loaded Cauliflower Bake is the ultimate comfort food! Roasted cauliflower is topped with sour cream, cheese, bacon, green onions, and seasonings for a cheesy, creamy, and low-carb dish.
Looking for treats that are easy on the carbs? Try my Low Carb Keto Cheesecake or Chocolate Flourless Cake for a tasty spin on dessert! For breakfast, add these sugar-free, low-carb, and gluten-free Keto Pancakes to your rotation.
Cheesy Twice-Baked Loaded Cauliflower Bake
Cheesy Twice-Baked Loaded Cauliflower Bake is what I call the gateway drug to liking vegetables. All that cheese and bacon on top hide the fact that this dish is chock-full of veggies.
I particularly love serving it to kids – they gobble it up with no idea they're eating something health
Aside from being delicious, this dish is also ridiculously easy to make. This homemade recipe needs only 10 minutes of preparation time. Then, you simply assemble the casserole and bake it. This is the ultimate fall and winter meal. It is rich, flavorful, and super easy to make.
Also, it's a great way to feed a crowd because you can make a large batch at once. Get ready for this to become your most-requested dishes at home, during the holidays, and at potlucks!
Is Cauliflower Bake healthy?
Definitely much healthier than your classic mac and cheese, loaded baked potato, or loaded fries! This recipe may have cheese, cheese, bacon, and sour cream in it, but the cauliflower balances it out by packing veggies and fiber in what's usually a carb-loaded dish.
You can also make it healthier by paying attention to the ingredients you use. For instance, uncured bacon and grass-fed butter have more nutrients than the processed versions. In addition, use fat-free sour cream or add even more veggies to the casserole.
If you're watching your calories, make sure to be mindful of your portion as well. But all things considered, this dish is a healthier way to enjoy those cheesy flavors with much less guilt!
Do you really need to roast the cauliflower?
I highly recommend it. There are three reasons why I roast the cauliflower for this recipe. One, it adds so much flavor to the vegetable. Two, it prevents having excess liquid in the dish. Three, I bake the casserole in the same pan, so fewer dishes for me.
Some people steam or microwave the cauliflower. You can certainly do that, but I find that roasting it first gives it a better texture. Keep in mind the "loaded" part of the recipe – if your veggies become too soft, they can turn into mush under all those toppings.
How to make Loaded Cauliflower Bake?
Toss the florets with butter, salt, and black pepper. Roast at 450F for 15 to 20 minutes until crisp, golden, and tender.
Next, whisk the heavy cream and sour cream in a bowl until smooth.
Add half the cheddar cheese, half the bacon, half the green onions, and seasonings.
Mix in your roasted florets.
Then, transfer to a baking dish.
Top with pieces of cream cheese and the remaining bacon and cheddar cheese.
Bake until the cheese melts.
Lastly, garnish with green onions and serve immediately.
Loaded Cauliflower Casserole Variations:
This casserole is very versatile and can be adjusted in many ways. Here are some of my favorite ways of tweaking it:
Make it spicier: Add heat with red pepper flakes or chopped jalapeno peppers.
Swap the cheeses: Try other cheeses like parmesan or Monterey Jack.
Add other toppings: Top with bread crumbs or toasted almonds for a nice crunch.
Use other veggies: During the Thanksgiving or Christmas holidays, I love adding other veggies to it, like roasted broccoli, or sweet potatoes.
Add meats: Want more proteins? Then, add some meats to it, like leftover ham, or shredded chicken.
Try adding other seasonings: Try other herb and seasoning combinations. For deeper flavor, add some ranch seasoning, taco seasoning, or Italian seasoning.
What to serve with this cheesy cauliflower casserole?
When I'm feeling fancy or having guests over, I serve this with Garlic Jalapeno Stuffed Pork Loin or Crispy Baked Pork Chops, or Roasted Chicken Breasts.
During the holiday season, it's also a great side to my Slow Cooker Glazed Ham, Cranberry Orange Turkey Breasts, or Homemade Meatloaf.
It also tastes heavenly with some Oven Barbecue Ribs, Grilled Steak, or Grilled Chicken.
But for a truly effortless meal, you can just throw in some cooked chicken breasts with the ingredients and bake it all together.
Can you prepare Loaded Cauliflower Bake Casserole in advance?
Sure! You can prepare it and keep it overnight, then heat up until hot and bubbly before serving the next day.
Storing instructions:
To refrigerate: First, cool it completely. Then, cover tightly with plastic wrap then foil, or transfer to an airtight storage container. Place in the fridge for up to 3 days.
To freeze: Use a freezer-proof container, and freeze it for up to 3 months.
More delicious Casseroles:
Recipe Tips:
Go light on the salt. The bacon, cheese, and seasoned florets already add enough saltiness to the dish.
Don't overcrowd your roasting pan to prevent steam and to ensure the vegetable crisp up.
Slice the florets flat for better caramelization.
You can also use frozen cauliflower to make this dish. Just drain it well and proceed with the recipe steps as using fresh cauliflower.