Tuna Noodle Casserole Recipe [Video]
Tuna Noodle Casserole is made with creamy noodles, tuna and topped with crispy breadcrumbs and cheese. This is a super one-dish meal that is ready in no time!
If you like this dish, you can also try our other recipes like Spaghetti Salad, Chicken Enchilada Pasta, and White Pizza Casserole. They are all delicious and easy to make.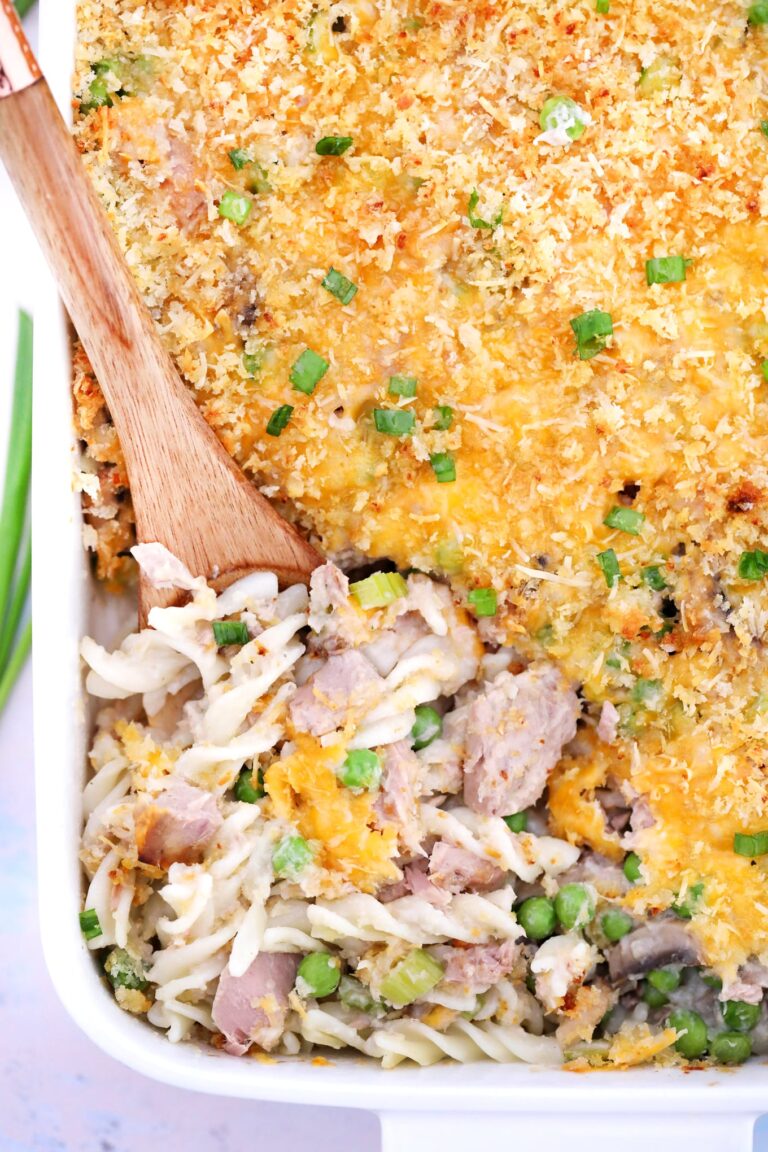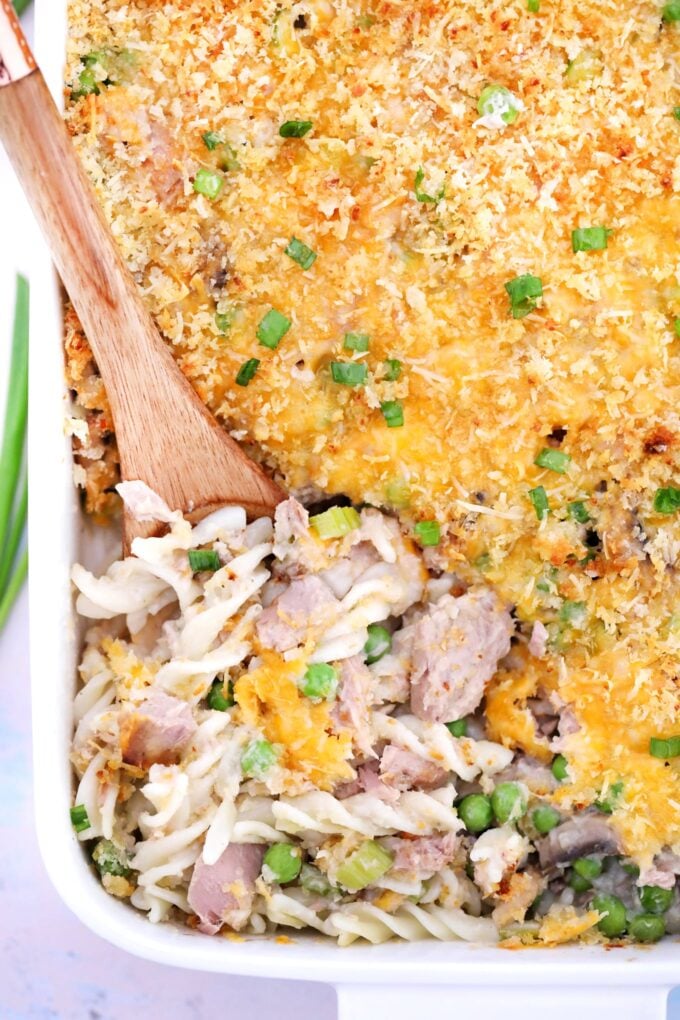 Creamy Tuna Noodle Casserole
Tuna Noodle Casserole is always a hit with my family. They come back for seconds whenever I serve this dish! This is not a surprise as many people love casseroles. It is a hearty and filling comfort food that goes well with just about everything.
On top of that, this dish is made with tuna. Who doesn't like this seafood? It is flavorful and is a welcome change to the usual chicken and pork. It is also extremely nutritious as it has high levels of protein but packed with few calories and fat.
Another key ingredient to this dish is the egg noodle. Cook it too mushy and the overall dish will be sloppy. But, don't worry, just follow this easy recipe and everything will be fine!
What is tuna casserole?
It is a great one-dish meal made of tuna and egg noodles in a creamy sauce baked to perfection. It is then topped with a cheesy and crispy layer of breadcrumbs. This is a type of dish that can be easily put together, and ready in less than 30 minutes.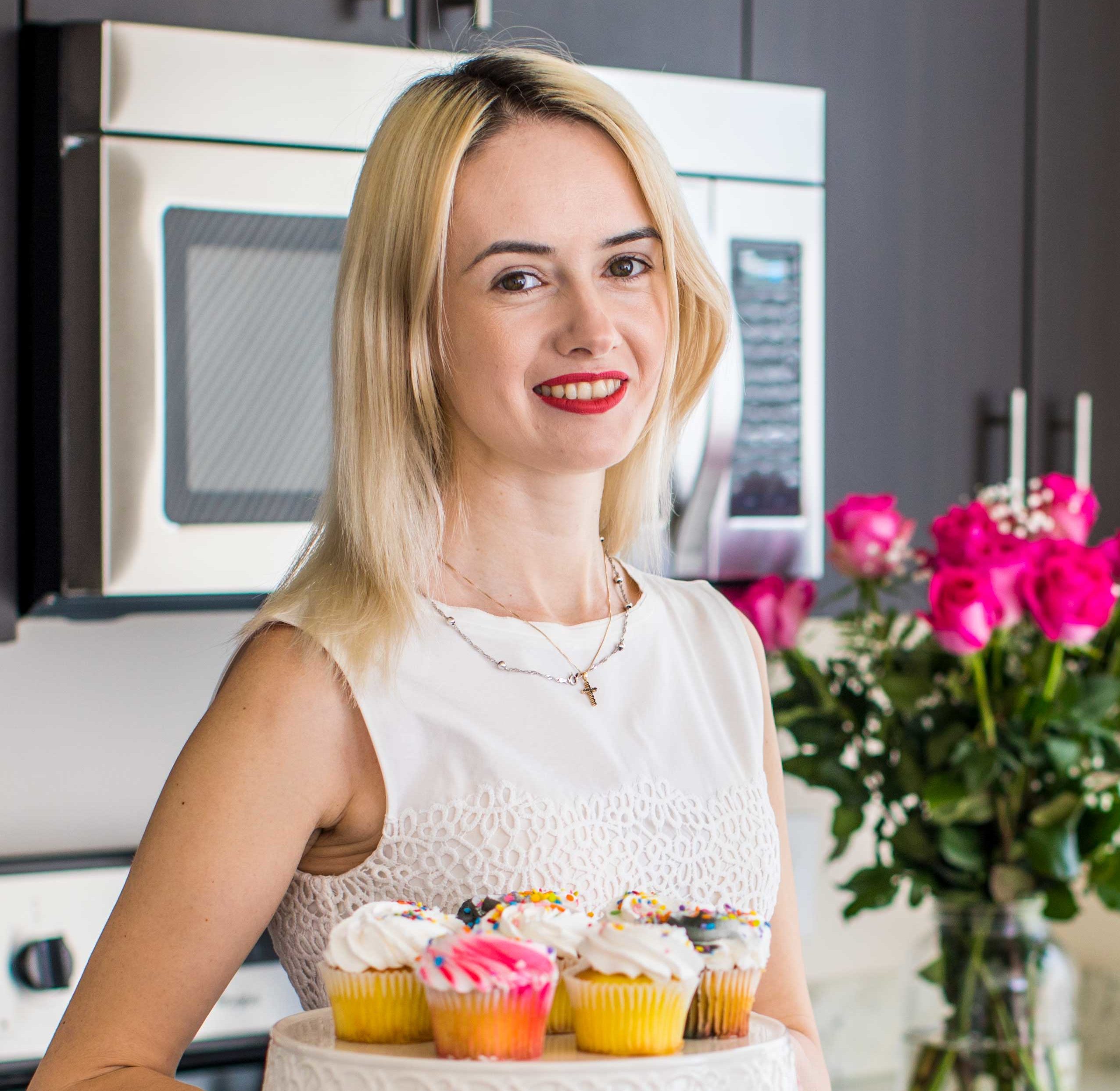 Follow us on Pinterest for more delicious recipes!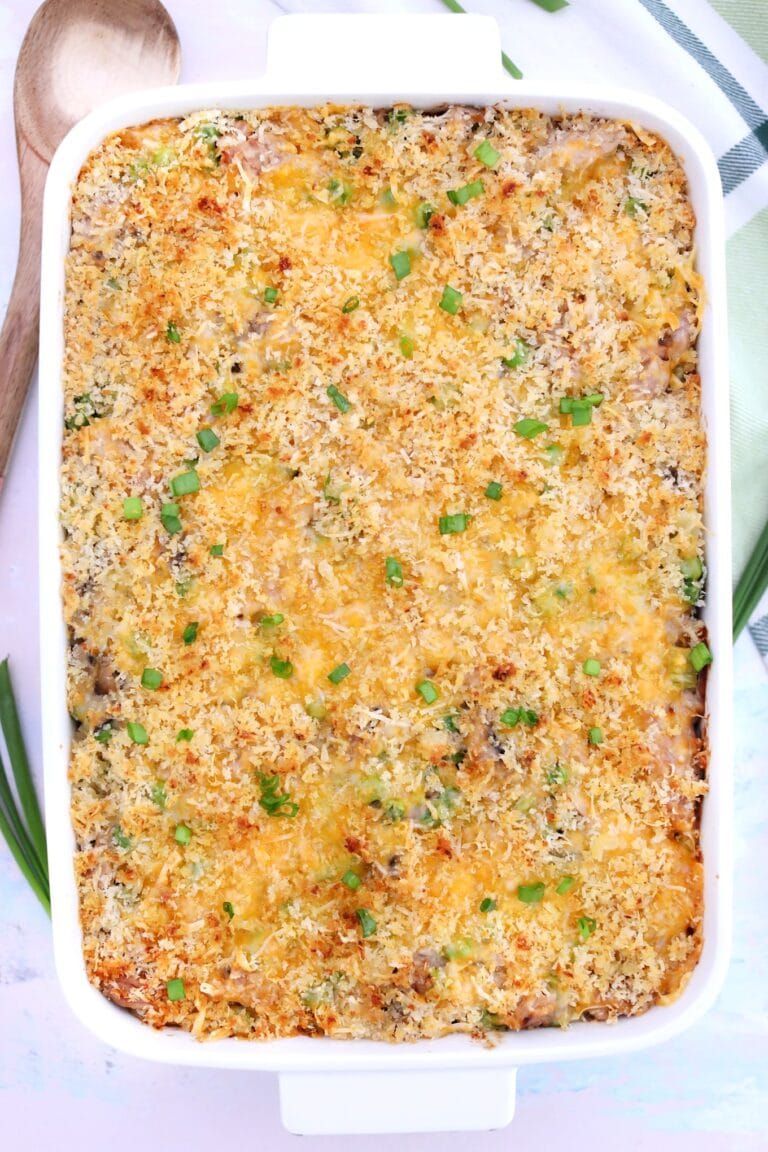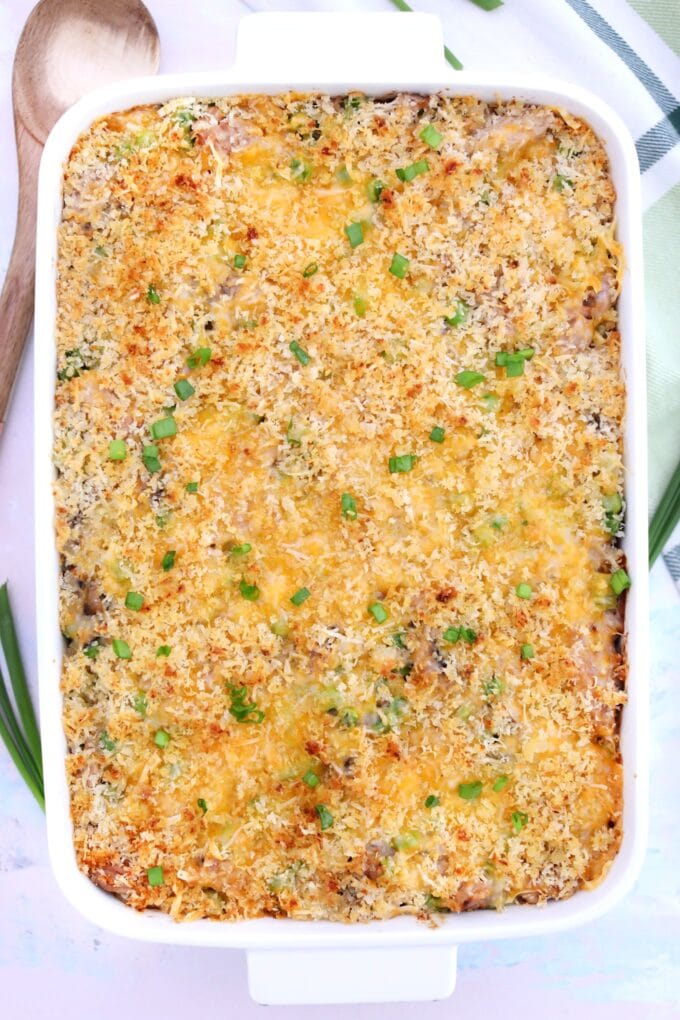 What noodles do you use in tuna casserole?
Egg noodles are best for this kind of dish. It has a richer flavor than the usual pasta since it has at least double the number of eggs in them. Therefore, whenever possible try going with this type.
What type of tuna to use in tuna casserole?
Solid white albacore is the kind that we use since it tastes less fishy and has high amounts of omega-3 fatty acids.
How to make tuna noodle casserole?
Prepare the noodles – Cook the noodles as instructed in its packaging. Drain and put in the greased baking pan.
Cook the sauce – Over medium heat, melt some butter and sauté the onion, garlic, mushroom, and celery in this order. Add flour and while stirring. Next, add in the chicken broth then, the milk. Let it simmer until thick then, add the sour cream.
Add the tuna – Add in some frozen peas and the drained tuna.
Prepare the toppings – In a bowl, mix together the breadcrumbs, melted unsalted butter, and parmesan cheese.
Assemble – Pour the sauce over the cooked noodles in the pan. Then, sprinkle cheddar cheese all over then, add the toppings.
Bake – Pop it in the preheated oven, uncovered, for about 20 minutes or until the top is browned evenly.
Serve – Serve it while still hot.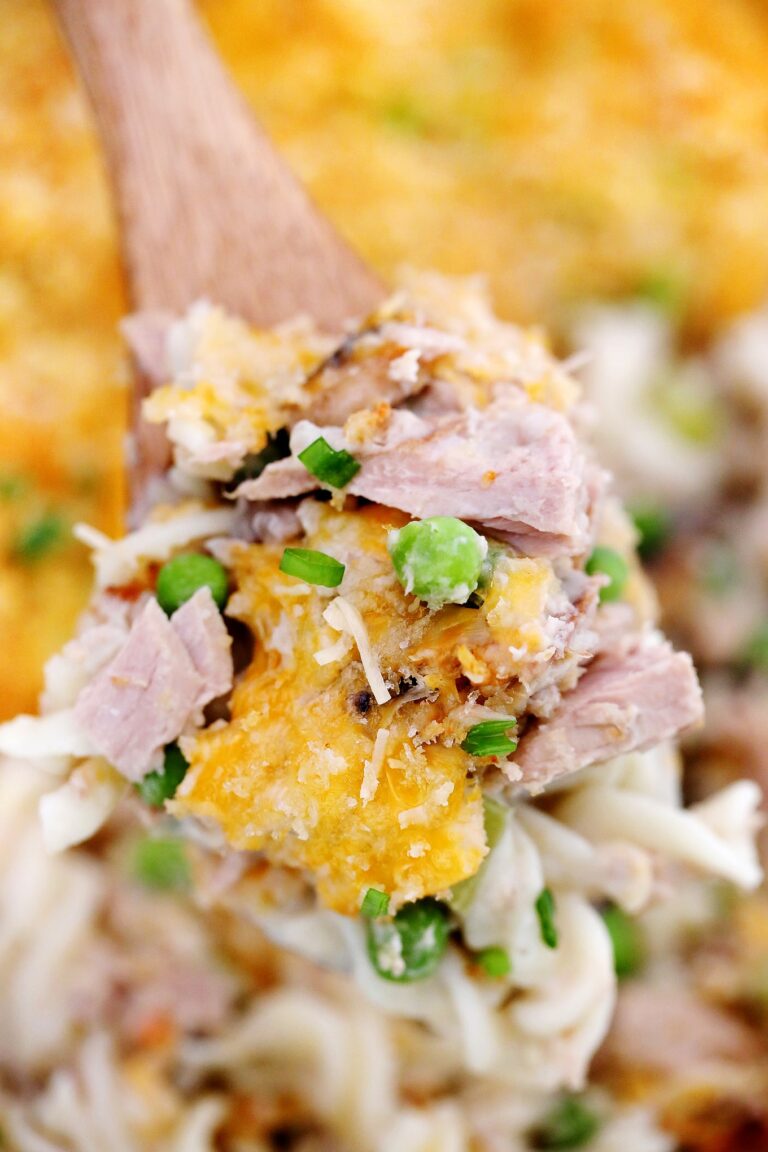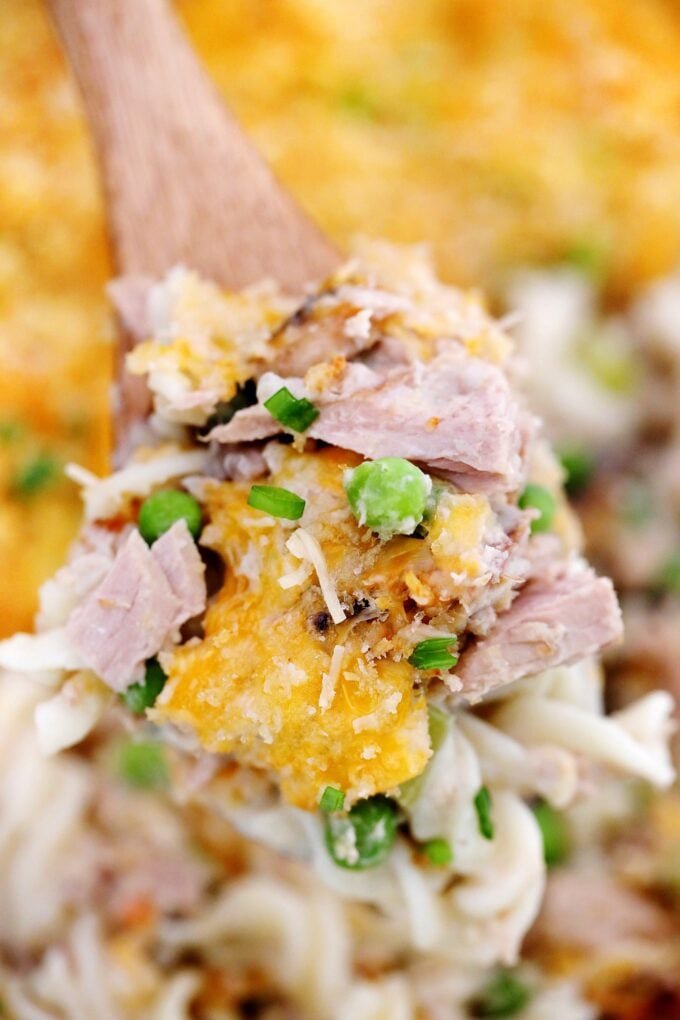 How to make tuna noodle casserole with cream of mushroom soup?
Follow the same recipe but instead of making the sauce from scratch, add in cream of mushroom soup. In fact, many of the recipes that you will find will be instructing you to use canned cream of mushroom soup.
Also, if you want to make it from scratch it is definitely worth it as it is healthier and also cheaper. You can find the homemade recipes here.
How many calories in tuna noodle casserole?
The number of calories in this dish ranges from about 300 to 400. This highly depends on whether you will make the sauce from scratch or you will use the store-bought cream of mushroom soup. Homemade has fewer calories!
Can you make it in advance?
Yes! You can make a double batch and simply refrigerate the rest for about 3 to 4 days. Simply bake it again when reheating.
Also, you could assemble the casserole, then, refrigerate it. When you finally decide to serve it, simply add the toppings and bake.
It is important to let this dish cool completely and transfer it to an airtight container before putting it in the fridge.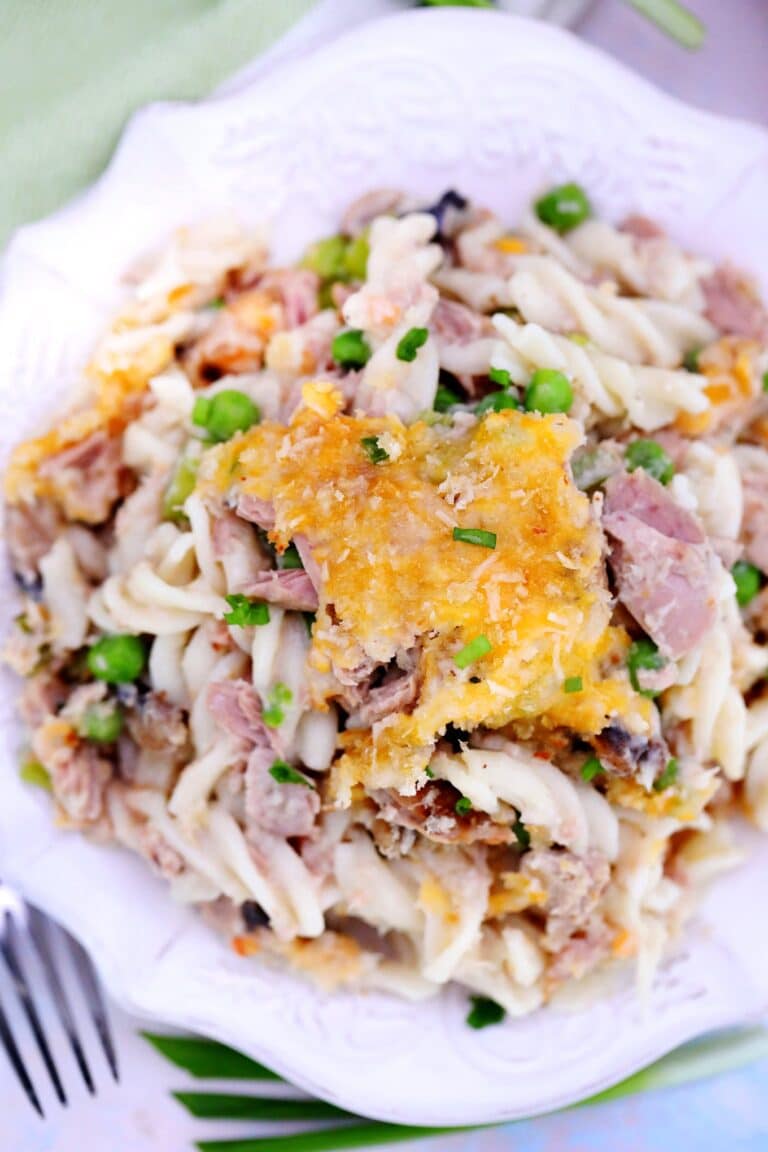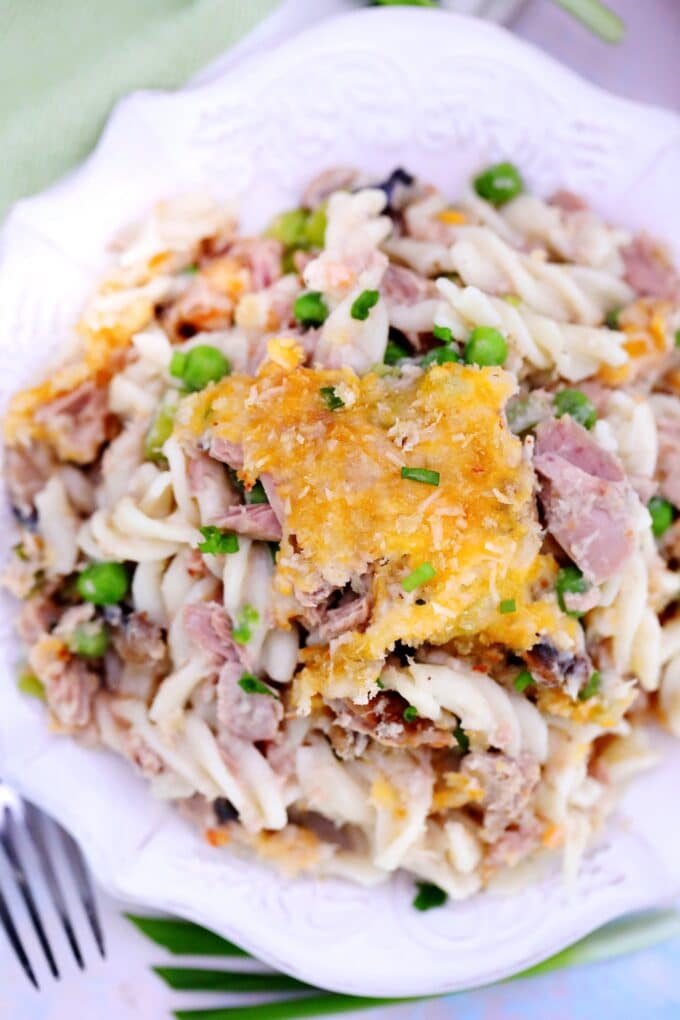 How to freeze it?
You can simply cover the baking pan and put it in the freezer for some time. When it has turned solid, transfer it to freezer bags. Also, when reheating, simply let it thaw in the refrigerator and then, bake it at the same temperature it was initially cooked at.
More homemade casserole recipes:
Recipe Tips
If you will use the canned cream of mushroom soup, lower the calories by using the reduced-fat version.
You can replace the tuna with some leftover cooked chicken breasts or even turkey breast.
For the toppings, you can substitute potato chips, cornflakes, or crushed crackers.
Also, feel free to use other types of pasta if egg noodles are not available.
Save Recipe
Cheesy Tuna Noodle Casserole
Tuna Noodle Casserole is made with creamy noodles, tuna and topped with crispy breadcrumbs and cheese. This is a super one-dish meal that is ready in no time!
Author: Catalina Castravet
Serves: 8 servings
Prep time:

20

minutes
Cook time:

30

minutes
Total time:

50

mins
Nutrition information
Calories: 598 Carbohydrates: 47 Protein: 33 Fat: 30 Saturated Fat: 13 Cholesterol: 107 Sodium: 850 Potassium: 598 Fiber: 3 Sugar: 5 Vitamin A: 1065 Vitamin C: 16.7 Calcium: 348 Iron: 2.5
Save Recipe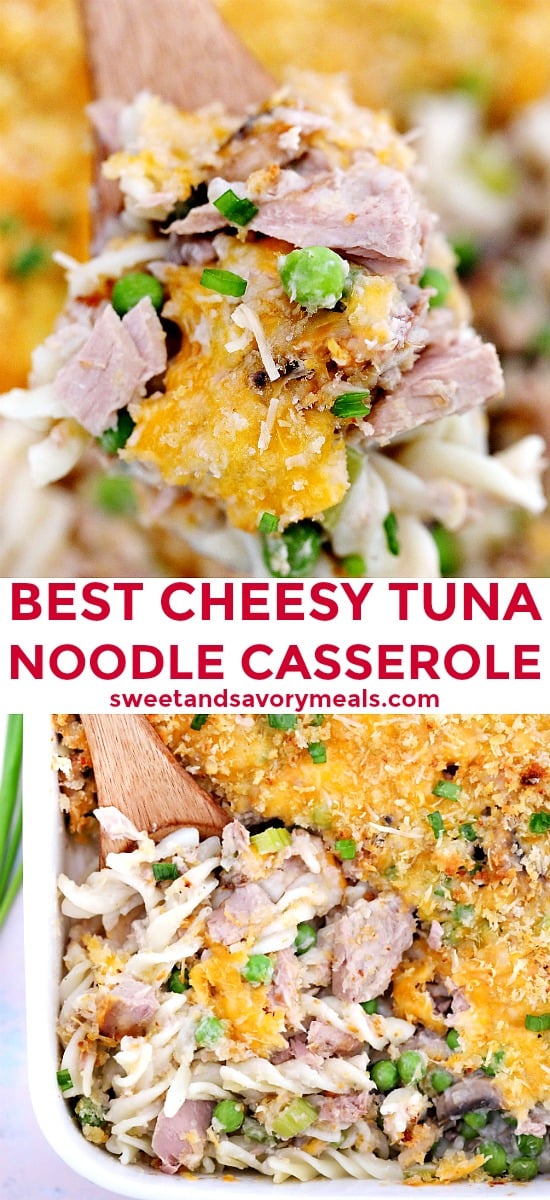 More recipes you might love
Categories: