Tuna Noodle Casserole Recipe [Video]
Tuna Noodle Casserole is made with creamy noodles, tuna and topped with crispy breadcrumbs and cheese. This is a classic one-dish meal that is ready in no time!
We are not short of homemade casserole recipes on our site. This one is true classic comfort food right up there with classic meatloaf, scalloped potatoes, and green bean casserole.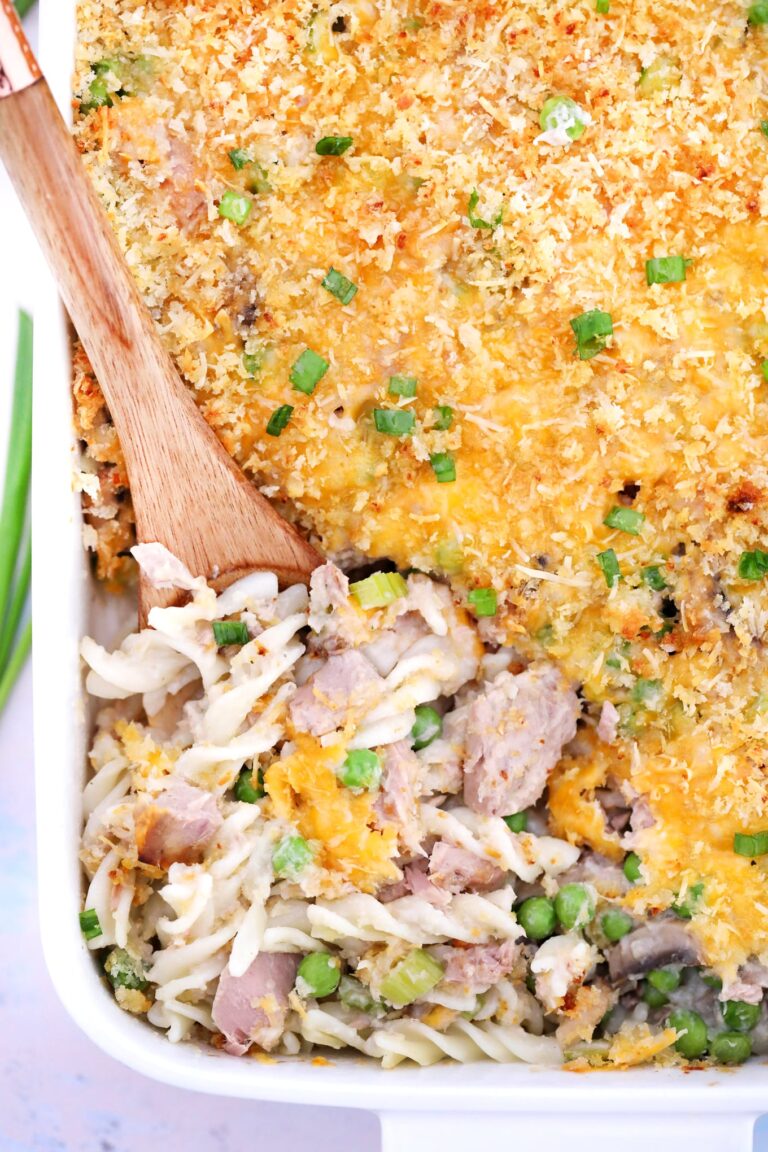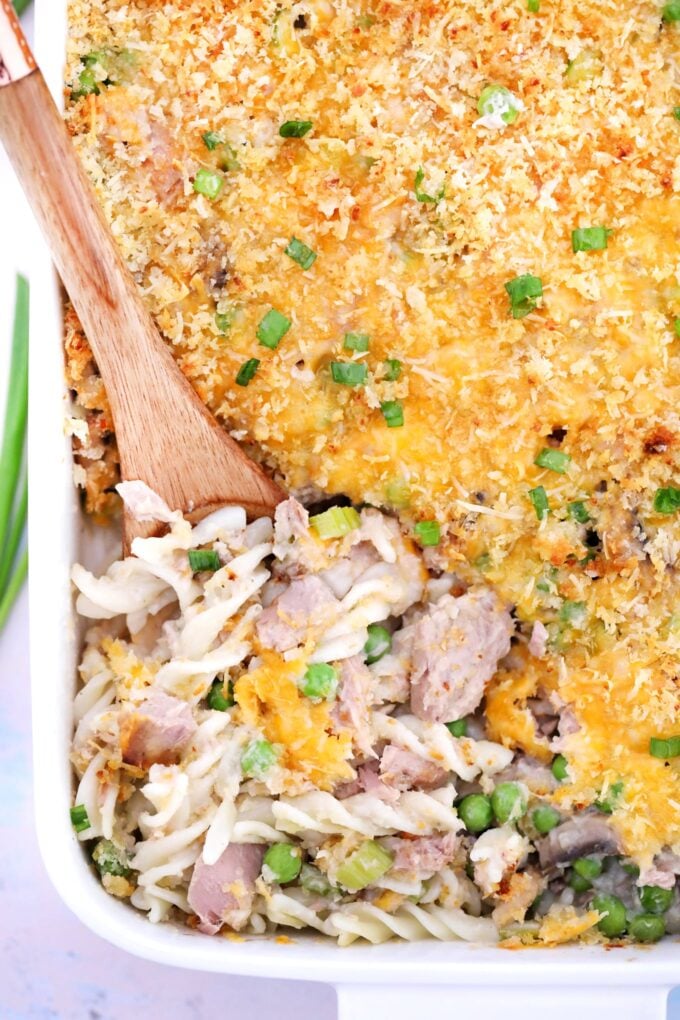 This Homemade Classic Tuna Noodle Casserole recipe is such an easy and budget-friendly dish to feed a large family. It is actually one of our favorite recipes when it comes to feeding the whole family for under $10. 🙂
This dish is rich, creamy, and loaded with proteins, and making it could not be any easier. You simply dump the ingredients into a casserole dish, and bake! The cheeses melt everything together, while the bread crumbs give it a nice crispy topping. It is a classic recipe for a reason!
When I make it for my family, this dish is usually gone in seconds! This is not a surprise as many people love casseroles. It is a hearty and filling comfort food that goes well with just about everything.
On top of that, this dish is made with tuna. Who doesn't like this seafood? Also, it is flavorful and is a welcome change to the usual chicken and pork. This meal is also extremely nutritious as it has high levels of protein but is packed with few calories and fat.
Another key ingredient to this dish is the egg noodle. Cook it too mushy and the overall dish will be sloppy. But, don't worry, just follow this easy recipe and everything will be fine!
Ingredients you will need:
Egg noodles: Go with your favorite type. I tend to go with wide egg noodles or medium egg noodles.
Tuna: Canned albacore tuna works very well here.
Vegetables: Onion, garlic cloves, celery, mushroom, frozen green peas.
Butter: Use unsalted butter, so you can control the salt level and adjust accordingly.
Whole Wheat Flour: This is used to thicken the sauce.
Chicken Stock: I love making it with homemade chicken stock because the flavors are just amazing. Also, I know exactly what goes into it and. However, you can also use a store-bought version.
Whole milk
Sour cream
Cheese: Shredded cheddar cheese and parmesan cheese
Panko bread crumbs: For a crispy and crunchy topping.
Olive oil: To grease the pan
How to make tuna noodle casserole?
Prepare the noodles – Cook pasta as instructed on their packaging. Ensure to cook them al dente, because they will be cooking more in the oven. Then, drain and put in the greased casserole dish or baking dish.
Cook the sauce – Over medium heat, melt some butter and sauté the onion, garlic, mushroom, and celery in this order. Add flour and continue stirring. Next, add in the chicken broth then, the milk. Let it simmer until thick then, add the sour cream.
Add the tuna – Add in some frozen green peas and the drained tuna.
Prepare the toppings – In a large bowl combine together the breadcrumbs, melted butter, and parmesan cheese.
Assemble – Pour the sauce over the cooked noodles in the pan. Then, sprinkle cheddar cheese all over then, add the toppings.
Bake – Pop it in the preheated oven, uncovered, for about 20 minutes or until the top is golden brown.
Serve – Serve it while still hot.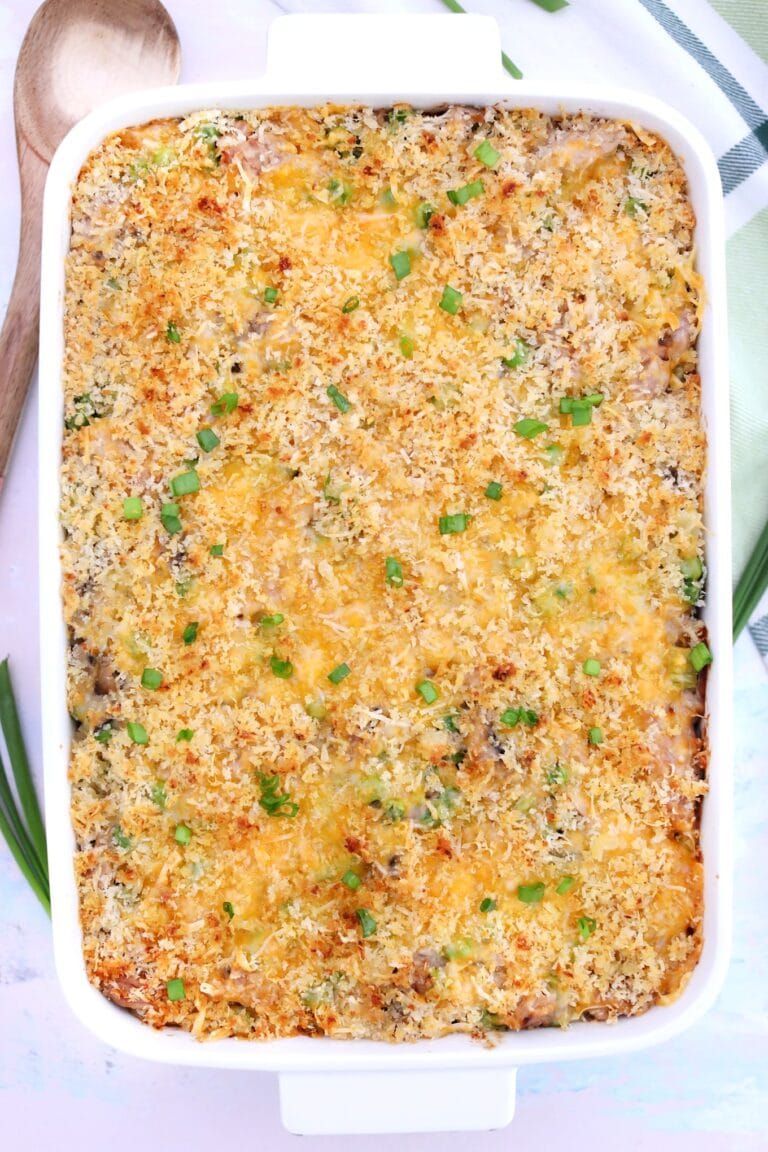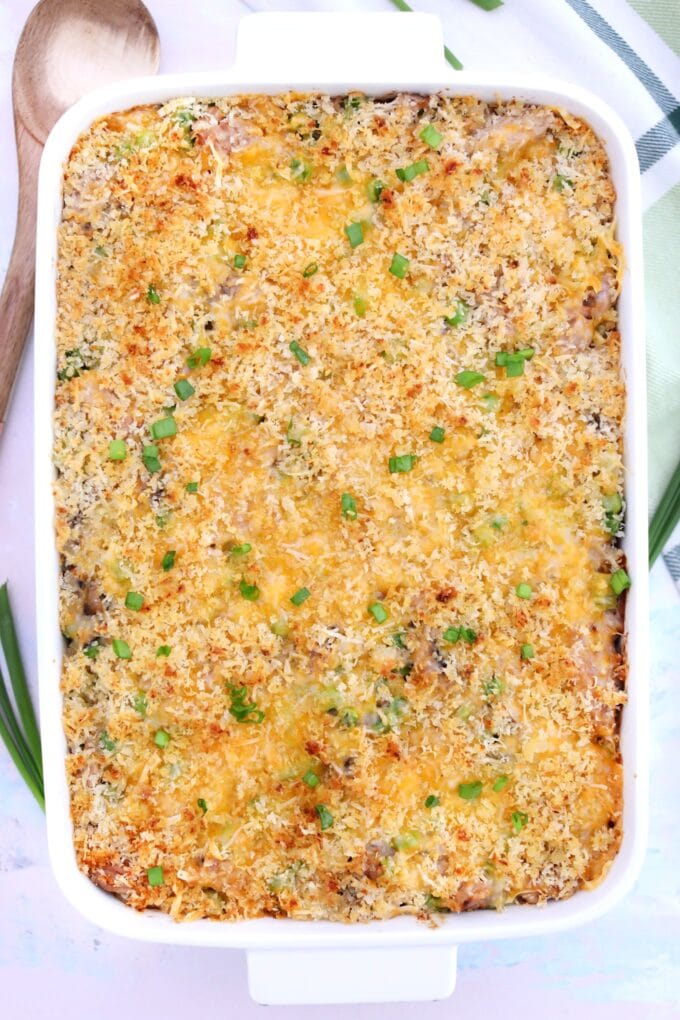 Recipe Variations:
Meta: Feel free to make this classic dish with other meats. For example, swap the tuna with the chicken, and make this Chicken Spaghetti Casserole.
Pasta: While egg noodles are great here. However, go with other pasta types or use your favorite kind. Great alternatives would be elbow macaroni, bowties, whole wheat, extra wide egg noodles, etc.
Seasonings: Feel free to mix in other seasonings such as onion powder, garlic powder, chili powder, homemade ranch seasoning, etc.
Vegetables: Add in or omit any vegetables that you love. Celery, carrots, broccoli, are all great additions here.
Cheese: Try different cheeses such as Monterey Jack, Gouda cheese, etc.
What is tuna casserole?
This is a great one-dish meal made of tuna and egg noodles in a creamy sauce baked to perfection. The dish is then topped with a cheesy and crispy layer of breadcrumbs. This is a type of dish that can be easily put together, and ready in less than 30 minutes.
What noodles do you use?
Egg noodles are best for this kind of dish. It has a richer flavor than the usual pasta since it has at least double the number of eggs in them. Therefore, whenever possible try going with this type.
What type of tuna is best to use?
Always try to buy good quality tuna. For this recipe, I use solid white albacore tuna is the kind that we use since it tastes less fishy and has high amounts of omega-3 fatty acids. As an alternative, you can use chunk light tuna.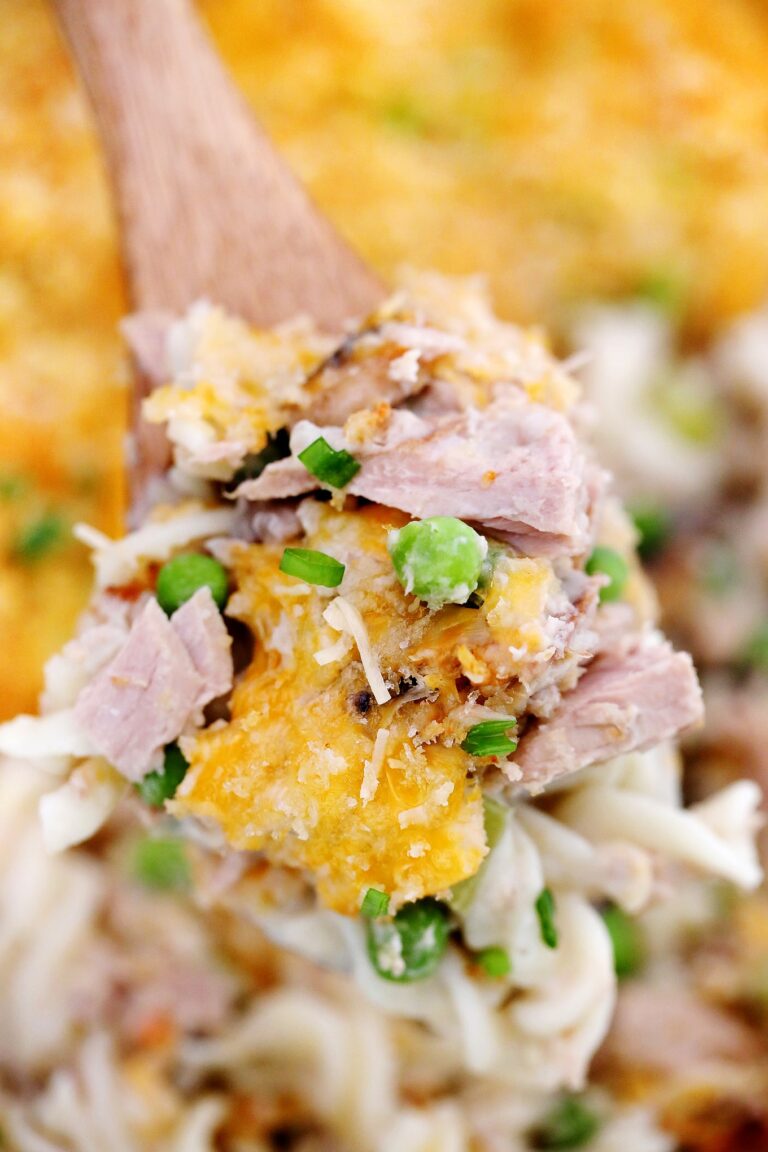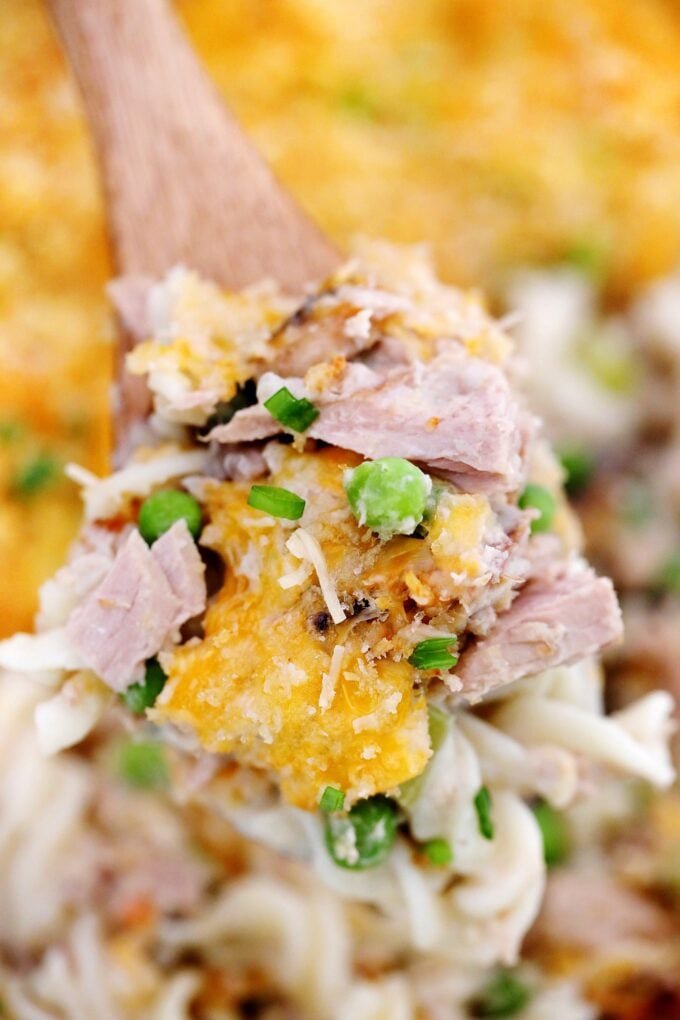 How to make it with cream of mushroom soup?
Follow the same recipe but instead of making the sauce from scratch, add in cream of mushroom soup. In fact, many of the recipes that you will find will be instructing you to use canned cream of mushroom soup.
Also, if you want to make it from scratch it is definitely worth it as it is healthier and also cheaper. Try my homemade cream of mushroom soup recipe here.
How do you thicken tuna casserole?
I use flour for exactly this purpose. It thickens the cream nicely. If for some reason the consistency is not up to your liking, then add a little bit more flour to the mixture.
Alternatively, keep it in the oven for longer. This will thicken it right up as well.
In addition, you can use about 1/4 cup of extra cheese. This will also do the trick.
How do you fix a dry casserole?
The best way of fixing dry casserole would be adding some moisture. Simply, add about 1/3 cup of chicken broth to it along with extra shredded cheese. Then, cover with aluminum foil and let it stand for about 10 minutes to absorb the moisture.
How many calories are in tuna noodle casserole?
The number of calories in this dish ranges from about 300 to 400. This highly depends on whether you will make the sauce from scratch or you will use the store-bought cream of mushroom soup. Homemade has fewer calories!
Can you make it in advance?
Yes! You can make a double batch and simply refrigerate the rest for about 3 to 4 days. Simply bake it again when reheating.
Also, you could assemble the casserole, then, refrigerate it. When you finally decide to serve it, simply add the toppings and bake.
It is important to let this dish cool completely and transfer it to an airtight container before putting it in the fridge.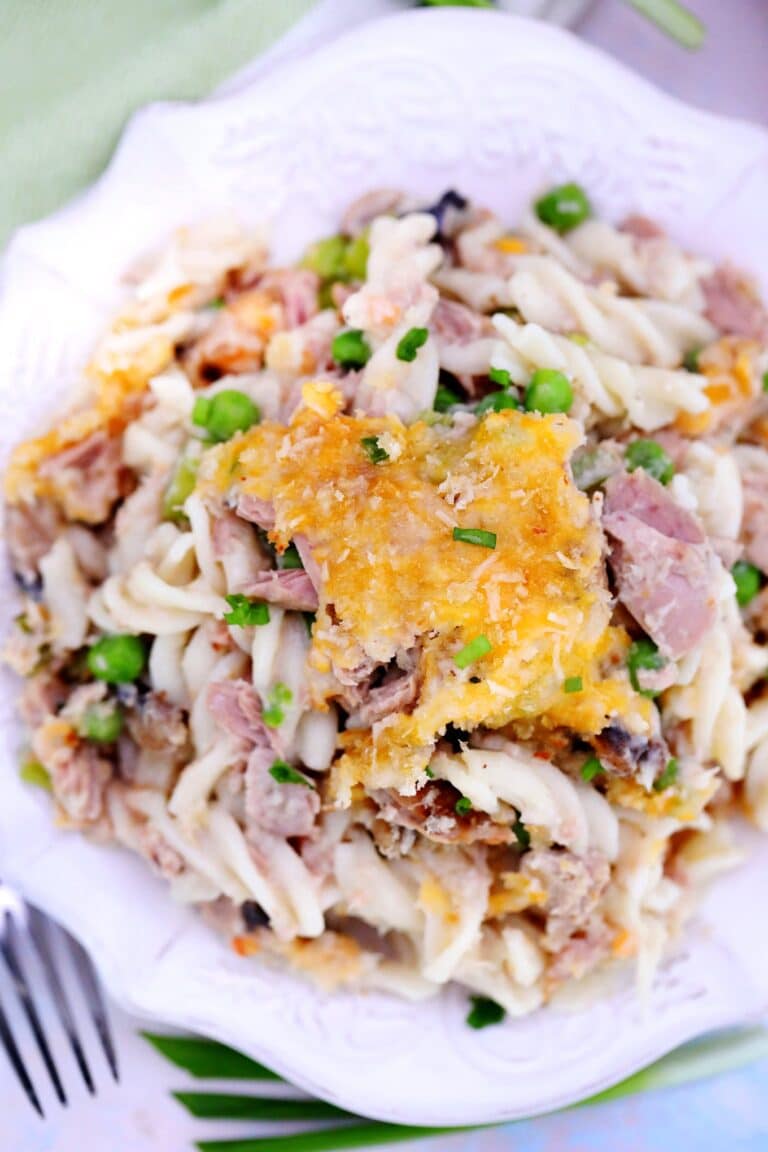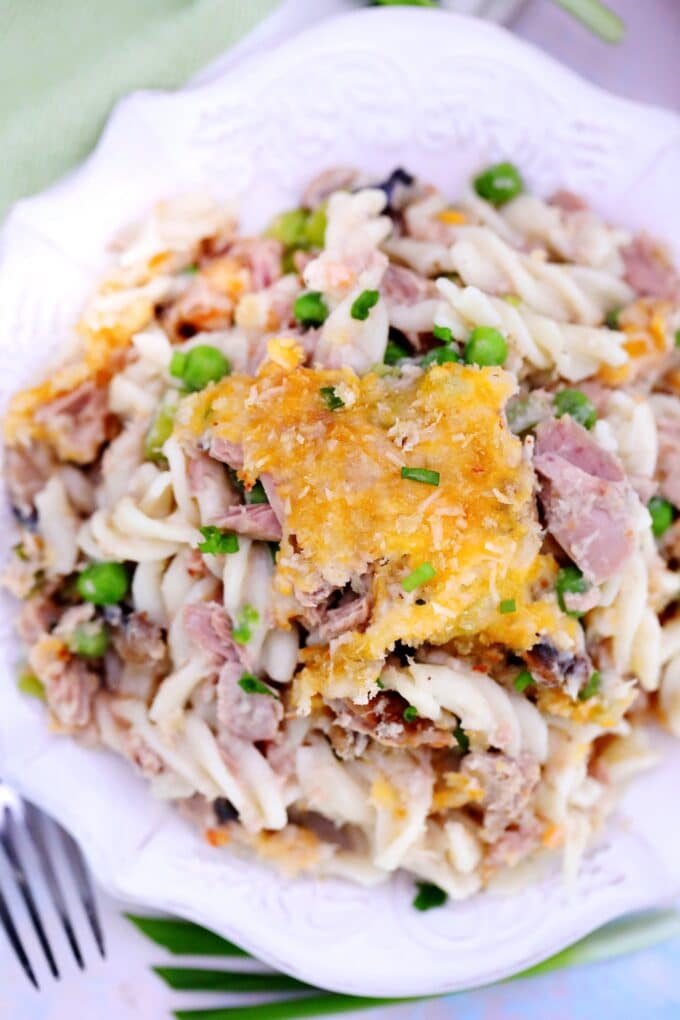 What goes well with this dish?
Pair it with the following side dishes:

How to freeze it?
You can simply cover the baking pan and put it in the freezer for some time. When it has turned solid, transfer it to freezer bags. Also, when reheating, simply let it thaw in the refrigerator and then, bake it at the same temperature it was initially cooked at.
More homemade casserole recipes:
Cooking Tips:
If you will use the canned cream of mushroom soup, lower the calories by using the reduced-fat version. Also, you could use cream of celery.
Feel free to replace the tuna with some leftover cooked chicken breasts or even turkey breast.
For the toppings, you can substitute the crunchy bread crumbs with potato chips, crushed potato chips, French fried onions, cornflakes, Ritz crackers, or crushed crackers.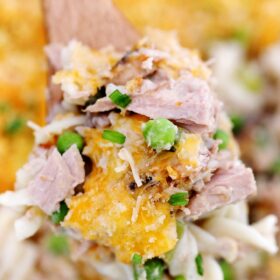 Cheesy Tuna Noodle Casserole
Tuna Noodle Casserole is made with creamy noodles, tuna and topped with crispy breadcrumbs and cheese. This is a super one-dish meal that is ready in no time!
Save
Share
Print
Pin
Rate
Ingredients
12

ounces

egg noodles

3

tablespoons

butter

1

small onion

(diced)

4

cloves

garlic

(minced)

1

cup

celery

(diced)

1

cup

mushrooms

(sliced)

1/4

cup

flour

2

cups

chicken broth

1

cup

milk

1 1/2

cups

frozen peas

15

ounces

cans solid white albacore tuna

(drained)

1/2

cup

sour cream

2

cups

shredded cheddar cheese
Topping:
1

cup

panko bread crumbs

4

tablespoons

unsalted butter

(melted)

1/4

cup

parmesan cheese

(grated)
Instructions
Preheat oven to 375 degrees F. Lightly grease a 9x13 baking dish and set aside.

Cook the egg noodles per package directions, aiming for al dente. Drain and add them to the prepared baking dish.

Place a large skillet over medium heat, add butter and melt it. Add diced onion and saute for about 5 minutes, add garlic and saute for another 30 seconds. Add mushrooms and celery and saute for another 5, until softened.

Add flour, stir and cook for 1 minute. Slowly, while stirring continuously, add the chicken broth and after that the milk. Bring mixture to a simmer, and cook for a few minutes, until it thickens.

Stir in sour cream, until fully combined.

Stir in frozen peas and drained tuna.

Pour the mixture over the noodles in the pan. Sprinkle generously with cheddar cheese evenly.

In a small bowl, combine all the topping ingredients and stir. Sprinkle evenly on top of the dish.

Bake in the preheated oven, uncovered, for about 20-30 minutes, or until the topping is lightly browned.

Serve hot.
Nutrition
Calories:
598
kcal
|
Carbohydrates:
47
g
|
Protein:
33
g
|
Fat:
30
g
|
Saturated Fat:
13
g
|
Cholesterol:
107
mg
|
Sodium:
850
mg
|
Potassium:
598
mg
|
Fiber:
3
g
|
Sugar:
5
g
|
Vitamin A:
1065
IU
|
Vitamin C:
16.7
mg
|
Calcium:
348
mg
|
Iron:
2.5
mg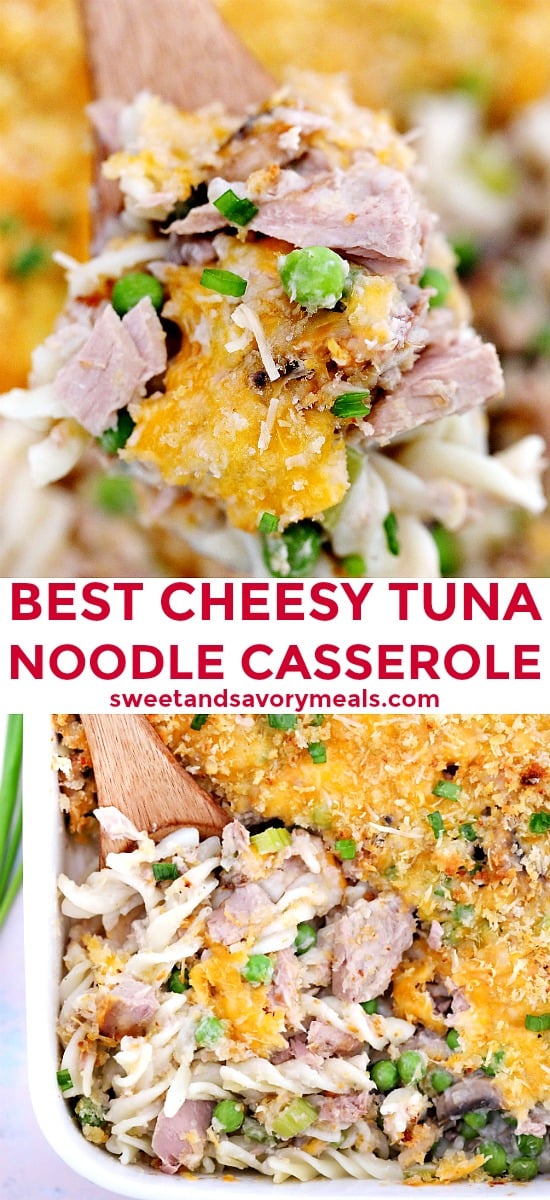 More recipes you might love