The Ultimate Tater Tot Casserole [video]
Tater Tot Casserole is a classic dish made with the favorite potato bites that you can bring to potlucks and make everyone go for another serving!
Perfect to feed a crowd, this dish is hearty just like our other baked recipes such as Crispy Baked Tofu, Oven Baked Tilapia, and Brown Sugar Garlic Chicken.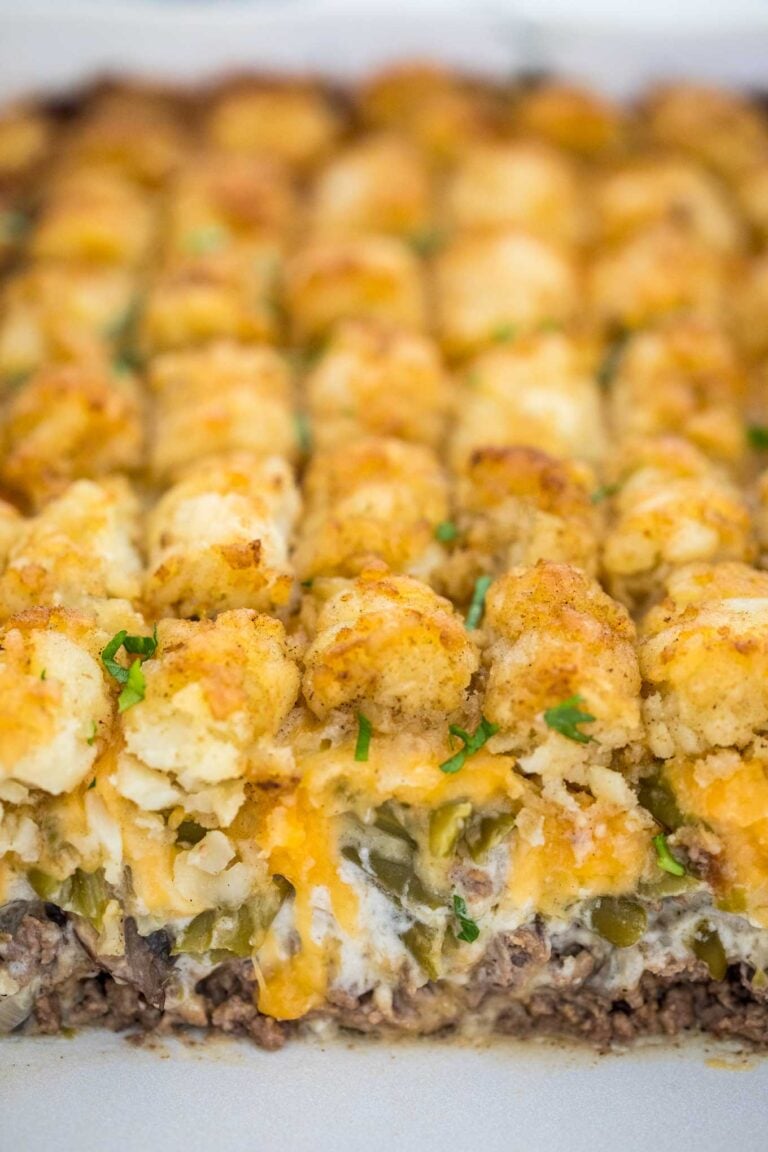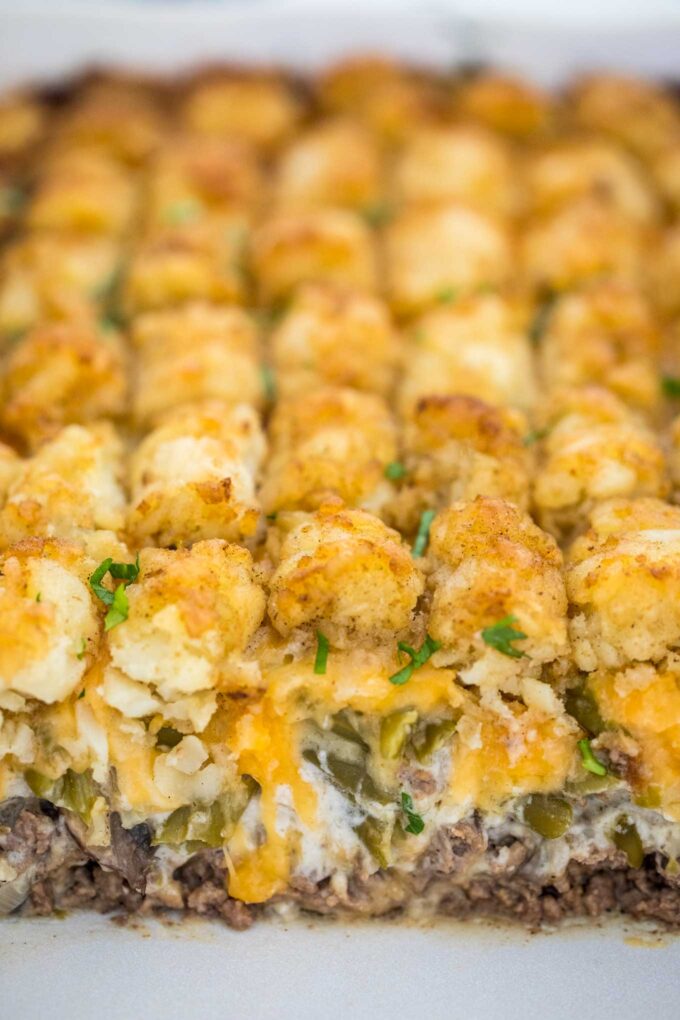 Cheesy Tater Tot Casserole Recipe
Tater Tot Casserole is a rich and filling dish that can be served to many guests at parties with minimal effort. As the name suggests, it has a potato product as the main ingredient which has been popular since the 1950s. This recipe has been in the family's menu rotation throughout the years, and this time, I am sharing it with you!
You know how easy it is to make casserole dishes and we love them for that. What makes this specific dish even better is that it only has 12 ingredients – all basic ones!
Not only that this recipe is easy, but this dish is also packed with protein, carbs, and fiber – basically a complete meal on its own. You can even make this as a freezer meal, and reheat when needed, which makes it a good option for a quick dinner.
What are tater tots?
They are made of mashed potatoes that are formed into small logs. You can find frozen ones in grocery stores and deep-fry or bake for optimum crispness.
It is an all-time favorite American snack and side dish. This time, we will turn it into a hearty meal with this recipe.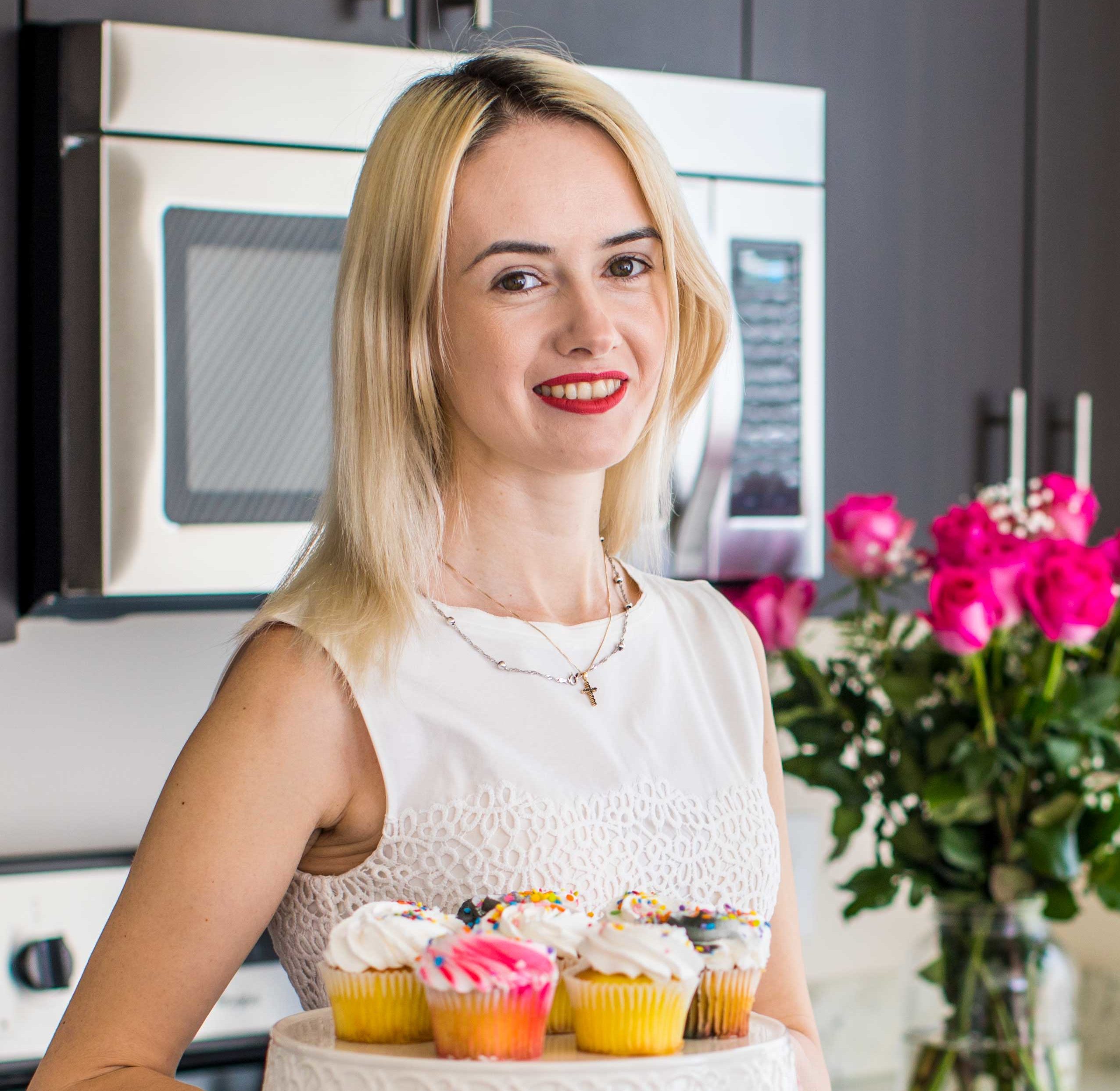 Follow us on Pinterest for more delicious recipes!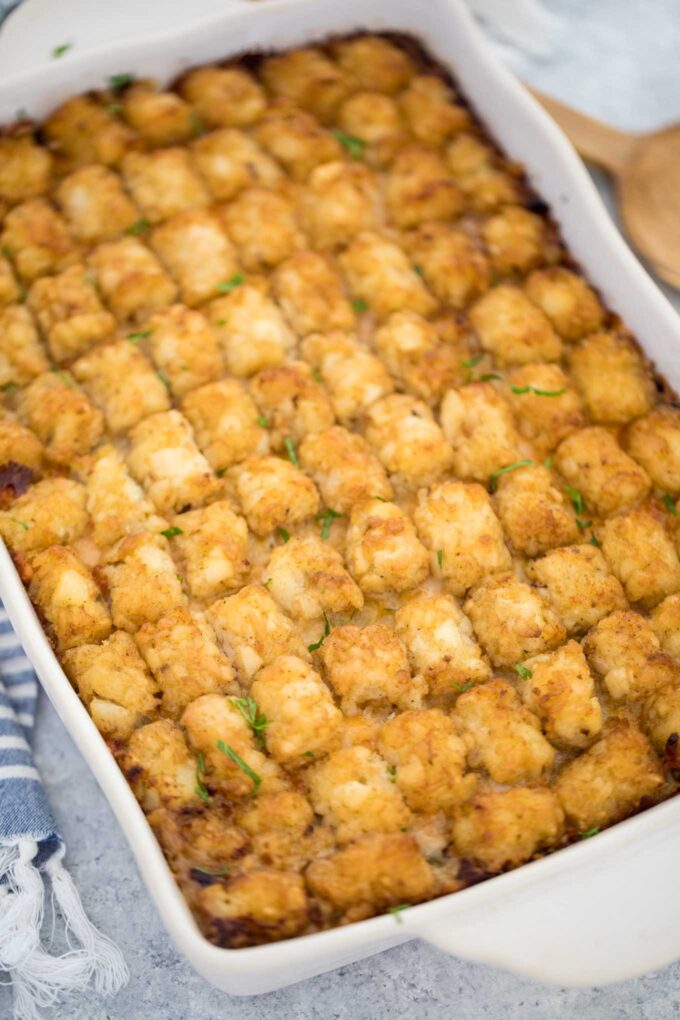 How to make a tater tot casserole?
This is an easy dish to follow. Also, please watch the recipe video attached. The general steps are as follows:
Prep the oven: Preheat it to 375 degrees Fahrenheit. Spray a baking dish with cooking spray.
Cook the ground beef mixture: Place the ground beef in the skillet. Drain any excess fat and set aside.
Cook the mushrooms mixture: Then, sauté the onions, mushrooms, and garlic together. Season with salt, pepper, and Worcestershire sauce. Mix in the flour and then, stir in the heavy cream slowly. Add more salt or pepper to taste and stir in the sour cream.
Assemble: In the baking dish, spread out the beef mixture, followed by the mushrooms mixture. On top of this layer, distribute the green beans and cheddar cheese. Add more salt or pepper to taste. Add another layer, this time, with the tater tots. Top with another layer of cheese.
Bake: Pop it in the oven for about 35 to 40 minutes until the tots crisp up and the cheese melt.
How do you make tater tot casserole without condensed soup?
Follow my recipe! A lot of other recipes out there instruct you to use the commercially available condensed soup. However, most of them have high sodium content. So, it is either you buy the low-sodium ones, or simply follow my homemade recipe as a healthier option.
How do you make a vegetarian tater tot casserole?
Good news for vegetarians! This recipe is versatile, and you can make it with no meat.
Basically, just follow the same recipe but leave out the meat. Instead, add in more vegetables of your choice.
Possible add-ins:
You can add more ingredients according to your liking. Here are some suggestions:
red chili pepper flakes
crispy bacon bits as they go so well with cheese
red bell peppers and tomatoes for extra flavor and texture
sausages to make it meatier
alfredo sauce – for dipping it works great!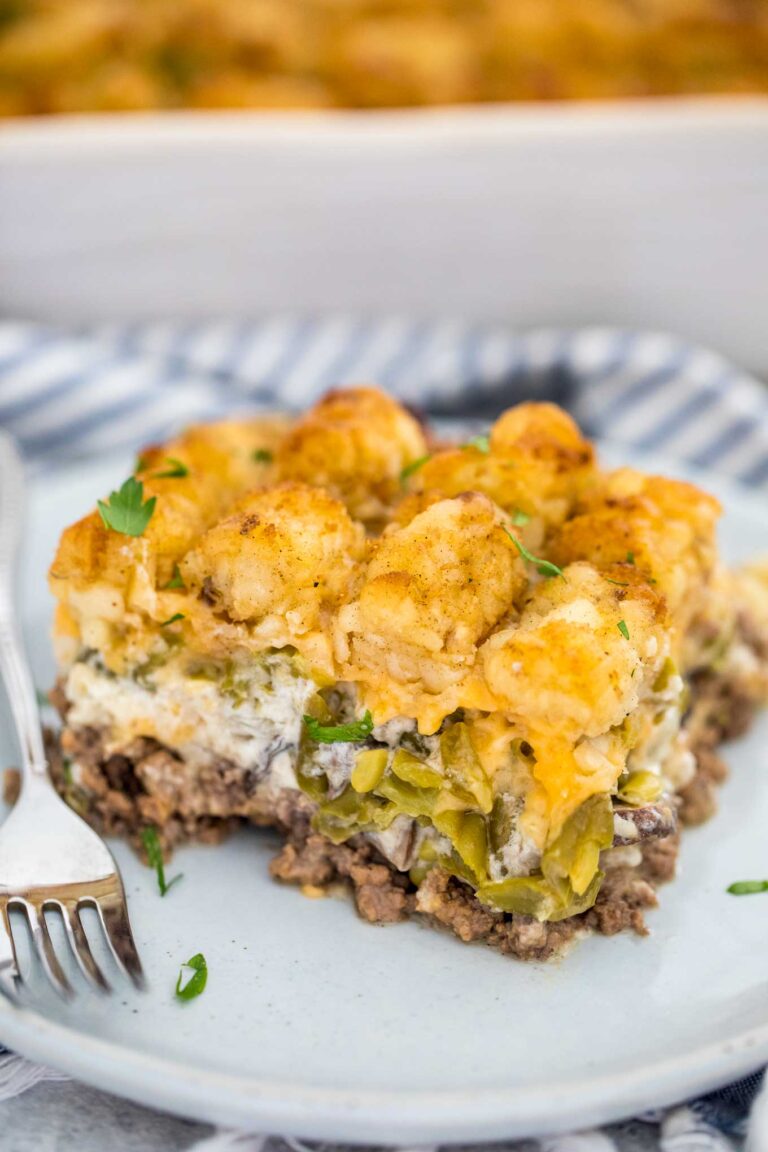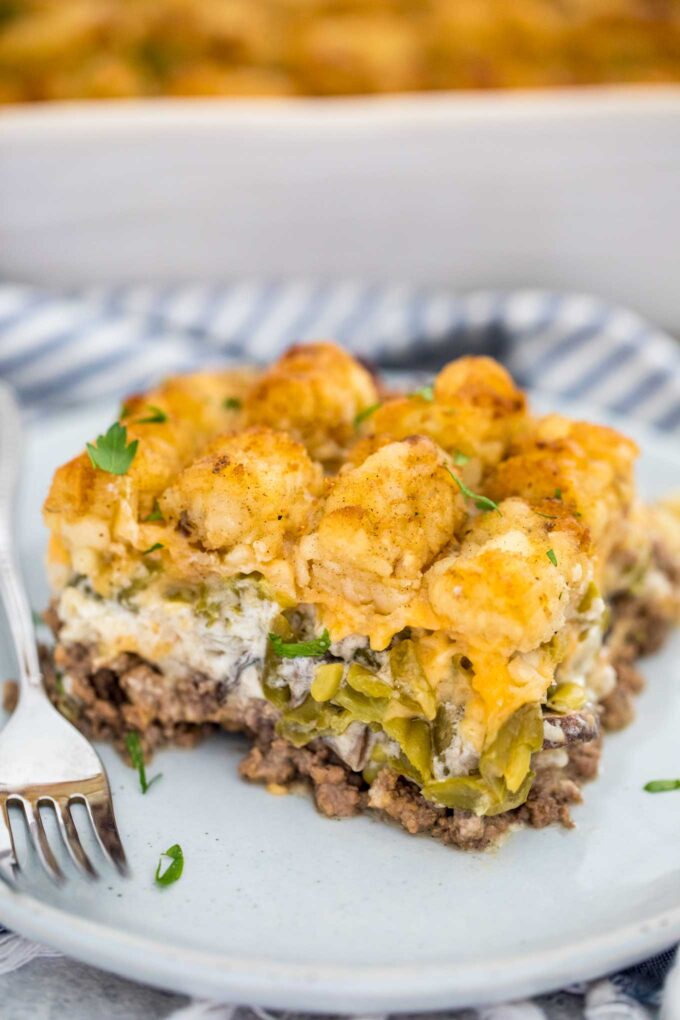 Storing Recommendations:
Make it in advance: You can assemble everything first and freeze. Just bake it when needed. You can keep it frozen for 24 to 48 hours but of course, the earlier you can cook it, the better it will taste.
Freeze Leftovers: Or, if you have leftovers, you can transfer them into single-portion freezer bags. They can last for up to 3 to 4 months. You can bake them again at the same temperature you initially cooked them at.
Refrigerate: Aside from freezing, you can simply refrigerate it and it will stay good for up to 4 days.
More breakfast recipes:
Recipe Tips
During the last minutes of baking, set the oven to broil mode to crisp up the top. Or, you may also opt not to put the cheese on top to crisp up the tots.
It is important that you season with salt and pepper as you layer to have a uniformly seasoned dish.
You can use other meat like lamb or pork or turkey instead of the beef.
Save Recipe
Cheesy Tater Tot Casserole
Tater Tot Casserole is a classic dish made with the favorite potato bites that you can bring to potlucks and make everyone go for another serving!
Author: Catalina Castravet
Serves: 8 servings
Prep time:

30

minutes
Cook time:

30

minutes
Total time:

1

hr
Nutrition information
Calories: 787 Carbohydrates: 36 Protein: 38 Fat: 54 Saturated Fat: 24 Cholesterol: 149 Sodium: 965 Potassium: 866 Fiber: 2 Sugar: 4 Vitamin A: 685 Vitamin C: 10.4 Calcium: 520 Iron: 3.5
Save Recipe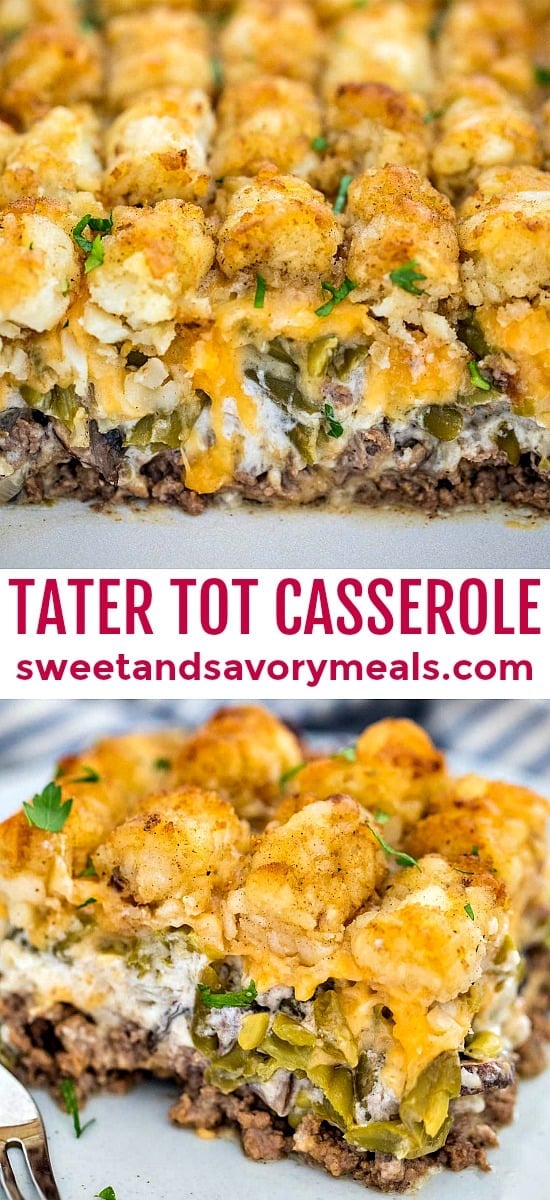 More recipes you might love
Categories: