Creamy Turkey Casserole [Video]
Creamy Turkey Casserole is the most delicious way to use your leftover roast! Tender turkey meat and veggies are baked in a cheesy and buttery sauce. Then it's topped with crunchy bacon and even more cheddar.
Turkey is one of my favorite meats because it's protein-rich but so light and lower in calories than other options. So versatile too! Try it in a grilled cheese with crescent dough, as a meatloaf with pepper jack cheese, or stuffed into cheesy sliders.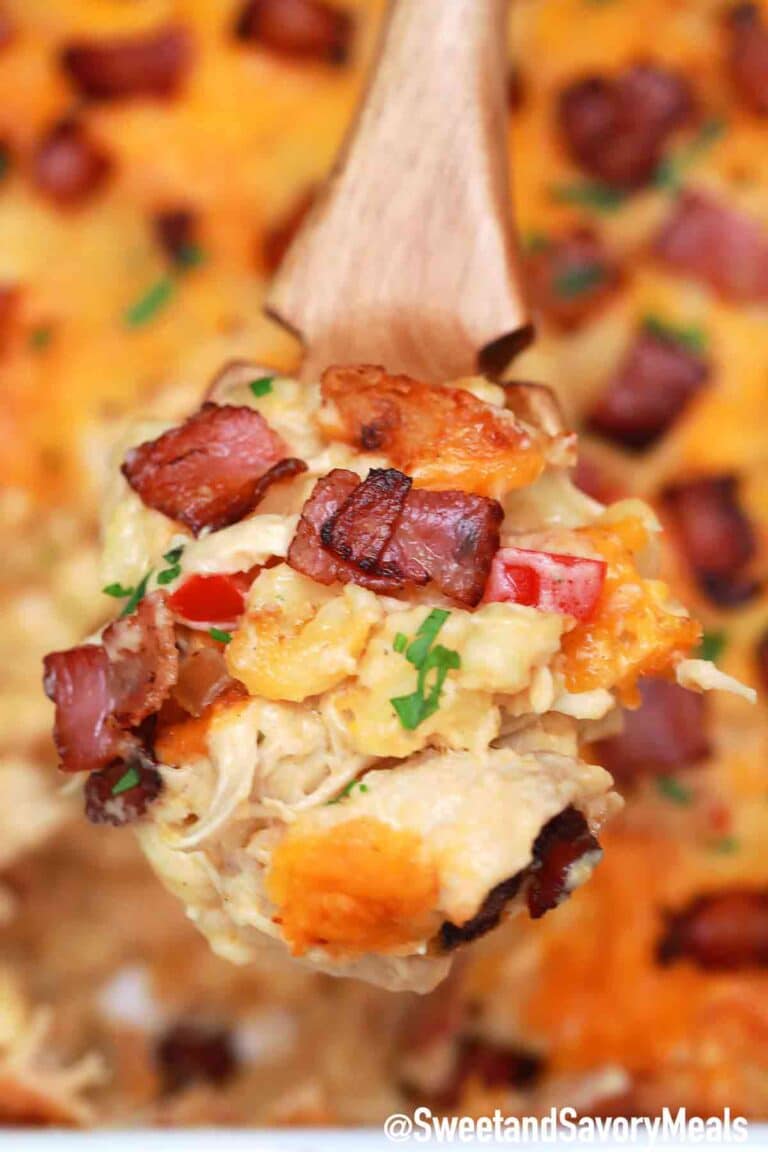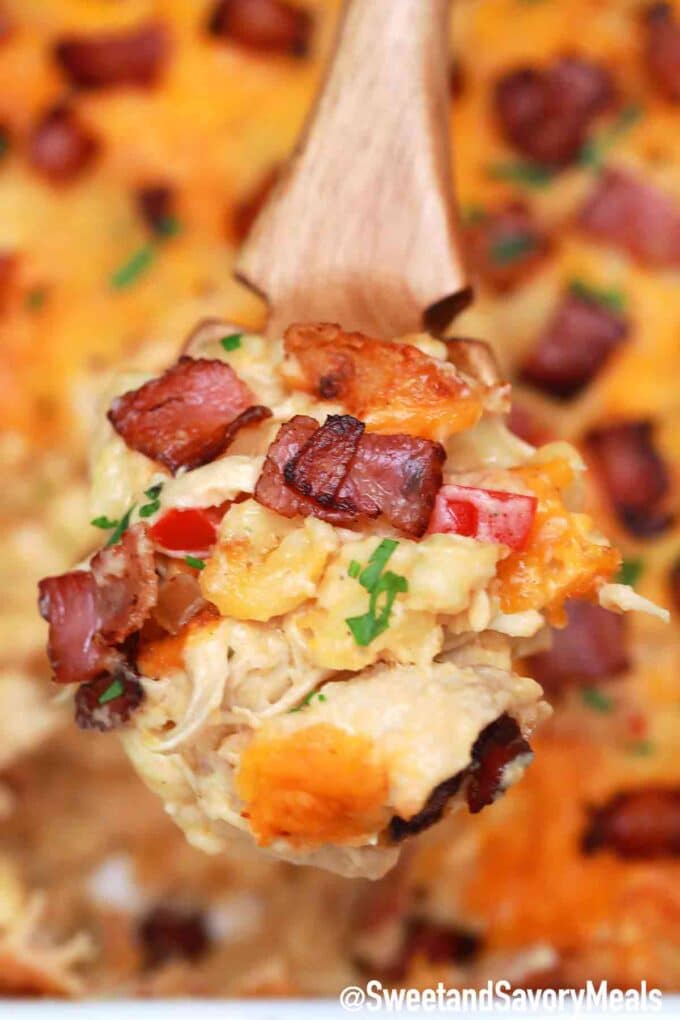 Turkey Casserole Recipe
Creamy Turkey Casserole is like mac and cheese, but with a Thanksgiving twist. I love using up leftover roast meat for this recipe. The meat is already so flavorful and ready to shred, so why make dry turkey sandwiches when I can bake this gooey, cheesy, and meaty dish instead? And the fact that we usually enjoy this around Thanksgiving makes it even more special.
Just like turkey itself, this recipe is incredibly versatile. Got veggies or meat in the fridge you need to use up? Bake it into the dish! Want a grown-up version with blue cheese or spiced up? Go for it. One thing's for sure: this dish will make you excited for leftovers during the holidays!
This recipe is an adaption of a reader's favorite and one of the most popular recipes on the blog, the Crack Chicken Casserole. It's basically a combination of the most delicious cheese sauce, tender meat, Ranch, bacon, and pasta.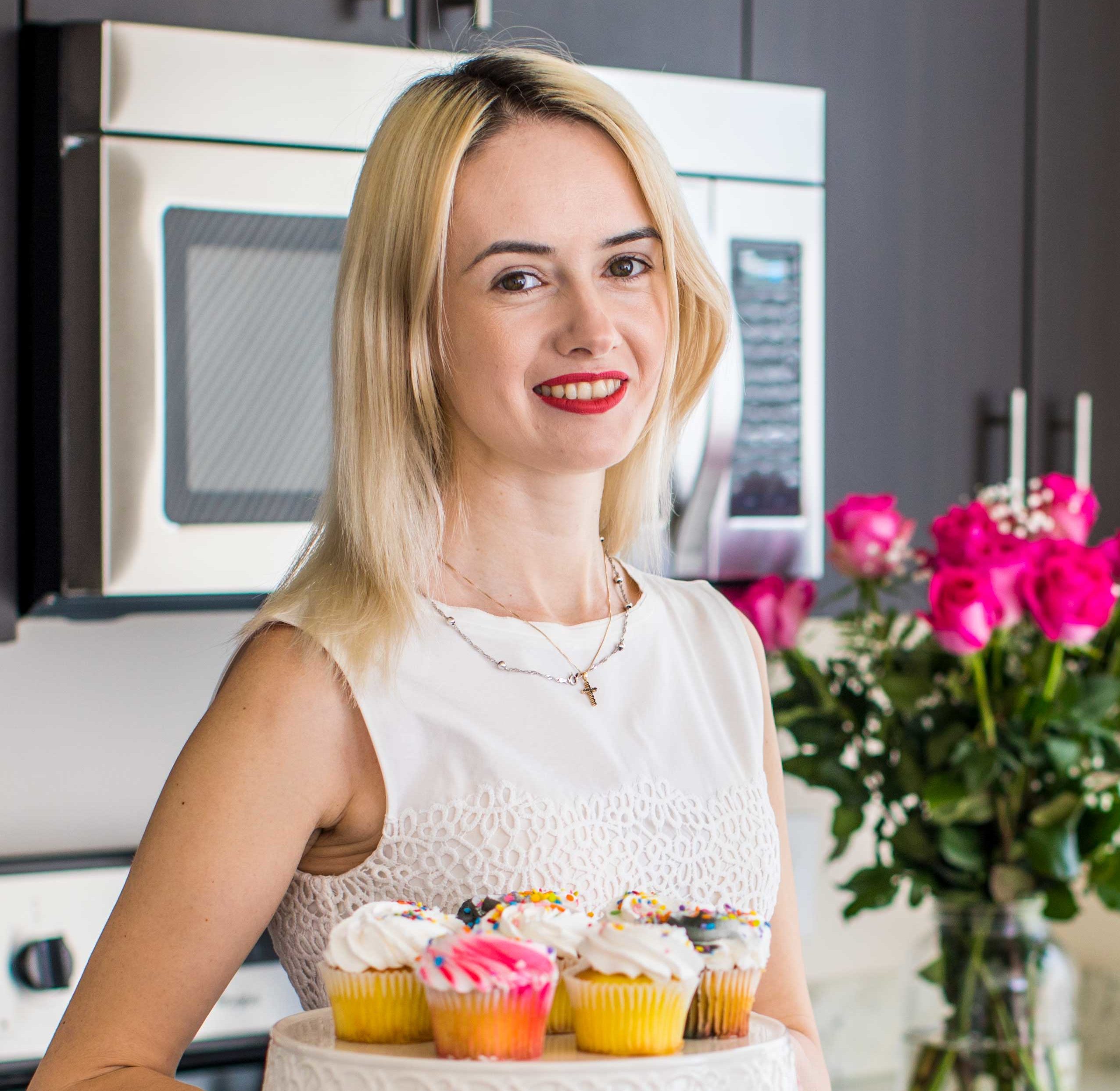 Follow us on Pinterest for more delicious recipes!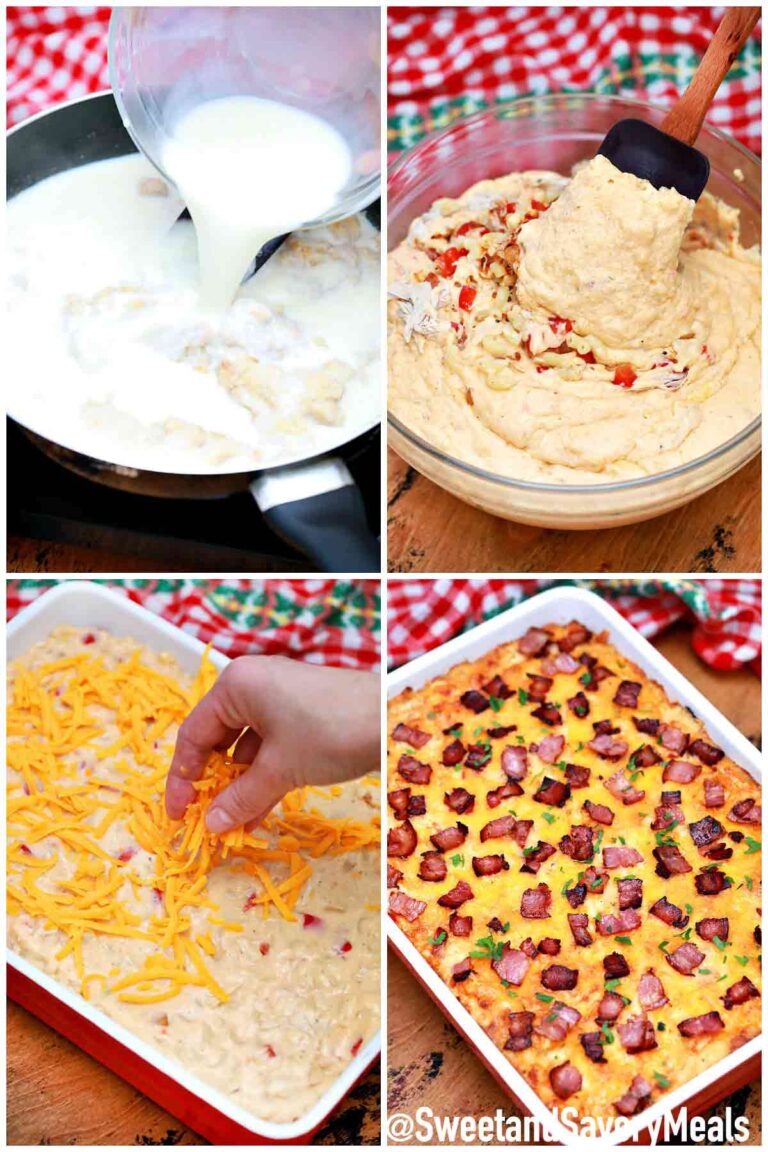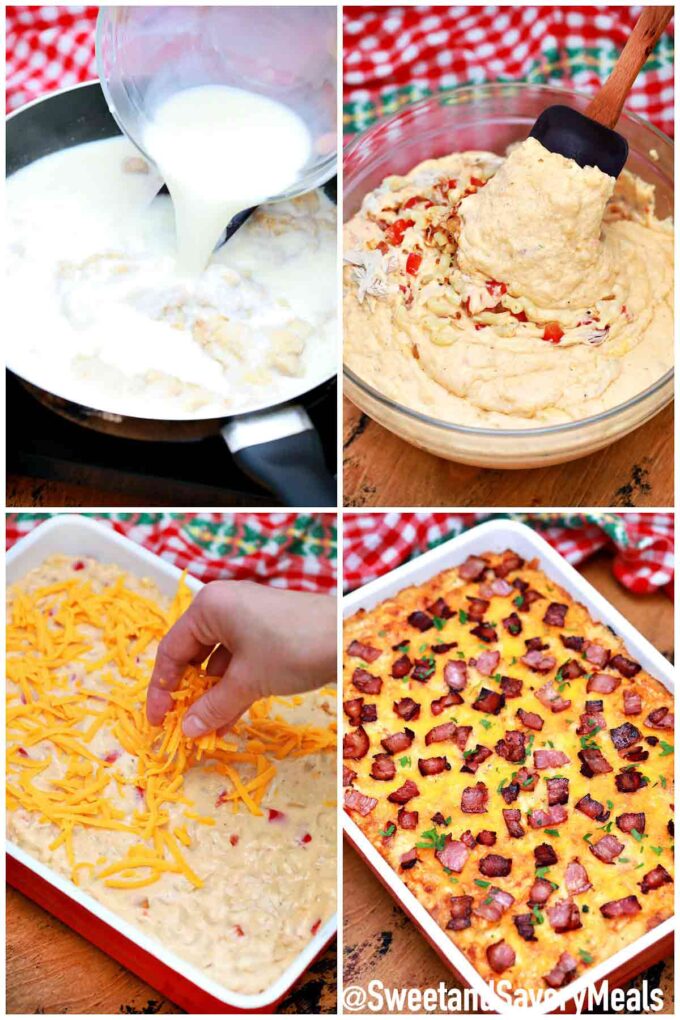 How to make the best Creamy Turkey Casserole?
The recipe may look complicated, but it's actually very beginner-friendly:
Crisp up the bacon. You can do this on a skillet, but if you don't like being splattered with hot grease or making a mess, bake bacon instead. Reserve a bit of bacon fat for the next step.
Cook the veggies. Stir-fry your aromatics and bell peppers for a few minutes in bacon drippings. Set aside.
Make the cheese sauce. In the same pan, create a roux by whisking flour in hot butter until it forms a paste. Slowly trickle the milk, and don't stop whisking to remove lumps. Whisk in the Ranch. Stir in the cream cheese and soup. Finish by whisking in the cheddar until smooth, and remove from fire.

Bake. Combine the meat, macaroni, veggies, cheese sauce, and seasonings. Transfer to a baking dish. Top with more cheese crumbled bacon, and panko. This goes into the oven for around 30 minutes, or until the cheese is golden, gooey, and bubbly.
Serve. Slice into servings or serve family-style, and enjoy.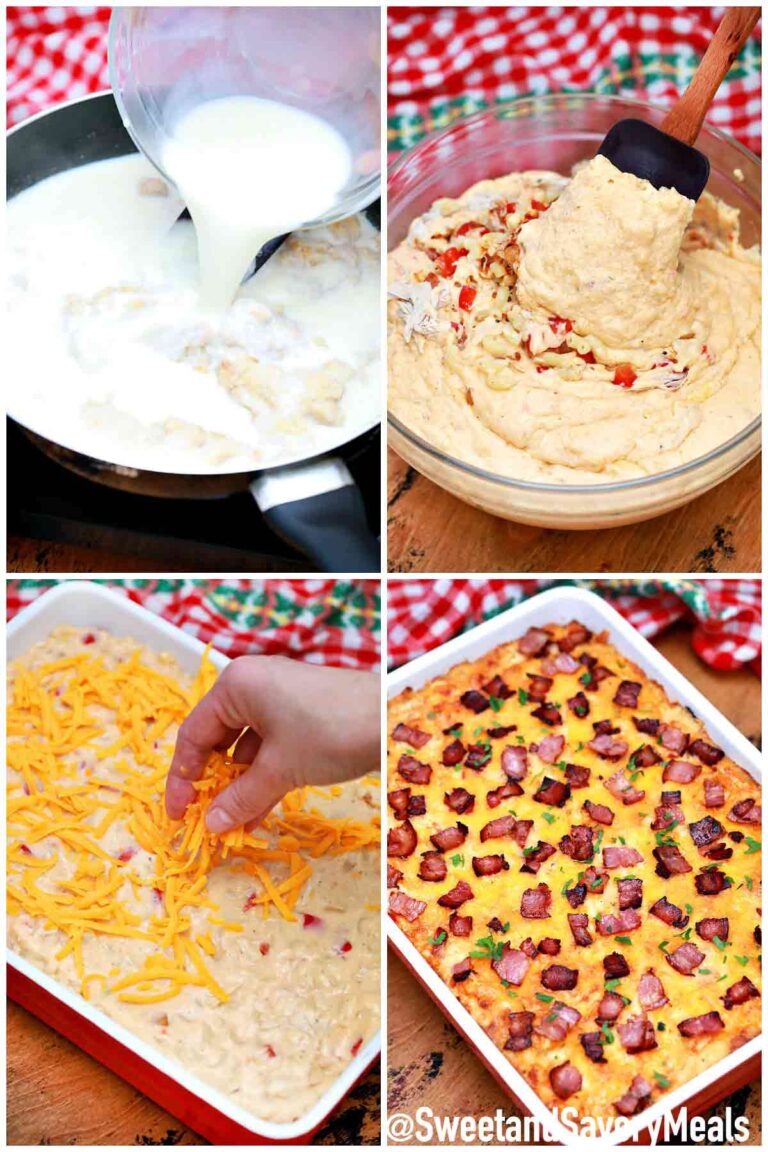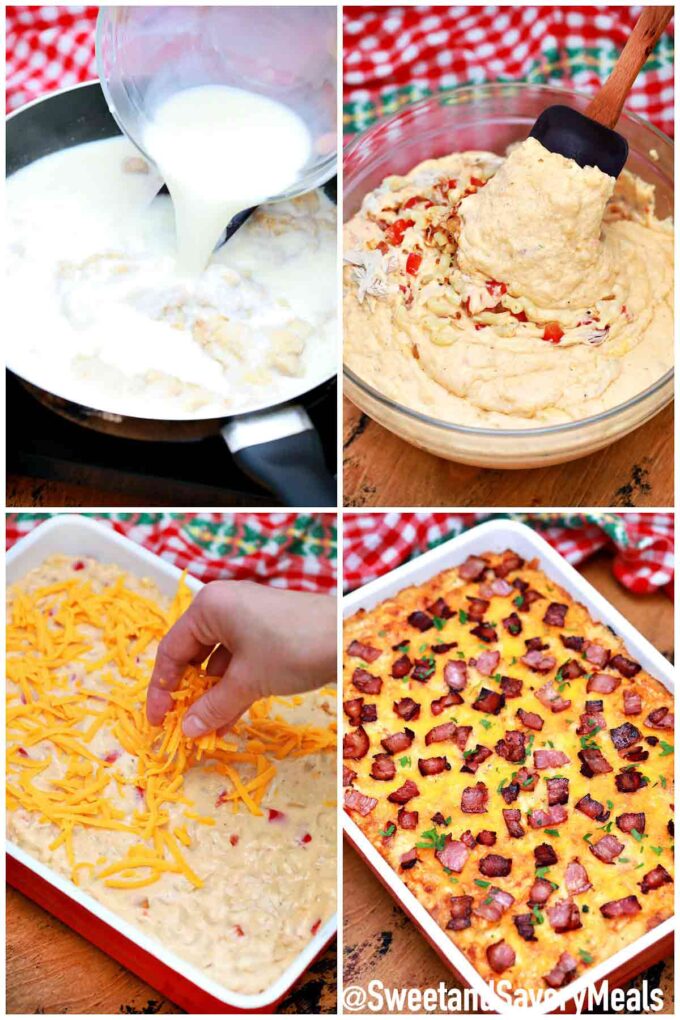 Turkey Casserole recipe variations and substitutions:
Swap the meat: aside from leftover roast, you can also use leftover chicken (shred it) or leftover ham (diced into chunks or sliced into strips). No leftovers? This recipe will also work with ground meats like turkey and ground chicken or beef.
Use cream of mushroom: Condensed cream of mushroom soup is a delicious alternative. For more veggie flavor, try this with condensed asparagus soup.
Use different pasta shapes: Try baking this with other kinds of pasta like penne, rotini, and fusilli because their shapes trap that creamy sauce. But you can also use fettuccine and spaghetti if you wish.
Sub with other cheeses: For a more complex flavor, try other cheeses like smoked cheddar, a bit of blue cheese, freshly-shaved parmesan, or fresh mozzarella.
Make it spicy: Want a hotter version? Toss in a handful of chopped jalapenos.

Load it up with veggies. For a healthier dish, add more vegetables like carrots, florets of broccoli, bite-sized chunks of cauliflower, frozen peas, and white or brown mushrooms.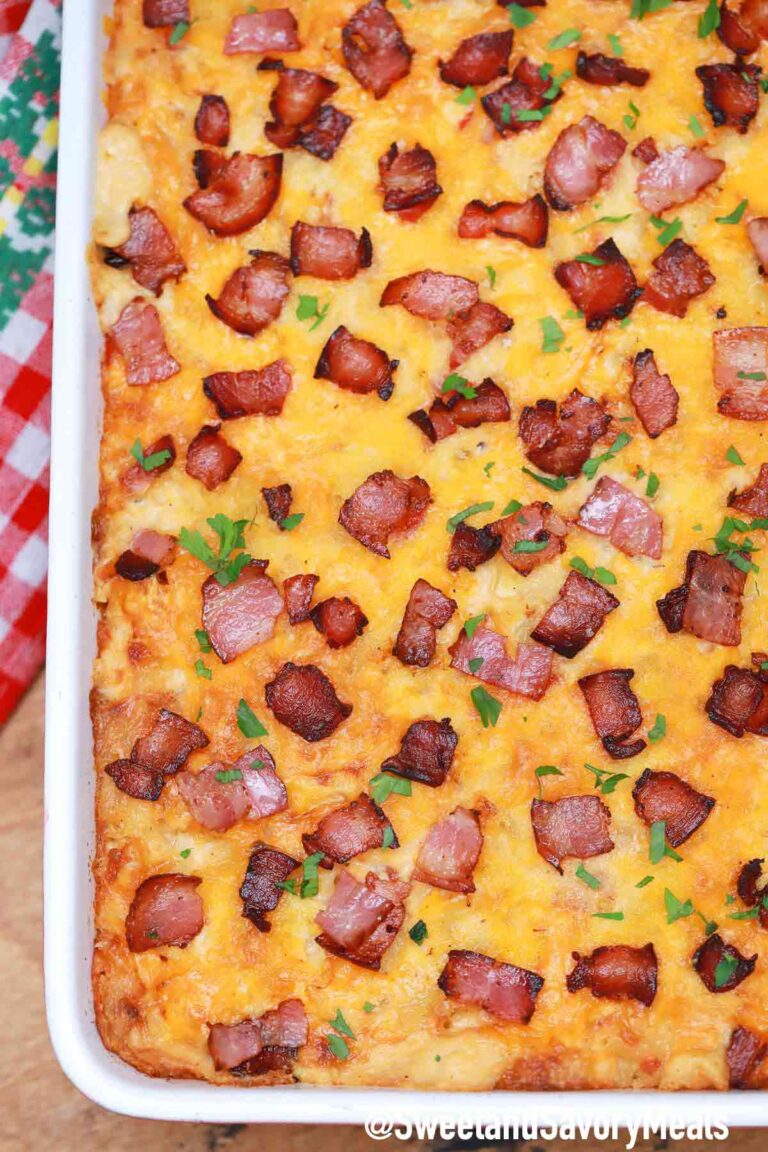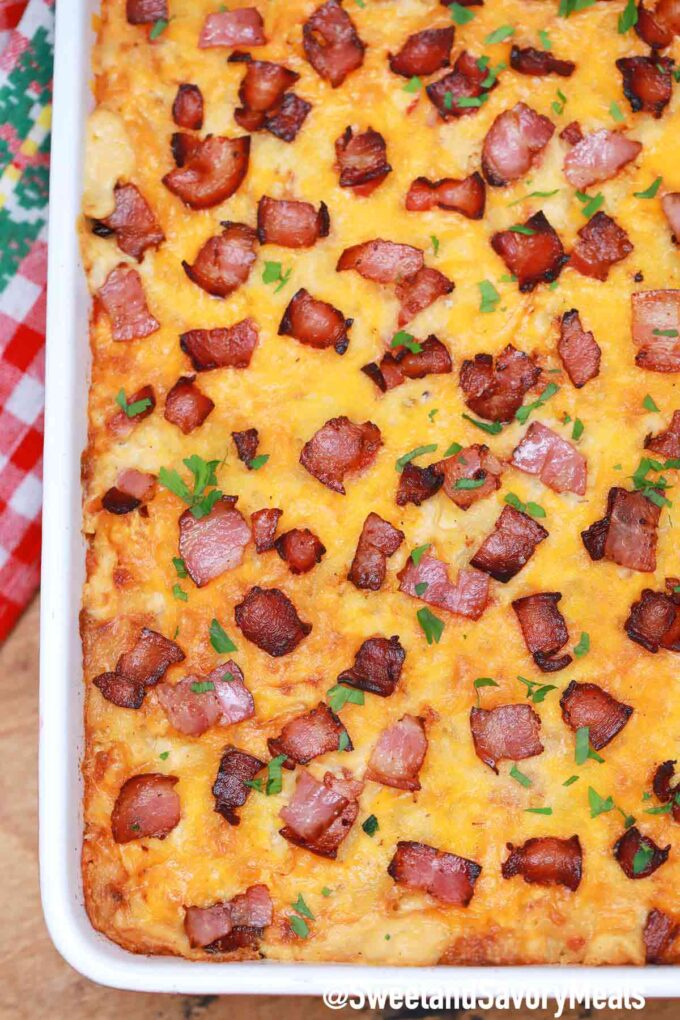 How long to cook Turkey Casserole?
Not a long time, since the individual components are cooked already. It also depends on how hot your oven runs, but anywhere from 20 mins to 30 mins is fine.
What to serve with it?
Make it a Thanksgiving feast round two by serving this with Loaded Sweet Potato Casserole and the Best Honey Butter Ham! A light Pear Salad or Classic Caesar would be perfect as well. Don't forget the fluffy dinner rolls on the side!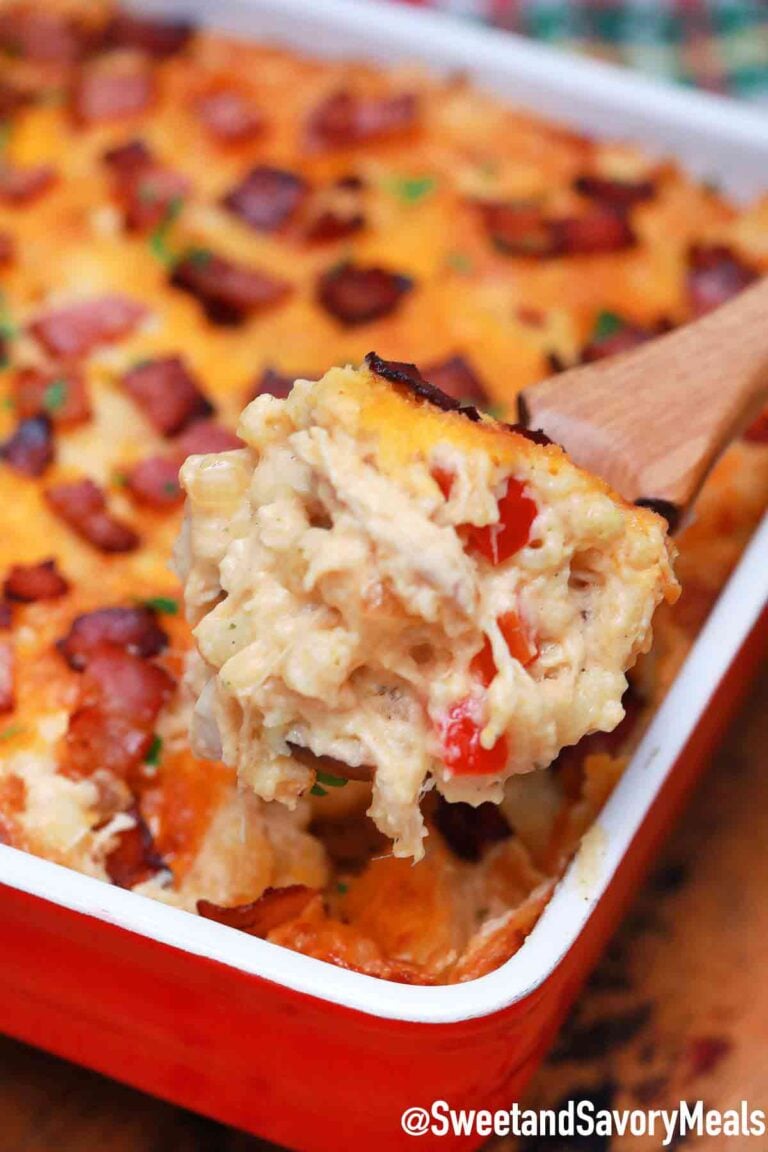 How to store Creamy Turkey Casserole?
For any leftovers, make sure it's completely cool. Otherwise, the condensation can make the cheese sauce watery.
Wrap the dish as tight as you can with plastic wrap. Or, you can also transfer it in tightly-sealed containers.
If you keep it in the fridge, it's best to consume it within three days. Frozen leftovers will stay good up to a month. To reheat, thaw and microwave 'til hot and the cheese is re-melted.
More Thanksgiving Casserole recipes: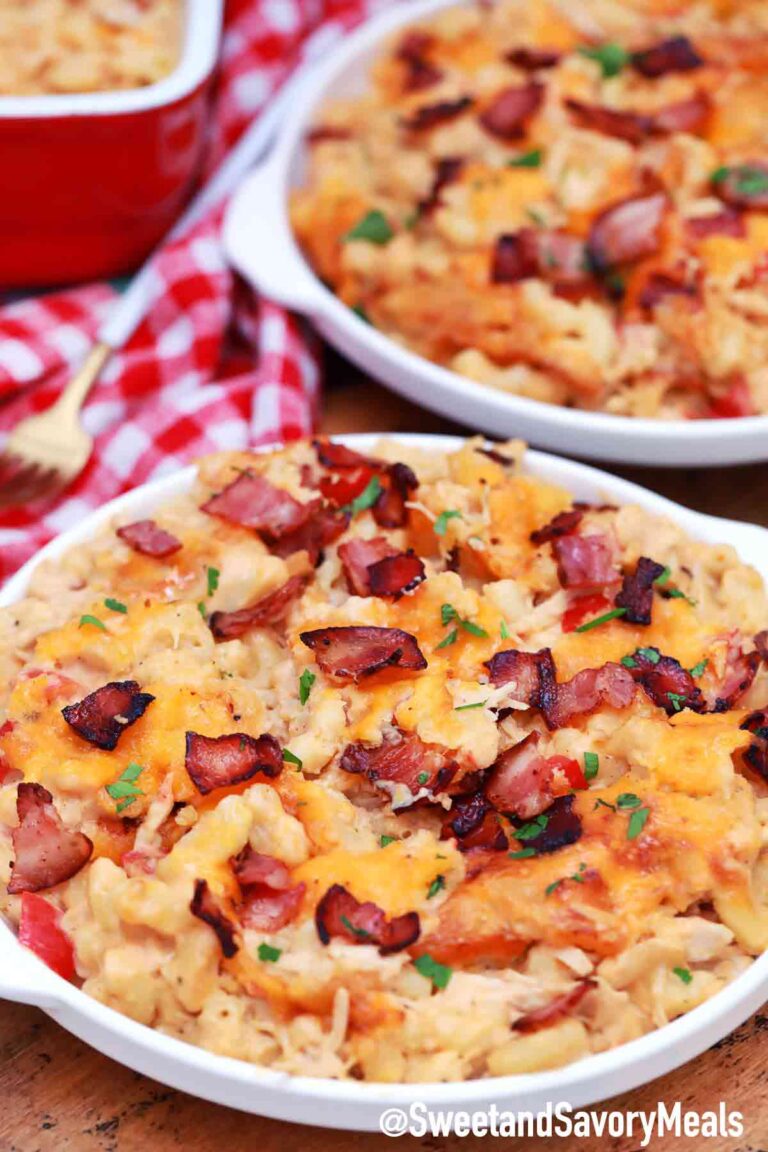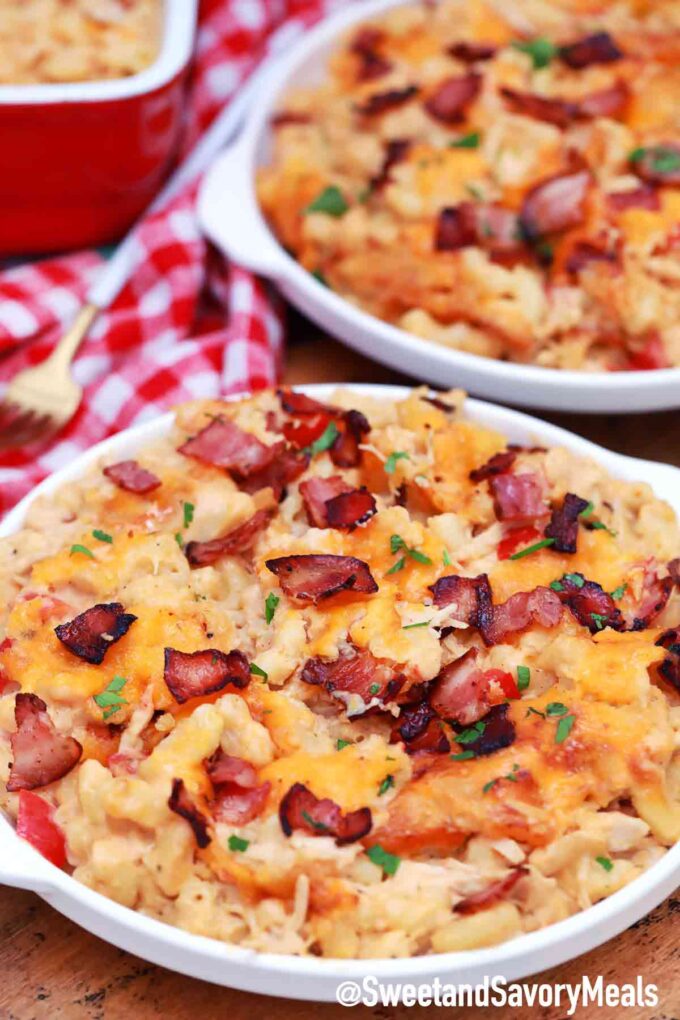 Recipe tips:
Want beautiful, clean slices? Cool for around 15 mins before cutting.

If it's browning far too quickly for your liking, cover with foil while baking.
Make sure the sauce is actually saucy, so if it's too thick, add more milk, you want it to have a pourable consistency. Sometimes different brands of cheese melt differently, that why it's important to keep an eye on the texture.
To save some time you can use store-bought cooked bacon.
Save Recipe
Creamy Turkey Casserole
Creamy Turkey Casserole is the most delicious way to use your leftover roast! Tender turkey meat and veggies are baked in a cheesy and buttery sauce.
Author: Catalina Castravet
Serves: 6 servings
Prep time:

30

minutes
Cook time:

30

minutes
Total time:

1

hr
Ingredients
Turkey:
Veggies:
Cheesy Mixture:
Toppings:
Instructions
Cook Bacon:
Cook Veggies:
Cheesy Mixture:
Combine:
Bake:
Nutrition information
Carbohydrates: 75 Protein: 67 Fat: 48 Saturated Fat: 20 Cholesterol: 169 Sodium: 1499 Potassium: 925 Fiber: 4 Sugar: 13 Vitamin A: 1934 Vitamin C: 27 Calcium: 614 Iron: 3 Calories: 810
Save Recipe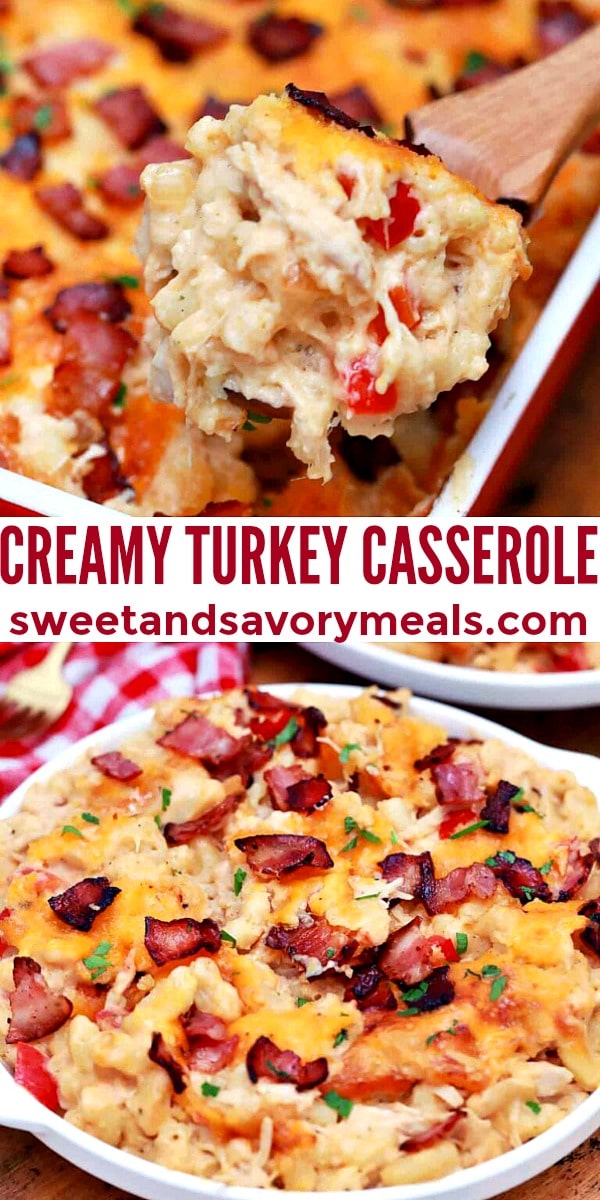 More recipes you might love