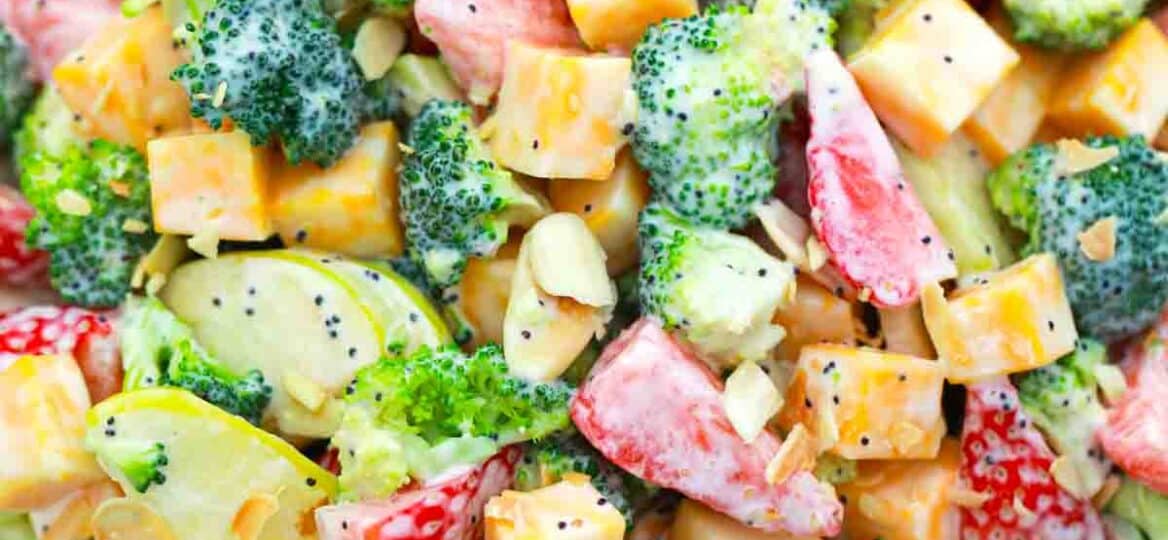 Strawberry Broccoli Salad Recipe
Strawberry Broccoli Salad is the perfect salad for a side dish or appetizer made with crunchy apples, juicy berries, and a creamy dressing. In fact, you can even turn this broccoli salad into a main entree by adding a bit of your favorite meat. A large bowl of raw broccoli with other fresh veggies would also make a nice lunch or snack any time you want something light.
If you enjoyed this strawberry salad, you would love our Broccoli Salad with Lemon Poppy Seed Dressing made from pine nuts, honey, red onion, and dried cranberries. Looking for other favorite salads to try? Our Fall Pasta Salad is amazing with butternut squash, goat cheese, and maple syrup.
Vegetable salads have been a popular dish since the first century when the Romans and ancient Greeks layered raw vegetables and herbs in large bowls with vinegar or oil.
Hippocrates was the one to first say that eating raw vegetables before your dinner will help clear your digestive system of any obstructions. Many disagreed because they thought it should be eaten after the main course because it affected the flavors of the wine. We don't care when we eat our salad as long as it is good.
I have had broccoli salads before, but this broccoli strawberry salad is the perfect balance of sweet and savory flavors for a delicious ready-to-serve meal in minutes. This is one of my favorite broccoli salad recipes and I have it several times a year because my family loves it too.
Strawberries and broccoli just seem to go well together and make a great salad with a lemony poppy seed dressing. The salad ingredients are easy to find and make a gorgeous salad for summer or any time of the year.
Another way to enjoy your veggies is with this cucumber tomato avocado salad with red onion, Roma tomatoes, and green onions. Or you can just try this easy grilled vegetables recipe made from baby potatoes, zucchini, mushrooms, and asparagus.
Ingredients needed:
You will need the ingredients below to make this delicious strawberry broccoli salad recipe. When you are ready to begin, scroll down to our recipe card for the exact measurements and instructions.
Granny smith apples: Peeled and cut into cubes.
Colby jack cheese: Cut into ½ inch cubes.
Fresh strawberries: Cut into quarters.
Fresh broccoli florets
Sliced almonds toasted
Poppy seed dressing:
Poppy seeds
Mayonnaise
Sugar
White vinegar
Lemon juice
How to make strawberry broccoli salad from scratch?
Prep the apples: First, peel and chop the apples into 1/2-inch cubes.
Mix it up: Then, combine broccoli florets, cheddar cheese, and apple cubes in a large salad bowl.
Make the poppy seed dressing: Next, add sugar, poppy seeds, vinegar, lemon juice, and mayonnaise in a separate bowl and whisk thoroughly.
Toss the salad: After, pour the poppy seed dressing over the salad and toss to coat well.
Add the strawberries: Now, gently stir in the strawberry pieces making sure they are not damaged.
Time to eat: Finally, sprinkle on the almonds and serve immediately.
Recipe variations:
Creamy: For creamy poppy seed dressing, add 1/2 cup of Greek yogurt.
Feta cheese: Toss in some feta cheese for an even more cheesy flavor.
More cheese: You could also add your other favorite cheeses like mozzarella, parmesan, or Monterey jack.
Other veggies: Go ahead and add your other favorite fresh veggies like red onion, bell peppers, and cauliflower.
More fruit: Feel free to add more fruit like mandarin oranges, blueberries, and raspberries.
Frozen strawberries: If it is not strawberry season, you can use frozen strawberries instead.
Different vinegar: If you do not have white vinegar, try balsamic or apple cider vinegar instead.
Sunflower seeds: Add a handful of sunflower seeds for even more crunch.
Add meat: For a heartier salad, add your favorite meat like chopped chicken, beef, pork, or turkey.
Bacon: And since bacon tastes great in every recipe, go ahead and add some tasty bacon bits.
How to serve:
Take this broccoli salad to your next family BBQ or picnic or just have it for dinner tonight with the kids. You will be sure to get rave reviews and you will love hearing how great it is. You can try one of our great serving suggestions or share your own ideas with us in the comments section at the bottom of the page.
Sprinkle other chopped nuts on your salad like chopped pecans or walnuts instead of or in addition to the almonds.
Add your leftovers to this broccoli cauliflower salad to give it more flavor.
This would be perfectly served on top of a bed of fresh lettuce.
You could also have this broccoli salad on rice. Try our extra buttery rice recipe.
Another great topping would be raisins or dried cranberries.
Take whatever you have left over and add it to your favorite casserole. Try our recipe for cheesy broccoli casserole.
For richer flavor, add some romano, parmesan, or another dried cheese on top.
Our delicious strawberry broccoli salad goes great with any meat dish like our beef brisket.
Frequently asked questions
Do I have to cook the broccoli for this salad?
No, this broccoli salad calls for fresh raw broccoli. However, you can blanch or boil your broccoli if you would rather have it cooked. Just cook it far enough in advance to give it time to cool completely. You want it to be chilled before adding it to this cold salad.
Can I put another dressing on the strawberry broccoli salad recipe?
Which dressing you use depends on your own preferences. For example, if you are a fan of ranch dressing, it would be amazing on this broccoli salad. Try our easy recipe for homemade ranch dressing. Or you can try thousand island, honey mustard, or blue cheese dressing. Honey would also taste great.
Do I need to chill my salad before serving?
Although you do not have to chill it, this strawberry broccoli salad does taste better chilled. A room-temperature salad just does not seem as crisp and refreshing. Letting it sit in the fridge after pouring on the poppy seed dressing also allows the fruit and vegetables to absorb the flavors.
What are the nutrition facts in this recipe?
Each serving has 250 calories, 24 milligrams of cholesterol, and 20 grams of fat with 8 grams of saturated fat. Your salad also has 255 milligrams of sodium, 10 grams of carbs, and 5 grams of sugar. On the plus side, you get 2 grams of fiber, 8 grams of protein, 68 milligrams of vitamin C, 40 milligrams of calcium, and 250 milligrams of potassium.
How to store leftovers:
Store: You can store your leftover strawberry broccoli salad in an airtight container or gallon-size zip baggie. It will stay fresh in the fridge for up to five days.
More salad recipes to try:
Recipe tips:
Try to chop all the pieces about the same size for better uniformity and flavor.
Shorten prep time by using already chopped vegetables and frozen strawberries.
In fact, using frozen strawberries and broccoli would be perfect to make this salad in advance.
If you want your family and friend to give you 5 stars for your next meal, try adding this strawberry broccoli salad to the menu.
For more great recipes, go to our food blog, Sweet and Savory Meals.
Strawberry Broccoli Salad
Ingredients
8

cups

fresh broccoli florets

8

oz

Colby jack cheese

cut into ½ inch cubes

2

granny smith apples

chopped

2

cups

fresh strawberries

washed, pat-dried, and quartered

1/4

cup

slivered almonds

toasted
Dressing:
1

tablespoon

lemon juice

1

teaspoon

poppy seeds

1

cup

mayonnaise

2

tablespoons

sugar

or more if needed

2

teaspoons

white vinegar
Instructions
Mix the dressing ingredients in a bowl and set aside.

In a separate large bowl, mix broccoli, apples, and cheese add the dressing, and toss to coat.

Carefully stir in the strawberries and sprinkle with almonds.
Deliciousness to your inbox
Enjoy weekly hand picked recipes and recommendations