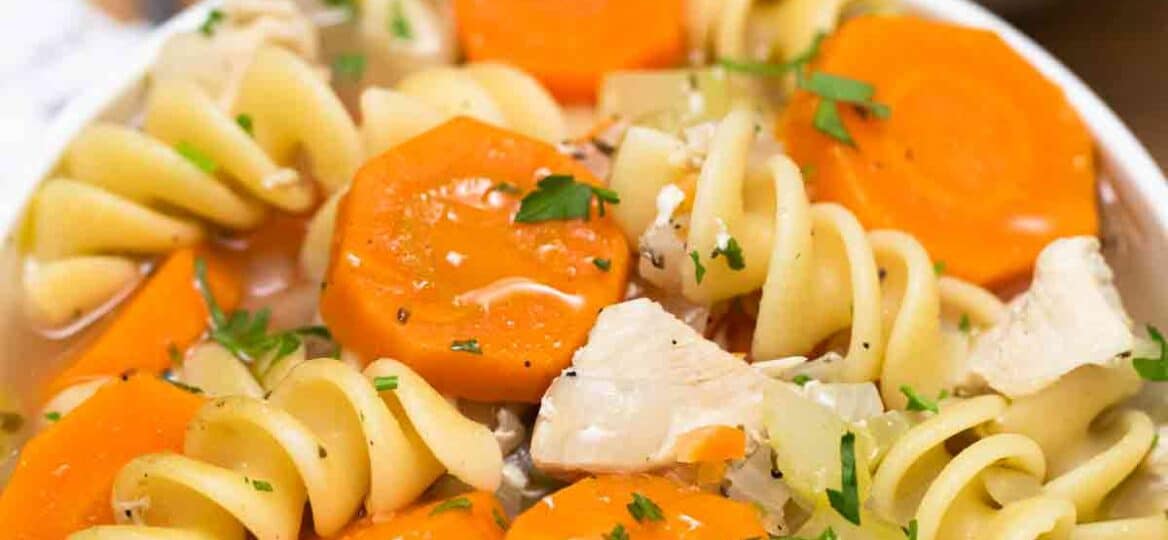 Homemade Turkey Soup Recipe [Video]
Turkey Soup is the perfect laid-back meal after the Thanksgiving holiday rush. The hot, delicious broth is loaded with turkey, veggies, and noodles then simmered with herbs and spices. Ready in 30 minutes!
The Instant Pot is your best friend if you want low-effort meals that still amazing. Use your IP to whip up some Chicken and Dumplings, Beef Stroganoff, and Lobster Chowder!
Easy Leftover Turkey Soup
This Classic Turkey Soup is how I recharge after the frenzy of holiday cooking. It's the ultimate comfort food during cold weather, and being able to use up the leftovers just makes this recipe even better.
Also, this dish is healthy, filling, and only requires pantry ingredients. Since it freezes so well, you can make a large batch so you can enjoy it all winter long.
It has everything you need for a full meal – meat, vegetables, and starch. In addition, it requires pretty much no time to make and is ready in less than 30 minutes. My entire family absolutely loves it as I'm sure yours will too!
What goes into Turkey Soup?
Turkey: I prefer dicing mine, but you can shred it if you like it that way.
Broth: Nothing compares to the flavor of homemade broth. Use this recipe for stock and just replace the chicken carcass with turkey. But of course, using store-bought is fine as well.
Vegetables: You'll need a couple of celery stalks and around three peeled large carrots, sliced. Dice an onion as well.
Seasonings: Aside from salt and ground pepper, we'll also flavor the stock with bay leaves and a little poultry seasoning.
Flour: This will be our main thickener.
Olive oil: Use high-quality olive oil, because it really adds something special to the dish.
Shell noodles: We'll be cooking them right in the noodles, so prepare uncooked dried shells.
Parsley. Optional, but I love the herby taste it adds to the stock.
How to make Turkey Soup?
Start with the onion. Sauté it until soft, then sprinkle with flour and continue sauteing for about a minute.
Add the meat and veggies. Pour the broth, followed by the meat, vegetables, and seasonings. Simmer everything for about 10 minutes, stirring a couple of times.
Finish with the noodles. Next, take your dried noodles and put them all in the simmering stock. Cook until al dente. Then, turn off the heat, discard the leaf, and gently stir in the parsley.
Serve. Season with more salt if desired, and serve hot.
Recipe variations and substitutions:
Swap the broth: this recipe will also work with beef or chicken stock, and veggie broth.
Use other starches: you can also use potatoes, egg noodles, brown or white rice, sweet potatoes, amaranth, or quinoa here.
Use other vegetables: bell peppers, brown or white mushrooms, and fresh spinach or broccoli florets are great additions.
Add other herbs: if you want a stronger herb flavor, stir in some basil or thyme.
Make it gluten-free: use gluten-free pasta and flour.
Make it creamy: stir in a little heavy cream for a creamier texture.
How do you add flavor to turkey soup?
The key to a flavorful stock is the broth, seasonings, and herbs. That's why I highly recommend making your own stock because you'll be getting all those wonderful roasted flavors from the carcass.
Also, be generous with the seasonings, and don't skip the poultry seasoning because it adds a hit of umami to the dish.
How to thicken turkey soup?
The flour and the starch from the pasta are enough to thicken this dish to my liking. But if you want a thicker consistency, you can always use a slurry.
Take some of the hot stock and dissolve an equal amount of cornstarch in it. Then, slowly pour into the pot and boil to thicken.
Can you use leftover turkey for the soup?
If you still have leftovers from your roast, yes! But if you don't have any, you can always make a quick trip to the deli to get some. In addition, white chicken meat, or shredded chicken will work as well.
What to serve with turkey soup?
A bowl of this plus fresh rolls will take you to comfort food heaven!
Crusty Irish Soda Bread and Beer Bread are also fantastic sides. For a healthy and light meal, enjoy it with a simple salad.
More delicious soup recipes:
How to freeze turkey soup?
If you're making this to store, I recommend dividing it into freezer bags to make it easy to portion out and reheat. Also, I suggest leaving out the pasta as well so that it doesn't turn mushy, but you can always freeze it with the pasta too.
To reheat, do it on the stovetop if you're adding dried pasta. If not, doing it in the microwave is fine.
Recipe tips:
Cook the pasta right in the broth because the starch makes it deliciously silky.
Use homemade stock for a deeper flavor.
Also, chicken broth can be substituted for turkey broth.
You can add more or fewer veggies based on your preference.