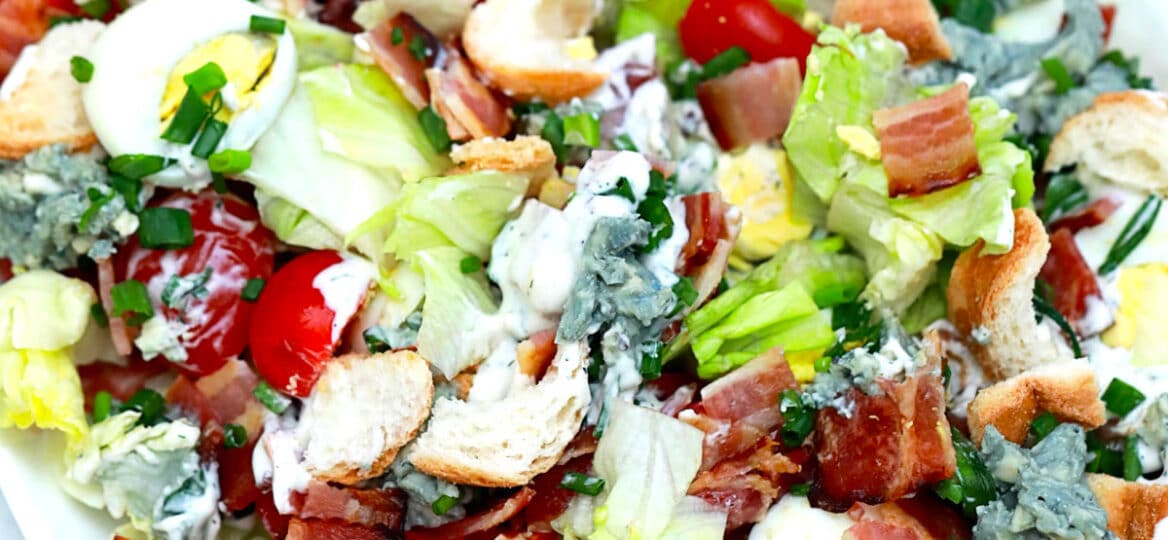 BLT Salad is a flavorful and hearty meal with homemade blue cheese dressing! The combo of crispy bacon, juicy tomatoes, and creamy dressing is outstanding!
If you are looking for quick and easy to make salads, check out these foolproof recipes: Feta Potato Salad, Garlic Kale Shrimp Salad, and Pomegranate Salad. They are the best for lazy mornings or even for last-minute food preps!
Bacon Lettuce Tomato Salad
BLT Salad is made out of bacon, lettuce, and tomato which is a twist on the classic sandwich combination. It can serve both as a side dish or even the main course.
If I want to eat something healthy that can make me full, this recipe is my go-to. Sometimes, when I have unexpected guests over, I whip out this recipe to make them a hearty meal.
By having the three basic ingredients, I can make an entire fulfilling meal. The bacon makes the dish sweet while the lettuce and tomato make it crunchy and juicy.
This meal is also very versatile. I occasionally add ingredients such as eggs and cheese to make it more exciting!
To take it up a notch, you can pair the cuisine with different types of dips. A creamy and garlicky recipe would surely level up the taste by providing a refreshing kick in your taste buds.
What do you need to make a BLT Salad?
What makes the recipe great is that it only really needs simple ingredients which consist of the following:
base: bacon, lettuce, tomato
toppings: cherry tomatoes, eggs, croutons, onions, cheese
dressing: sour cream, mayonnaise, buttermilk, lemon juice, onion powder, garlic powder, sugar, salt, pepper
How to make BLT Salad
Prepare the dressing. Mix all the ingredients in a jar. Shake the jar well and stop when the ingredients are well combined.
Setting the base. Lay the lettuce in the bowl first. Afterward, you can add all the remaining ingredients, including the toppings.
Drizzle a fair amount of dressing from the jar on top of the ingredients then serve.
What to serve BLT Salad with?
I tend to alternate using this recipe as the main course or a side dish. Being the main course, I usually serve it with Blue Cheese Dressing.
On the other hand, I also enjoy using it as a side dish for several main courses. Here are the recipes of meals that I serve this BLT dish with:
What dressing goes well with BLT Salad?
A classic dish such as this makes it exceptionally adaptable to different kinds of dips. Here are some of my homemade dips that you can mix and match with this healthy dish:
How to store it?
Keep the remaining dressing in the jar and lock it airtight. Make sure to store it in the fridge
For the BLT salad, I place it in a bowl and line it with one or two paper towels as this will absorb the moisture. Using a plastic wrap, cover the top of the bowl before keeping it in the fridge.
Using these storing techniques, I can usually make this dish on the first day of the week and have it last by the end.
For that reason, this dish is actually really great for meal preps. I encourage those with a tight schedule such as students to make this recipe.
Recipe tips:
For the lettuce type, the Iceberg is the best one. It is crispier, lighter, and has a longer shelf life than other types of lettuce.
I find the Blue Cheese Dressing the best match for this dish. The tangy and garlicky taste mixes well with the sweet juices of the bacon.
For vegetarians, you can still enjoy this timeless recipe by not putting in bacon or improvise by using avocados in its place.
White vinegar, white wine, and lime juice are great alternatives for lemon juice in making the dips.