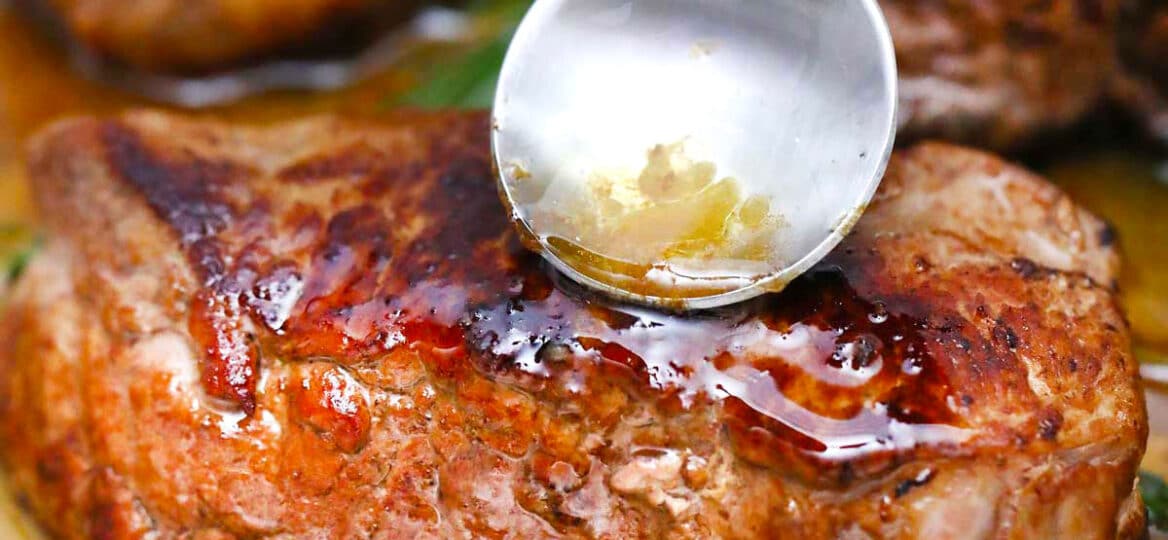 Pan Seared Steak has that juicy and melt-in-your-mouth texture with lots of meaty and buttery flavors! With this recipe, you don't need to fire up the grill!
This recipe is my go-to for a nice restaurant-quality dinner without having to leave the house! For other meaty options, enjoy my recipes for Skillet Pork Chops, Instant Pot Pork Stew, and Bacon Cheeseburger Meatloaf.
Easy Pan Fried Steak
Pan-Seared Steak is one of our family favorites. My husband always craves this and so, we make it often at home. I cannot believe that I am sharing this just now despite having to make it so frequently!
Last weekend, I scored a great cut of meat and this recipe was exactly what I thought I would make out of it. This dish can easily be paired with veggie side dishes for a complete dinner.
It is moist in the middle with a crusty exterior. Every bite is simply delightful! And all these I can prepare on the stovetop. No need to use the outdoor grill. Hence, I can make it anytime!
How to perfectly sear a steak?
Prep the meat: Unpack the sirloin and allow it to rest at room temperature for at least half an hour. Pat dry and season with salt and pepper.
Preheat the skillet: Put the pan over medium-high and put in the oil and butter.
Put the meat: Once the fats are glistening, add the sirloin until the bottom turns brown. Aim for medium-rare where the center remains pink and soft while it is brown on the outside.
Rest: Set aside the cooked pieces, cover them with foil, and allow them to rest up to 15 minutes.
Make the sauce: On the pan, add the rest of the ingredients to the drippings. Cook until desired thickness, then discard the herbs.
Serve: After resting, cut the meat and serve with the sauce.
How long do you sear a steak for?
The cooking time depends on the level of doneness that you are aiming for and the thickness of the cut.
Here are rough estimates and the corresponding temperature requirement:
Rare: 2 minutes per side, 125 deg F
Medium-Rare: 2 1/2 to 4 minutes per side, 135 deg F
Medium: 4 1/2 to 5 minutes per side, 145 deg F
Well: 6 minutes per side, 160 deg F
How do you know when the steak is done?
Aside from relying on the internal temperature, you can touch the meat with your finger. If you are aiming for medium-rare, it should feel soft and bouncy as if you are pressing your cheeks.
For medium, it should feel like you are poking your chin. If you want it medium-well, it should be harder as if you are pressing your forehead.
Aside from the feel, you can check the color, too.
Rare: very red inside
Medium-Rare: red
Medium: slightly pink
Well: not pink, uniform color throughout
How do you get a crust on a steak in a pan?
You want to get an even caramelization on the outside that forms the crust. To achieve that:
Make sure to have a dry steak. This will result in a crisped-up exterior when done correctly.
The meat should be at room temperature for even cooking.
Use a cast-iron or stainless-steel pan. It holds heat well. And make sure to preheat it adequately.
What to serve with steak?
Pair it with any of these sides:
Which steak is the best cut?
Go with a prime cut or choice as an option. These are top-graded cuts that are tender and moist aside from having the best flavors.
For this recipe, I used sirloin steak. But you can also go with filet mignon, ribeye, New York strip, or T-bone.
How to store Pan Seared Steak leftovers?
Make sure to put the leftovers in an airtight container or tightly wrap them in foil. Put them in the fridge for 3 to 4 days or freeze for 2 to 3 months.
Recipe Tips:
When choosing the cuts, you will want something that has good marbling. The fat will keep the meat moist.
While technically you can cook it frozen, it is not recommended for pan-searing only. Or else, it could be difficult to cook evenly, and it would take longer.
Also, aside from pan-searing, you need to bake it in the oven after searing. And cooking frozen meat is prone to flare-ups!
Do not skip the resting part. It will allow the juices to redistribute. Let the residual heat cook the meat further without overcooking.