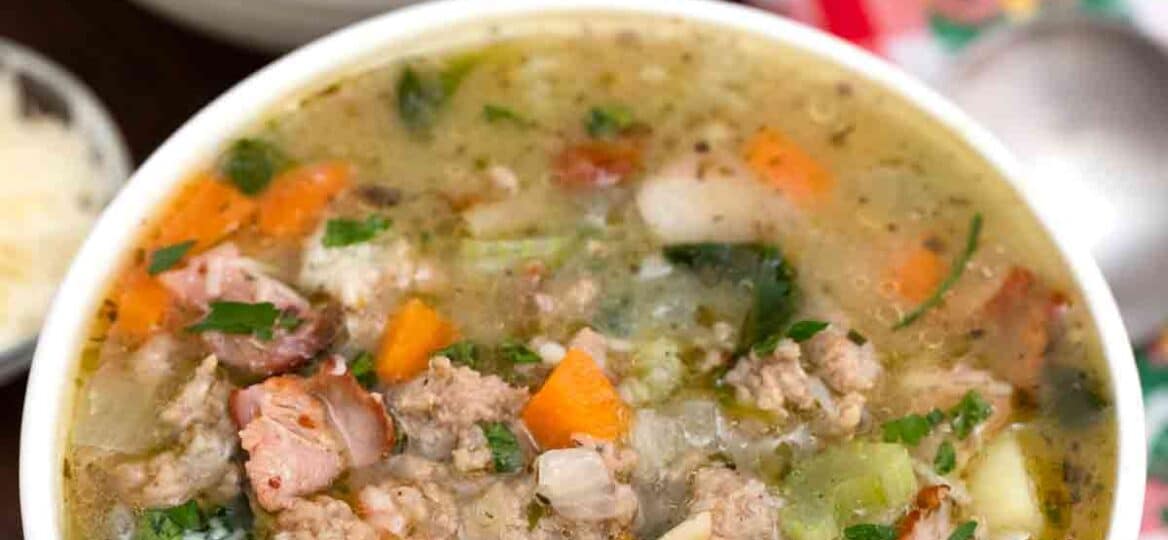 Bacon Cannellini Soup Recipe
Bacon Cannellini Soup is a hearty and flavorful meal loaded with fresh vegetables, beans, and bacon. It is the perfect dish to enjoy during the colder months. This easy recipe is a must-try this season!
This home-cooked savory dish might just be the comfort food you are looking for this fall or winter season. Looking for more fall recipes? Then, I recommend trying Crockpot Pork Tenderloin, Pumpkin Butter Cake with Rum Glaze, and Cheesy Ham Casserole.
Bacon and White Bean Soup Recipe
This Homemade Bacon Cannellini Soup has a flavor combination of pork and beans that is to-die-for. I adore this dish, especially because of the nuttiness and fluffiness of the beans. It is something that you simply enjoy after a hard day's work.
Also, it is ready in about 30 minutes from start to finish, making this a quick and ideal meal during the busy weekdays. And the Italian flavors cannot be denied in this dish. The main ingredient itself is popular in Italy. In addition, the Italian sausage in this dish also adds another dimension to the flavor profile. It goes well with the bacon.
You also get vegetables along with proteins. This makes the whole dish a nice family dinner entree as it is hearty already. You may just want to serve it with some dinner rolls, or Irish soda bread, and the meal is ready!
How to make Bacon Cannellini Soup?
Cook the bacon: In a soup pan, brown the bacon until crispy. Then, remove it when cooked and set it aside.
Sauté: Cook together the sausage and aromatics. Remove any excess fat.
Boil: Next, add the veggies, seasonings, beans, and broth. Allow the whole thing to simmer.
Thicken: Blend a cup of broth and beans. This serves as the thickener. Then, add this mixture to the soup. At this point, add the spinach, too. Let it simmer for 5 minutes more.
Serve: Remove from the heat. Season with salt and pepper. Then, garnish before serving warm.
Recipe variations and substitutions:
Meat: You may use some leftover ham or pancetta for this. Or, other types of protein. I like adding shredded chicken to this dish at times.
Beans: There are many kinds of white beans. Aside from cannellini, you can use navy, baby lima, or Great Northern beans. Typically, these white beans can be used interchangeably.
Method: Soups like this are great candidates for slow cooking or to make in the Instant Pot. Once you have cooked the bacon and veggies, you can transfer everything in a crockpot and cook for 4 hours or more. Alternatively, feel free to try my Slow Cooker Ham and Bean Soup or Instant Pot Ham and Bean Soup.
Vegetables: To make it heartier, add sweet potatoes, fennel, zucchini, or butternut squash to it.
Other suggestions: You can add in tomato paste or lemon zest and juice. These will balance out the saltiness of the dish. Also, if you like to add heat, stir in chili flakes or red chilis. Want some richness? Add in half and half towards the end of the cooking.
How to thicken white bean and bacon soup?
The cannellini beans are rich in starch so these could serve as the thickener. Mash the cooked beans with the broth and stir in the mixture. Mashing some of the potatoes help, too.
Another thickener you can use is the cornstarch slurry. Just a bit of this will thicken the soup without affecting the flavors considerably.
Or, let it simmer without the lid to let some excess liquid to evaporate.
What to serve with Bacon Cannellini Soup?
You can serve this with some bread, green salad, and other entrees. Here are some recipes you can try:
Can you make Bacon Cannellini Soup ahead?
Yes! It even tastes better as it sits longer. Also, it becomes creamier as it sits.
To refrigerate: Use an airtight container to refrigerate the soup for up to 4 days. You can cook the soup and bacon separately and store separately. Just consume everything in about 4 days.
To freeze it: let the dish cool completely. Then, transfer it to a freezer-safe bag or an airtight container. Squeeze out the excess air, and freeze it for up to 3 months.
To reheat leftovers: Transfer the leftover portion of soup to a pot and heat it over medium heat on the stovetop. Also, if needed, add a bit of stock or water to thin out the soup.
More delicious soup recipes:
Recipe Tips
If you find it too thick though, adjust by adding broth or water.
Also, keep in mind, when adding hearty ingredients to this dish, you will also need to add more stock or cream!
Feel free to swap the broth with low-sodium broth to control the saltiness. If you have extra time, I would recommend making your own broth at home.
Aside from chicken broth, you may use tock or some vegetable broth.