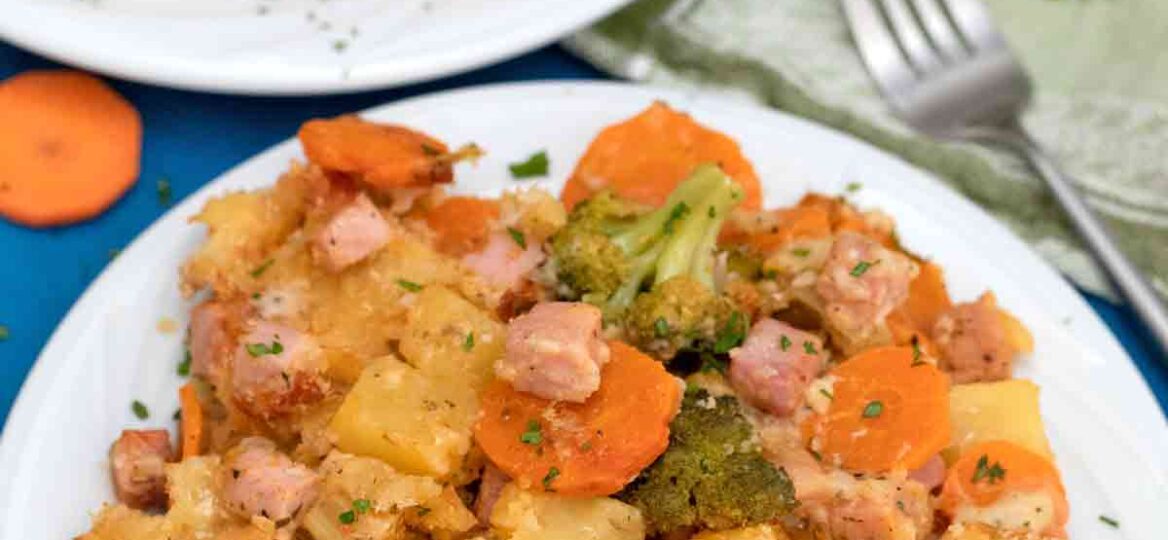 Cheesy Ham Casserole is a hearty and filling dish made with the perfect combination of ham, potatoes, veggies, and cheese sauce! This loaded dish is so easy to prepare and budget-friendly.
I love how casseroles are so convenient to make. No complicated recipes. No-fuss preparation. Just like my recipes for Instant Pot Hawaiian Chicken, Garlic Butter Steak Bites, and Beer Battered Fish, this recipe does not take too long to make!
Potato and Ham Casserole
Cheesy Ham Casserole is just one of the many recipes I have for easy lunches and dinners. What is great about casseroles is that you just need to assemble them, then pop it in the oven until it is done cooking.
That's it! And the outcome is a hearty sizeable dish for the whole family. And it is already a complete meal on its own. It has protein, fiber, and carbs that are healthy for you.
And it also has a lot of layers of textures from the various veggies infused in every bite. The panko breadcrumbs also give that textural contrast that elevates the whole dish.
A mixture of herbs and spices offers harmonious flavors in addition to the savory ham and cheese combo.
This recipe is also great to "clean the fridge"! If you don't have leftover ham from a holiday celebration, you can just buy the cubbed stuff. I usually combine it with the veggies that I already have in the fridge and need to use.
Overall, this dish is a delicious treat that you can easily prepare on a weeknight. And it is a great recipe for leftover ham. Now that is a win-win!
What goes into Cheesy Ham Casserole?
This recipe, like any other casserole, is so versatile that you can add almost any of your favorite ingredients. But for this recipe, here is the basic rundown of ingredients that you will need:
How to make Cheesy Ham Casserole?
Prepare for baking: Preheat the oven to 375 degrees Fahrenheit.
Prepare the potato mixture: Let the spuds boil in a saucepan along with the celery and carrots for about 15 minutes until tender. Then, drain the liquid.
Cook the ham: In a skillet, sauté it in butter with the aromatics. Then, add in the potato mixture and broccoli. Season everything with the spices and seasonings. Transfer the mixture into a baking dish.
Prepare the cheese sauce: In a saucepan, make a roux by whisking together the butter and flour. Then, whisk in milk and seasonings. Allow the mixture to boil and thicken before removing from the heat to stir in the cheese.
Assemble: Pour the sauce over the ham mixture. Add a layer of cheese and panko breadcrumbs.
Bake: Pop it in the oven for about 25 to 30 minutes.
Serve: Garnish with parsley and enjoy while hot!
Ham Casserole variations and substitutions:
Here are some suggestions on how you can use the same recipe but with a twist:
More casserole recipes:
How to Store Leftovers:
Keep the leftovers in an airtight container and refrigerate for up to 3 or 4 days. Simply reheat using the oven in the same settings as the dish was cooked.
Recipe Tips: