Slow Cooker Clam Chowder [Video]
Slow Cooker Clam Chowder is easily made in the crockpot, yielding a creamy and comforting soup. The clam flavor is front and center here, and the addition of bacon in the mix makes this soup so much better!
It's officially winter season, and with it come to the desire for a nice, cozy and warm soup. And this clam chowder soup will do just that. It is a perfect way to indulge yourself during the cold months.
We love making delicious soups in the slow cooker like the Slow Cooker Baked Potato Soup, Slow Cooker White Turkey Chili and this Slow Cooker Tortellini Soup.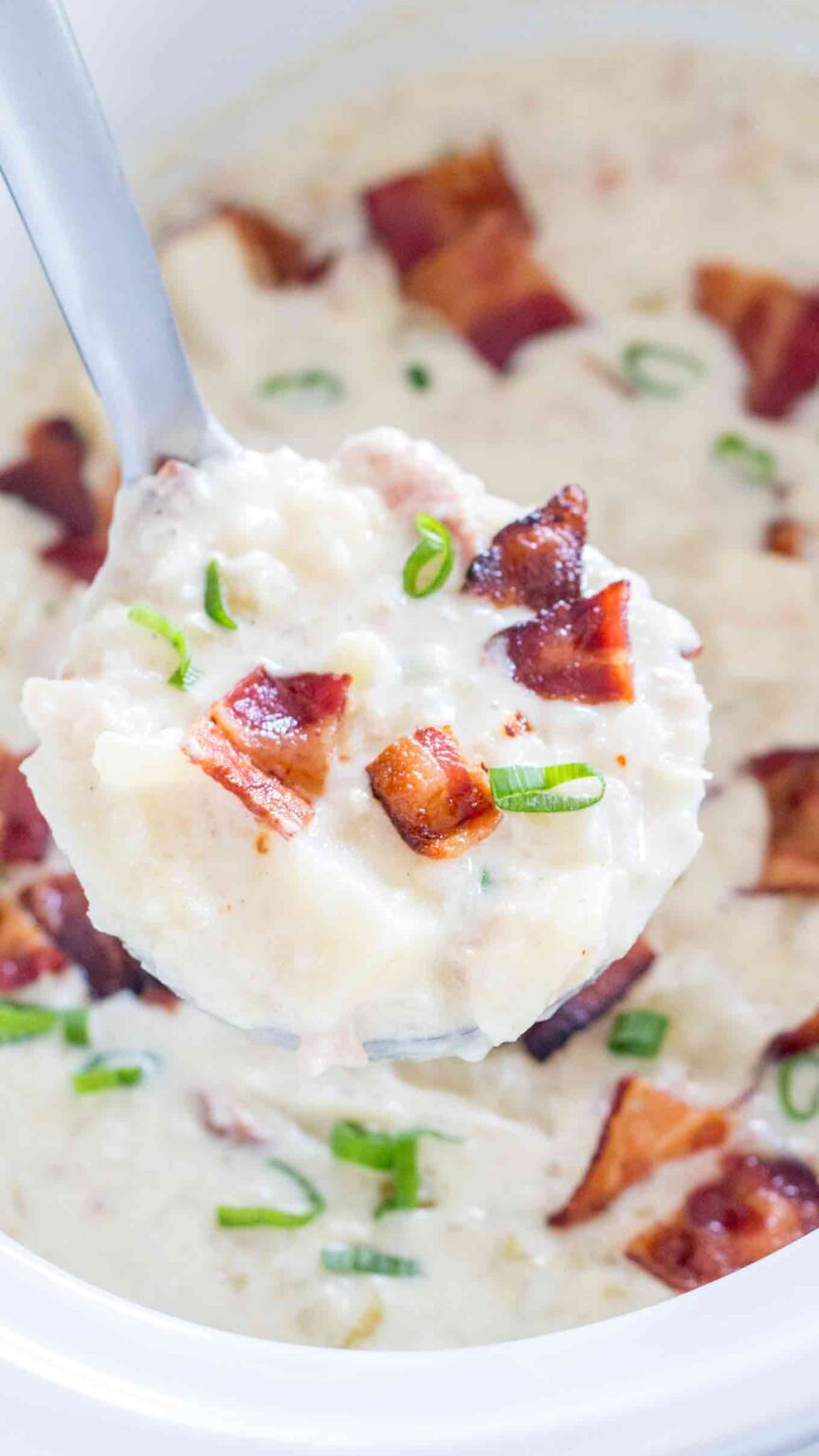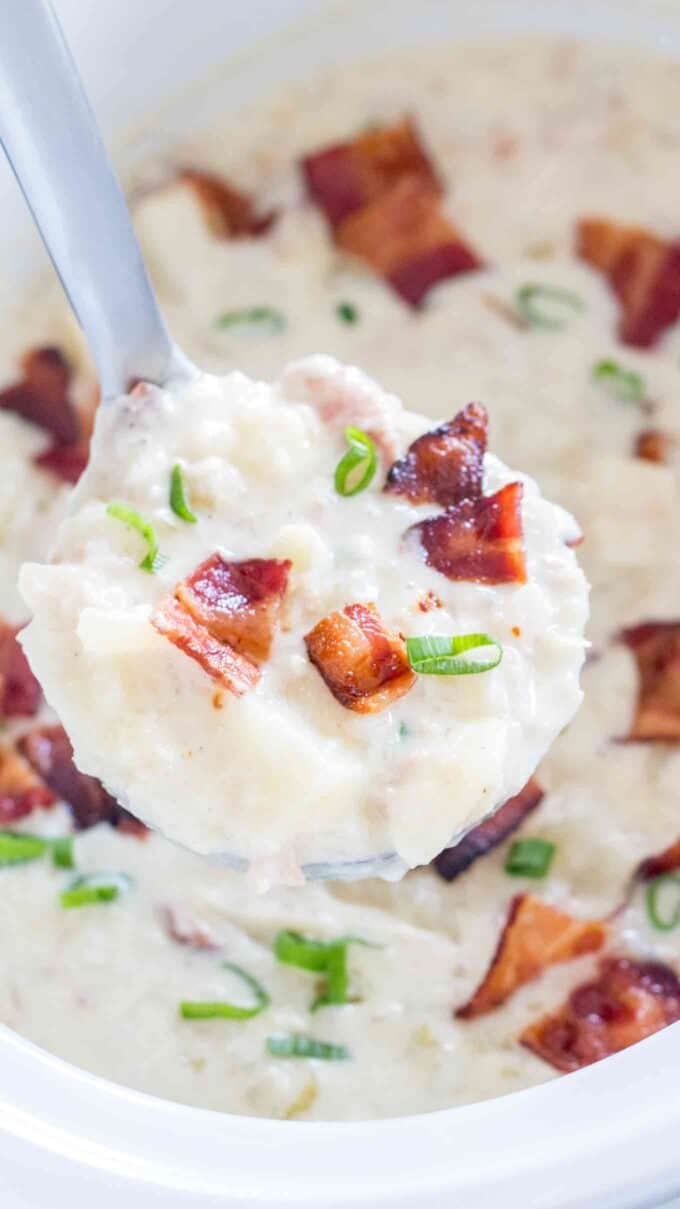 Best Slow Cooker Clam Chowder
Slow Cooker Clam Chowder is always on high demand in our kitchen when colder weather hits. We love this soup, it has a rich and pronounced flavor, yet it's hearty and easy to make. Also, the soup is very budget-friendly, as we used canned minced clams, and honestly, it tastes better this way. You could use fresh clams, but bear in mind, you will need some extra time to prepare and clean the clams.
In our version, we also used potatoes, cream, milk, and a little bacon to enhance the flavors. In addition, we mixed some cornstarch with a cup of milk to thicken up the soup. The creamy texture is amazing, and if you want to make it even better, top the soup with some oyster crackers or croutons. Grab a bowl and indulge yourself with the most delicious and creamy soup during these chilly months!
How do you make a Slow Cooker Clam Chowder?
For exact measures, please see the recipe card below. Also, feel free to watch the recipe video attached. But the general steps to make this dish are as follows:
In a large skillet, sauté the bacon until golden brown. Set aside on paper towels.
Next, put the minced clams in the crockpot with bacon.
Add all remaining ingredients, except milk and cornstarch.
Cover and cook on High for about 3 hours, until the potatoes are tender.
In the last hour of cooking, mix 1 cup milk with cornstarch, and add it to the crockpot.
Top the soup with some croutons or crackers, extra bacon and enjoy warm.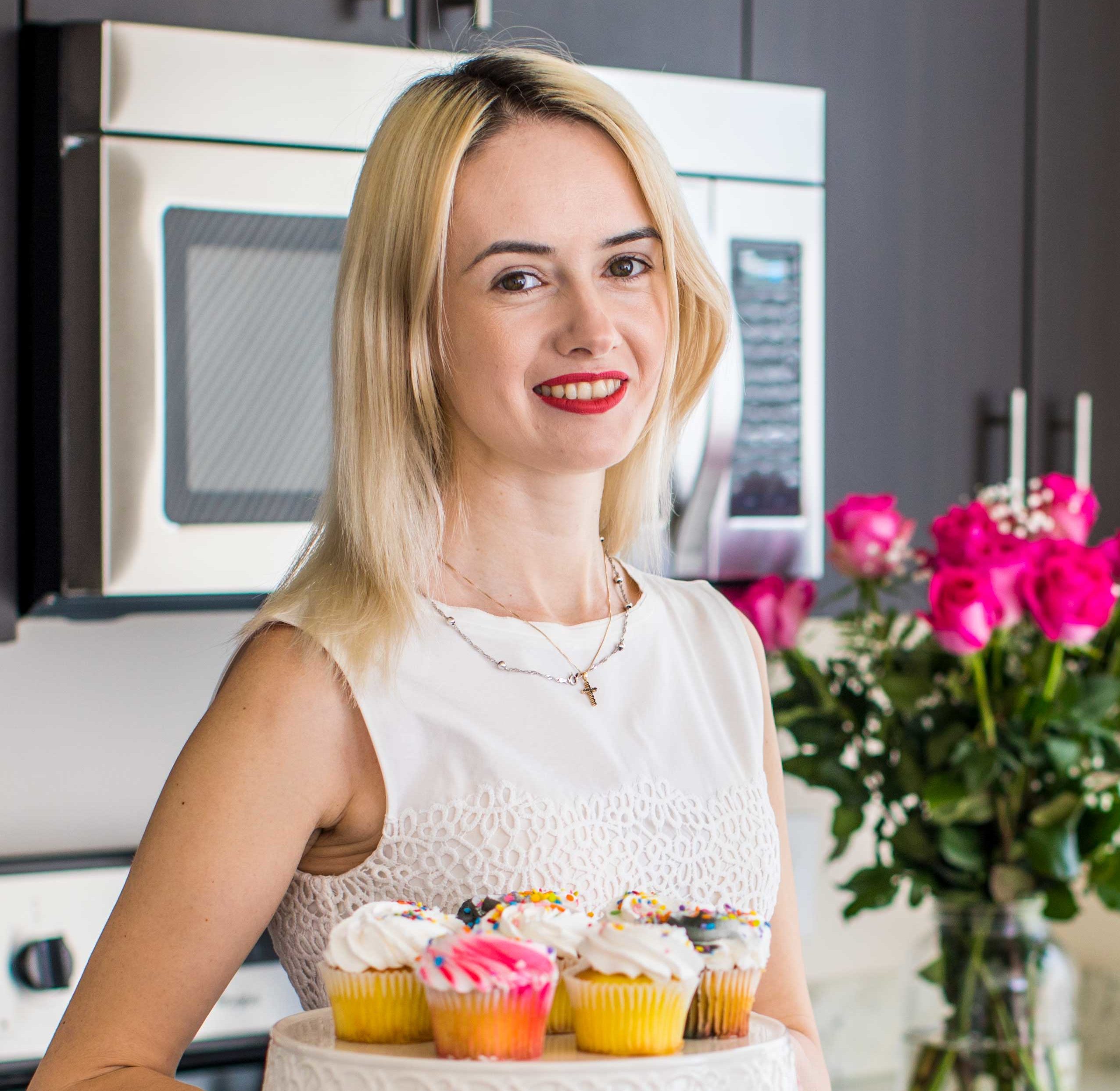 Follow us on Pinterest for more delicious recipes!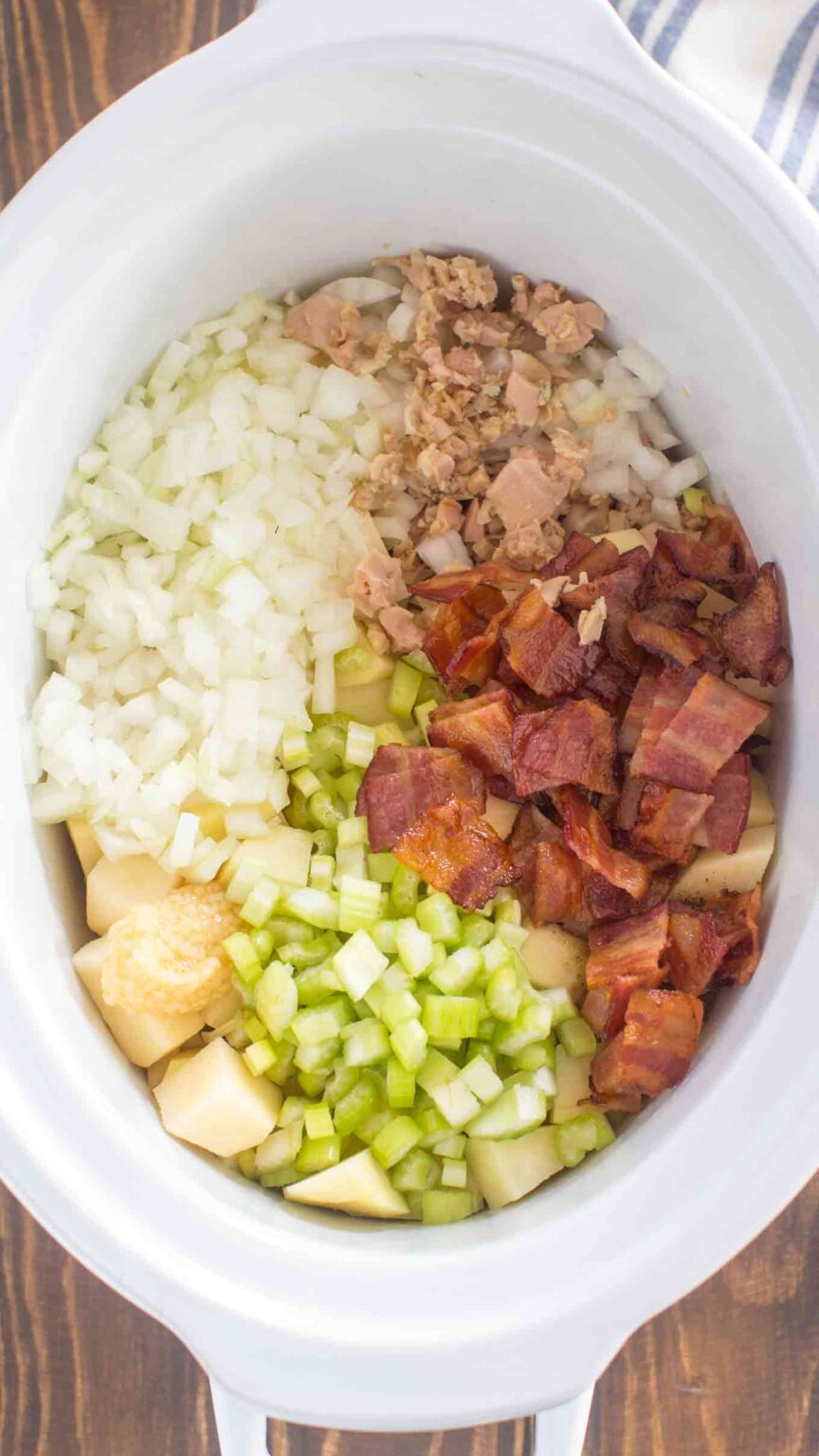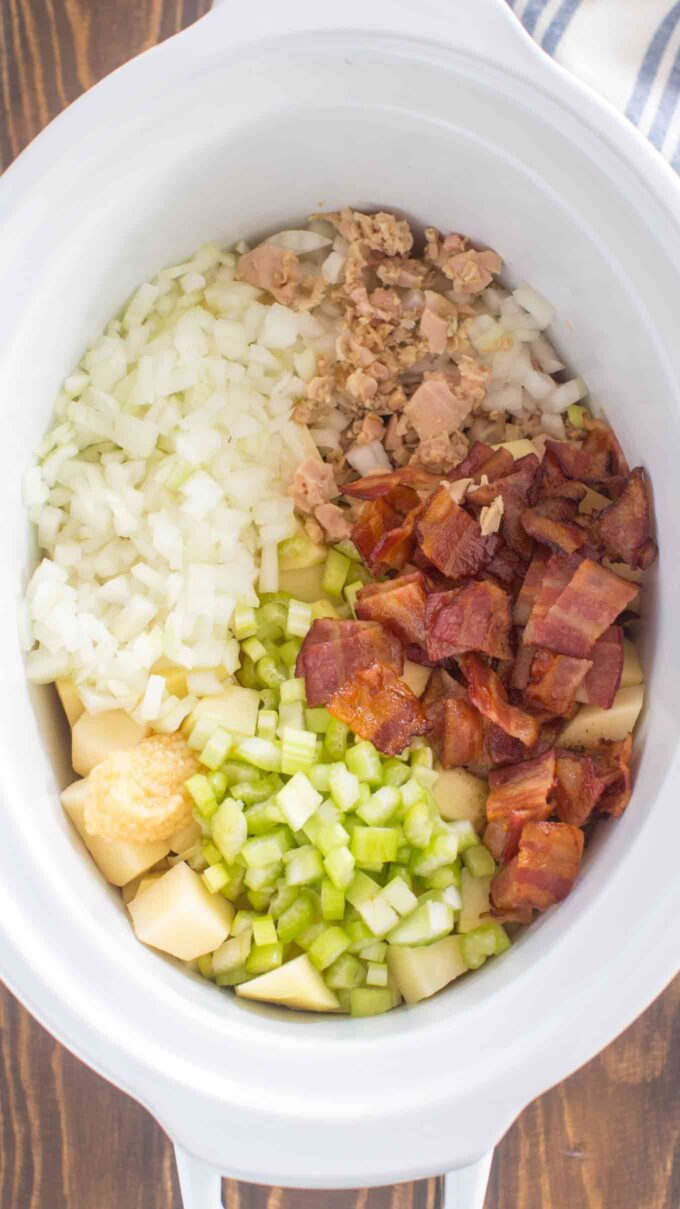 What is the difference between New England and Manhattan clam chowder?
The main difference between the two is the broth. The traditional New England (also known as Boston) clam chowder has a thicker cream broth. Also, the New England clam chowder is white. It has a milk or cream base and is made with clams, potatoes, onion, and pork or bacon. On the other hand, Manhattan clam chowder has a red color, and is more like a tomato vegetable soup, with clams added for flavor.
What are good toppings for Slow Cooker Clam Chowder?
The soup is delicious as is, but some toppings suggestion that goes well with it are:
Bacon crumbs or chopped bacon
Chopped green onion or parsley
Chopped chives
Oyster crackers
Croutons
Corn chips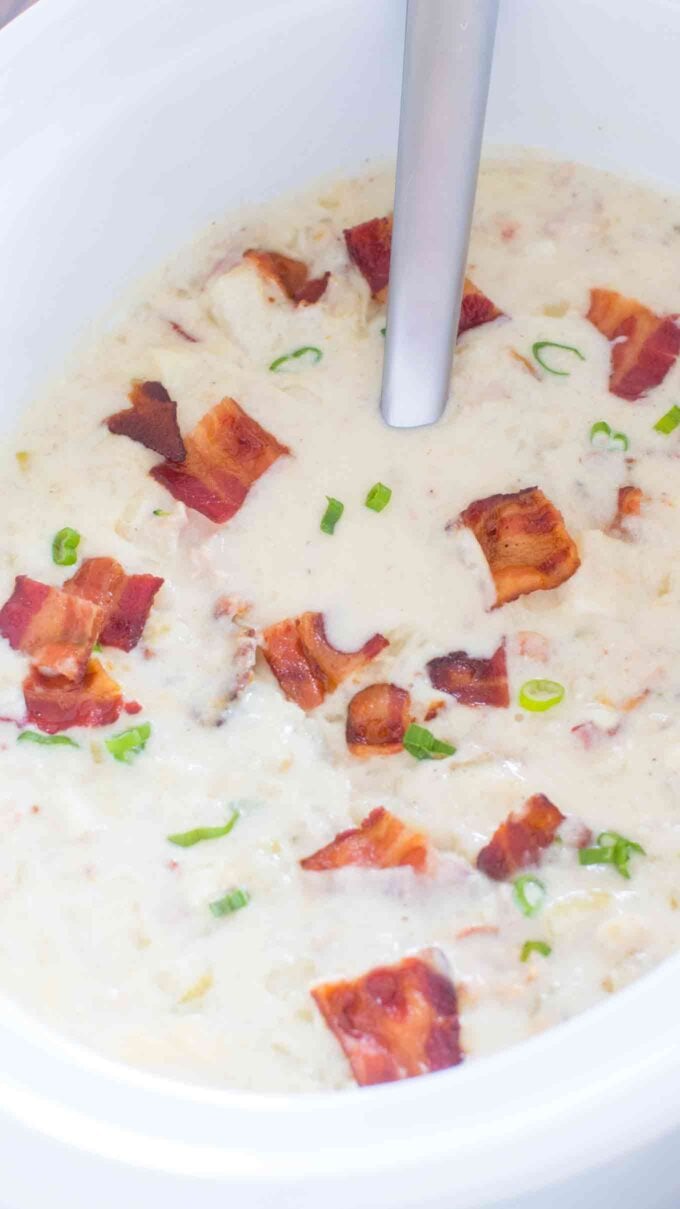 CAN YOU FREEZE SLOW COOKER CLAM CHOWDER SOUP?
You can freeze the soup if you want. I recommend using quart bags for this soup. Use a cup to transfer the soup from the pot into the bag. Squeeze out excess air and seal the bags.
The bags can nicely be stored in the freezer for up to 3 months. When you decide to serve it, thaw, add it back to the slow cooker, or to a large pot on the stove pot, and mix in some milk to get it to the desired consistency.
Recipe Tips:
I used chicken broth for the liquid and the clam juice from the cans, however, you could use bottled clam juice or even water.
If you use salted or low sodium chicken broth in the soup, you might need to reduce the salt in the soup.
You can cook the bacon prior to starting the soup, either by frying it or roasting it in the oven, whatever method you prefer.
Similarly, you can use pre-cooked bacon to save time and cut down on the effort.
If you don't eat bacon, you can skip it.
Tools Used To Make This Slow Cooker Clam Chowder:
Slow Cooker – I love this slow cooker, while it's more expensive, you can brown the food directly into it, so that saves you time.
Save Recipe
Slow Cooker Clam Chowder
Slow Cooker Clam Chowder is easily made in the crock pot, yielding a creamy and comforting soup. The clam flavor is front and center here, and the addition of bacon in the mix, makes this soup so much better!
Author: Catalina Castravet
Serves: 6 servings
Prep time:

15

minutes
Cook time:

4

hours
Total time:

4

hrs

15

mins
Nutrition information
Calories: 194 Carbohydrates: 5 Protein: 5 Fat: 16 Saturated Fat: 8 Cholesterol: 42 Sodium: 871 Potassium: 256 Fiber: 0 Sugar: 1 Vitamin A: 435 Vitamin C: 3.1 Calcium: 104 Iron: 0.2
Save Recipe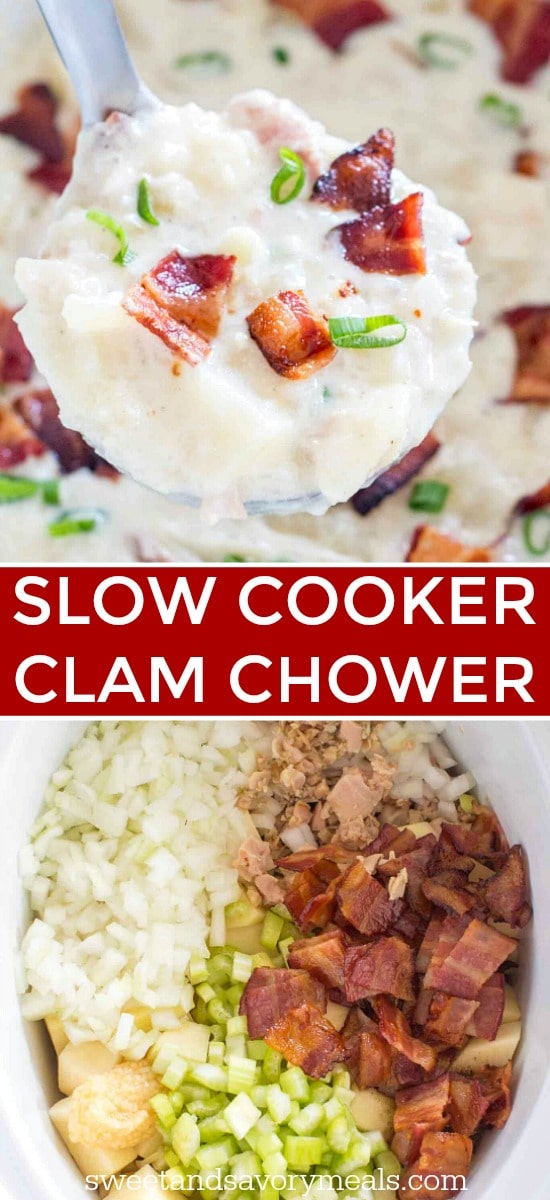 More recipes you might love
Categories: