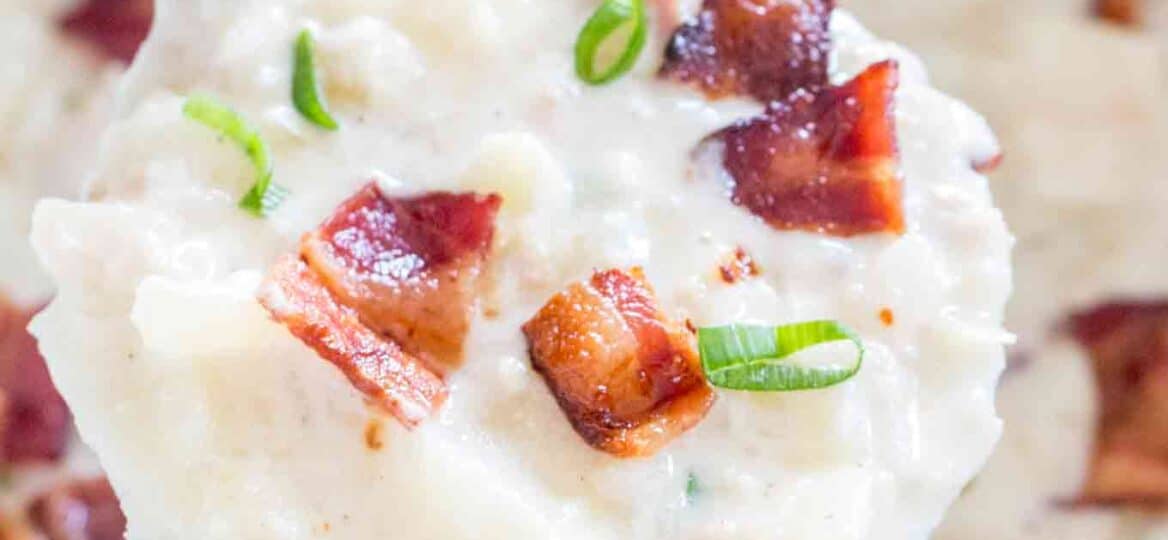 Slow Cooker Clam Chowder [Video]
Slow Cooker Clam Chowder is easily made in the crockpot, yielding a creamy and comforting soup. The clam flavor is front and center here, and the addition of bacon in the mix makes this soup so much better!
It's officially winter season, and with it comes the desire for a nice, cozy, and warm soup. And this clam chowder will do just that. It is a perfect way to indulge yourself during the cold months. You can also try Slow Cooker Baked Potato Soup, Crockpot White Turkey Chili, and this Slow Cooker Tortellini Soup.
Crock Pot clam chowder recipe
This Crock Pot Clam Chowder Recipe is always in high demand in our kitchen when colder weather hits. We love this creamy soup, it has a rich and pronounced flavor, yet it's hearty and easy to make.
Also, this creamy clam chowder soup is very budget-friendly as we used canned minced clams. Honestly, it tastes better this way. You could use fresh clams, but bear in mind, you will need some extra time to prepare and clean them.
This is the perfect comfort food to serve during cold winter days. Also, seafood fans will appreciate how rich and creamy this dish is. We love serving it on a bread bowl, or with a crunchy slice of bread on the side.
In our version, we also used potatoes, cream, milk, and a little bacon to enhance the flavors. In addition, we mixed some cornstarch with a cup of milk to thicken up the soup. The creamy texture is amazing, and if you want to make it even better, top it with some oyster crackers or croutons. Grab a bowl and indulge yourself with the most delicious and creamy soup during these chilly days!
Ingredients:
Clams: I use canned minced clams. They are cheaper and just work perfectly in this recipe.
Bacon: This adds extra flavor to the whole dish. So, I highly recommend adding it!
Potatoes: Feel free to use your favorite type. I usually go with starchy, and large potatoes such as Yukon Gold. However, you could use medium potatoes, red potatoes, or any Idaho potatoes.
Veggies: Such as onion and celery.
Chicken broth: Homemade chicken stock works the best.
Seasonings: Thyme, salt, and black pepper.
Heavy cream, sour cream, and milk: To make the rich and creamy base.
Corn starch: To help thicken the soup.
How do you make a Slow Cooker Clam Chowder?
For exact measures, please see the recipe card below. Also, feel free to watch the recipe video attached for quick step-by-step instructions. But the general steps to make the best clam chowder recipe are as follows:
In a large skillet, sauté the bacon until golden brown. Set aside on paper towels.
Next, put the minced clams in the crockpot with bacon.
Add all remaining ingredients, except milk and cornstarch.
Cover and cook on High heat for about 3 hours, until the potatoes are tender.
In the last hour of cooking, mix 1 cup milk with cornstarch, and add it to the crockpot.
Top the soup with some croutons or crackers, extra bacon, and enjoy warm.
Variations and substitutions:
Add garlic: Adding some freshly minced garlic will add a nice aroma to it.
Other meats: Feel free to add ham, shredded chicken, shrimp, or pork to it.
Half and half: Substitute heavy cream with half and half or whole milk.
Aromatics: Also, use your favorite seasonings. Some great additions would be ranch seasoning, bay leaves, garlic powder, etc.
Cream of mushroom soup: Alternatively, use cream of mushroom soup as the base, and skip the heavy cream, sour cream and milk.
What is the difference between New England and Manhattan clam chowder?
The main difference between the two is the broth. The traditional New England clam chowder (also known as Boston) has a thicker cream broth. Also, the New England version is white. It has a milk or cream base and is made with clams, potatoes, onion, and pork or bacon.
On the other hand, Manhattan clam chowder has a red color, and is more like a tomato vegetable soup, with clams added for flavor. Also, the Manhattan Clam Chowder uses tomatoes and is always referred to as Manhattan Red chowder.
Can I use fresh clams?
Yes. In that case, I would recommend using baby clams or chop them into smaller pieces.
Also, ensure to get the sand out prior to cooking. Just transfer them to a pot of cold water and add some flour or cornmeal. Then, let them soak for about 30 minutes. They will spit out the sand this way.
Use bottled clam juice because there will not be any clam nectar when using fresh seafood.
Favorite toppings:
The soup is delicious as is, but some toppings suggestion that goes well with it are:
Bacon crumbs or chopped bacon
Chopped green onion or parsley
Chopped chives
Oyster crackers
Croutons
Corn chips
What to serve with it?
Here are some of my favorite sides to go with this dish:
How to store leftovers?
First, let it completely cool at room temperature. Then, transfer leftovers to an airtight container and refrigerate them for up to 3 days.
Can you freeze clam chowder soup?
You can freeze the soup if you want. I recommend using quart bags for this soup. Use a cup to transfer the soup from the pot into the bag. Squeeze out excess air and seal the bags.
The bags can nicely be stored in the freezer for up to 3 months. When you decide to serve it, thaw, add it back to the slow cooker, or to a large pot on the stove pot, and mix in some milk to get it to the desired consistency.
More comfort soup recipes:
Recipe Tips:
I used chicken broth for the liquid and the clam juice from the cans, however, you could use bottled clam juice or even water.
Also, if you use salted or low sodium chicken broth in the soup, you might need to reduce the salt in the soup.
You can cook the bacon prior to starting the soup, either by frying it or roasting it in the oven, whatever method you prefer.
Similarly, you can use pre-cooked bacon to save time and cut down on effort.
If you don't eat bacon, simply skip it.
Tools Used To Make this recipe:
Slow Cooker – I love this slow cooker, while it's more expensive, you can brown the food directly into it, so that saves you time.