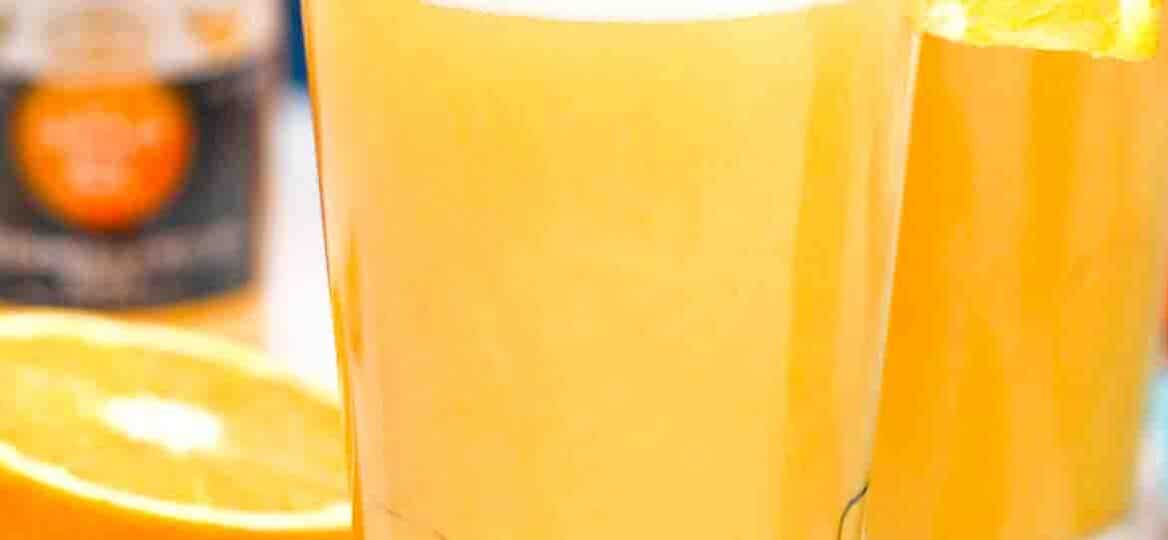 Beermosas Recipe – Perfect for Father's Day
Beermosas are a delicious combination of two of my favorite beverages, beer and orange juice, the perfect cocktail for hot summer days. This recipe is wonderful because you can use whatever type of beer and orange juice you like. Or whatever you happen to have. It is perfect for Father's Day and other occasions or just any day you feel like having beer cocktails. Happy hour can happen anytime when you are serving beermosas at home.
Truthfully, this is just like a classic mimosa, but you use beer instead of champagne. With just two ingredients, you can have a new kind of cocktail to serve to guests. Speaking of mimosas, it was Frank Meier who invented this drink in 1925 when he was working as a bartender at the Paris Ritz Hotel. So, you can thank Frank for this beermosa recipe!
Making beermosas may not be something you have even considered. But think about all the fruit-conditioned beers on the market. They use everything from lime juice to grapefruit juice in many types of beer. Especially craft beer.
Ingredients needed:
There are only two things you need for this beermosa recipe. Three if you want to garnish your drinks. Find our recipe card at the bottom of the page for the exact measurements and instructions.
Beer: Use your favorite beer but ale works best.
Orange juice: Fresh squeezed orange juice is best.

Orange slices: Optional garnish.
How to make beermosas from scratch?
Pour in the orange juice: First, fill two pint glasses 1/4 full of your best orange juice.
Add the beer: Next, slowly pour the beer into each pint glass.

Garnish and serve: Finally, add a slice or two of orange for garnish and enjoy immediately.
Recipe variations:
Blood orange: For something different, try using blood orange juice for your beer mimosa. It gives your cocktail a darker red hue and tastes less tangy.

Add wine: Try adding a bit of sparkling white wine before the orange juice and beer for extra bubbly.

Extra flavor: Why not add some orange liqueur like Triple Sec, Cointreau, or Grand Marnier for an extra orangey taste?

Heat them up: Sprinkle a pinch of red pepper flakes into your orange juice before adding the beer if you like spiciness.
Sweeter: Add some sugar syrup to make your beermosas sweeter.

Other fruit: If you want to add more fruit taste but not the actual juice, try using extracts. There are so many on the market, you can find everything from apples to zucchini.

Fresh herbs: Another way to make your beermosas unique is to add your favorite herbs like rosemary, thyme, or ginger.
How to serve:
You can have these any time you want because you only need two ingredients and a few minutes. They are perfect for dinner with friends, enjoying a day at the pool, or celebrating anything from anniversaries to birthdays. Here are a few fun ideas for serving these delicious drinks. Share some of your own ideas in the comments section if you have some.
Make your beermosas fancy by putting them in a champagne glass or champagne flute.

This beverage goes great with any brunch food like eggs, sandwiches, or even pancakes. Try our fluffy and sweet banana pancakes recipe.

Thinking of having these for St. Patrick's Day? Add a shot of Blue Curaçao to make a green beermosa.
If you have some guests or family members who do not like or cannot drink beer, we have a yummy recipe for classic mimosas.

Not a drinker? You can use alcohol-free beer and orange juice instead.
Beer and burgers just seem to go together. Try serving beermosas with these savory Greek lamb burgers made with ground lamb meat and served with our homemade mint yogurt sauce and tabbouleh.
Top your glasses with a spoonful of coconut for a more tropical beermosa.
Frequently asked questions
What kind of beer is best for beermosas?
You want to use an ale rather than a lager for the best beer mimosas. Ales are lighter and are easy to match with orange and other flavors. They go well with sweet or even sour flavors like lemon and lime juice. Ales make a good beermosa with a refreshing taste perfect for a backyard barbecue or brunch on the patio. Any light wheat beer is a good choice here.
What kind of orange juice should I use?
Although you can use store-bought orange juice, freshly squeezed orange juice right from the orange makes these beermosas the most refreshing. You can also use juice from valencia oranges, sugar-free orange juice, pulp-free orange juice, or even tangerine juice. Be creative and try all sorts of different varieties.
Can I use other types of juice?
Beermosas can be made with any kind of juice. However, we suggest you stick to citrus for the right zing. Lemon, lime, and grapefruit juice are all excellent choices. If you really want to try something different add them all together. Just keep the ratio of 1:3.
How can I make a virgin beermosa?
If you have some non-drinkers or you want to make some beermosas for those under 21, you can use alcohol-free ale. Just make sure you look at the alcohol content because some of the beers on the market that claim to be alcohol-free actually have some alcohol in them.
What is so good about blood oranges?
These delicious fruits not only have a unique tang, but they also have some unique nutritional benefits. There is anthocyanin in them that reduces heart disease risk as well as certain types of cancers. They also have antioxidants like hydroxycinnamic and coumaric acids. And of course, they have plenty of vitamins B, C, potassium, and fiber.
What is the nutrition information in this recipe?
Worried about nutrition, calories, and fat content? These only have 100 calories, 8 mg of sodium, 14 carbs, 1 gram of fat, and 8 grams of sugar per serving. On the other hand, it also has 1 gram monounsaturated fat, 1 gram polyunsaturated fat, 200 mg potassium, 1 mg iron, 16 mg calcium, 40 mg vitamin C, 165 units vitamin A, 1 gram fiber, and 1 gram of protein.
More cocktails to try:
How to store leftovers:
Store: You can store your leftover beermosas in a covered pitcher or mason jar in the fridge for a couple of hours. But after that, the carbonation disappears, leaving it flat.
Freeze: You can also freeze this drink and serve it as beermosa pops or slushies.
Recipe tips:
Instead of sliced oranges, you can garnish your drink with a lemon or lime wedge.
Blue Moon makes beer with all sorts of citrus notes to choose from.
With minimal ingredients, this is the perfect drink to make for a party. You only have a few minutes of prep time, and you are ready to serve.
For extra chilliness, add some ice cubes to the glass before pouring.

Mix up a big batch but keep the ratio of one part orange juice to two parts beer.
Print ingredients from our recipe card and hand them out at parties so everyone can serve these at their parties.

If you are looking for more cocktail recipes to try, we have plenty of them here.
Beermosas Recipe
Ingredients
4

bottles

beer

we used Corona

1

cup

orange juice

no sugar added

Orange slices

for serving
Instructions
Add 1/4 cup of orange juice to four tall glasses, and top off with beer until full.

Garnish with orange slices and serve.
Deliciousness to your inbox
Enjoy weekly hand picked recipes and recommendations