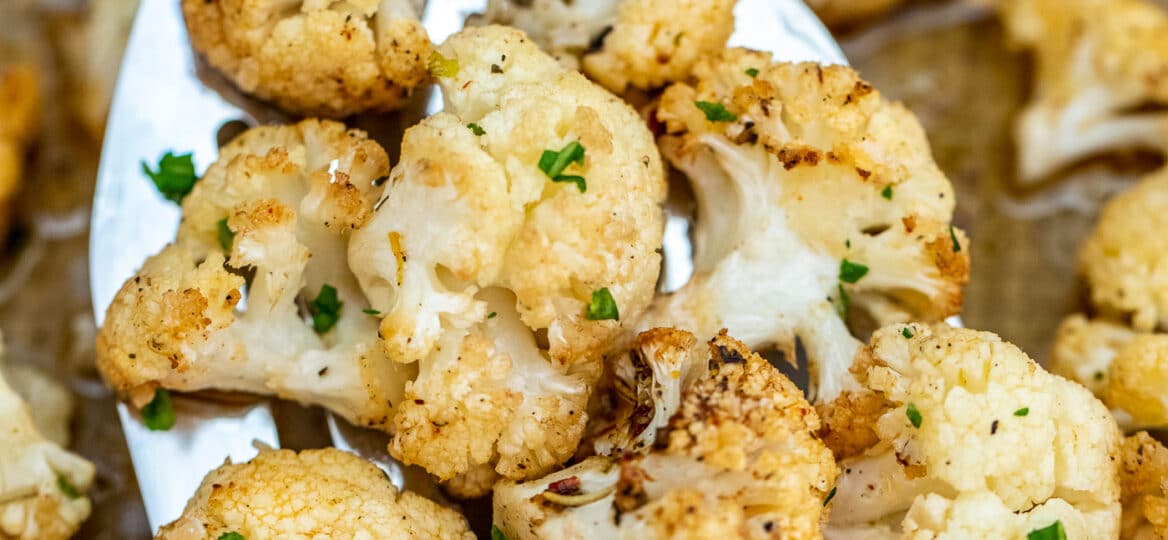 Roasted Cauliflower Recipe [Video]
This Roasted Cauliflower recipe gives the veggie a lift in terms of flavors and texture! Prepare this side dish in under 20 minutes with this easy recipe!
If you are looking for a great side dish that is easy and flavorful, look no further! Here is an amazing recipe! You know we like to roast our veggies like the sweet potatoes, carrots, and asparagus.
Roasted Cauliflower Recipe
Roasting the cauliflower is a fun way to enjoy this veggie with all the seasonings that make it flavorful. The raw vegetable is rather bland and that makes it a perfect canvas for all the colorful flavors that you can add.
A lot of people shun this vegetable because it is not as exciting as others. But, what it lacks in flavor, it compensates with health benefits.
And since it is naturally neutral in taste, then, it makes for the perfect side to your savory dishes. You can also enjoy it as a healthy snack!
Now is the best time to learn how to make this recipe with the vegetable in peak season this fall. And it is a no-brainer! With just a few ingredients that can be found in your kitchen, you can enjoy this dish in no time!
How to choose cauliflower?
It is most common during the summer and fall. And while you can find it in the market all-year-round, it is best to buy it in peak season so you will be sure to get only the freshest ones.
When buying this veggie, look at how green the leaves are and how dense and clear the florets are. The leaves must be fresh-looking and the florets, tight and spotless. This way you end up with the best-roasted cauliflower.
Is Cauliflower healthy?
Yes, it certainly is! It is a low-calorie veggie but is rich in antioxidants. One of its antioxidants, the sulforaphane, has been linked to preventing diabetes, cancer, and heart diseases.
It is mostly composed of water, and hence, it has few calories. One cup of this superfood has only 27 calories.
This is good news for those trying to lose weight because, without too many calories, you will still feel full. The same goes for this baked cauliflower recipe. A serving will only have around 68 calories with the addition of the other ingredients.
How do I cut cauliflower?
The first step to cutting this veggie is to use a sharp knife to halve one head. Then, at an angle, use the tip of the knife to cut through the smaller stems around the core.
You can use your bare hands, too, to break these apart. Then, cut each of the florets into your desired size. Make sure to cut them into uniform sizes so that the rate at which each piece cooks is uniform, too.
How to roast cauliflower?
Prepare the oven: First, preheat the oven as you prepare the vegetable.
Prepare the mixture: Combine olive oil with the rest of the seasonings.
Season the florets: Next, wash the veggie with water, cut into pieces, and then, dry thoroughly. If it is wet, it may not crisp up as much. Then, coat it with the mixture by tossing it.
Roast: Put it in the oven and cook for about 10 to 15 minutes. If you choose to add cheese, sprinkle your cheese on top and then, broil for a couple of minutes more.
What is the best temperature to roast Cauliflower?
For this recipe, preheat the oven to 425 degrees Fahrenheit.
Can you make Roasted Cauliflower ahead of time?
Yes! What you can do is prepare it first up to the point that you are to put it in the oven. Refrigerate the prepared florets, and then, simply cook before you plan to serve them. It cooks fairly quickly anyway.
Baked Cauliflower Recipe Variations:
The recipe presented in this post is somewhat Italian with the use of Italian seasoning, parmesan cheese, and red pepper flakes. For variety, you can choose among these suggested themes with the corresponding combination of seasonings:
Indian: add yellow curry powder, ground cinnamon (optional)
Mexican: add cilantro and cumin
Chinese: add soy sauce, rice vinegar, and sesame oil
Roasted Cauliflower Recipe Tips:
Serve this with poultry, lamb, or seafood-based main dishes.
To dry the veggie after washing, you can use a salad spinner.
When buying the vegetable, keep it in the crisper packed in an airtight container. Inside the container, wrap it in a paper which will help absorb spoilage-inducing moisture.
Deliciousness to your inbox
Enjoy weekly hand picked recipes and recommendations