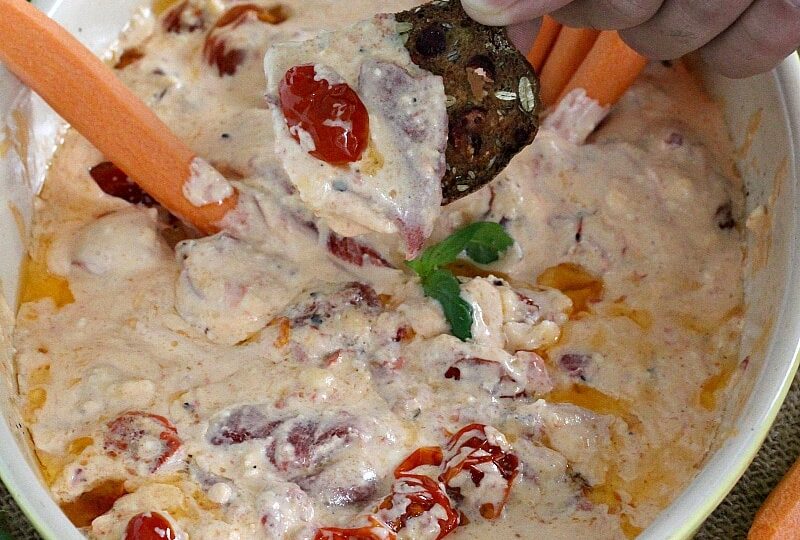 Roasted Red Pepper Tomato Feta Dip
Roasted Red Pepper Tomato Feta Dip required five Ingredients only! Easy to make, addicting and creamy feta dip is loaded with sweet and tender roasted red bell peppers and juicy roasted mini tomatoes.
I love Dips because they are simple to make, and can be served at about any event. Like Million Dollar Dip, Creamy Chicken Caesar Dip and Deviled Eggs Dip, this dip will be the highlight of any party!
Roasted Red Pepper Tomato Feta Dip
This Roasted Red Pepper Feta Dip is what summer dreams are made of. Because it is loaded with delicious roasted red bell peppers and tomatoes, this dip is hands down out of this world. I don't even need crackers, just give me a spoon. First, I actually bake my feta, believe me baked feta is fabulous, I make it all the time. Baked feta gets mixed with cream cheese and roasted red bell peppers. Roasted tomatoes are added into the mix for more flavor and juicy texture.
Now, do you know how annoying it can be to have to grill red bell peppers and after that peel them? I personally hate that process, this is where Mezzetta Roasted Red Bell Peppers are so handy. I absolutely love them in this recipe, they add the right amount of bell pepper sweetness. Also, they are tender, perfectly roasted and meant to be paired with salty, creamy feta cheese!
Why You'll Love This Roasted Red Pepper Tomato Feta Dip Recipe:
The dip is incredibly easy to make with minimum dishes to clean.
Great alternative to use Feta Cheese.
The dip is creamy and rich, the perfect crowd appetizer.
Can be served with crunchy veggies, veggie sticks, chips, crackers or toasted bread.
Any leftovers are delicious and can also be served on toast.
What to serve with Roasted Red Pepper Tomato Feta Dip?
Since this Feta Dip is a great appetizer, it pairs well with:
Chips and crackers
Crunchy veggies such as celery, zucchini, cucumbers, carrots
Toasted bread, soft pretzels or bread sticks
If you feel adventurous just grab a spoon
Can you refrigerate Feta Dip?
Yes. If you plan on refrigerating the dip, wrap the dish tightly in plastic wrap, this way the cheese won't dry out. Can be stored in the fridge for 3-4 days. Reheat before serving.