Roasted Red Pepper Tomato Feta Dip
This post may contain affiliate links. Please read my disclosure policy.
Five Ingredients only! Easy to make, addicting and creamy feta dip is loaded with sweet and tender roasted red bell peppers and juicy roasted mini tomatoes.
This post has been sponsored by Mezzetta. All opinions are of Peas & Peonies. Thank you for reading!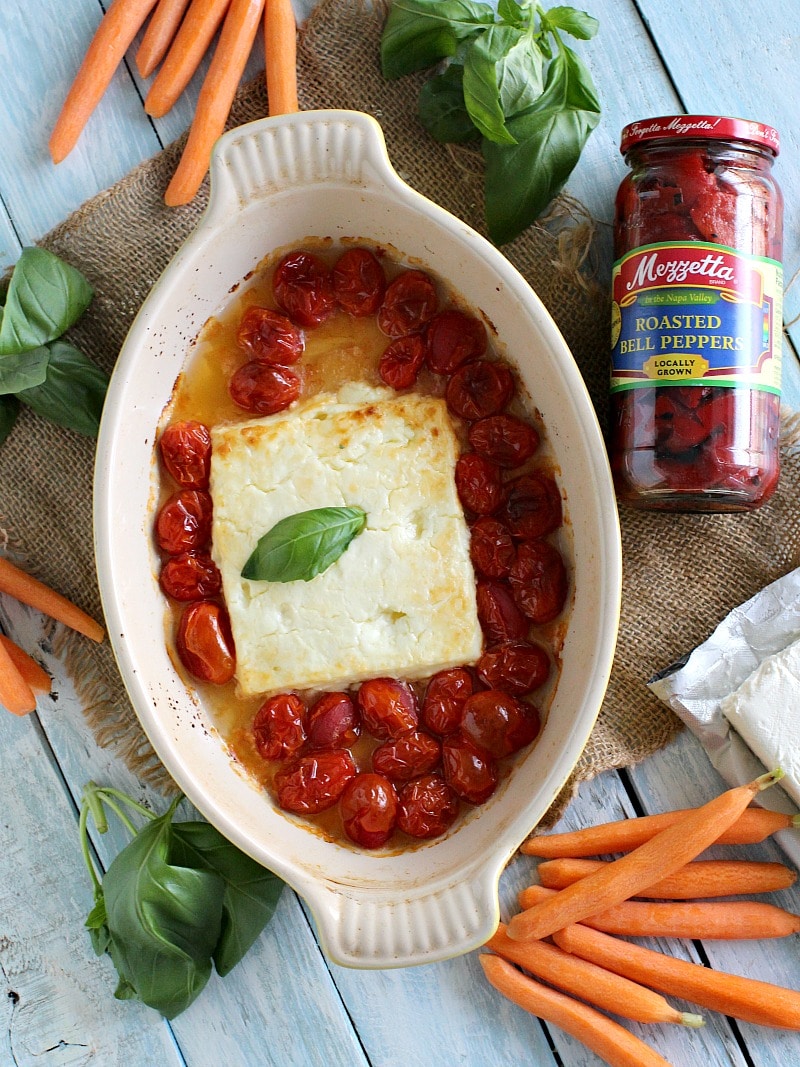 Hi Guys, I am sorry I have been MIA for the past week, but I am back to posting on a schedule. I took some much needed days off from blogging to spend them with my mom as she went back to Eastern Europe the past weekend. I already miss her so much and I am trying to keep myself busy by creating delicious food like this irritable Feta Dip that I can just munch on forever.

This Feta Dip is what summer dreams are made of, I am not even kidding here. Loaded with delicious roasted red bell peppers and tomatoes, the dip is hands down out of this world. I don't even need crackers, just give me a spoon. First, I actually bake my feta, believe me baked feta is fabulous, I make it all the time. Baked feta gets mixed with cream cheese and roasted red bell peppers. Roasted tomatoes are added into the mix for more flavor and juicy texture.
Now, do you know how annoying it can be to have to grill red bell peppers and after that peel them? I personally hate that process, this is where Mezzetta Roasted Red Bell Peppers are so handy. I absolutely love them in this recipe, they add the right amount of bell pepper sweetness. They are tender, perfectly roasted and should I say they were meant to be paired with salty, creamy feta cheese!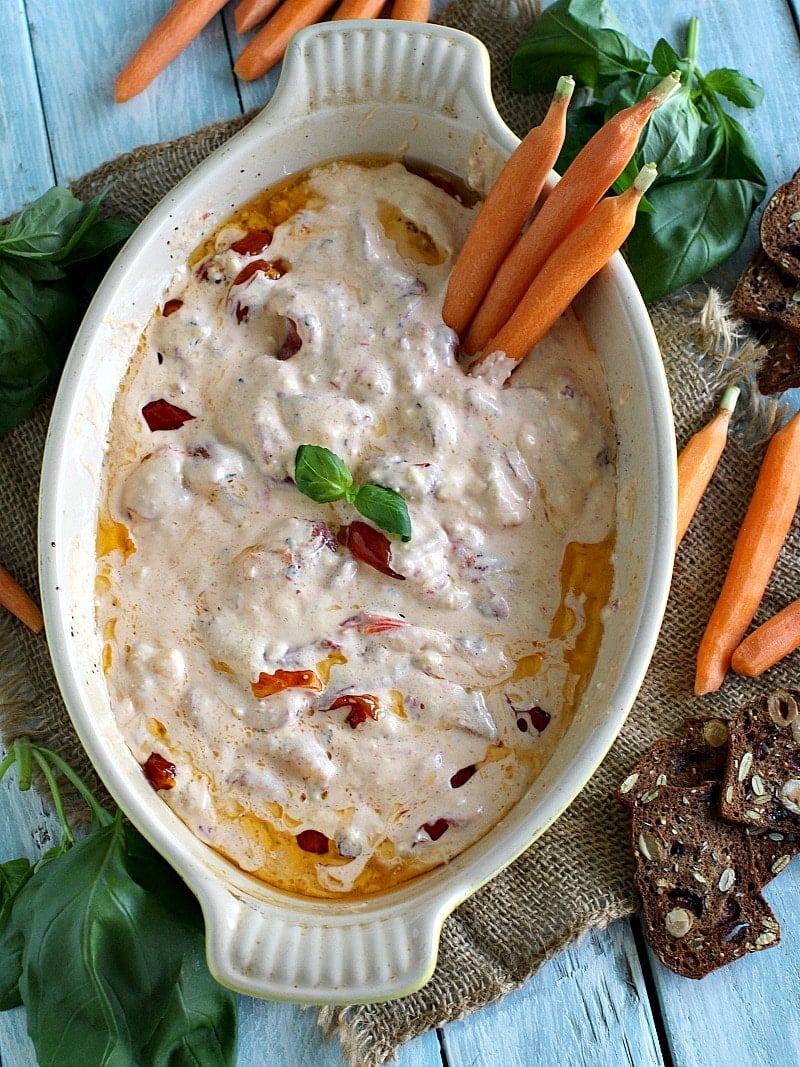 Mezzetta Peppers are the #1 jarred peppers in the U.S., harvested at the peak of ripeness from local farmers around the world, their delicious flavor is unmistaken in dishes. This Feta Dip will definitely become a staple in our house. Each bite is filled with tender roasted red bell peppers and juicy roasted tomatoes. The Feta Dip was slightly warm when I served it, but is equally delicious cold, it goes well with veggies, crackers, even on toast, or if you feel adventurous just grab a spoon!

MY LATEST VIDEOS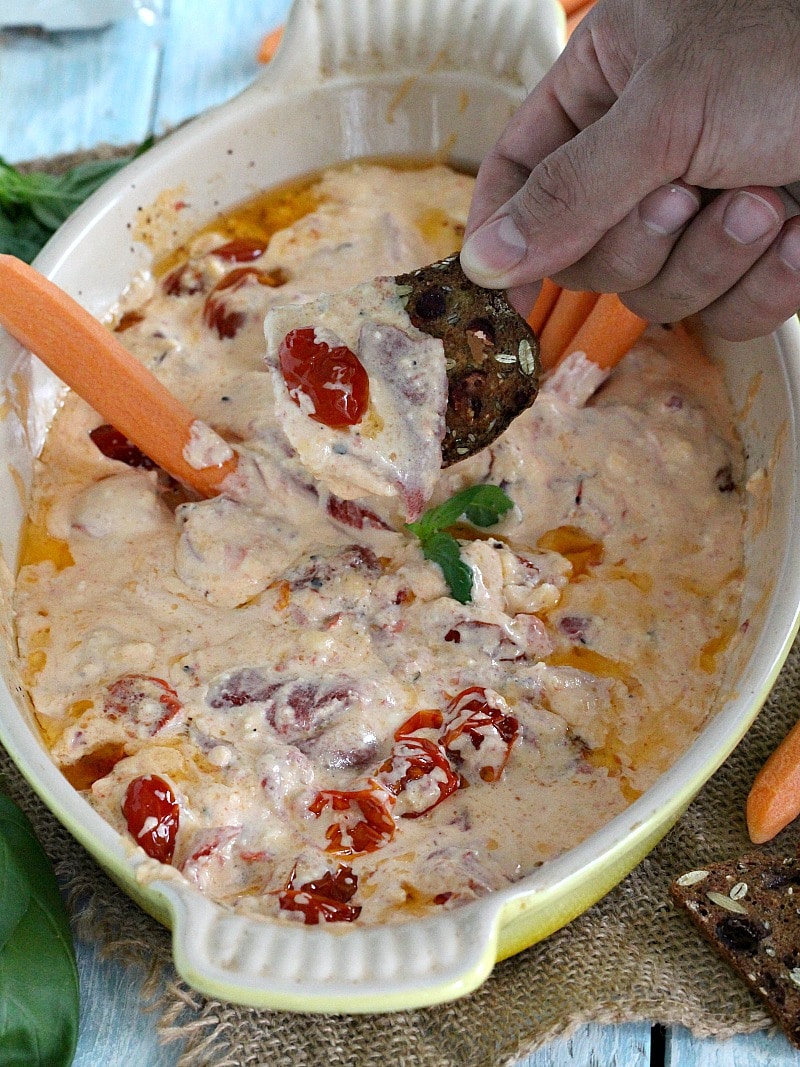 Roasted Red Pepper Tomato Feta Dip
Easy to make, addicting and creamy feta dip is loaded with sweet and tender roasted red bell peppers and juicy roasted mini tomatoes.
Author:
Katalina Kastravet
Ingredients
8 ounces feta cheese
8 ounces cream cheese, room temperature
1 cup mini red tomatoes
¾ cup Mezzetta toasted red peppers
3 tablespoons olive oil
Optional:
3 basil leaves
Instructions
Preheat oven to 400F.
Grease a 9x9 baking dish with olive oil, add the tomatoes to the dish and also coat them in olive oil, place feta cheese in the middle of the dish and bake for 30 minutes.
Drain peppers of any liquid. Set aside.
Remove feta from oven and set aside. Fit an electric mixer with the wire attachment and beat cream cheese for 1-2 minutes on medium high speed. Scrape the sides of the bowl with a spatula and add the feta cheese and peppers. Mix for 30 seconds.
Transfer the feta mixture to the baking dish with the tomatoes, gently (not to crush the roasted tomatoes) give it a stir, garnish with fresh basil and serve.
Peas and Peonies, LLC. owns the copyright on all images and text and does not allow for its original recipes and pictures to be reproduced anywhere other than at this site unless authorization is given. If you enjoyed the recipe and would like to publish it on your own site, please re-write it in your own words, and link back to my site and recipe page. Copying and/or pasting full recipes to social media or personal blogs is strictly prohibited. Sharing this recipe is very much appreciated and encouraged. Read my disclosure and privacy policy. This post may contain affiliate links.