Hasselback Carrots Recipe
Last updated on March 30th, 2022 at 04:23 pm
Hasselback Carrots look fancy but are super easy to make in minutes and extremely tasty. Seasoned with smoked paprika, turmeric, cumin, and fennel with a crisp golden-brown outside and tender inside, this is the perfect side dish for any meal.
This side dish would go great with our Instant Pot Whole Chicken made with lemon, garlic, and broth or these amazing Air Fryer Stuffed Peppers with ground beef, bell peppers, and rice.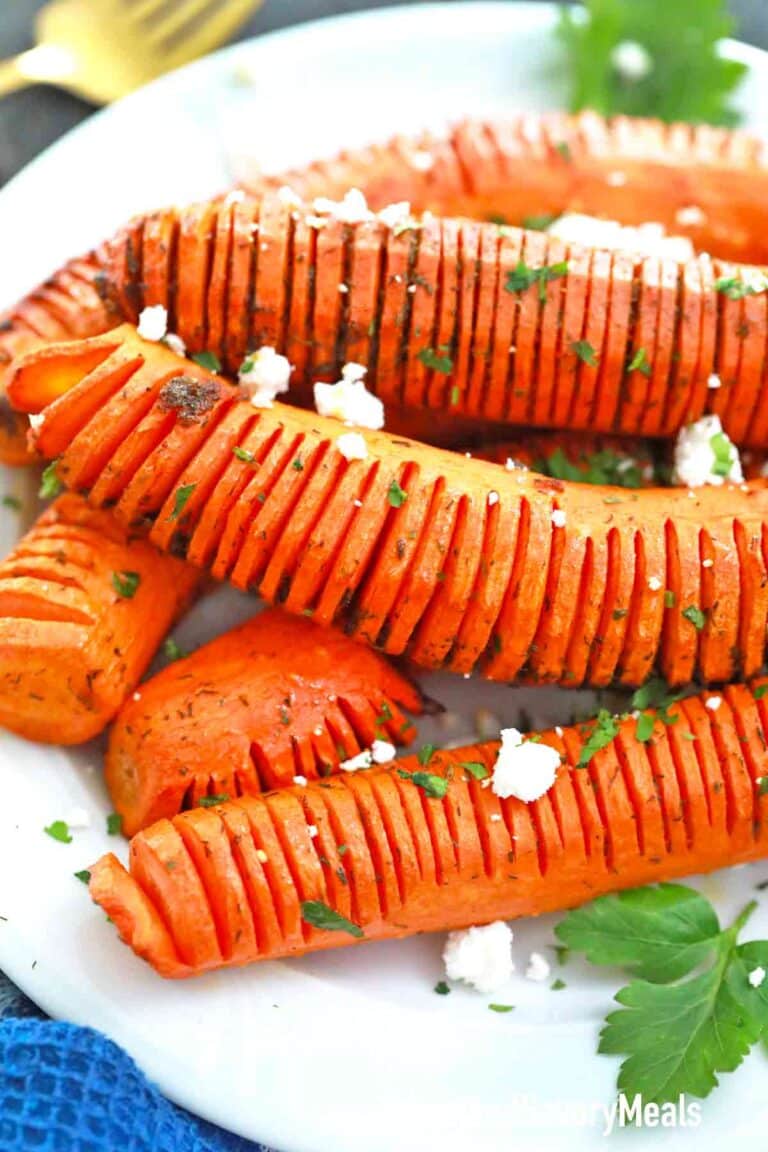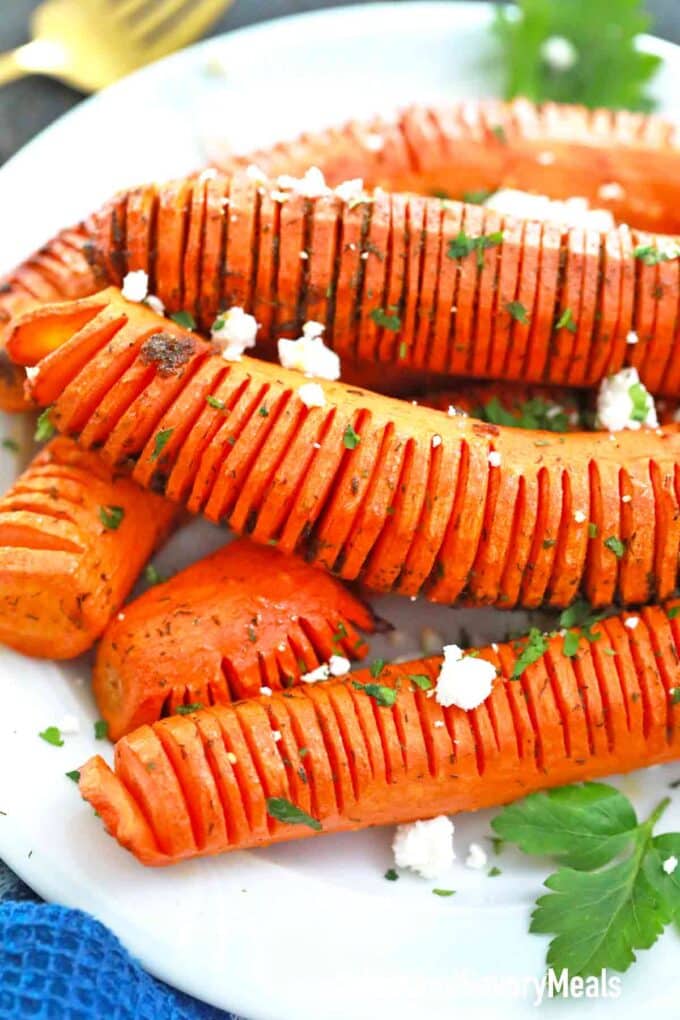 This is one of those easy recipes that look like they took you all day, but really only takes minutes. All you need are a few ingredients and some carrots.
The cutting part is not as difficult as it looks. You are actually just cutting slices into the carrot but not all the way through, so they look fancy.
You can also serve them as an appetizer, mouthwatering side dish, or snack.
Another way to use the Hasselback method is with potatoes. Try it with this easy Microwaved Potato recipe.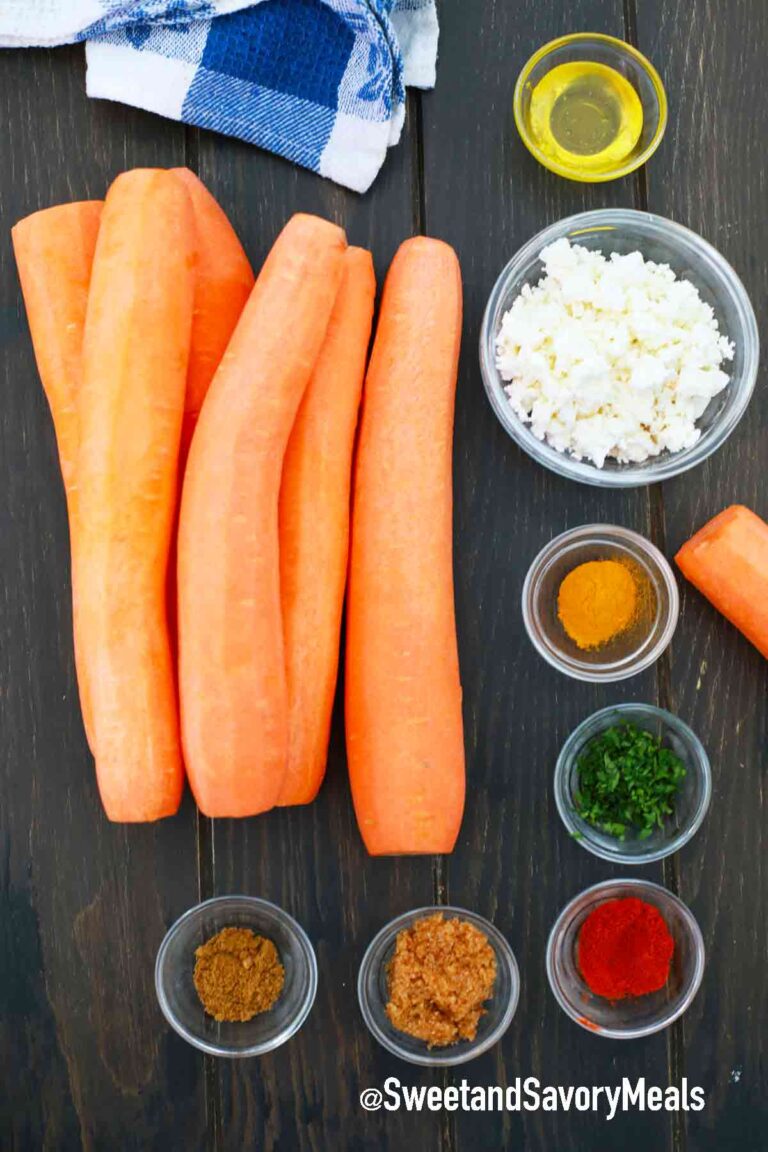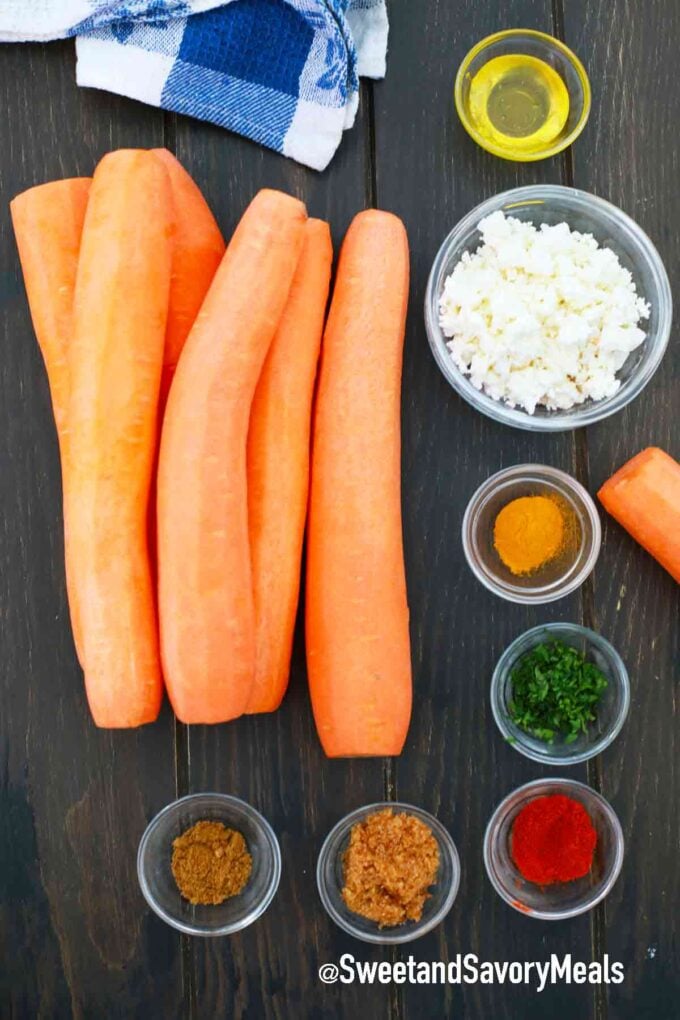 Ingredients needed:
You do not need many ingredients for this simple recipe. For instructions and measurements, find our recipe card below.
Carrots: Medium carrots; peeled, trimmed, and cut to four inches long.

Herbs and spices: We used cumin, smoked paprika, turmeric, flaky sea salt, and brown sugar.

Fennel seeds: Gently crushed.
Olive oil: You could also use vegetable oil or whatever you prefer.
Honey
Feta: Crumbled.
Flat-leaf parsley: Chopped.
How to make Hasselback carrots recipe?
Preheat: Preheat the oven to 360 degrees F.

Cut: Meanwhile, place carrots on a cutting board and use a sharp knife to cut thin slices down the length of each carrot piece, stopping about ¾ inches down.
Mix: Next, in a small bowl, mix the cumin, paprika, brown sugar, turmeric, fennel seeds, olive oil, and hone.

Rub: Then, rub the mixture of seasonings on every side of the carrot, making sure to get into each slice before putting them into a large roasting tray greased with cooking spray.
Cook: Last, bake for 25-30 minutes in a 360 degree F oven, until the carrots are crispy and turn golden brown.

Serve: Finally, add a generous amount of feta and parsley to the top of the carrots before serving in a roasting dish or baking tray.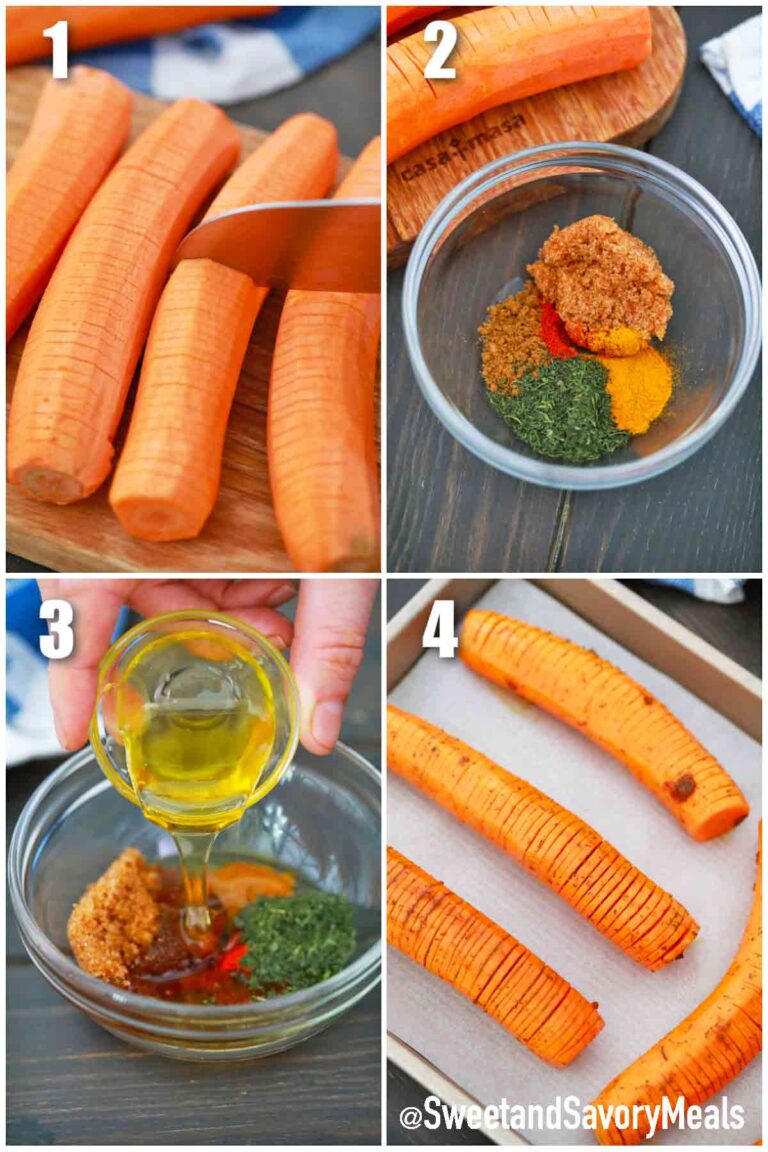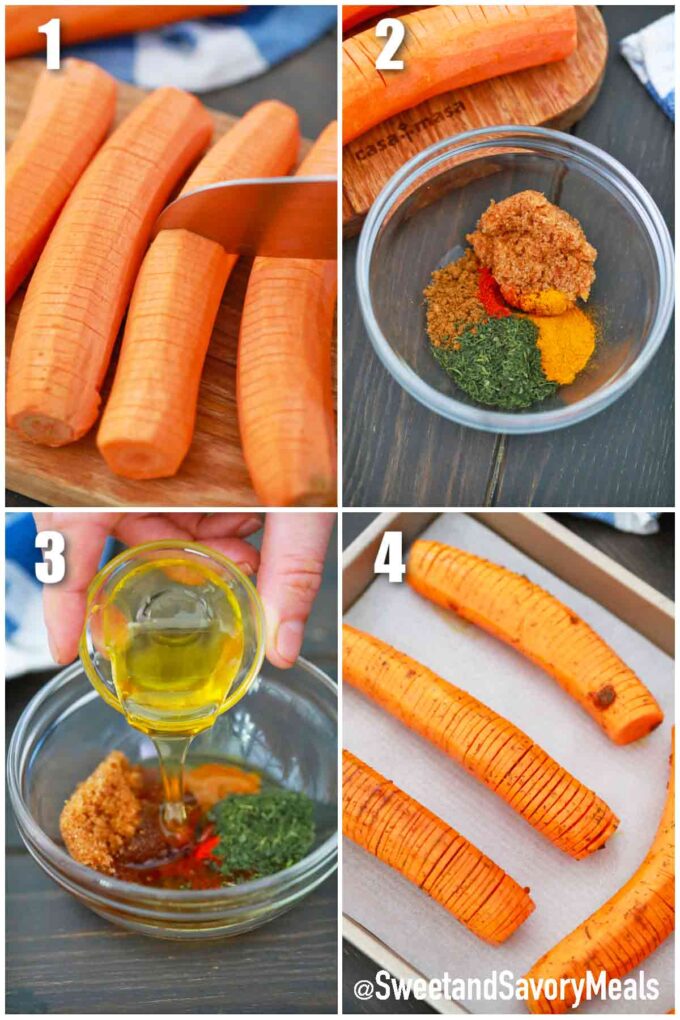 Recipe variations:
Seasoning: Feel free to add your own favorite seasonings including black pepper, onion powder, and garlic powder.
Garlicky: For an intense garlic flavor, use one crushed garlic clove mixed with a bit of olive oil to each slice in the carrot.

Colorful: Add color and flavor by tucking chopped red peppers between each slice.
Onions: Alternatively, use chopped red onion instead of peppers.
Sweet: Add some maple syrup on top before baking for extra sweetness.

Moroccan: For Hasselback Moroccan roasted carrots, add fresh coriander, balsamic vinegar, and chopped Kalamata olives.
How to serve:
This decorative side dish can be served at a party or just for a family dinner instead of one of your traditional carrot recipes. They go great alongside garlic Hasselback potatoes. Or try one of these awesome ideas:
Add a dash of lemon juice or lemon zest to the top of theses carrots for a bit of a zing. If you don't have any lemon juice, just cut a lemon in half, and squeeze the juice from each of the lemon halves onto the carrots.
These are also delicious spritzed with our savory homemade teriyaki sauce.
Or sprinkle a little bit of soy sauce on top of each carrot. If you are unable to have soy, try coconut aminos instead.
Another way to serve these is with mozzarella cheese on top of the roasted carrots.

Put out some small dishes of dipping sauces like honey mustard or our homemade yum yum sauce.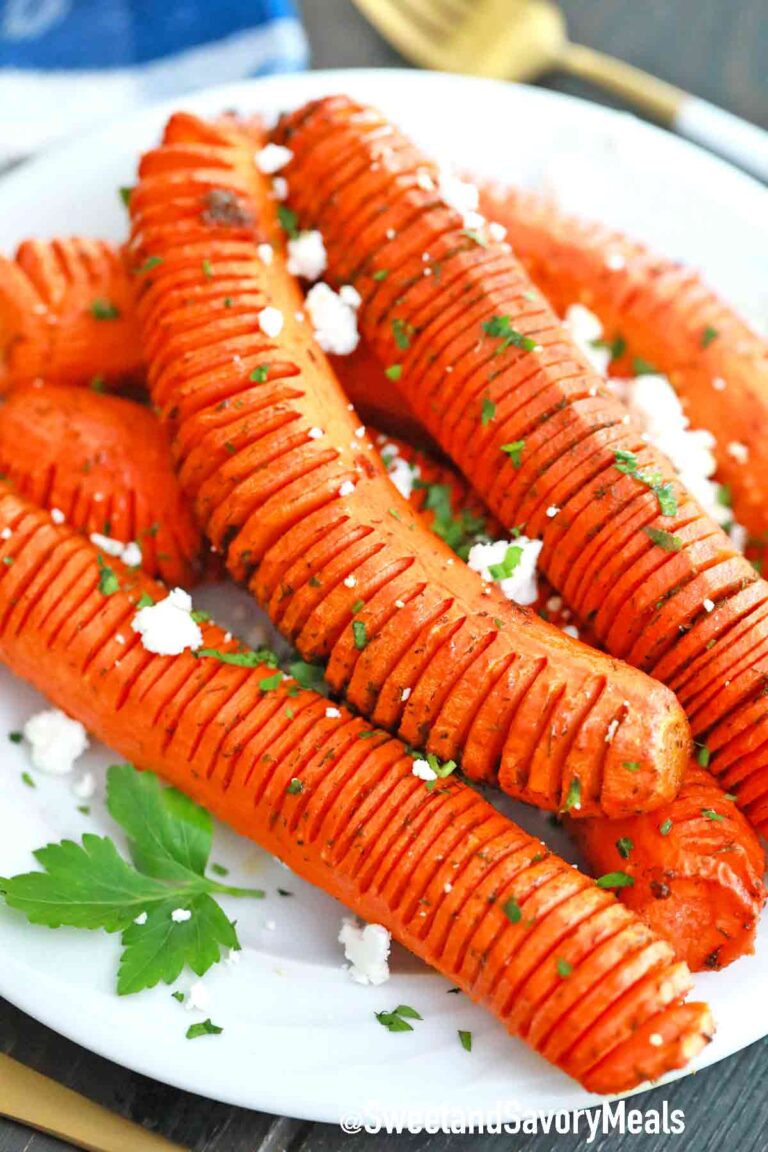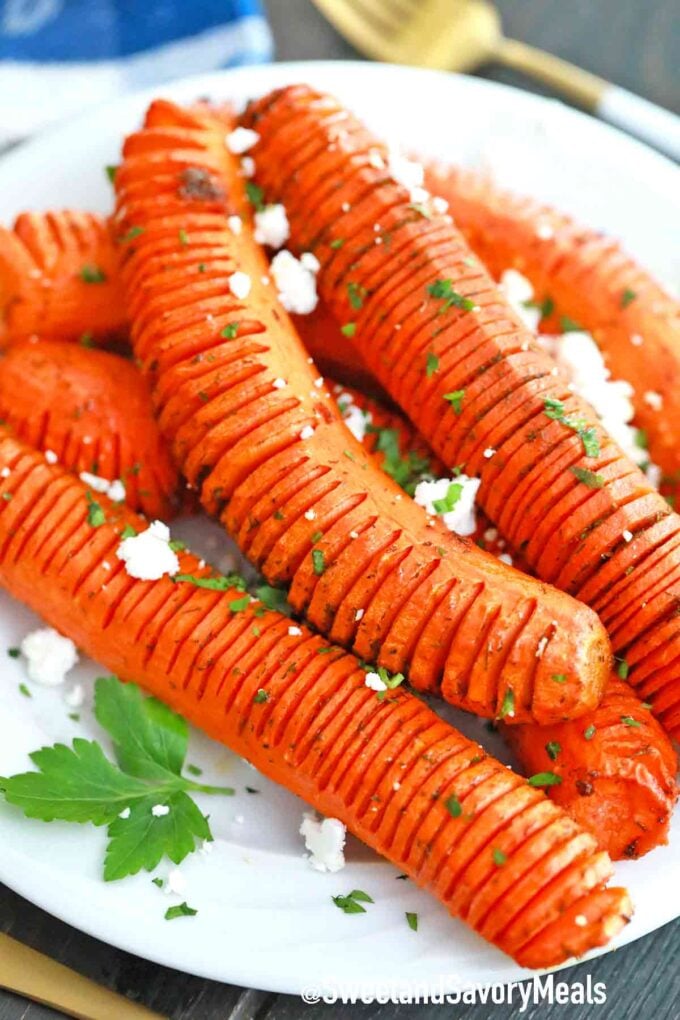 Frequently asked questions
Can you do this with other vegetables?
This originally was started on russet potatoes, but any root vegetables would work great.
Try using sweet potatoes, turnips, or parsnips with different kinds of glazes or rubs on them. You can also use this type of cutting and cooking with steaks or chicken.
What does Hasselback mean?
The name comes from the restaurant where the method of cooking originated. This restaurant was named Hasselbacken and was located in Stockholm in Sweden.
The recipe, which was originally made with potatoes, was first discovered in 1953 by Leif Elisson, a trainee chef.
Is this a healthy recipe?
Carrots are a healthy source of many vitamins with very few calories. In fact, just one serving of carrots has more than 70% of your daily requirement of vitamin A.
Also, it contains 10% of your vitamin K, and 8% of your potassium and fiber requirements. All this with only 25 calories and zero fat.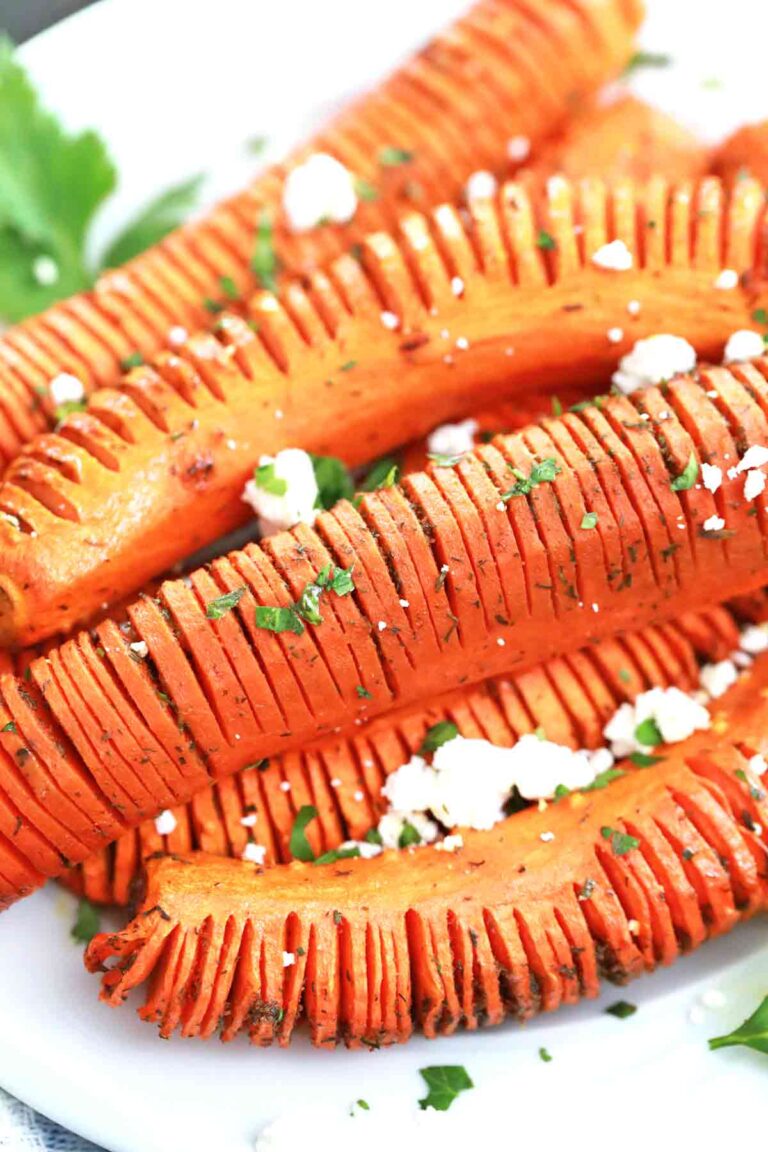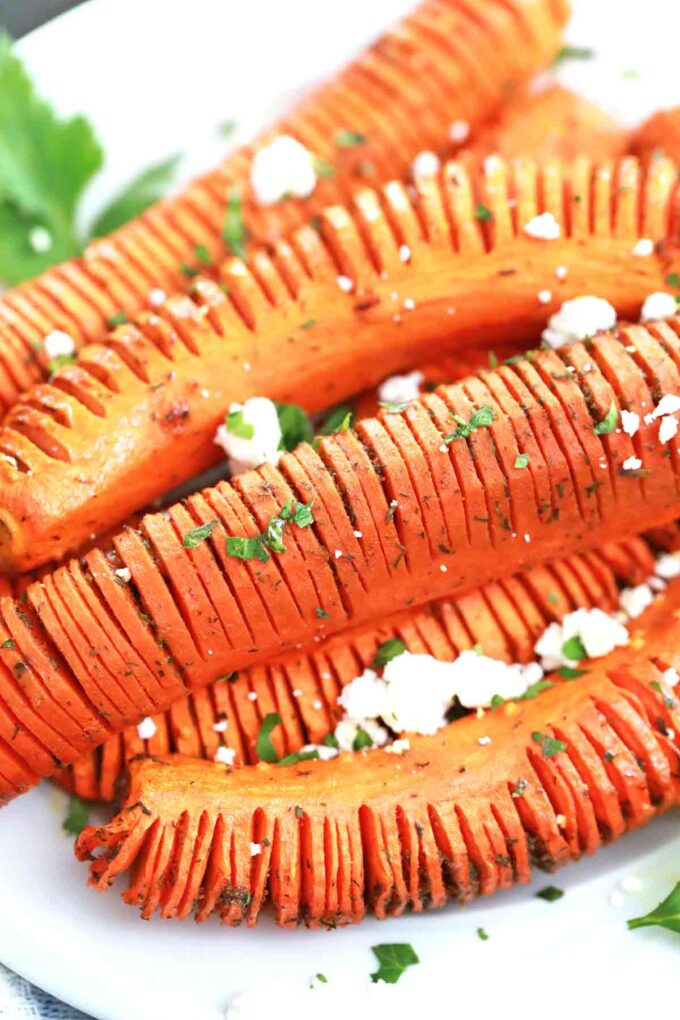 How to store leftovers:
Store: You can save these for up to a week in the fridge in an airtight container or baggie.
Freeze: Alternatively, these will stay fresh in your freezer for up to four months.
Thaw: Remember to thaw overnight in the fridge before serving.
Reheat: Reheat in the microwave with a bit of butter or a drizzle of olive oil on top.
More recipes with carrots:
Cooking tips:
Don't have a peeler? That's okay. The best way to peel carrots is by sliding the flat side of any knife down the carrots, scraping off the outer layer.

This recipe is for medium carrots. If you use large carrots, the cooking time should be increased by five to 10 minutes.

An easy way to make the cuts for the hasselback carrots is to lay them on a flat surface like a cutting board and cut them one at a time, using two wooden spoons (one on each side) to stop the knife from going all the way through.

For an easier and faster dish, cook these in a large pot of water on high heat for about five minutes or until just tender. Then, use tongs to put them in cold water to stop the cooking process before beginning the recipe.
Another idea is to cook in a dry medium skillet on high for about 10 minutes, until the carrots are scorched.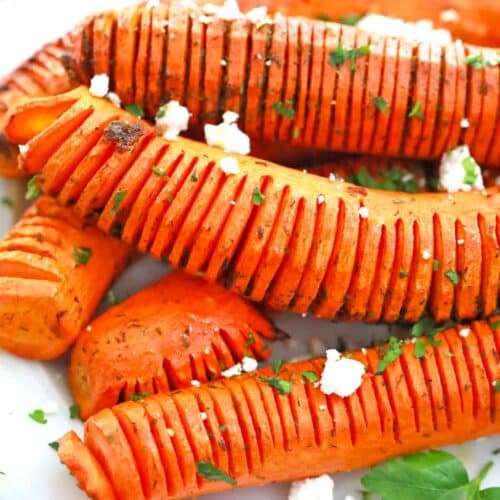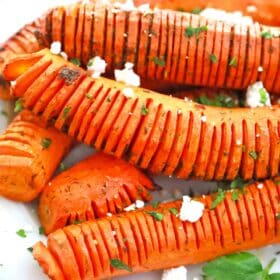 Hasselback Carrots
Hasselback Carrots look fancy but are super easy to make in minutes and extremely tasty seasoned with spices and brown sugar.
Save
Share
Print
Pin
Rate
Ingredients
2

lbs

medium carrots

(peeled, trimmed and cut into 4-inches lengths)

1/2

teaspoon

cumin

1

teaspoon

smoked paprika

1

tablespoon

brown sugar

1/2

teaspoon

turmeric

1/2

teaspoon

fennel seeds

(gently crushed)

2

tablespoons

olive oil

1

tablespoon

honey

(or maple syrup)

1/3

cup

feta

(crumbled)

1

tablespoon

fresh parsley

(chopped)
Instructions
Preheat the oven to 350 degrees F.

Using a very sharp knife, cut small widthways slits into each carrot lengthwise, stopping three-quarters of the way down.

In a bowl, toss all ingredients except feta and parsley.

Rub the mixture into the carrots.

Roast in the oven for 25-30 minutes, or until crisped and tender when pierced with a fork.

Sprinkle with the feta and parsley before serving.
Nutrition
Calories:
147
kcal
|
Carbohydrates:
20
g
|
Protein:
3
g
|
Fat:
7
g
|
Saturated Fat:
2
g
|
Polyunsaturated Fat:
1
g
|
Monounsaturated Fat:
4
g
|
Cholesterol:
7
mg
|
Sodium:
201
mg
|
Potassium:
515
mg
|
Fiber:
4
g
|
Sugar:
12
g
|
Vitamin A:
25517
IU
|
Vitamin C:
10
mg
|
Calcium:
98
mg
|
Iron:
1
mg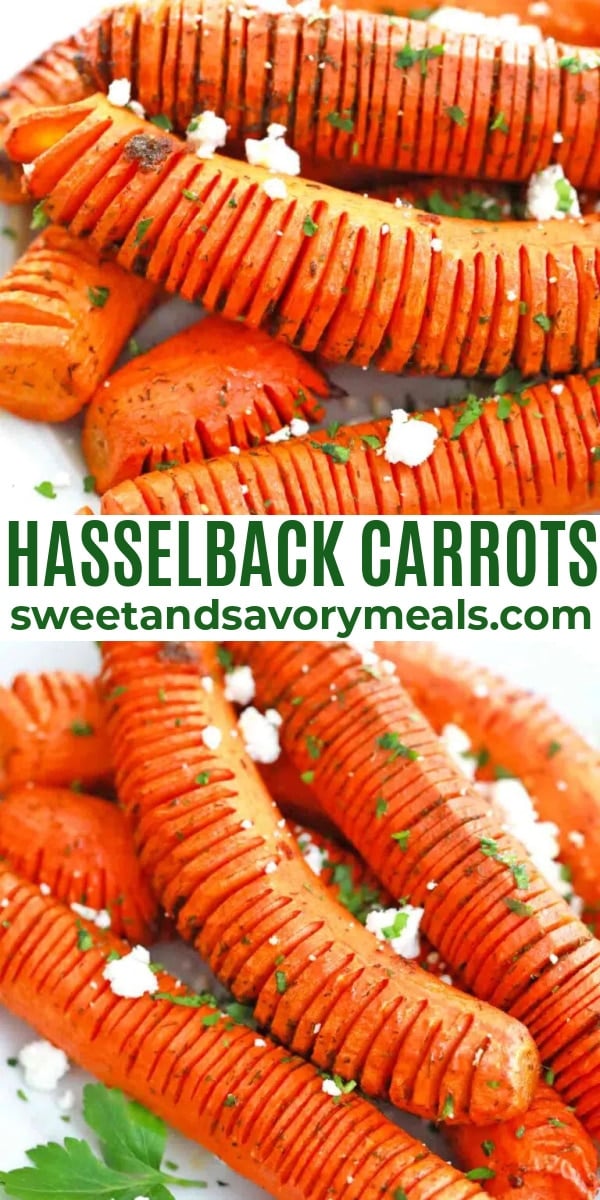 More recipes you might love