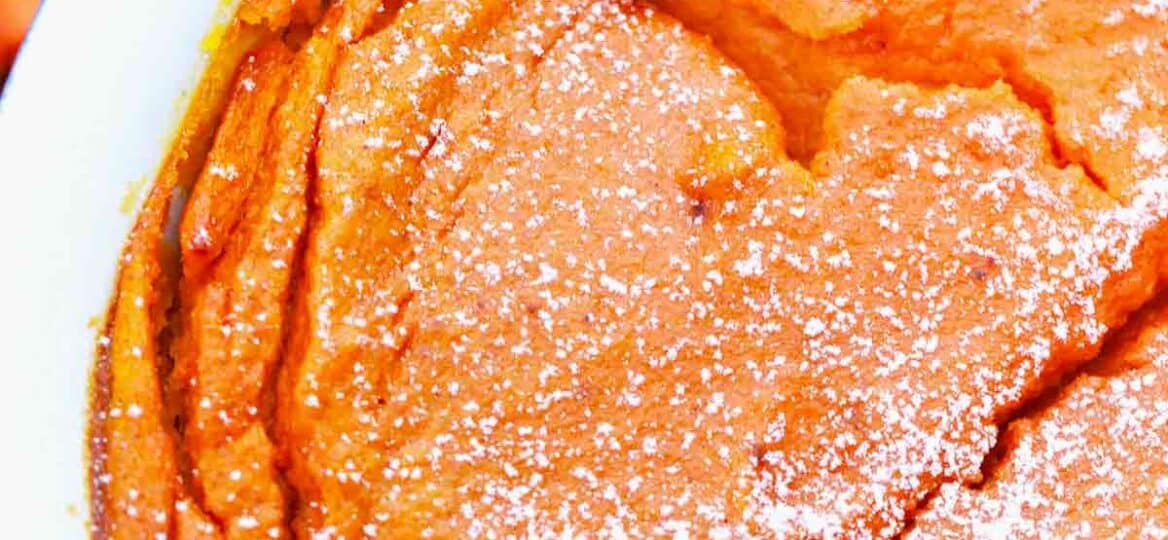 Carrot Souffle Recipe [Video]
Carrot Souffle is both savory and sweet, made with carrots, white and brown sugar, and perfectly seasoned with cinnamon and nutmeg. This is very similar to the carrot souffle at Piccadilly Cafeterias and would make a unique and decadent main course or side dish for Easter dinner.
Looking for more carrot recipes? For a sweet dessert, try our Carrot Cake Bars made with cream cheese and crushed pineapple or this Carrot Cake Cheesecake that has a layer of classic carrot cake topped with the most decadent and creamy, lightly spiced cheesecake.
If this is your first time making a souffle, don't let it intimidate you. It may sound like a difficult and complicated dish, but this great recipe is super easy. Whether you do not like sweet potatoes or just have some leftover carrots to use up, this recipe has great results.
This classic side dish has been inspired by our famous Sweet Potato Souffle that you all love and is so popular on the Thanksgiving table. However, if you do not have any sweet potatoes on hand, or just want something different, using carrots is a great alternative.
I have tried to make this recipe quick and easy to follow. Therefore you will notice, that the egg whites haven't been whisked separately. If you have time, I recommend you separate the whites from the yolks, add 1 teaspoon of cream of tartar to the egg whites, and beat them separately until fluffy.
After that, fold them in into the souffle batter until no white strands are visible. This way you will have a souffle that will rise taller and also have a fluffier texture.
The Carrot Souffle can be served just like a sweet potato souffle, topped with a sweet and crunchy pecan topping, or just keep it simple and lightly dust it with powdered sugar.
This may just be the best way to eat carrots, which are incredibly healthy, so you do not have to feel guilty serving them at holiday celebrations or your next dinner party. In fact, carrots have 185% of your daily value of vitamin A.
With just the right amount of sweetness, your family will love it. In addition, you can try this recipe with pumpkin!
If you are a fan of carrots, another great carrot dish to try is our Carrot Zucchini Bread with fresh zucchini and carrots.
Ingredients needed:
This is all you need for this easy carrot souffle recipe. Scroll down to our recipe card for more details.
Fresh carrots: Peeled and sliced thin. Baby carrots work great for this.
Butter: Melted and at room temperature.
Vanilla: Pure vanilla extract.

Spices: Nutmeg and cinnamon.

Eggs: Separated.

Flour: We used all-purpose flour, but you can use your choice.
Baking powder
Granulated sugar
Brown sugar
Cooking spray
Powdered sugar: To sprinkle on top.
How to make carrot souffle recipe?
Heat: First, heat the oven to 350 degrees F and coat a 2-quart casserole dish with cooking spray.

Boil: Meanwhile, bring a large pot of water to boil. Add some salt if you prefer. Then, put the carrots in and cook them until they are tender, for 15 to 18 minutes.
Mix: After draining the carrots, put them in a food processor and add the eggs, cinnamon, vanilla, and butter. Mix until the carrot mixture is smooth.

Mixer: If you do not have a food processor, use a large bowl and electric mixer on high.

Finish: Next, add the remaining ingredients and pulse until combined.

Bake: Last, pour your carrot mixture into the prepared baking dish and bake for 40 to 45 minutes. The top will be golden brown and set when it is done.

Serve: Finally, let it stand for five minutes before serving. You can dust with powdered sugar if you like.
Recipe variations:
Single servings: For single servings, separate the batter into individual ramekins and cut your cooking time by about five or 10 minutes.
Go nuts: Add some chopped walnuts or pecans for a nutty flavor and crunchiness.
Coconut: Instead of nuts, add a cup of shredded coconut. The flavor adds to the sweet taste nicely and it will also add some chewiness to the smooth dessert.
Pepper: Interestingly, adding a dash of black pepper to the batter makes it even tastier.
No sugar: For a sugar-free carrot souffle, use a sugar substitute for both white and brown sugars.
Secrets to making the Perfect Souffle:
Souffle in French means "to blow" or "to inflate", therefore this dish is supposed to be fluffy and to rise in the oven. Regardless if you are cooking a sweet or a savory homemade souffle, you are still looking for the end result to be light, fluffy, and creamy.
Air is so important: Basically, the air is what gives this dish its fluffiness, therefore you have to make sure it contains enough air bubbles to rise properly. That's why whisking the ingredients is so important. We recommend using a stand mixer or hand mixer, as whisking by hand can be tiring. In some cases, you can also use a food processor or blender.
Room temperature ingredients: In addition, for the best results, make sure you use room temperature ingredients. Therefore, pull the ingredients from the fridge one hour before starting the recipe.
Separate the whites: My greatest tip for a light and fluffy souffle is to separate the egg whites from the yolks and beat them separately. After that, fold the whites into the batter, this will result in great texture.
Cream of tartar: If you ever made meringue you probably used cream of tartar. Its purpose is to help the eggs trap the air and reach maximum height when beaten. Use 1 teaspoon in this easy recipe.
Lemon juice: However, if you don't have the cream of tartar on hand, use 2 teaspoons of lemon juice.
Keep the oven closed: Just like when you would bake a cheesecake, avoid opening the oven door while baking it as the sudden drop in temperature may make the souffle drop.
How to serve:
Serve this delicious side dish on your holiday table next time instead of sweet potato casserole and your whole family will enjoy it. Try one of our great serving suggestions:
This great recipe goes perfect with any main course like this instant pot ham made with honey and pineapple sauce or slow cooker brown sugar ham with orange glaze.
Spread a generous layer of cream cheese frosting on top for a dessert instead of a side dish for holiday dinner.
This dish goes great with a scoop of vanilla ice cream.
Our light and fluffy homemade whipped cream would also be great.
Top with mini marshmallows for another way to serve.
Frequently asked questions
What is carrot souffle made of?
Our carrot soufflé recipe is made with sliced carrots, eggs, vanilla, and melted butter as well as flour, white sugar, baking powder, and seasonings.
The seasonings we used in this carrot side dish include nutmeg, cinnamon, salt, and brown sugar. Other carrot souffle recipes may use egg whites instead of whole eggs.
What makes a souffle a souffle?
A traditional soufflé needs two simple ingredients: glossy beaten egg whites and some kind of flavor base.
In this recipe, carrots are the flavoring, but you can also have a sweet flavor like chocolate, vanilla, or some kind of fruit such as strawberry or banana.
What can I use instead of a ramekin?
There are many substitutes for ramekins. You can probably find a great substitute in your cabinet. For instance, a coffee mug or teacup is perfect. Just spray it with nonstick spray before using. Oven-safe bowls like ceramic or glass will also work for this.
You may also want to try a muffin pan if you are making more than one.
Why did my souffle not rise?
There may be a few reasons why you ended up with a flat or not very high souffle. For example, if the batter was too thick, and you used heavy ingredients, like potatoes or carrots, it is expected for it to NOT be as tall as cheese or chocolate souffle.
Another reason is that maybe you did not mix or beat well the ingredients or you did not use room-temperature ingredients.
How to store leftovers:
This is another great dish that can be made in advance, after baking it, let it cool on the kitchen counter cover it with plastic wrap and keep it in the fridge for a day before serving.
Store: Store leftovers in an airtight container in your fridge for three days.
Freeze: You can also freeze for about three months.

Thaw: Be sure to thaw overnight in the fridge before serving.
Reheat: Reheat in the microwave or oven.
More carrot recipes:
Cooking tips:
Since there is salt in the recipe, it is best to use unsalted butter.

Be sure your ingredients are at room temperature before using. Especially the butter and eggs.

equally important is to avoid opening the oven door while the souffle is baking.

You can cut the amount of white sugar in half if you do not want it so sweet.
Frozen carrots work just as well for this recipe.

No carrots? Use sweet potatoes, sweet peas, pumpkin, or squash.
Deliciousness to your inbox
Enjoy weekly hand picked recipes and recommendations