Carrot Cake Roll Recipe [Video]
Carrot Cake Roll is light and fluffy with a thick cream cheese filling, perfect for any occasion, but especially for Easter. The carrots and walnuts blend wonderfully with the spices and frosting for a flavor burst in every bite. You can serve this for Easter or any time you want something a little bit light and sweet.
If you enjoyed this recipe, try our Pumpkin Roll with Cream Cheese Frosting and pumpkin pie spices. Or if you want something completely different but still sweet, our Instant Pot Red Velvet Cake is packed with cocoa powder, vanilla, and cream cheese.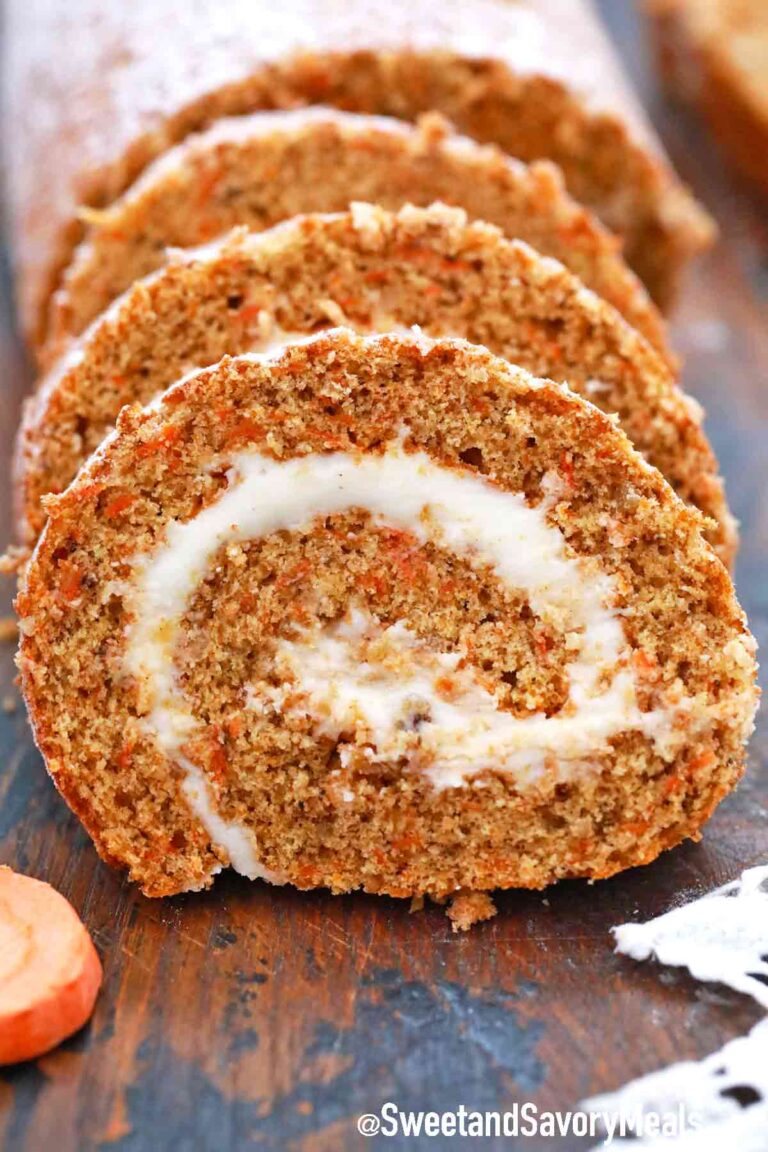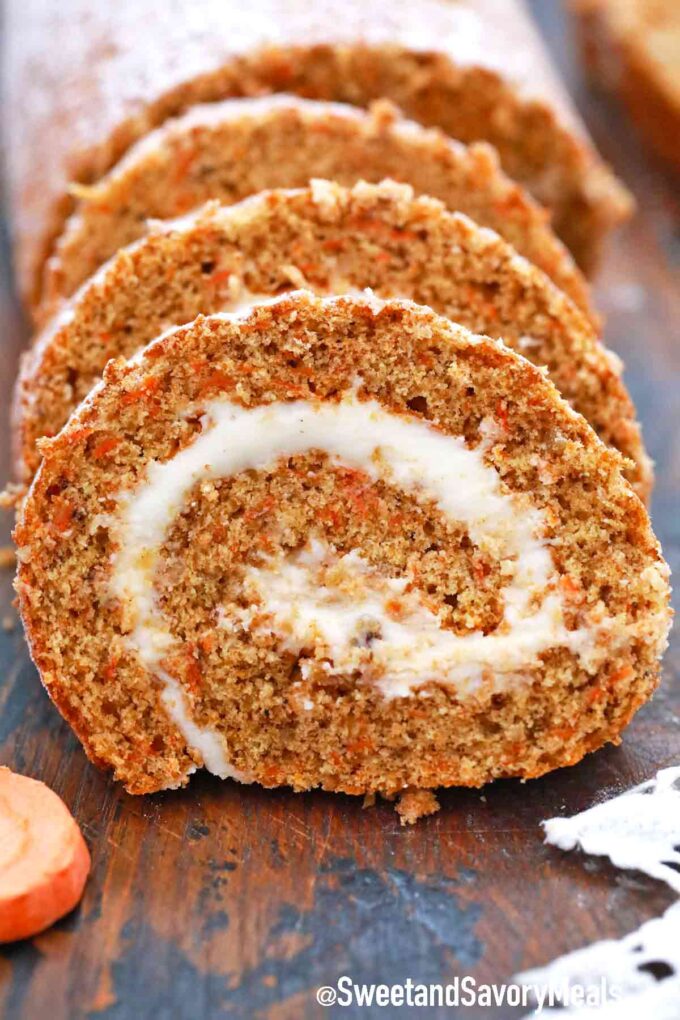 Carrot cake roll is such a light and refreshing dessert and perfect for those spring or summer get together. Like any swiss roll, this recipe has a cake base and also the filling.
For the cake base, we have used a delicious and tender carrot cake. It is absolutely outstanding and filling with lots of shredded carrots. Also, all this carrot cake swiss roll is flavored with classic spices like cinnamon, nutmeg, and ginger.
If you like frosting, you will love this carrot roll recipe. It has a cream cheese mixture all the way through it, so you get frosting in every bite. It has the perfect ratio of sweetness and spices mixed with richness and buttery flavor so every single forkful is amazing.
The tartness of the cream cheese balances the sweet dessert, making it irresistible. We highly recommend that you refrigerate it for a few hours before slicing it. This way, you will have perfect slices!
This is also a great dessert to make in advance as you can keep it in the fridge for a few days before serving. In addition, you can also freeze the cake and thaw it before serving it.
However, if you are not into carrots, for a fruity treat, try this Instant Pot Apple Cake made with a mix of different apples, brown sugar, and spices.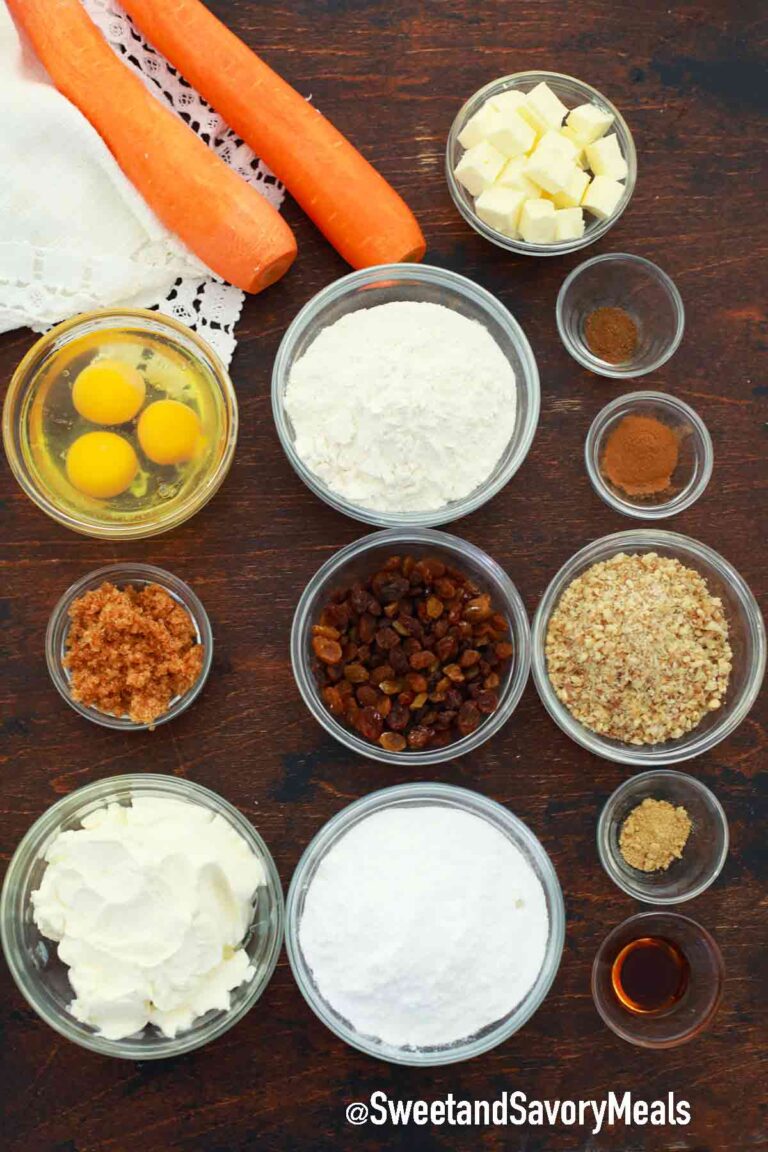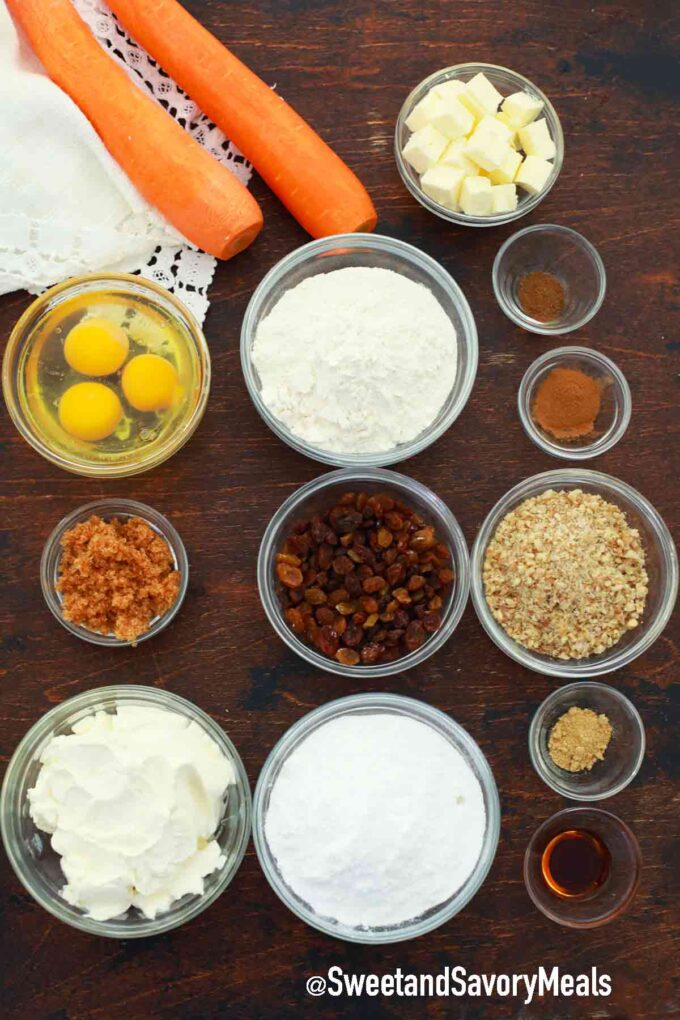 Ingredients needed:
These are the ingredients for this delicious dessert. Scroll down to get step-by-step instructions and measurements from our printable recipe card.
For the cake batter:
Carrots: Fresh carrots finely shredded.
Walnuts: Finely ground walnuts.
All-purpose flour: Sifted.
Spices: Ground cinnamon, ginger, nutmeg, and salt.
Baking powder: Not baking soda.
Eggs: At room temperature.
Granulated white sugar
Vanilla extract: Homemade or store-bought.
Cream cheese frosting: From the recipe below.
Confectioners' sugar: For rolling.
Brown sugar: Light or dark.
Canola oil
For the cream cheese icing:
Powdered sugar: Sifted.
Cream cheese: At room temperature.
Butter: Softened.
Vanilla extract: Pure vanilla extract is best.
Raisins
How to make carrot cake roll recipe?
Preheat: First, preheat your oven to 375 degrees F, Then, line your jelly roll pan with parchment paper and spritz with nonstick cooking spray. Leave about an inch hanging over the sides of the pan for easier removal.

Whisk: Meanwhile, using a medium bowl, mix the dry ingredients thoroughly with a whisk.
Mix: Then, using a large bowl, use your electric mixer on high speed to mix the sugars and eggs for one minute. Then, add the rest of the wet ingredients and whisk for 30 seconds. Gently, mix the dry ingredients with the wet ingredients.

Bake: Next, pour the batter into your prepared jelly roll pan and bake for 10 to 13 minutes. It should spring back when touched. Lift the cake with the parchment paper and lay it on a flat surface. Slowly, roll cake starting at the short ends of the cake and move it to a wire rack to cool.

Make the frosting: Meanwhile, prepare the cream cheese frosting while you wait. Beat the butter and cream cheese with an electric mixer on medium speed in a large mixing bowl until it is smooth. Then add the vanilla and sugar, mixing it on low speed for 30 seconds.
Frost and chill: Lastly, move your cooled cake roll back to the counter and unroll it slowly. Spread your frosting on top but leave about ¾ inch on each side because it will squeeze out. Sprinkle the raising on top and roll it back up (without the towel of course). Wrap the finished cake in plastic wrap and chill in the fridge for at least an hour.

Dust and serve: Finally, take the chilled cake out of the fridge and move it to your serving plate or serving dish. Dust the top and sides with powdered sugar before you serve.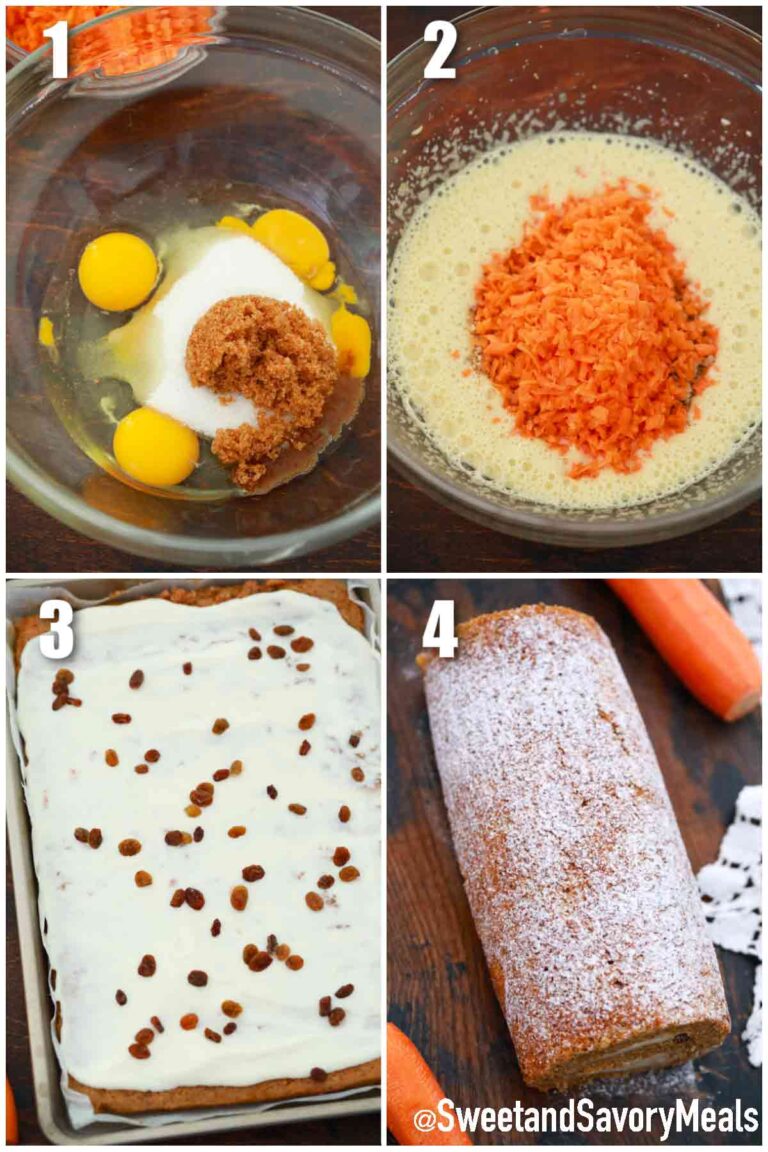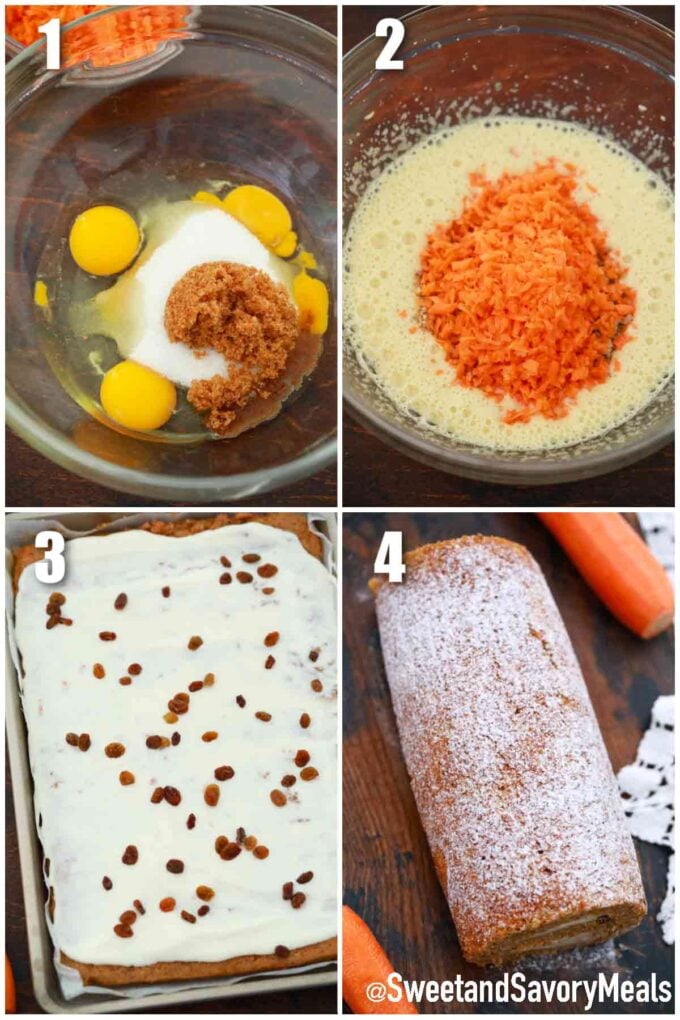 Recipe variations:
Whipped cream: Instead of the cream cheese frosting, try a simply whipped cream frosting flavored with some spices. This way your homemade swiss roll cake will be lighter.
Mascarpone: On the other hand, if you are looking for a richer dessert, making a mascarpone-based filling is another choice.
Buttercream: Also, you can fill this cake roll with your favorite buttercream frosting.
Other veggies or fruits: If you are looking for a different flavor, substitute the shredded carrots with shredded zucchini or apples.
Cupcakes: You can easily make these into carrot cake cupcakes. Just put the batter into a muffin pan and use the frosting on top after they bake.

Cookies: Similarly, make carrot cake cookies by using a cookie scoop and placing one-inch balls of dough on a cookie sheet, and bake for 10 to 14 minutes. Eat plain or add cream cheese frosting on top.
Other flavors: Try using a different extract flavor like almond, to add a different twist to this cake.

Chocolate: Add cocoa to your batter for chocolate lovers.
Cranberries: Instead of raisins, try using cranberries for a different flavor.
Mix-ins: For a change, try mixing in mini chocolate chips into the cake batter or into the filling for some crunchiness.
How to serve:
This is a fun twist on a regular carrot cake that everyone with a sweet tooth will love. It would be the perfect dessert for Easter dinner or any dinner for that matter. Or try one of these serving ideas:
Cover any small cracks with drizzles of the cream cheese frosting. You may need to make extra, but you can never have too much frosting on a cake.

A dollop of whipped cream would also be tasty on top.
Another delicious topping would be this easy but decadent caramel sauce.
For a festive touch, add rainbow sprinkles in the filling or onto the top of the cake.
Add strawberry sauce on top for a fruity flavor.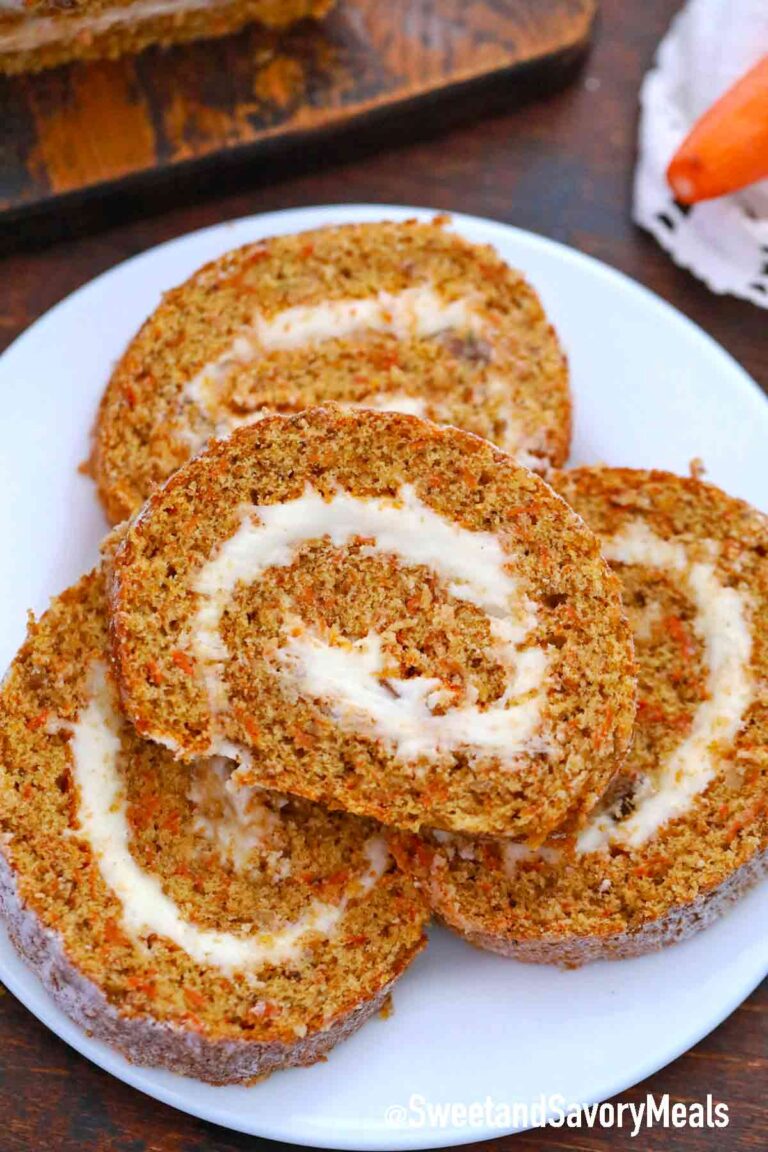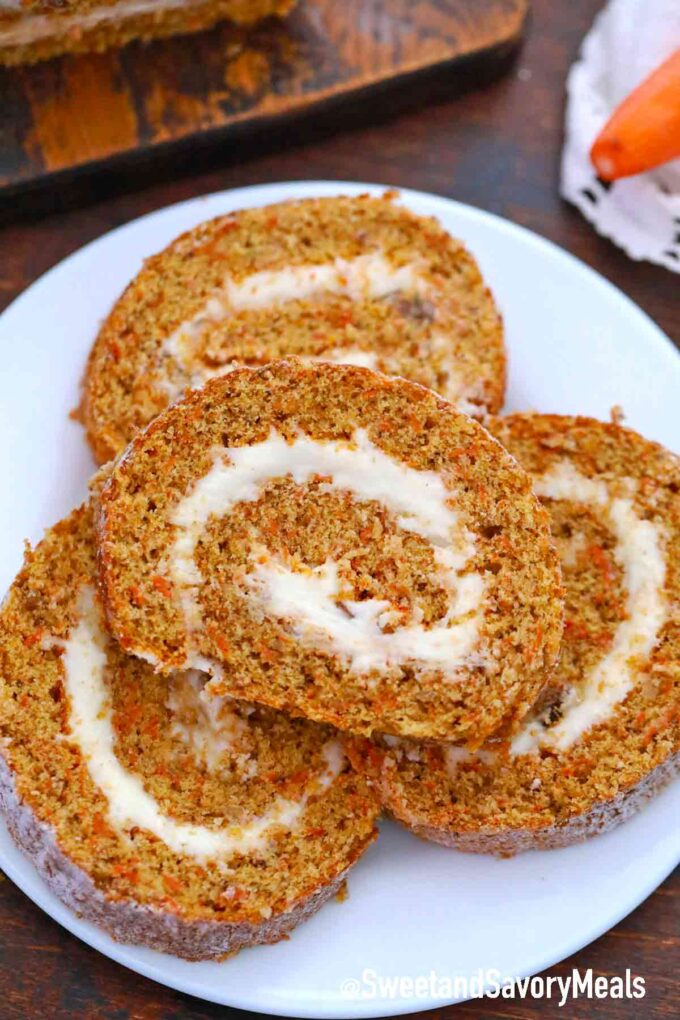 Frequently asked questions
Why is my carrot cake rubbery?
There are several reasons why this can happen. One of the most common is overmixing. If you beat your cake too much, it activates the gluten in the flour, making it denser and rubberier.
It can also be due to expired or old baking soda or powder. These have to be fresh to produce the right chemicals in the mix to make air bubbles.
Is carrot cake healthy?
Even though carrots are vegetables, making them a healthy option, they are just a small part of the recipe. The classic carrot cake or traditional carrot cake recipe has a lot of fat and calories overall but is a good source of vitamin C.
However, you can make it healthier by using whole wheat flour instead of white and substituting the white sugar with sugar substitute.
The cream cheese frosting can also be made with fat-free cream cheese and sugar substitute.
Why is my cake cracked on top?
The typical reason that a cake cracks on top of the cake are due to the oven being too hot. You have to make sure your oven is set at the right temperature that the recipe calls for.
Also, be sure to put the pan on the right rack. Some call for you to put it on the lower rack while others want it to be on the top. But don't worry, you can put icing over it so nobody will notice.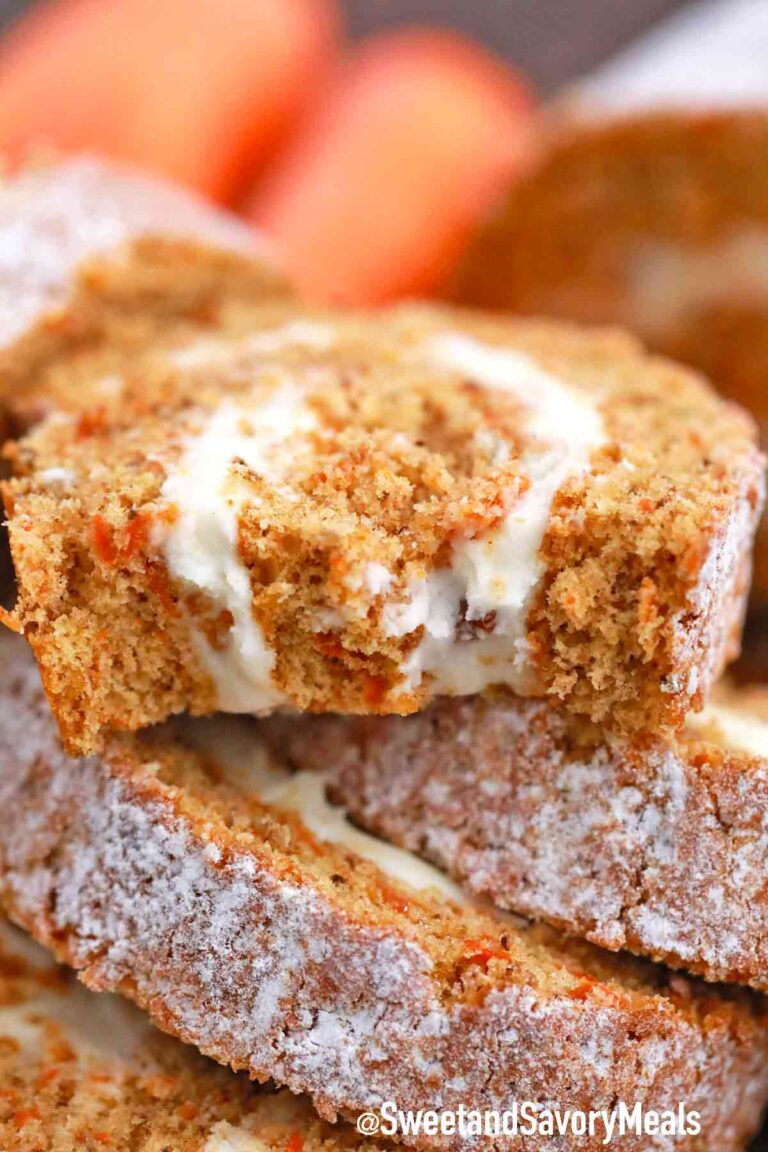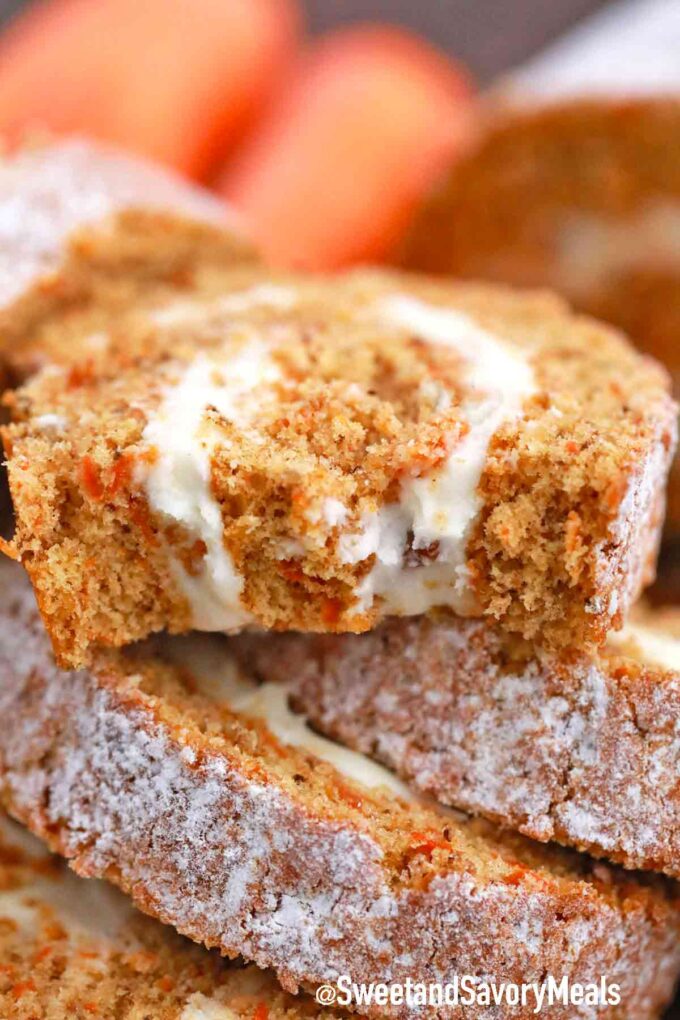 How to store leftovers:
Store: Keep leftovers fresh in an airtight container in the refrigerator for up to five days.
Freeze: You can also freeze for about three months.
Thaw: Be sure to thaw overnight in the fridge before serving.
Reheat: Serve chilled for the best flavor.
More recipes with carrots:
Carrots are delicious in sweet and savory recipes. They make a great side dish or snack, and also their sweetness is perfect to add flavor and texture to desserts. Our carrot cake roll has been inspired by our famous Classic Carrot Cake and also our mouthwatering Carrot Cake Cheesecake.
Cooking tips:
Using a food processor to grind your walnuts works great.

If you do not have a jelly roll pan, a large cookie sheet will do.
Before making the frosting, the butter and cream cheese need to be nice and soft.
To make your parchment paper stick to the pan, sprinkle a bit of water or nonstick cooking spray on the pan before placing it.

You can also use spray on the parchment paper so it will easily come off the cake after cooking.

Roll your cake on a clean kitchen towel for easier rolling. Just turn it out onto a clean towel dusted with powdered sugar and then peel off the parchment paper. Then, starting at one end of the towel, roll until it is completely rolled up.

Make sure your grated carrots are finely grated.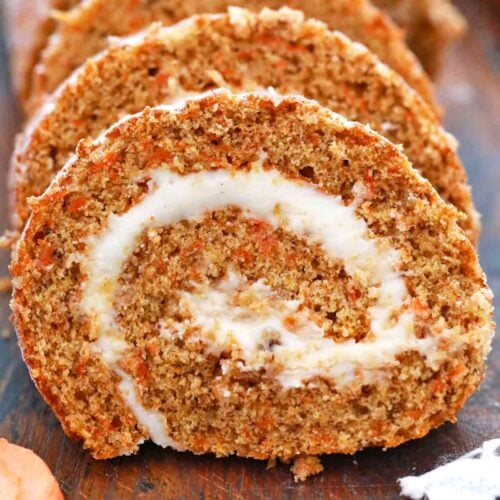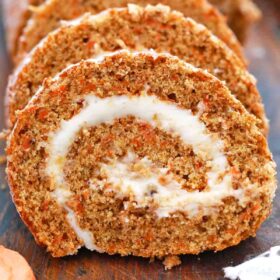 Carrot Cake Roll
Carrot Cake Roll is light and fluffy with a thick cream cheese filling, perfect for any occasion, but especially for Easter.
Save
Share
Print
Pin
Rate
Ingredients
Carrot Cake Roll:
3/4

cup

all-purpose flour

1 1/2

teaspoons

ground cinnamon

1

teaspoon

baking powder

1/2

teaspoon

ground ginger

1/2

teaspoon

salt

1/4

teaspoon

ground nutmeg

3

eggs

1/2

cup

granulated white sugar

1/4

cup

brown sugar

2

tablespoons

canola oil

1

teaspoon

vanilla extract

2

cups

shredded carrots

(about 3 medium carrots)

1/3

cup

very finely ground walnuts

(optional)

1/4

cup

powdered sugar

(for rolling)
Cream Cheese Filling
1

cup

powdered sugar

(sifted)

8

ounces

cream cheese

(room temperature)

6

tablespoons

unsalted butter

(softened)

1

teaspoon

vanilla extract

1/2

cup

raisins

(optional)
Instructions
Preheat the oven to 375 degrees F.

Line a 15 x 10-inch jelly-roll pan with parchment paper, leaving an extra 1-inch parchment sticking on the sides of the pan so that you can easily lift the cake from the baking sheet.

In a large bowl whisk together flour, cinnamon, baking powder, ginger, salt, nutmeg.

In a separate large bowl, whisk together eggs and sugars for 1 minute until combined. Whisk in the oil, vanilla, ground walnuts, shredded carrots, and whisk just until combined.

After that, fold in the dry ingredients with a rubber spatula, and stir together until just combined. Do not overmix.

Spread the batter evenly into the prepared pan. Bake for 10 to 13 minutes, or until the top of the cake springs back when lightly pushed.

Remove the cake from the oven and immediately carefully lift the cake from the pan and onto a flat surface.

Then slowly, roll the cake from the short end to the short end. Place it onto a wire rack to cool until it reaches room temperature.
Frosting:
In a mixing bowl beat butter until creamy, add cream cheese, sugar, and vanilla. Beat until smooth and combined, scraping the sides and bottom of the bowl.

When the cake has reached room temperature, transfer it to a flat surface, and carefully unroll it until it is flat again with the ends curled up just a bit.

Spread the cream cheese frosting evenly over the cake, leaving about a 1-inch border on all sides. Sprinkled on the raisins if using, or chocolate chips.

Carefully and gently re-roll the cake, peel away the parchment paper.

Tightly wrap the carrot cake swiss roll in plastic wrap and refrigerate for a few hours for best results.

Remove and unwrap the carrot cake roll and transfer it to your serving dish. Dust it on all sides with powdered sugar.
Nutrition
Calories:
279
kcal
|
Carbohydrates:
40
g
|
Protein:
4
g
|
Fat:
12
g
|
Saturated Fat:
6
g
|
Polyunsaturated Fat:
1
g
|
Monounsaturated Fat:
4
g
|
Trans Fat:
1
g
|
Cholesterol:
66
mg
|
Sodium:
244
mg
|
Potassium:
244
mg
|
Fiber:
2
g
|
Sugar:
27
g
|
Vitamin A:
3919
IU
|
Vitamin C:
2
mg
|
Calcium:
75
mg
|
Iron:
1
mg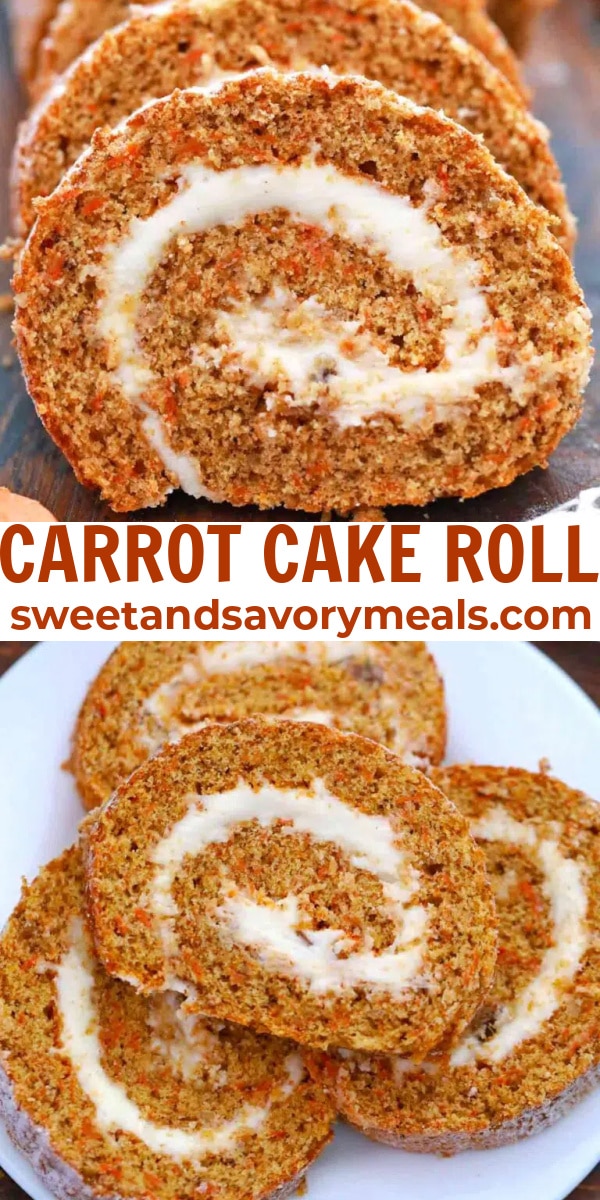 More recipes you might love